---
Crew
Director – Tim Miller, Screenplay – Rhett Reese & Paul Wernick, Based on the Comic-Book Created by Rob Liefeld & Fabian Nicieza, Producers – Lauren Shuler Donner, Simon Kinberg & Ryan Reynolds, Photography – Ken Seng, Music – Tom Holkenborg, Visual Effects Supervisor – Jonathan Rothbart, Visual Effects – Atomic Fiction (Supervisor – Ryan Tudhope), Blur Studio, Digital Domain (Supervisor – Alex Wang), Luma Pictures, Rodeo FX & Weta Digital Limited, Special Effects Supervisor – Alex Burdett, Makeup Design – Bill Corso, Production Design – Sean Haworth. Production Company – Marvel Studios/Kinberg Genre/Donners Company/TSG Entertainment.
Cast
Ryan Reynolds (Deadpool/Wade Wilson), Morena Baccarin (Vanessa Carlysle), Ed Skrein (Ajax/Francis Freeman), T.J. Miller (Weasel), Stefan Kapicic (Voice of Colossus), Brianna Hildebrand (Negasonic Teenage Warhead), Gina Carano (Angel Dust), Leslie Uggams (Blind Al), Karan Soni (Dopinder), Jed Rees (Recruiter), Style Dayne (Jeremy), Hugh Scott (David Cunningham)
---
Plot
The masked and costumed mercenary known as Deadpool has lightning reflexes and the ability to regenerate from any damage. He is determined to track down and kill Ajax or Francis Freeman, the man responsible for the hideous bodily disfigurement he hides beneath his red suit. Before this, Deadpool was Wade Wilson, a cocky former Special Forces operative operating as a mercenary and very much in love with his girlfriend Vanessa. Wade was then diagnosed with cancer. He was approached by an organisation headed by Ajax that offered him a cure. Agreeing to submit to their program, Wade was injected with a serum that would grant him mutant powers. In order to trigger their powers, the various mutants in the program were subjected to increasingly more extreme conditions. Irritated by Wade's mouthiness, Ajax placed him in a hyperbaric chamber without air, causing his skin to erupt with hideous burns all over. Making an escape and forced to hide his disfigurement behind a red mask and costume, Wade became Deadpool. However, his targeting Ajax now results in Ajax coming after Vanessa.
---
Marvel Comics have become a massive segment of the cinema industry in the 2000/10s with adaptations of titles such as Blade (1998), X-Men (2000), Spider-Man (2002), Daredevil (2003), Hulk (2003), The Punisher (2004), Elektra (2005), Fantastic Four (2005), Man-Thing (2005), Ghost Rider (2007), Iron Man (2008), Captain America: The First Avenger (2011), Thor (2011), The Avengers (2012), Guardians of the Galaxy (2014), Ant-Man (2015), Doctor Strange (2016), Black Panther (2018), Venom (2018), Captain Marvel (2019), Black Widow (2021), Eternals (2021), Shang-Chi and the Legend of the Ten Rings (2021) and various sequels to almost all of the above, as well as the tv series' Agents of S.H.I.E.L.D. (2013-20), Daredevil (2015-8), Agent Carter (2015-6), Jessica Jones (2015-9), Luke Cage (2016-8), The Defenders (2017), Inhumans (2017), Iron Fist (2017-8), The Punisher (2017-9), Runaways (2017-9), The Falcon and the Winter Soldier (2021- ), Hawkeye (2021- ), Loki (2021- ), WandaVision (2021- ), Moon Knight (2022- ), Ms Marvel (2022- ), She-Hulk: Attorney at Law (2022- ) and Secret Invsion (2023).
In the Marvel comic-book universe, Deadpool is the joker in the deck. Created by Rob Liefeld and Fabian Nicieza, Deadpool first appeared in Issue #98 of The New Mutants in 1991. Liefeld was more than clearly inspired by the DC villain Deathstroke to the extent that he gave Deadpool the alter ego Wade Wilson in contrast to Deathstroke's Slaine Wilson. Deadpool appeared in various comics over the next couple of years, gaining his first mini-series in 1993 and an ongoing self-titled series in 1997. Deadpool has undergone changes throughout the course of his history – one of the weirder features is that his background tends to vary from writer to writer and sometimes is even contradicted or over-written. What is agreed is that he gained his disfigurement and the regenerative ability that has left him effectively immortal via the Weapon X program.
The distinctive element of the Deadpool comic has always been his sarcastic one-liners, which gained him the nickname of the Merc with a Mouth, and his breaking of the fourth wall and realisation that he is a fictional character (at various points he has consulted back issues of the comic-book to gain information and broken out of the story to eliminate every character in the Marvel Universe and then come after the reader). Part of this, as recounted by the writers, was that they did not expect the comic-book to last long and so went in with a devil may care attitude, only for it to unexpectedly catch on with readers.
Deadpool had previously appeared on screen in an episode of the animated tv series Ultimate Spider-Man (2012-7) and in the animated film Hulk Vs (2009), which comes out surprisingly similar to the Deadpool on screen here. Deadpool first appeared in live-action, also played by Ryan Reynolds, in X-Men Origins: Wolverine (2009), which was universally regarded as a shabby treatment of the character.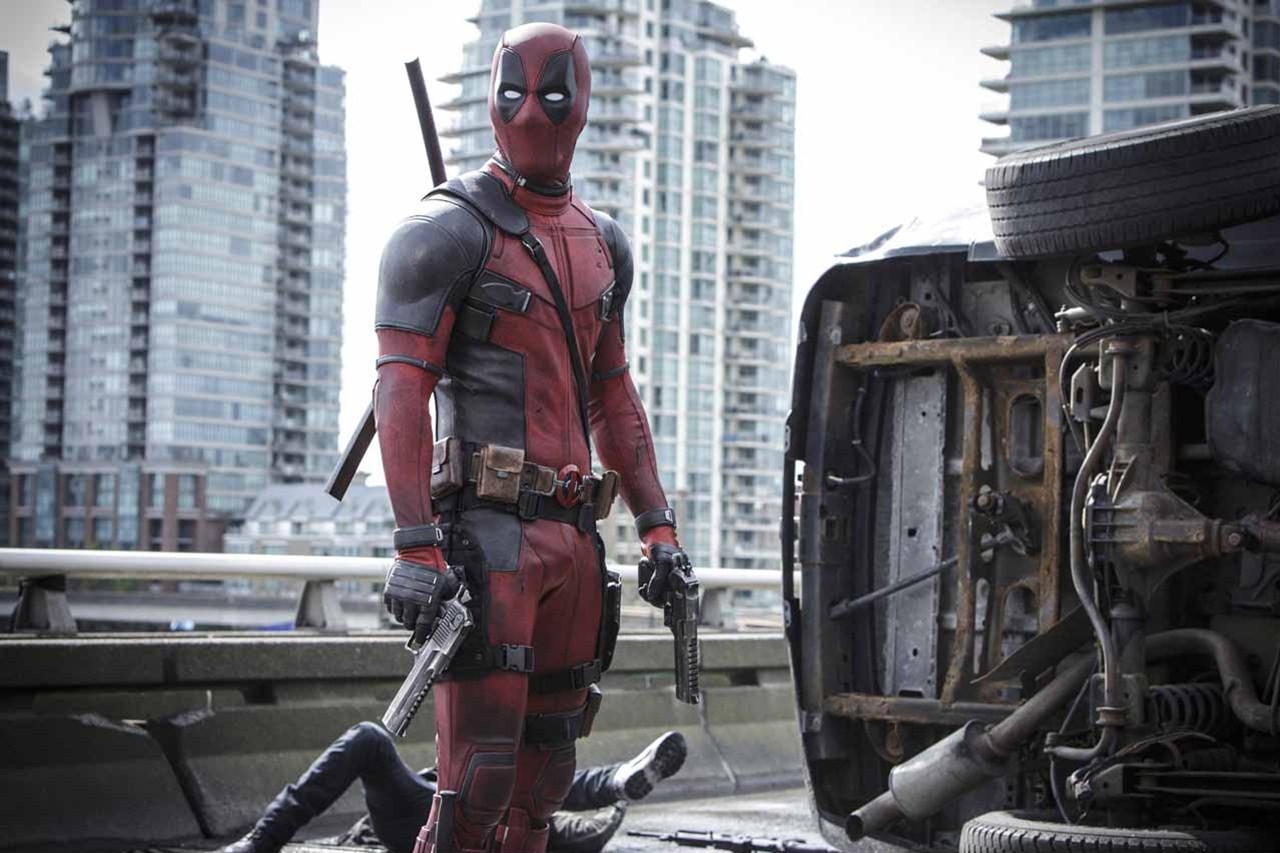 Ryan Reynolds has not exactly had a successful ride when it comes to superheroics. First up was his appearance as a supporting vampire hunter in Blade Trinity (2004), which was a far more enjoyable film than most had it, and was notedly where he patented the same motor-mouthed character he plays here whose entire dialogue consists of smartass one-liners. He then played Deadpool in X-Men Origins: Wolverine – as Reynolds tells it, he took the role because it was an opportunity offered to him knowing that it was being treated badly but did so with the possibility that he could in effect trade upwards and do it right. (Deadpool comes with snide jokes aimed at that film). His other outing was as Hal Jordan in DC's Green Lantern (2011). While I might be in a minority in arguing the merits of that film, Reynolds' cocky presence was an ill match for the character and the CGI animated suit a universal disaster – Reynolds even has a line about it here that made great play in the trailer "And don't make the suit green. Or animated". This is almost certainly why Reynolds takes a producer role on Deadpool in a determination to do the character he plays right this time.
Reynolds is a large part of the creative force driving Deadpool (he takes a producer role here and even co-wrote the script for the sequel). It is a film that lives and thrives on its oddball sense of humour. As a character, Deadpool comes out somewhere between Captain America, The Punisher and a slightly saner version of The Joker. In purely plot terms, substitute Deadpool's disfigured face for Frank Castle's murdered family and Deadpool would be not too different to The Punisher (2004).
Of course, there is a world of difference between the two films in tone. The Punisher fairly much falls into the standard superheroics for the Marvel Cinematic Universe, which trades in resolutely handsome and determined superheroic posturing, plot strands that weave together through multiple films and city-destroying action sequences. Deadpool, by contrast, is a film that takes every opportunity to deflate, poke fun at and throw the expectation of a Marvel film on its head. In the spirit of the comic-book, it is a film willing to go out on an edge with the formula and takes considerable risks with its audience's expectations. Like Guardians of the Galaxy (2014), it also demonstrates that given the right director/writing team, quirky individual voices can shine through the formula of the Marvel movie.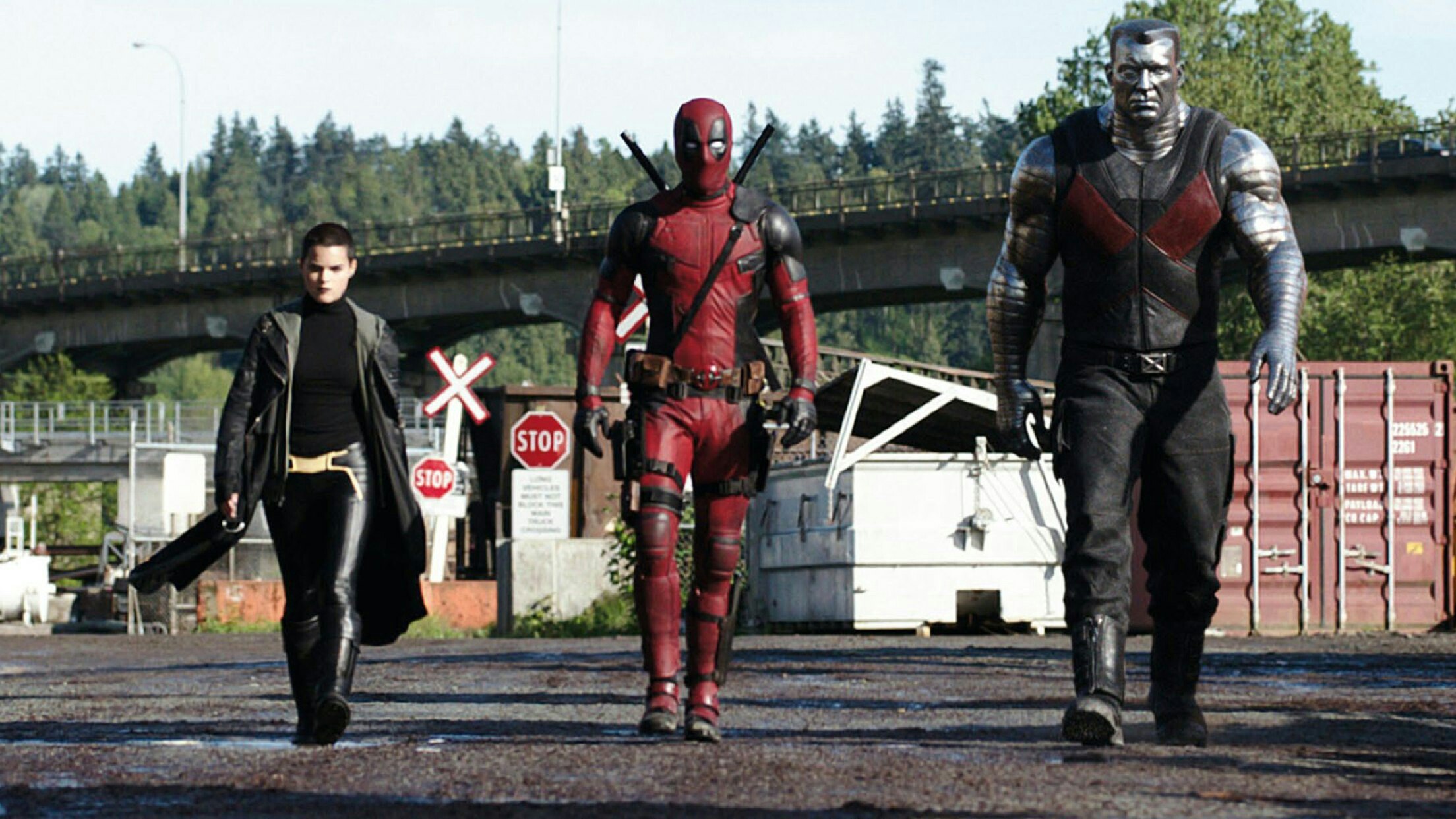 Deadpool is determined to kick its heels back and have fun. Made on a lesser budget than the MCU films, it succeeds by realising what they do not – that there is a rabid fanbase for it and one with a not inconsiderable sense of humour. (Deadpool also manages to be the most social media-aware superhero to date). Just like the comic-book character does, the film is frequently rupturing the fourth wall to speak to the audience – a ferocious shootout on the bridge is broken up by Deadpool pausing the action to talk to us or counting down the number of bullets he uses. The film bursts almost to the point of overflow with its own smartness and cleverness. It comes with maybe one of the funniest opening sequences ever, containing credits such as "some douchebag's film", "directed by an overpaid tool," "produced by some asshats", starring "god's perfect idiot … a hot chick … a British villain … a moody teenager … a CGI character" and the like.
The playful humour even began with one of the funniest publicity campaigns in some time where the studio pitched posters and viral ads with Deadpool posing and the legend "Bad ass. Smart ass. Great ass", offering Christmas greetings and even in straight-face trying to sell Deadpool as a Valentine's Day film. It is also a film not unafraid of pushing the envelope with humour that is rude, crude and definitely not the film you want to see with your mother, all of which made it into the first Marvel film to earn a 14A rating in the US. (The success of the film then sparked a spate of R-rated superhero films).
Deadpool also comes out as the most meta superhero film ever made. It comes nested within 20th Century Fox's X-Men franchise, which stands outside the canon of the regular Marvel Cinematic Universe due to Fox's control over the copyright. We get an appearance from two other mutants – Colossus and Negasonic Teenage Warhead (whose name promptly becomes regarded as an object of awesome cool by Reynolds) – and make a visit to the X-Mansion where Reynolds is given cause to make sarcastic comments about why he only meets two of the X-Men and whether the film didn't have the budget to afford more. Colossus drags Reynolds off in cuffs stating he is taking him to see the Professor whereupon Reynolds is quipping "McAvoy or Stewart? These new timelines get confusing." Plus jokes everywhere else about how well endowed Wolverine is to the potentially creepy possibilities about an aging bald professor keeping everyone together in a commune-like setting. Perhaps the funniest of the jokes though is one where Ryan Reynolds turns up in a bathrobe to poke fun at the expected end credits sequence of a Marvel movie.
Deadpool 2 (2018) is a sequel. Ryan Reynolds also makes a cameo appearance as Deadpool in the subsequent Logan (2017).
Director Tim Miller did not return for the sequel. His next went on to direct Terminator: Dark Fate (2019), while he also produced Sonic the Hedgehog (2020).
(Winner in this site's Top 10 Films of 2016 list. Nominee for Best Actor (Ryan Reynolds) at this site's Best of 2016 Awards).
---
---