---
USA/Germany. 1996.
Crew
Director – Dick Lowry, Screenplay – Paul Fusco & Tom Patchett, Producer – Tom Patchett, Photography – Henry Lebo, Music – Mark Snow, Production Design – Gary Barnes. Production Company – Patchett Kaufman Entertainment/Paul Fusco Productions/Ufa Filmproduction Berlin.
Cast
Paul Fusco (Voice of ALF), William O'Leary (Captain Rick Mullican), Jensen Daggett (Major Melissa Hill), Miguel Ferrer (Dr Dexter Moyers), Martin Sheen (Colonel Gilbert Milfoil), John Schuck (General Myron Stone), Scott Michael Campbell (Second Lieutenant Harold Reese), Ray Walston (Motel Manager), Ed Begley Jr. (Dr Warner)
---
Plot
The Alien Task Force is convened to decide what to do with the alien from Melmac known as ALF who is being held in military custody. Colonel Gilbert Milfoil believes that ALF is a threat. When the Task Force proves reluctant to act, Milfoil decides to kill ALF by injecting him with a lethal virus. Captain Rick Mullican and Major Melissa Hill, ALF's two most ardent supporters, get wind of this and smuggle ALF out of the holding facility. However, ALF is not at all happy about being dragged away from the covert gambling and black marketeering operation he is running from captivity. Pursued by the military, Rick and Melissa go on the run, although find the chaotic ALF difficult to handle. They take refuge with ex-NASA scientist Dexter Moyers, an ardent proponent of the existence of UFOs. Moyers decides that the best course of action would be to put ALF on tv so that the world can know about him. However, they then discover that Moyers is planning to auction ALF to the highest bidder.
---
Looking back now it is a scratch of the head trying to work out why the tv series ALF (1986-1990) ended up being a hit show that lasted for four seasons and 120 episodes. ALF was clearly designed to capitalise on the success of E.T. – The Extra-Terrestrial (1982). Here the idea of a cute alien visitor was fed through the US sitcom formula of shows like My Favorite Martian (1963-6) – the star of which, Ray Walston, makes an appearance here as a motelier who is perplexed by ALF – and Mork and Mindy (1978-82) to emerge as a motormouth alien (played by a puppet) whose wacky take on Earth culture ended in turning the lives of the squares around him upside down. The title character was further revived in two animated series, ALF: The Animated Series (1986-7) and ALF Tales (1988-89), and even appeared in a Marvel comic-book and a series of telephone company commercials.
Project: ALF was a tv movie revival of the character that came six years after the demise of the series. The movie has been written as a direct sequel to the last episode of the series, which ended on an unresolved cliffhanger as ALF is captured by the military. The only person from the original series present is puppeteer Paul Fusco, the series' creator and the one responsible for the character and voice of ALF throughout all the various incarnations. (The original cast's absence is explained away by their having been sent to Iceland as part of a Witness Protection Program).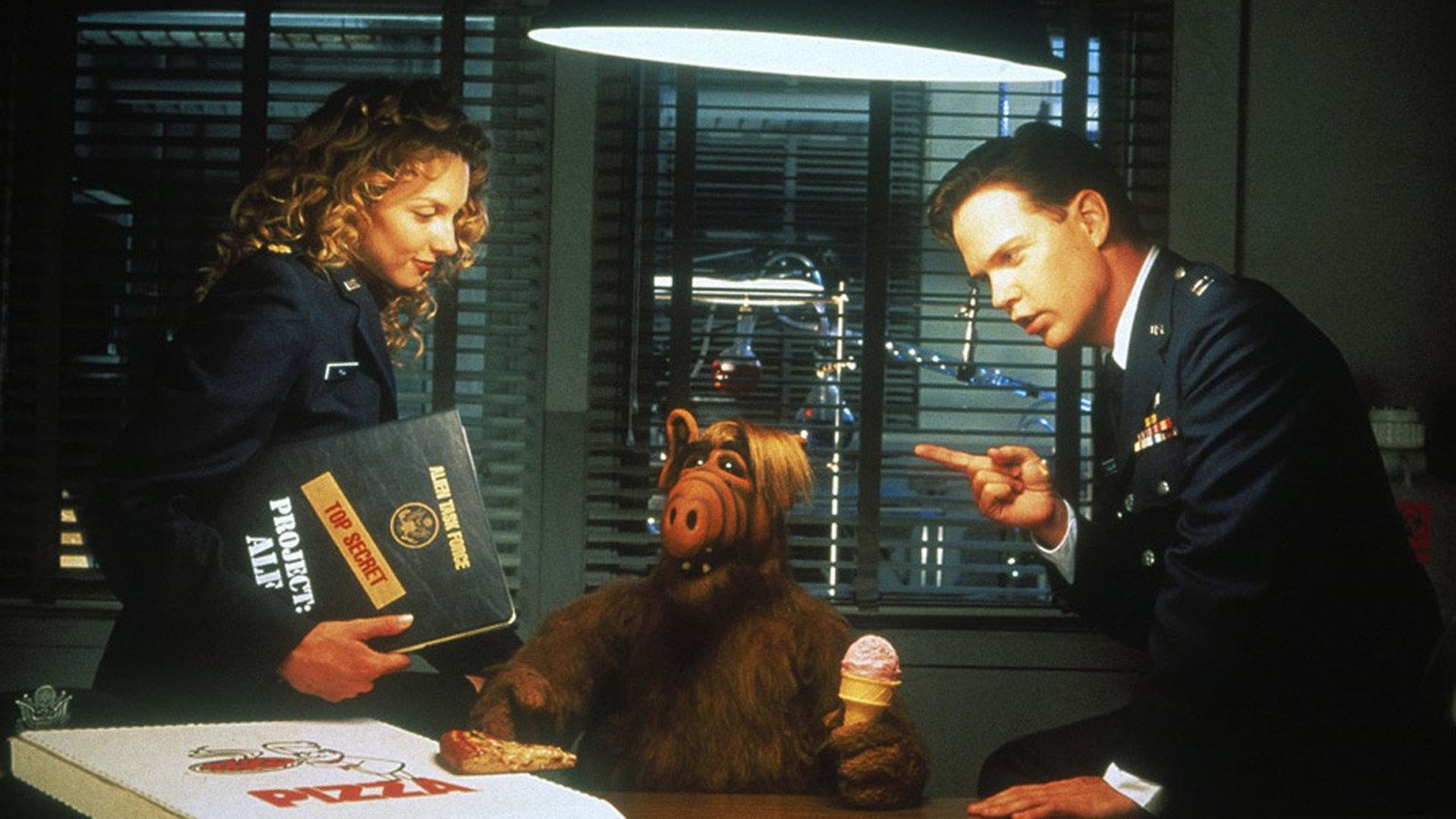 The amusing idea at the heart of Project: ALF is to update the series into the era of The X Files (1993-2002, 2016-8) and conduct it as a spoof on military conspiracy/alien invasion paranoia – here ALF enjoys his captivity and dislikes being rescued as it means having to give up his life of pampered luxury and the illicit gambling operation he has been running.
Looking back at one's memory of the series via Project: ALF, one wonders what it ever was that seemed funny about the show at the time. The central character seemed to be one of those characters in tv sitcom formula that exist solely to toss off smartass one-liners every time someone does something. The plot is weakly strung together with far too convenient plot devices – it only exists to allow the title character opportunity to crack one-liners.
There is a surprisingly adult sense of humour to a film that was essentially sold to a children's audience – jokes about the proper pronunciation of Uranus, drinking games, rocking hotel beds and ALF coming out with lines like (to Miguel Ferrer's gorgeous assistant): "Can you vacuum my lap so you can sit on it ?" In the lamest sequence, ALF gets to rap.
---
Trailer here
---