---
Crew
Director/Story – Joe Miale, Screenplay – Rowan Athale & Joe Miale, Producers – Rory Aitken, Nicholas Chartier, Zev Foreman, James Harris, Brian Kavanaugh-Jones & Ben Pugh, Photography – Karl Walter Lindenlaub, Music – Bear McCreary, Visual Effects Supervisor – Sebastian Barker, Visual Effects – Automatik VFX, Creatures – Screenclay FX, Special Effects Supervisor – Gerhard Van Der Heever, Prosthetics Designer – Jaco Sbyman, Production Design – Vic Botha & Kristian Milstead. Production Company – 42/Automatik/Voltage Pictures/The Tea Shop & Film Company/Picture Perfect Corporation.
Cast
Lee Pace (Bo), Berenice Marlohe (Nadia), Jason Flemyng (Stander), Wandile Molebatsi (Roderick), Sibulele Gcilitshana (Kara)
---
Plot
A US soldier wakes up in a jail cell near Nairobi with no memory. He becomes aware that the Earth has been invaded by robotic alien drones that have brought most cities down. In the adjoining cell is the French doctor Nadia who gives him the name Bo. The two of them make an escape from the jail. Bo sets out to make it through the devastation and get to the safety of the US military base.
---
Revolt was a feature-length directorial debut for Joe Miale. Miale had previously directed commercials and several short films, as well as worked as an editor on various reality tv shows. He also wrote/produced the action film TKO (2007). For Revolt, he attracted a medium budget and travelled to South Africa to shoot.
Aside from occasional assorted big-budget offerings such as Skyline (2010), Battle Los Angeles (2011) and Rim of the World (2019), the alien invasion film has found a comfortable place down the medium-to-low-budget end of the spectrum over the last decade. See efforts such as Robot Overlords (2014), Alienate (2016), The Darkest Dawn (2016), Taking Earth (2017) and Alien Outbreak (2020). (For a more detailed overview of the genre see Alien Invasion Films).
The film's set-up of essentially one Westerner and companion travelling through the apocalyptic wasteland of Africa, which as much ridden by the resident menace as it is by local warlords and poverty, reminds a good deal of the zombie film The Dead (2010). Aside from The Dead featuring zombies instead of alien machines, the two films are almost identical in nature.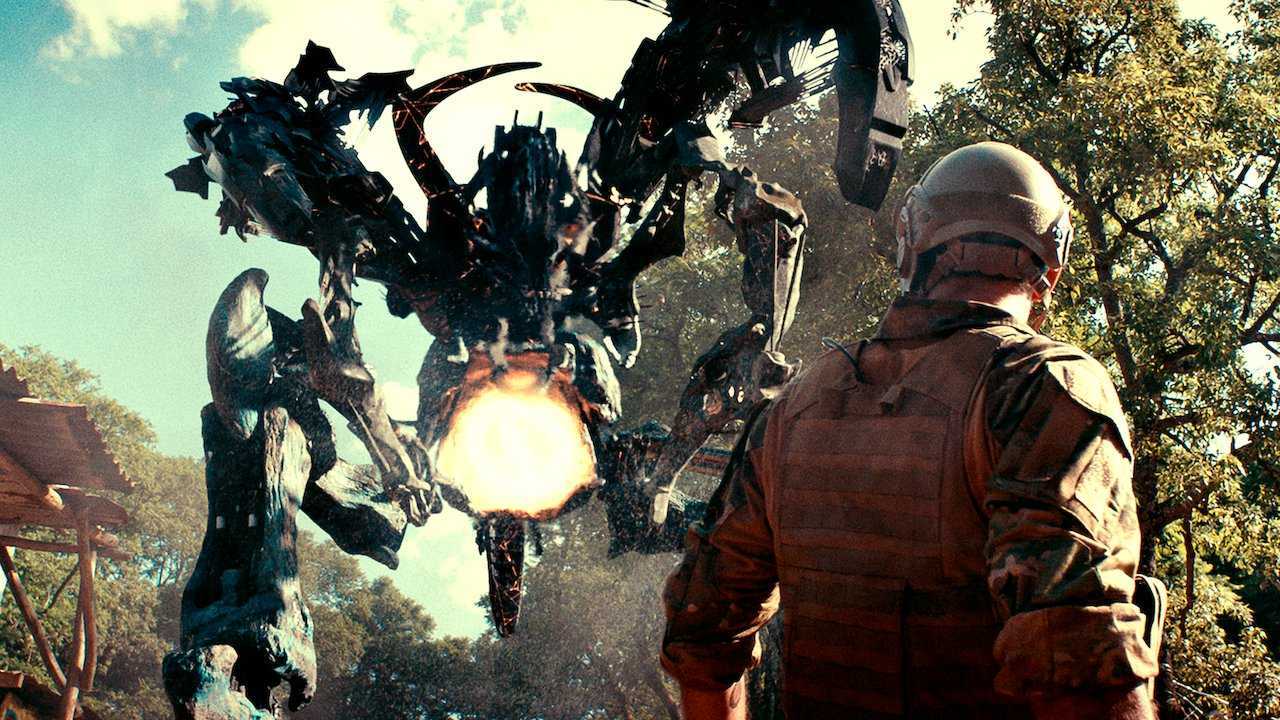 The alien robots – we never actually see the aliens themselves – have a strange design that makes them look more like metal wind sculptures than robot killing machines. It is something that speaks more of a desire for novelty of design in contrast to what we have had before than necessarily anything that could be a practicality of design. What must be said is that for another medium-budget entry in the alien invasion genre, Revolt has some excellent effects work and well staged action sequences.
The only part where one feels that Revolt doesn't work as well as it could have is on the script level. Lee Pace is introduced as suffering from Amnesia. Usually this is a plot element that serves to provide some kind of twist in mid- or at the end of the film where everything we think we knew is turned on its head. However, in this case, it is introduced and … all it turns out is that Pace has amnesia. There is a minor twist introduced towards the end but it feels a little underwhelming in terms of what the build-up leads us to expect in terms of a conceptual reversal.
The other less than satisfying aspect is the false happy ending where Lee Pace joins a resistance group and they use a jury-rigged device to drive back the alien drones and down one of their ships. This does provide the film with a certain dramatic triumph. However, if you consider that the invasion is supposed to be worldwide – so much so that it has disabled all communications – then a single triumph in a small Kenyan town seems an insignificant trifle in the vastly greater ocean of social collapse.
---