aka Space Soldiers
---
Crew
Director/Screenplay – Travis Zariwny, Producers – Tyler Hawes & Steven Istock, Photography – Austin Schmidt, Music – Conan Skyrme & Thomas Skyrme, Visual Effects – Lit Post (Supervisor – Tyler Hawes), Production Design – Melanie Rein. Production Company – California Pictures/Lit Films.
Cast
Roark Critchlow (Captain Wake), Sean Patrick Flanery (Captain Jekel), Louise Linton (Emerson), Kelley Whilden (Breathtaker), Jamie Strange (Doc Mallory), Mark Wystrach (Caleb 12 & 13), John Lee Ames (The Data Ocean), Jeremy London (Black Devert), Tyler Poelle (Olos Nah), Russell Richardson (Overkill), Jennifer Jalene (Mercenary Girl), Brett Curtze (Bar Fly)
---
Plot
Wake captains the ship The Revelator with a crew that scour space look for salvage. They arrive to claim the wreckage of a ship in the aftermath of a space war. This is interrupted by the arrival of the ship The Gutter commanded by Wake's old captain Jekel. Jekel is still bitterly resentful over Wake and his girlfriend Emerson leaving his command. Jekel wants an artifact known as The Chaos Generator from the destroyed ship. Under fire from Jekel, Wake and his crew manage to make a getaway with the Chaos Generator. They determine that it is alien in origin – one of three parts that combine to make a device of unimaginable power. Pursued by Jekel, they set out to find the other parts.
---
Scavengers was a directorial debut for Travis Zariwny who has been working as a production designer and camera operator since the 1990s. Shortly after this, Zariwny, now billing himself as Travis Z, went onto conduct the remake of Cabin Fever (2016). Since then, Zariwny, or Travis Z as he now prefers to bill himself, has made a number of other low-budget horror films with Intruder (2016) and The Midnight Man (2016), as well as one of the segments of the anthology World of Death (2016).
I had low expectations for Scavengers. It only had a pitiful 2.9 out of 10 audience rating at the IMDB. It is also noticeable that the film was retitled Super Soldiers presumably to give it more of an action emphasis despite the fact that nobody in the marketing department seems to have noticed that there are no soldiers in the film. Contrarily, for such a low expectation effort, I quite liked Scavengers.
My interest was held from the opening scenes involving the salvage effort in the aftermath of a space skirmish, which is interrupted by the appearance of rival Sean Patrick Flanery and both ships manoeuvring to attack each other and get away, while retrieving Roark Critchlow from where he has been abandoned in space. The special effects in these scenes are surprisingly good, far superior to the B-budget film that Scavengers gives every other indication of being. The sets are kept to a minimum and are nothing elaborate – Zariwny disguises this by keeping lighting levels down and focusing on the actors and drama such that you never notice the lack of more elaborate sets until you sit down and think about it at the end of the show.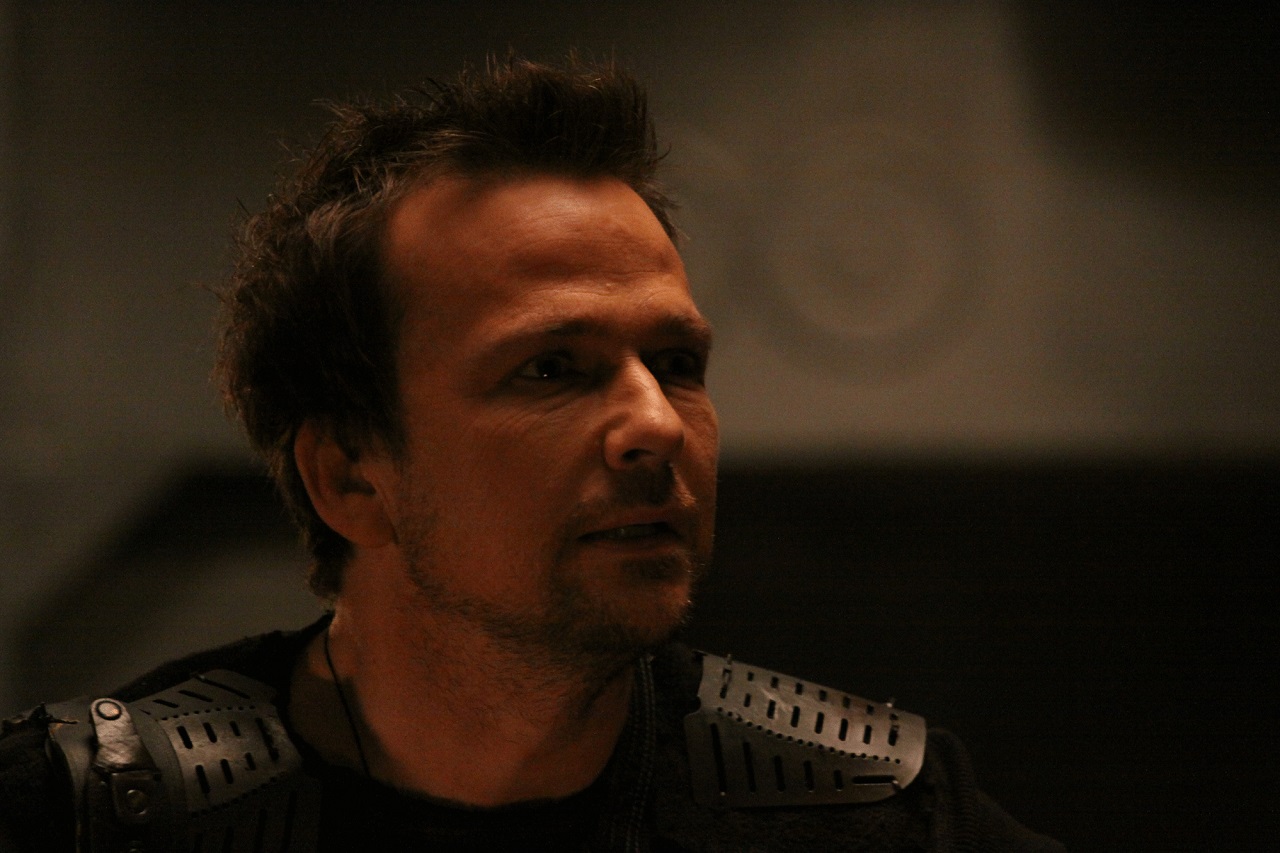 Zariwny has a reasonable cast to hand, including Roark Critchlow, a small role from Jason London and the heroine played by Louise Linton who subsequently married studio exec/Donald Trump's Treasury Secretary Steve Mnuchin. The most prominent name is Sean Patrick Flanery who has maintained a reasonable B movie career ever since coming to attention as the title character in The Young Indiana Jones Chronicles (1992-3). Flanery also ends up being one of the major deadweights of the film. You get the impression he didn't take the role serious and as a result plays the part of the bad guy with something that falls between an overwrought Shakespearean theatricality and a Southern accent, which comes out as incredibly hammy.
The writing of the film is solid. I particularly liked some of the background characters – like the relationship between the doctor (Jamie Strange) and Mark Wystrach as the clone crewmember who keeps dying in accidents and is replaced but is now on his last life. (Although this is something that is thrown away at the end where he inexplicably makes a return after being killed). The quest for alien artifacts and the open ending hints at something that could have been intended as a series. You cannot help but think if only the film had been afforded a decent budget it could have been quite something.
---
---