aka Alien Storm; Tornado Warning
---
Crew
Director – Jeff Burr, Screenplay – Paul A. Birkett, Story – Ken Badish, Producers – Ken Badish & Daniel Lewis, Photography – Andy Strahorn, Music – Andrew Morgan Smith, Visual Effects – Dilated Pixels & Sweet Post Productions, Special Effects Supervisor – Marshall Broyles, Production Design – Billy Jett. Production Company – Active Entertainment.
Cast
Jeff Fahey (Judd Walker), Kari Wuhrer (Gail Curtis), Stacey Asaro (Kelly Walker), David Jensen (Agent Armstrong), Willard E. Pugh (Sheriff Norm Mackey), Claire Conti (Denise Gordon), Terry Kiser (Mike Hardy), James Clement (Agent Parnell), Marcus Brown (Agent Cox), Caleb Tourres (Barney)
---
Plot
Lando County, Illinois. Farmer Judd Walker's teenager daughter Kelly receives the news that she has been accepted into university. Just then a strange storm that flickers with energy strikes the farm. In the aftermath, Judd is forced to tell Kelly that he has used her college savings to keep the farm afloat. He has difficulty explaining the tornado to sheriff Norm Mackey. However, the storm has piqued the curiosity of Gail Curtis who runs a popular storm chaser website and she arrives in town to investigate. As Judd and Gail join forces, they have to deal with Men in Black arrived to deal with the tornadoes. As Judd and Gail realise that the tornadoes are alien in origin, they start to grow in number and threaten nearby Chicago.
---
The disaster movie has become the province of the Syfy Channel during the latter half of the 2000s through the 2010s. Although it was not exclusive to them and there have been many imitators elsewhere, there have been a great many cheap and usually formulaic efforts churned out. See the likes of Path of Destruction (2005), The Black Hole (2006), Meltdown: Days of Destruction (2006), Lava Storm (2008), Annihilation Earth (2009), Ice Twisters (2009), Megafault (2009), Polar Storm (2009), Ice Quake (2010), Meteor Storm (2010), Quantum Apocalypse (2010), Stonehenge Apocalypse (2010), Behemoth (2011), Collision Earth (2011), Earth's Final Hours (2011), Mega Cyclone (2011), Metal Tornado (2011), Seeds of Destruction (2011), Miami Magma (2011), Super Eruption (2011), Super Tanker (2011), 2012 Ice Age (2011), Seattle Super Storm (2012), Eve of Destruction (2013), 500 MPH Storm (2013), Jet Stream (2013), 100° Below 0 (2013), Stonados (2013), Asteroid vs Earth (2014), Christmas Icetastrophe (2014), Crystal Skulls (2014), Firequake (2014), LA Apocalypse (2014), San Andreas Quake (2015), Stormageddon (2015), Geo-Disaster (2017) and Oceans Rising (2017). (I have a more detailed overview of the genre here at Disaster Movies).
With the sheer proliferation of product among these low-budget disaster films, most of the regular possibilities for disasters – earthquakes, meteors, Global Warming and so on – were fairly soon exhausted. Thus the films have been turning to more exotic forms of weather and scientific phenomena – black holes, white holes, wormholes, cold fronts from the mesosphere, freak onset Ice Ages and the like. And then there have been attempts to combine menaces – such as Firequake, Stonados and Sharknado (2013). Some of the scenarios these mashups have devised have started getting fairly bizarre – giant plants left over from the Garden of Eden in Seeds of Destruction and the winner of them all – a revived Ouroborous creature in Behemoth.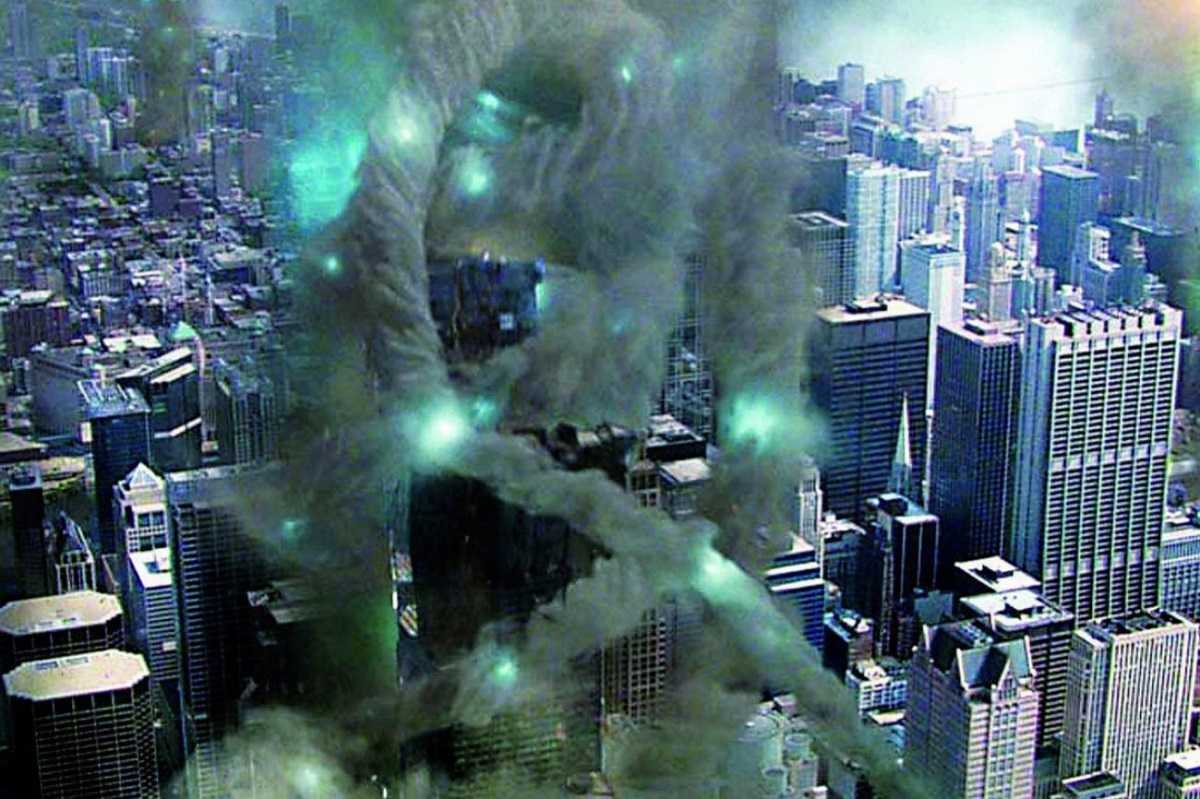 Alien Tornado slots in somewhere amid these bizarre reaches for novelty, featuring the head-scratching premise of a tornado of alien origin. Quite what its' alien nature or origin is is something that gets swept under the carpet. We are not sure where the tornado comes from, what its purpose is or even how anybody determined it was alien in nature. In fact, the tornado's alienness seems denoted solely by it being lit up by cool-looking flashes of energy, it accompanied by a signal and a group of pursuing Men in Black calling it alien. Everything else is the usual formula of the Syfy Channel disaster movie.
In all regards, the film plays out drearily. Director Jeff Burr seems to be making little but the most minimal professional effort. Kari Wuhrer and in particular Jeff Fahey are seasoned pros at this type of film and hold their end up capably. The effects work for the tornado is passable for the most part but falls down when it comes to the cheap-looking scenes of the tornado attacking Chicago. But really this is a film that raises a bizarre premise and then does precisely nothing with it, either to explain it or develop it, anything other than churn through the usual disaster movie formula.
Director Jeff Burr made a fine debut with From a Whisper to a Scream/The Offering (1987) and then went onto make numerous other genre films including Stepfather 2 (1989), Leatherface: Texas Chainsaw Massacre III (1990), Puppetmaster V: The Final Chapter (1994), Pumpkinhead II: Blood Wings (1994), Night of the Scarecrow (1995), Johnny Mysto, Boy Wizard (1997), Spoiler (1998), The Werewolf Reborn (1998), The Boy with X-Ray Eyes (1999), Phantom Town (1999), Straight Into Darkness (2005), Devil's Den (2006), Mil Mascaras vs the Aztec Mummy (2007), Resurrection (2010) and Gun of the Black Sun (2011).
---
---