---
USA. 2002.
Crew
Director – Rob Cohen, Screenplay – Rich Wilkes, Producer – Neal H. Moritz, Photography – Dean Semler, Music – Randy Edelman, Visual Effects Supervisor – Joel Hynek, Visual Effects – Digital Domain, Additional Visual Effects – Digiscope, Gray Matter & Illusion Arts (Supervisors – Syd Dutton & Bill Taylor), Title Sequence – Asylum, Special Effects Supervisor – John Frazier, Production Design – Gavin Bocquet. Production Company – Revolution Studios.
Cast
Vin Diesel (Xander 'Triple X' Cage), Asia Argento (Yelena), Marton Csokas (Yorgi), Samuel L. Jackson (Augustus Gibbons), Richy Muller (Milan Sova), Michael Roof (Toby Lee Shavers)
---
Plot
After a stunt in which he steals a Senator's Porsche and surfs it off a bridge, extreme sports fanatic and internet superstar Xander Cage is arrested. NSA agent Augustus Gibbons gives him a choice – either he faces a life sentence for the stunt under the Three Strikes Law or else he performs a mission for Gibbons. Xander accepts and is sent undercover to Prague to infiltrate Anarchy 99, an organization led by the former Russian solider Yorgi who is seeking to unleash a remote-controlled submarine that will fire a deadly nerve gas on all the major cities of the world.
---
xXx was called a James Bond movie reworked for the extreme adventure sports generation. However, that is to dignify what is one of the most relentlessly brainless films of recent vintage. The only other film to insult one's intelligence so spectacularly in fresh memory was Armageddon (1998). Even xXx's 'extreme sports James Bond' label feels less like a novelty concept than it does a cynical marketing niche. You can almost see the way the film has been conceived – with a group of people sitting down and looking through various extreme sports magazines and then trying to figure how each one could be worked into an action sequence in a film.
xXx creates some undeniably spectacular stunts with the likes of motorcycles jumping over fences (borrowed from The Great Escape [1965]) and Vin Diesel snowboarding in front of an avalanche. As a spy film however, it is laughable. With the James Bond series, Bond was fighting to save his country and the world from megalomaniacs – even action stars such as Arnold Schwarzenegger and Sylvester Stallone seem to be exacting justice according to a sense of inner morality when lily-livered pencil pushers fail to take the tough steps that need to be taken.
On the other hand, Vin Diesel's Xander Cage is only doing it for the adrenaline-rush it provides. Where in a James Bond film the assault on the mountainside communications array would have been a spectacular commando sequence, here all that happens is that Xander triggers an avalanche because it would be cool to snowboard metres in front of it. When he boards the submarine to stop the missile at the climax, there is no sense that he is operating out of the absolute urgency to save the world from mass destruction, rather that he is doing because it is cool to fire a harpoon at a submarine and parasail along behind it.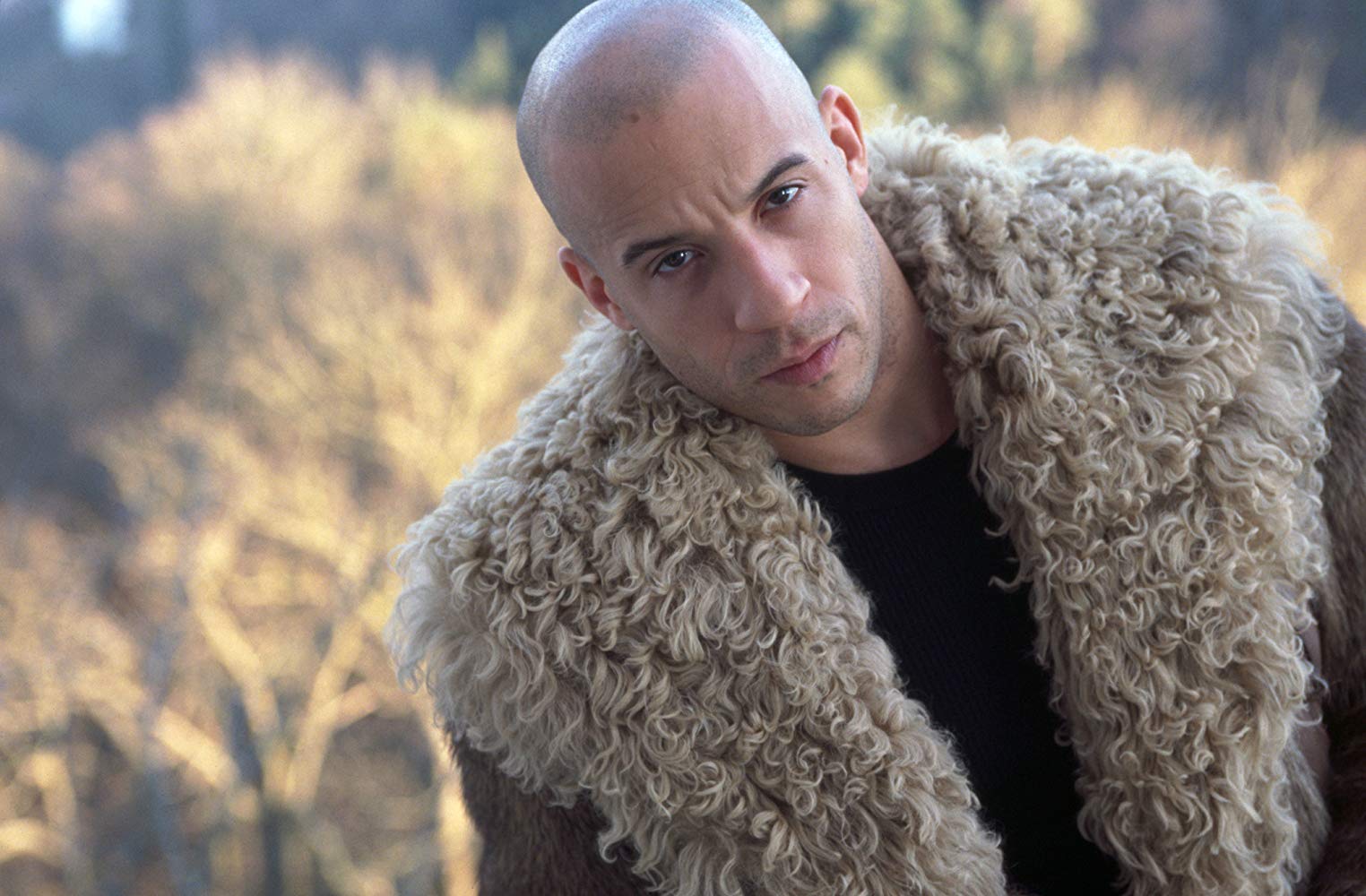 xXx is at its most outrightly laughable when it tries to directly emulate the Bond films. There is the requisite bedroom encounter but when we are introduced to the woman (Asia Argento), clambering up the pillars of a four-poster bed in her red underwear, for all the world like a chimpanzee in a zoo ape house, the effect seems more laughable than it ever does erotic. The end credits set out to emulate the stylized credit sequences of the James Bond films – but when it comes to animated images of pulsating hearts intercut with schematics of engines with pumping pistons (one presumes to signify pumping adrenaline), you realise just what a laughably impoverished imagination the film is operating with.
And when the villain's scheme is one that involves the use of a solar-powered submarine, you know you are in really, really bad scripting territory. The script tries to spin out a series of hip, cynical one-liners but you can almost hear them hitting the floor in leaden, unfunny silence. "Don't be a dick, Dick," is one of the less-than-memorable lines delivered early in the show. In fact, xXx is so brainless that when it comes to the central titular premise, which plays on California's Three Strikes Law, nobody seems to have gone and researched the fact that it is not possible to employ the Three Strikes Law simultaneously on charges all relating to the same crime – and almost certainly any halfway decent lawyer would have been able to plea-bargain such charges down to a single misdemeanour.
For all its appeal to the would-be new generation of extreme sports adrenaline junkies, tattoo and body-piercing fashion and anti-authoritarian attitude, xXx's badass posturing is a laughably transparent pose. Underneath his lip service to anti-authoritarianism and disrespect, Vin Diesel's Xander is just another decent virtuous All-American kid with a few (not even particularly jagged) rough edges. (What is also noticeably lacking between Xander and all the extreme sports junkies that I have ever encountered is his conspicuous lack of drug consumption). There seems nothing worse than a film (or a person) trying to seem cool and appeal to the latest fads and fashions and not having a clue.
xXx borrows the tried and true theme, from The Dirty Dozen (1967) through La Femme Nikita (1990), of an unruly con co-opted by an agency for a dirty mission. However, there is never any issues in the fight between Xander's anti-authoritarian, adrenal-charged thrill-seeking self-interest and his conscription into doing governmental dirty work – in no time at all he develops a conscience and seems happy to be saving the world, even in allowing Samuel L. Jackson's character to manipulate his anti-authoritarianism to get him to do what he wants.
There is a conspicuous lack of moral quandary in the film – when a character like James Bond would face the choice of shooting an ally or blowing his cover, he would probably shoot the ally and in so doing you could see just how cold and ruthless he was in his dedication to the job. TV's superb spy series Alias (2001-6) is full of such shaded and ambiguous moral choices. xXx on the other hand lets its hero entirely off the hook by providing him with a convenient arsenal of 'blood splatter bullets' that allow him to shoot the ally and fake the appearance of a bullet hit.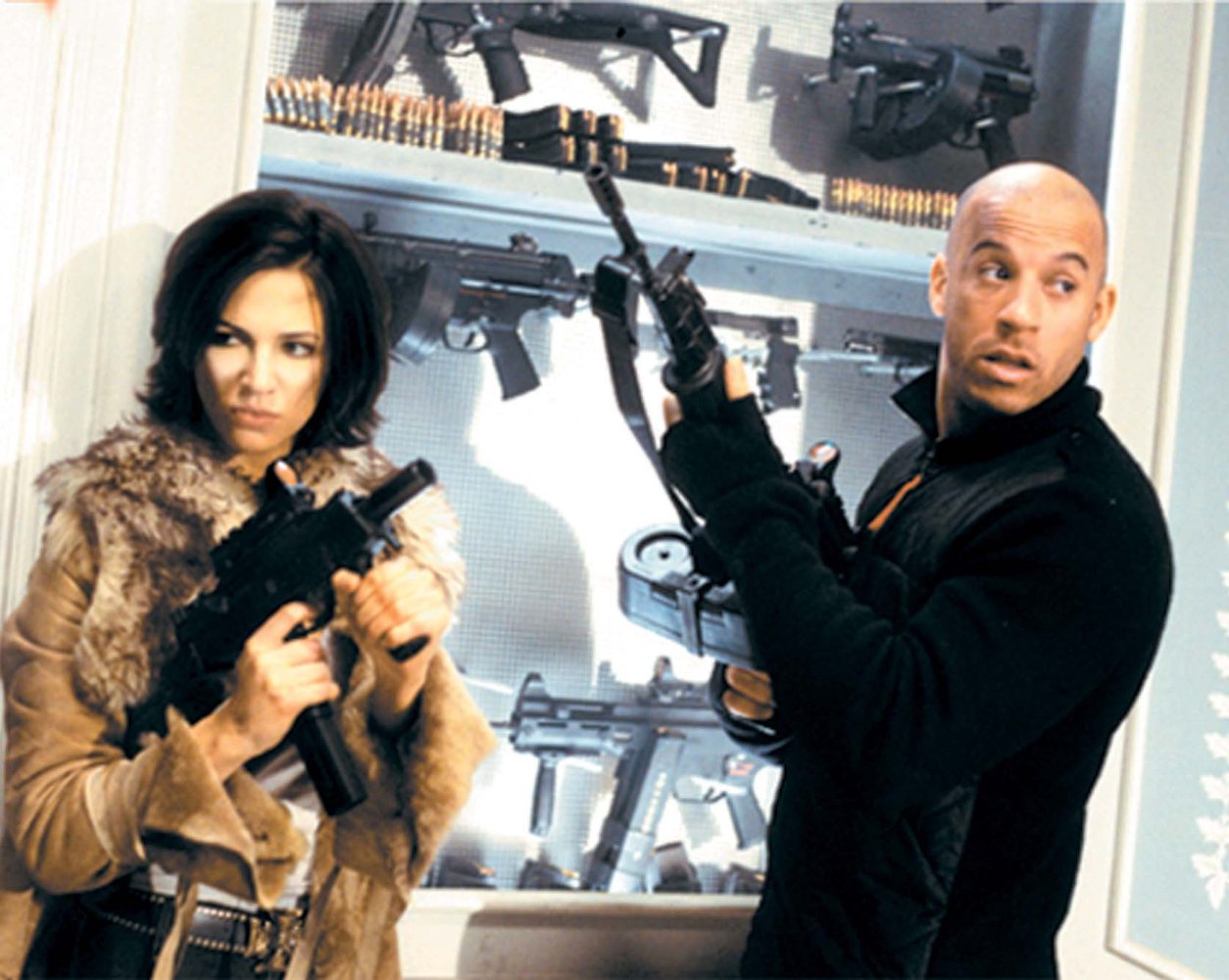 Even worse is when the film gets on a pedestal and starts giving pat moral lectures – in the opening sequence, Vin Diesel steals the Porsche of a Senator who is anti-rock music, tried to have videogames banned and has a bumper sticker 'Skateboarding Should Be Banned' on his car. While lecturing to the camera "rock music's not evil … banning videogames – give us a break, they're the only education we got," Vin surfs the Porsche off a bridge, while telecasting the stunt to an admiring internet audience. Such a lunatically defiant heroism aside, what seems the ultimate insult is the way the scene is undercut with the sort of pat message-making that used to come at the end of Saturday morning cartoons to make sure that children went away with an edifying message. All that seems to be missing is someone saying "Don't do this at home, kiddies." Even more absurdly, Vin Diesel gets to lecture a henchman on the evils of smoking, saying "those things will kill you" – which later turns out to be literally the case in a ludicrous scene where Vin gets to bump off said henchman by targeting a heat-seeking missile on his cigarette.
xXx toplines Vin Diesel. Vin Diesel first came to attention Saving Private Ryan (1998) and then with the electrifying performance he gave as the serial killer in the sf film Pitch Black (2000). Diesel consolidated his name with the unexpected success of The Fast and the Furious (2001), a film that similarly wrote him in as an adrenaline-junkie in an anti-authoritarian under-culture. By the time of xXx, where Diesel reteams with Fast and the Furious director Rob Cohen, and which Diesel executive produces, Diesel had entered the realm of Hollywood superstardom.
While both Pitch Black and The Fast and the Furious show Diesel as a trim, muscled and handsomely powerful presence, xXx spreads Vin Diesel's charms only too transparently thin. Here director Rob Cohen fails to trim Diesel's persona into a muscular, contained presence and all that Diesel is on screen is a big kid with tattoos and a goofy smile. He lacks even the heroic presence and solid charismatic certainty that non-acting action stars like Schwarzenegger or Stallone can bring to a film. Up against him, Italian horror director Dario Argento's daughter Asia is merely brattish window-dressing. Marton Csokas, formerly a music tv presenter and a teen heartthrob on the soap opera Shortland Street (1992– ) in his native New Zealand, badly overacts the stock Russian-accented villainous menace.
The equally lame sequel was xXx: State of the Union/xXx: The Next Level (2005) where the central role was recast with Ice Cube as a rogue prison escapee defending The President from an assassination plot, although this has no sf elements. Vin Diesel and Samuel L. Jackson eventually made a return with the long announced xXx: Return of Xander Cage (2017).
Director Rob Cohen also made the likes of the ridiculous Bruce Lee biopic Dragon: The Bruce Lee Story (1993), the Sylvester Stallone vehicle Daylight (1996), the fantasy film DragonHeart (1996), the thriller The Skulls (2000), The Fast and the Furious (2001), the sf/action film Stealth (2005) about an artificially intelligent fighter plane, The Mummy: Tomb of the Dragon Emperor (2008), the serial killer thriller Alex Cross (2012) and the psycho-thriller The Boy Next Door (2015). Cohen also co-wrote the voodoo film Ritual (2002). Throughout these, Rob Cohen has developed a reputation for flashy effects and action sequences but little sense of drama or character.
(Winner in this site's Worst Films of 2002 list).
---
---