aka I Was a 7th Grade Dragon Slayer
USA. 2010.
Crew
Director – Andrew Lauer, Screenplay – Jamie Nash, Producers – Ryil Adamson & Gavin Gillette, Photography – Luis Molina Robinson, Music – Mark Oates, Visual Effects – Coby Dax & Brent Peterson, CGI Effects – You Oughta Be In Pixels, Special Effects Supervisor – Geoff Martin, Troll Makeup Effects – Anisa Anderson & Pauline Adamson, Production Design – Paula Del Santo. Production Company – Razor Sharp Productions LLC.
Cast
Hunter Allan (Arthur Lyle), Lea Thompson (Laura Lyle), Richard Sellers (Bart), Abigail Victor (Natalie), Ryan Bradley Norris (Tim), Wendie Malick (Vice Principal Metz), Eric Lutes (Shane Barker), Jordan Reynolds (Larry Metz), Amy Pietz (Officer Annie), Andrew Lauer (Arthur's Father)
---
Plot
Thirteen-year old Arthur Lyle and his friends Natalie and Tim call themselves the Knights of the Square Table and enjoy fantasy role-playing in the local sewer tunnels. After getting in a fight with the bully Larry Metz, Arthur is hauled in by Larry's mother, the officious vice principal, who suggests that he is improperly supervised by his mother and would be better off living with his father. Back down in the sewers, Arthur encounters the blue-skinned troll Bart. Realising that Bart is a character from his favourite fantasy playing card game Elixir Quest come to life, Arthur brings him home. As in the game, Bart has been placed in thrall by the dragon Darksmoke. Darksmoke has transformed into a different form and is hiding somewhere in the real world. Darksmoke now uses Vice Principal Metz to forcibly obtain the potion Bart has that will allow it to regain its true form.
---
Adventures of a Teenage Dragonslayer is an independently made US children's film. It was a directorial debut for Andrew Lauer who has spent more time as an actor, perhaps being best known as a regular on Caroline in the City (1995-9), which notedly starred this film's lead Lea Thompson, as well as making minor acting appearances in films like Screamers (1995), even several efforts from The Asylum such as The Beast of Bray Road (2005), King of the Lost World (2005) and War of the Worlds (2005). The script for the film was apparently solicited via a competition and the production shot in Albuquerque.
It is an unfortunate rule of thumb that most low-budgeted children's films end up being excruciating. Not operating with the level of budgetary class that their studio rivals do, they tend to push everything towards a simplistic level of custard pie fights and shrill one-dimensional slapstick caricatures. One's admittedly not high hopes for Adventures of a Teenage Dragonslayer sink from the opening song, which manages such lines as: "Back in the day they used to say King Arthur really had it made/There were dragons to slay, princesses to save and no such things as getting good grades … On a roll with a troll … If a dragon gets back, I'll be the first to attack."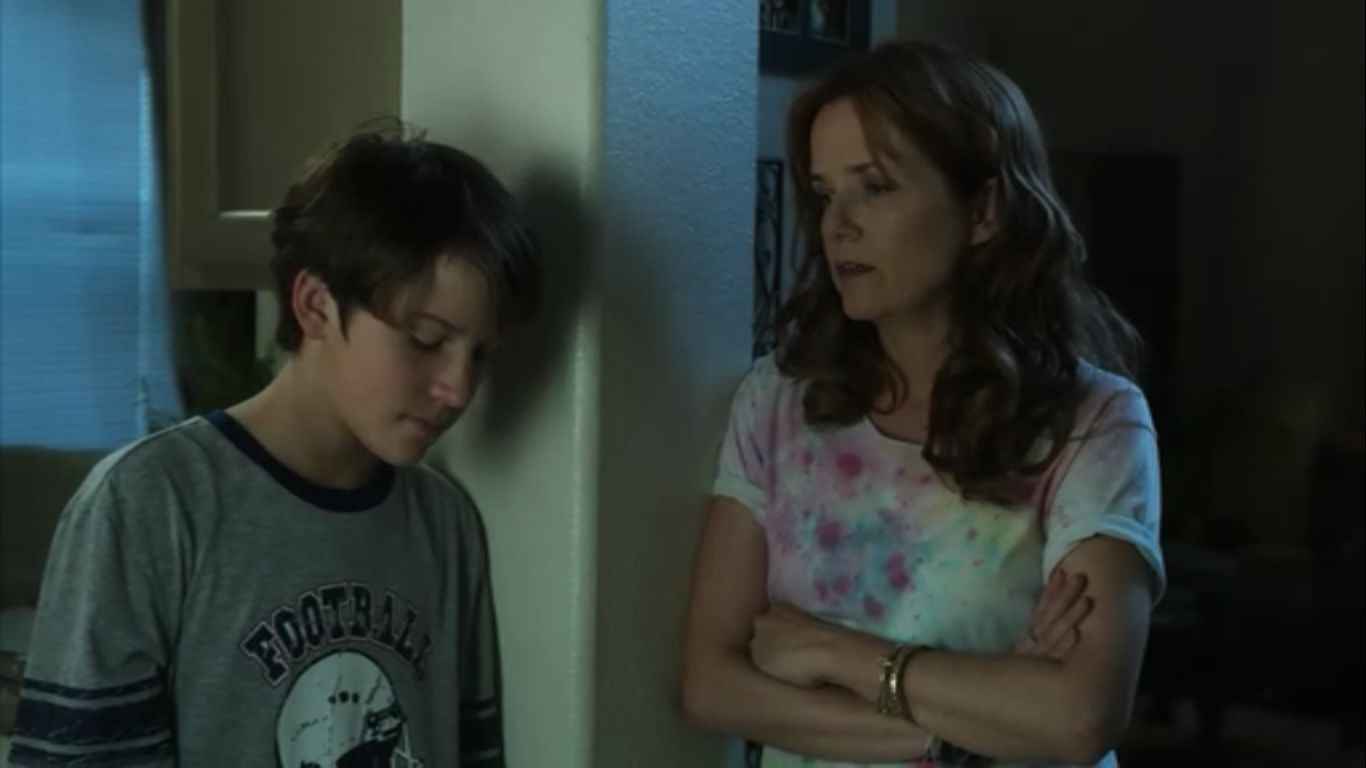 Adventures of a Teenage Dragonslayer falls into all of the pitfalls of these low-budget children's films. The plot, no matter how earth-shattering a discovery, never ventures beyond the environs of a school – here the world saviour is a kid, while the principal villain is the authoritarian school principal. There is a plot about the bright kid of the show triumphing over school bullies, although most of the film is spent running around engaged in a series of hijinks with a peculiar character that looks like a castoff from Little Monsters (1989) and only seems to speak in squeaks.
The film involves some improbable plotting contortion where the kids find their favourite fantasy cardgame, which is clearly based on Magic: The Gathering, is actually true and that the game's creator devoured the page from a spell book (in the school basement naturally) then promptly developed amnesia about doing so and went onto create the game.
Expectedly, much of this is painfully drawn out. Most of the film plays out on the level of one of the Disney live-action films of the 1970s with kids running around and the compulsory need to have to throw in slapstick car chases. There is some excruciating one-dimensional comic playing from the side of villainy, most notably Wendie Malick as the school principal. To its credit, the film does deliver the odd snappy line – most of which get thrown off by Lea Thompson who plays with an undeniably chirpy likeability. There are some incredibly poor CGI effects with the appearance of the dragon towards the end of the film.
---
---