---
Crew
Director – Dale Schott, Screenplay – Peter Sauder, Producers – Michael Hirsh, Patrick Loubert & Clive A. Smith, Music – Patricia Cullen, Songs – Carol & Dean Parks, Sung by Carol & Dean Parks, Debbie Allen & Stephen Bishop, Animation Supervisor – Charles Bonifacio, Art Direction – Wayne Gilbert. Production Company – Nelvana
Voices
Hadley Kay (Dark Heart), Maxine Miller (True Heart Bear), Pam Hyatt (Noble Heart Horse), Cree Summer Francks (Christy), Bob Dermer (Grumpy Bear), Don Hennessey (Brave Heart Lion), Eva Almos (Friend Bear), Michael Fanlini (John), Alyson Court (Dawn)
---
Plot
The Great Wishing Star saves a shipload of Care Bears from the evil shape-changing Dark Heart and appoints them as the guardians of Care-a-lot Castle in the kingdom of Caring. The kingdom's Caring Meter then registers the unhappiness of the human Christy who always comes last in summer camp competitions and the Care Bears go to try and bolster her spirits. However, the evil Dark Heart appears and gives Christy super-powers that allow her to win all the time and this spoils everybody else's fun at summer camp. This is all part of Dark Heart's diabolical scheme to capture the Care Bears.
---
Care Bears Movie 2: A New Generation was one of a quartet of moppet movies designed around a popular fluffy toy line. The other films in the series were The Care Bears Movie (1985), The Care Bears Adventure in Wonderland (1987) and Care Bears Nutcracker Suite (1988). There was also a popular tv series The Care Bears (1985-8). All of these came from the Canadian animation company Nelvana, who had produced a number of animated Star Wars spinoffs for tv – the series Droids (1985-6) and Ewoks (1985-7), as well as the animated segment of The Star Wars Holiday Special (1978) that introduced Boba Fett – along with the excellent The Adventures of Tintin (1991-2) tv series and films such as Rock and Rule (1983) and Pippi Longstocking (1997). A couple of decades later they also returned to the Care Bears franchise with the dvd-released Care Bears: Friends Forever (2004), Care Bears: Journey to Joke-a-Lot (2004) and Care Bears: Big Wish Movie (2005).
Care Bears Movie 2: A New Generation is a feelgood movie that seems like a fantasy born out of too many Me Generation warm fuzzies. It comes filled with lots of bright colours and there is much talk about happy feelings (everybody wears a heart on their chest that lights up in pastel rainbows when they care) and the banishing of bad feelings (which are linked to everything from the Faustian deal to a vague abuse of the environment theme). Adolescent creatures of indeterminate sexuality romp around in the cloud kingdom of Care-a-lot, tended by an older male and a female of indeterminate marital status. One truly amazing scene has been devoted to the glories of parenting – with the two human teenagers changing diapers, powdering and showering a conveyor belt line of babies to the accompaniment of a ditty pop song.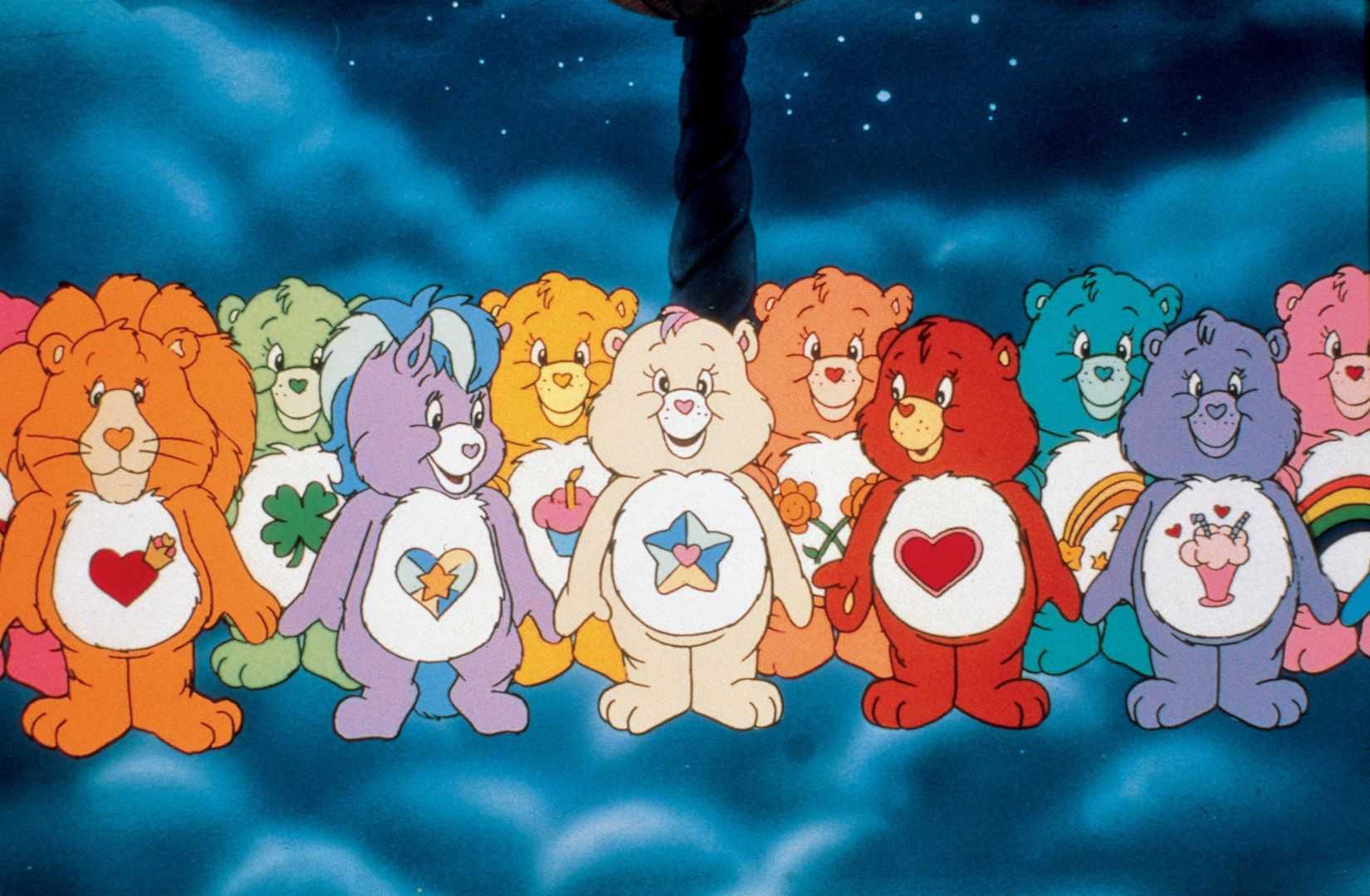 In an amazing piece of meta-cinematic audience-participation, one of the bears turns to the audience as the Christy character is dying, encouraging them to join in and feel to bring her back to life. At the very end of the film, the Great Wishing Star thanks the audience for caring – it is hard to imagine another film where such a shameless ploy might actually work.
It is all so light and insubstantial it could not possibly offend – one song about growing up is actually rather sweet. Everybody seems to have so much fun caring and frolicking about in their pastel-coloured Day-Glo designer-heart cloud-kingdom that one is almost prepared to forget that Care Bears Movie 2 is a 76 minute toy commercial.
---
---