---
USA. 1988.
Crew
Director – Penny Marshall, Screenplay – Gary Ross & Anne Spielberg, Producers – James L. Brooks & Robert Greenhut, Photography – Barry Sonnenfeld, Music – Howard Shore, Production Design – Santo Loquasto. Production Company – Gracie Films.
Cast
Tom Hanks (Josh Baskin), Elizabeth Perkins (Susan Lawrence), Jared Rushton (Billy Kopeche), Robert Loggia (Mac MacMillan), John Heard (Paul), David Moscow (Young Josh), Mercedes Ruehl (Mrs Baskin)
---
Plot
Feeling disadvantaged by his age, twelve year-old Josh Baskin puts a coin in a fairground wishing machine and wishes that he could be 'big'. He wakes in the morning to find that he now has the body of a 35 year-old man. Thought to be a child molester by his mother, he is driven from the house. He travels to New York where his child-like innocence gets him a job with a toy firm. His naive outlook on the world proves an unexpected aid in his advancing up the corporate ladder and also in drawing the attraction of a female co-worker.
---
This gentle and wonderfully sweet little film played an outsider's chance in the 1988-9 spate of bodyswap comedies – up against production-line fare such as Like Father, Like Son (1987), Vice Versa (1988), 18 Again (1988), Chances Are (1989) and Dream a Little Dream (1989) – and came out the best of all of them.
Big was directed by Penny Marshall – once the first half of tv's hit sitcom duo Laverne and Shirley (1976-82). Marshall graduated to directing with the Whoopi Goldberg turkey Jumpin' Jack Flash (1986) before wowing the world with Big. Indeed, Big is the best work in Penny Marshall's directorial career, which has otherwise been dominated by lightweight MOR fare such as Awakenings (1990), A League of Their Own (1992), Riding in Cars with Boys (2001) and a dull return to the fantasy genre with The Preacher's Wife (1996). Even more interesting are the screenwriters – Anne Spielberg is (the question everybody asks) yes, whatsisname's younger sister – and Gary Ross who would later graduate to director of Pleasantville (1998), Seabiscuit (2003) and The Hunger Games (2012).
Big offers one of the purest and most charming depictions of child-like innocence on screen. Most of the abovementioned bodyswap films are baby boomer fantasies. The recurrent thematic preoccupation was with starchy yuppie types who had forgotten how to have fun being transplanted into children's bodies. They were fantasies about the rediscovery of lost and missed childhoods, fantasies that seemed to advocate a retreat to innocence as panacea for the stresses of the executive boardroom.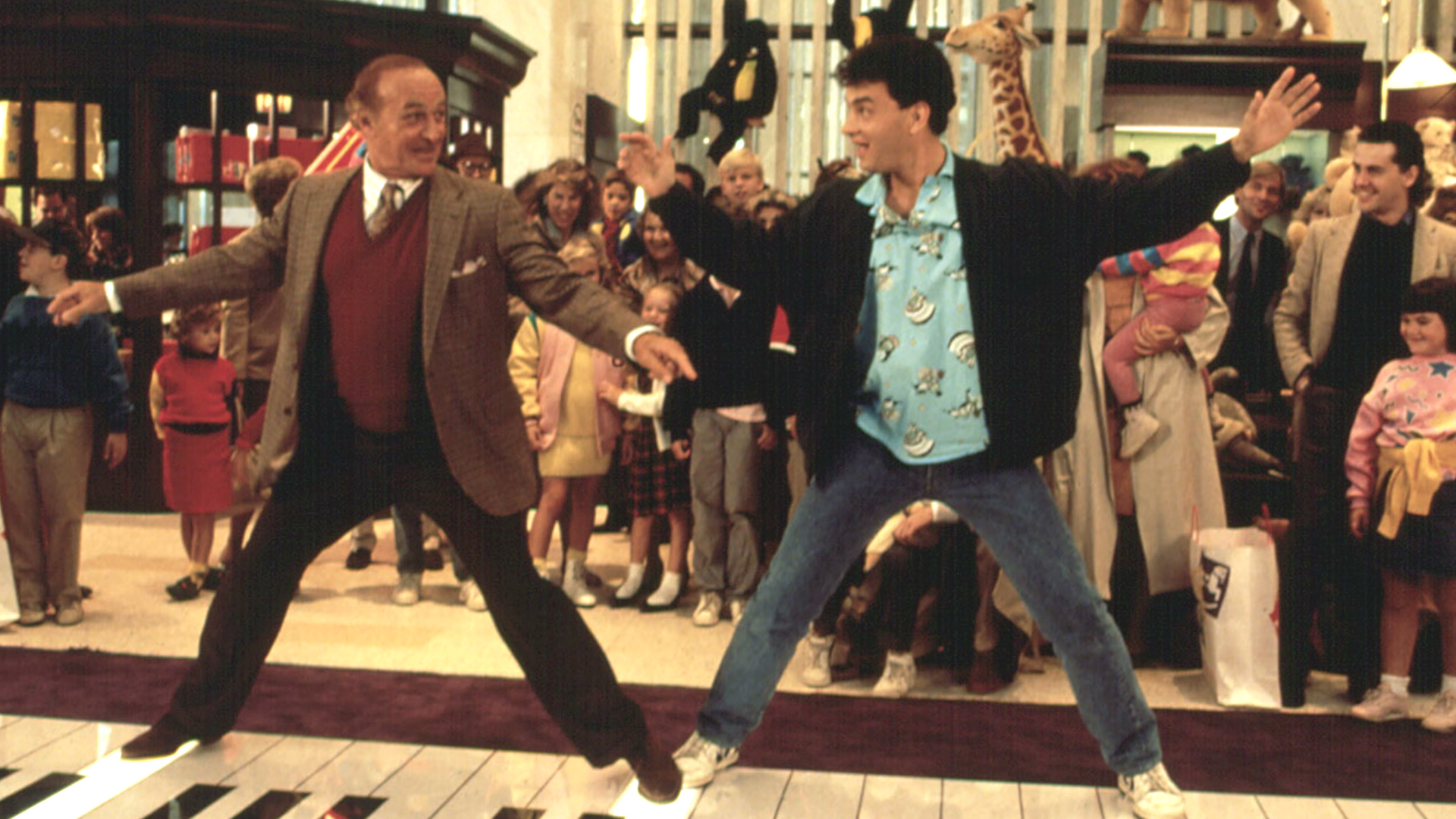 Big, more than all the other films, takes an unalloyed delight in its own child-mindedness. Marshall has unabashed pleasure, reveling in crazy-foam and laser-strike fights, advocating trampolining as a form of relaxation therapy, and with some charming moments dancing on a giant piano keyboard spread out across a department store floor like a zebra crossing. Or like the scene where Elizabeth Perkins asks Tom Hanks to sleep the night, with his natural response being to ask "Can I sleep on top?" and he then making a dive for the upper-bunk while she waits for him on the bottom.
Penny Marshall not only manages to have a food-fight with but also eat her cake and stand back to place the fun in poignant perspective. Josh's growing up – the tender simplicity with which he, for the first time, discovers a female breast – and the sad choice to be made between being an adult or a kid, with him ultimately realising that he misses home – are beautifully touching. The final image of he as a child again turning back in a suit several sizes too large to wave goodbye to Elizabeth Perkins is heart rendering. Tom Hanks's guilelessly winsome performance, deservedly nominated for the year's Best Actor Oscar, is standout. In fact its a far better piece of acting than many of Hanks's roles in the 1990s – Forrest Gump (1994) et al – that made him into America's Mr Nice Guy.
---
---