---
Crew
Director – Yuen Wo-Ping, Screenplay – John Fusco, Based on the Crane Iron Pentalogy by Wang Du Lu, Producers – Peter Berg & Charlie Nguyen, Photography – Newton Thomas Sigel, Music – Shigeru Umebayashi, Visual Effects Supervisor – Mark Stetson, Visual Effects – Lola VFX (Supervior – Edson Williams), Pixomondo (Supervisor – Mahmoud Rahnama) & Zoic Studios (Supervisor – Ralph Maiers), Special Effects Supervisor – Brendon Durey, Production Design – Grant Major. Production Company – Netflix/The Weinstein Company/China Film Co., Ltd./Dongyang Paige Huachuang Film & Media Company/Film 44/Yucaipa Films.
Cast
Michelle Yeoh (Yu Shu Lien), Donnie Yen (Silent Wolf/Meng Sizhao), Natasha Liu Bordizzo (Snow Vase), Harry Shum, Jr. (Wei Fang), Jason Scott Lee (Hades Dai), Juju Chan (Silver Dart Shi), Chris Pang (Flying Blade), Woon Young Park (Thunder Fist), Darryl Quon (Turtle Ma), Eugenia Yuan (Blind Enchantress), Veronica Ngo (Mantis), Gary Young (Te Junior), Roger Yuan (Iron Crow), Shuya Chang (Han Mei)
---
Plot
Yu Shi Lien travels to pay respects upon news of the passing of her old friend Sir Te. On the journey there, her carriage is attacked by warriors from the West Lotus martial arts school. While she is at the house, both Snow Vase, another guest there, and the West Lotus acolyte Wei Fang break in to try and steal the Green Destiny Sword. Snow Vase turns on Wei Fang and he is captured. Yu agrees to Snow Vase's request to take her on and teach her sword skills, watchful of the curious connection between her and Wei Fang. Meanwhile, West Lotus warlord Hades Dai is mobilising his fighters to steal the Green Destiny Sword. A call is placed out asking all loyal to the Iron Way to come and protect the house. This is answered by Silent Wolf, along with four other fighters. However, Yu has believed that Silent Wolf is dead and his return now rekindles resentment between them.
---
Crouching Tiger, Hidden Dragon (2000) was a sensation when it came out. Although Wu Xia and flying swordsman antics had been popular in Hong Kong cinema for decades, it was the first time that mainstream audiences in the West became aware of them. Crouching Tiger was a box-office sensation, coming in as the twelfth highest grossing film at the US box-office that year – ahead of Charlie's Angels (2000). It was nominated for Best Picture at the Academy Awards, won Best Foreign-Language Film, as well as accrued eight other nominations, including one for Ang Lee as Best Director, winning three of these. Along with The Matrix (1999), it popularised Wu Xia acrobatics in the West and many films for the next few years after sought to either directly copy it or incorporate wire-flying action moves.
Crouching Tiger, Hidden Dragon is a classic but Sword of Destiny is a sequel that quickly sinks in expectation almost from the moment it opens. Whereas the original was one of the biggest foreign language releases on US shores in some time, the sequel is shot in English-language and is principally a production that has been produced by and intended for screening on Netflix. While it still has a Chinese cast, this is a major step backwards that kills much of it. In other words, it is not a work of cinematic poetry that draws on Chinese cultural legend but something pitched to Western audiences that appropriates Chinese cultural legends.
The other thing that almost immediately kills interest is plentiful use of CGI and obtrusively colour-tinted landscapes whereas Crouching Tiger came without either. There were some visual effects in the film but they were not invasive (ie. you could look at the film and struggle to work out where they were). The upshot of this is that what we now have is not a Wu Xia film that flies with a graceful poetry but is merely another piece of processed CGI action.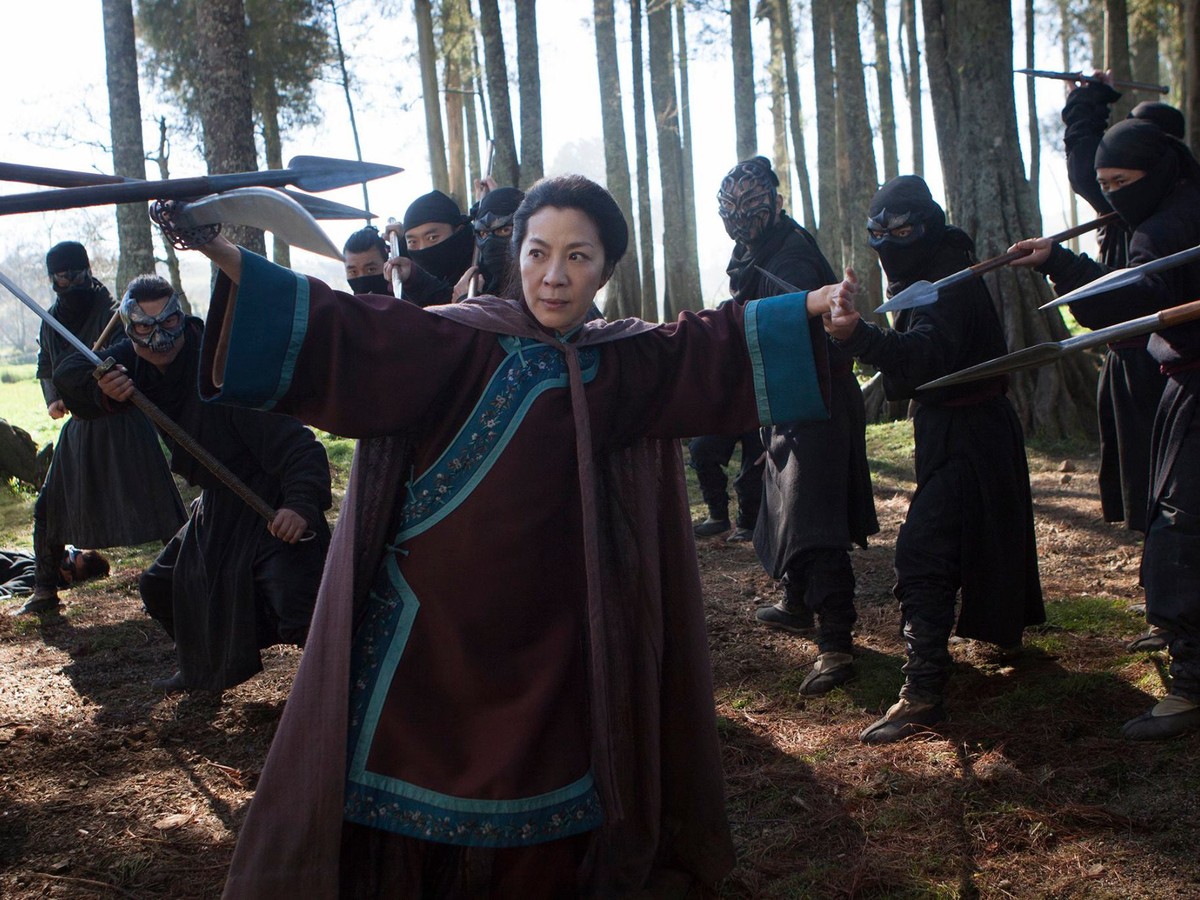 Things become even worse. There is a script from John Fusco. Now, Fusco has written one or two works that I admire – namely the blues film Crossroads (1986) and the American Indian myths and legends mini-series Dreamkeeper (2003), as well as Young Guns (1988), Thunderheart (1992), Loch Ness (1996), Spirit: Stallion of the Cimarron (2002), Hidalgo (2004) and The Shack (2017). The one major black mark against Fusco was the last time he ventured into this sort of material with the script for The Forbidden Kingdom (2008). This showed that Fusco was certainly a fan of Shaw Brothers martial arts films of the 1970s but the result was a hopelessly inept attempt to replicate the genre and one of the worst Western-made attempts to copy Crouching Tiger, Hidden Dragon.
Sword of Destiny sinks into the same area fairly quickly. The dialogue is gratingly awful – all meaningless pseudo-mystical epigrams. Or taunts like "A night in the cage will loosen your tongue," "Let me loose and I will loosen your teeth." Also missing from the film is any of the romantic story that the original had. Michelle Yeoh and Donny Yen are paired up again but no sparks fly there, while the younger characters go through a routine Swapped at Birth storyline.
The film is directed by Yuen Wo-Ping, the legendary Hong Kong fight coordinator who did sterling work on films such as Once Upon a Time in China (1991) and sequels, The Twin Dragons (1992), Fist of Legend (1994), Black Mask (1996), Kung Fu Hustle (2004) and Fearless (2006) plus the first Crouching Tiger, as well as Western films such as The Matrix and Kill Bill films. Yuen has directed an estimable number of films on his own with the likes of Snake in the Eagle's Shadow (1976), Legend of a Fighter (1982), The Miracle Fighters (1982), Dragons vs Vampires (1986), Iron Monkey (1993), The Tai Chi Master (1993), The Thousand Faces of Dunjia (2017) and in particular the hit of Drunken Master (1978), which made Jackie Chan's reputation.
It is not that Yuen Wo-Ping does badly when it comes to Crouching Tiger, Hidden Dragon: Sword of Destiny. The fight scenes have all the flying, mid-air twirling and fast-paced martial combat moves that you expect of Wu Xia and a Crouching Tiger sequel. It is just that Yuen does nothing particularly standout with any of them. They are slick, energetically paced and feel exactly like the professionally accomplished but ultimately uninspired moves of someone attempting to copy the first film. Crucially, there is nothing about any of them that makes an audience go wow as the first film did.
---
---