---
Crew
Director – Sidney Lumet, Screenplay – Jay Presson Allen, Based on the Play by Ira Levin, Producer – Burtt Harris, Photography – Andrzej Barthkowiak, Music – Johnny Mandel, Visual Effects – Bran Ferren, Production Design – Tony Walton. Production Company – Warner Brothers.
Cast
Michael Caine (Sidney Bruhl), Christopher Reeve (Clifford Anderson), Dyan Cannon (Myra Bruhl), Helen Worth (Helga Ten Dorp)
---
Plot
Playwright Sidney Bruhl is suffering from a series of successive flops. He then receives a script from student Clifford Anderson for a play entitled 'Deathtrap', which he believes to be the most perfect play he has ever read. He and his wife Myra contrive a plan so that Bruhl can claim the play as his – they invite Anderson over and then strangle him and bury the body. However, as they are retiring to bed afterwards, Anderson comes crashing through the window. He chases Myra through the house, scaring her weak heart into arrest. It transpires that Bruhl and Anderson are gay lovers and have plotted this elaborate scheme to kill her off. Anderson then moves into the house, ostensibly as Bruhl's secretary. However, Bruhl becomes suspicious when Anderson starts writing a play called 'Deathtrap', which bears a suspicious resemblance to their scheme to murder Myra.
---
Deathtrap is based on a hit 1979 Broadway play by Ira Levin. Ira Levin is a celebrated playwright and novelist who also wrote the original novels that later became the basis of films such as Rosemary's Baby (1968), The Stepford Wives (1975), The Boys from Brazil (1978), Sliver (1993) and The Stepford Wives (2004). The film version was released while the Deathtrap play was still playing on Broadway but received an indifferent response from both audiences and critics and did little box-office. Which is a shame as, when I eventually saw it, the film proves to be one of the most unabashedly out-and-out fun experiences one had had in a cinema in some time.
Ira Levin construed Deathtrap as a satire on the whodunnit genre. It should be noted that Deathtrap has many similarities to another play-become-film from a decade before, Sleuth (1972), which was also an over-the-top whodunnit parody whose drama all came in the battle of wits between two characters, one of which was played by Michael Caine (something that pressed the point of connection too far for many). The film is incredibly delicious fun. The plot is conducted with more twists and turns than a jar of pretzels and becomes increasingly more far-fetched with each turn taken, something that only ups the entertainment value the more over-the-top it gets.
The cast are all wonderful. Michael Caine absolutely shines and Christopher Reeve does a fine job of holding his own up against him. (Although, the show is frequently stolen out from both of them by Irene Worth as the Dutch psychic Helga Ten Dorp). At the time, Christopher Reeve was trying to shake romantic leading man status after the success of Superman (1978) and does a good job of doing so – the scene where he and Michael Caine kiss for the first time brings a gasp of surprise from the audience, as much for the dramatic surprise it holds as it does for the fact we are seeing two men kissing – it was one of the first portraits of open homosexuality on screen at the time (although is cut in many US tv screenings of Deathtrap today).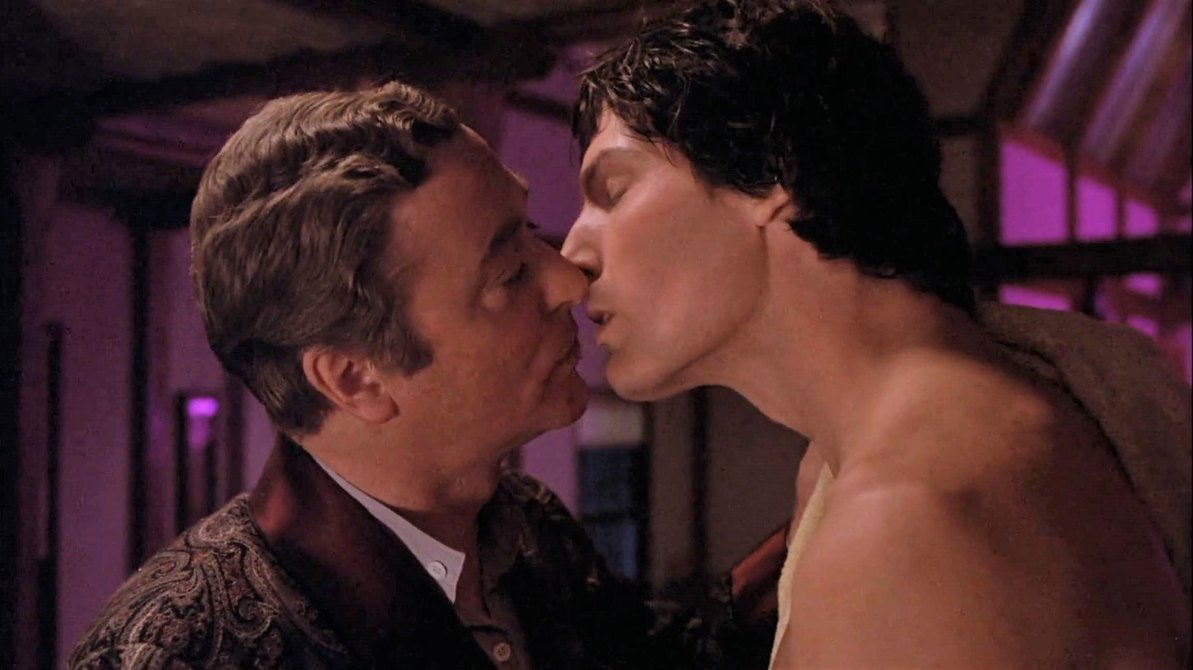 Director Sidney Lumet remains very faithful to the stage play and, bar a couple of minor exterior scenes, retains the single setting. He also creates great drama within that single set, such that one tends to forget that stagebound nature of proceedings altogether. The climax in a dark house lit by up lightening is remarkably tense, although the film peters out on another twist ending that is frankly incomprehensible (maybe it was simply that Ira Levin had built the play to such a fever pitch he could not find a way to cap it all off dramatically), this being the biggest failing of the film.
Director Sidney Lumet was responsible for a number of classic films including 12 Angry Men (1957), Long Day's Journey Into Night (1962), Serpico (1973), Murder on the Orient Express (1974), Dog Day Afternoon (1975) and Network (1976). Within genre material, Lumet made the stark nuclear drama Fail-Safe (1964), the Catholic boy's boarding school psycho-thriller Child's Play (1972) and the Wizard of Oz musical updating The Wiz (1978).
Other Ira Levin film adaptations of genre note are:- Roman Polanski's classic Satanic impregnation film Rosemary's Baby (1968), The Boys from Brazil (1978) about a Nazi cloning conspiracy, the android housewife takeover film The Stepford Wives (1975), the psycho-sexual thriller Sliver (1993), the remake of The Stepford Wives (2004) and the tv mini-series remake of Rosemary's Baby (2014).
---
---