---
Crew
Director/Screenplay – Peter Stebbings, Producer – Nicholas D. Tabarrock, Photography – David Greene, Music – John Rowley, Visual Effects – Artifex (Supervisor – Adam Stern), Special Effects Supervisor – Warren Appleby, Production Design – Oleg Savytski. Production Company – Joker Films/Alliance Films/Darius Films/Buck Productions.
Cast
Woody Harrelson (Arthur Poppington), Kat Dennings (Kat Debrofkowicz/Angel), Elias Koteas (Sergeant Chuck Dooney), Michael Kelly (Paul Carter), Sandra Oh (Dr Ellen Park), Clark Johnson (Captain Roger Fairbanks), Alan C. Peterson (Radovan Kristic), Lyriq Bent (Wayne), Charlotte Sullivan (Fay Poppington), Kristin Booth (Wendy Carter), Dakota Goyo (Jack Carter)
---
Plot
A psychologist appointed by the Ontario court interviews Arthur Poppington to determine why he vandalised a dry-cleaning shop and shoved a man into a garbage can. Arthur operated as the superhero known as Defendor, wearing a homemade costume, applying shoe polish as a mask and going into action to clean up the streets of crime. He was a constant thorn harassing corrupt cop Chuck Dooney. After several hoods beat Arthur up, the prostitute Angel helped him back to the workshop he used as his lair. She then milked the mentally deficient Arthur for money for her crack addiction by promising information about the drug kingpin known as Captain Industry that he is hunting. However, Arthur's bumbling attempts to obtain incriminating evidence ended up making him an enemy of real crime kingpin Radovan Kristic.
---
Superheroes are big cinematic business in the 00s. There has been a plethora of Marvel Comics adaptations – X-Men (2000), Spider-Man (2002), Hulk (2003), Fantastic Four (2005), Ghost Rider (2007), Iron Man (2008) et al, a lesser handful of DC Comics adaptations – Superman Returns (2006), The Dark Knight (2008), Watchmen (2009), Green Lantern (2011), as well as various independent works such as tv's Heroes (2006-10). Ever since the success of The Incredibles (2004), there have also been a spate of superheroic parodies featuring the domestic lives of or everyday problems faced by superheroes with the likes of My Super Ex-Girlfriend (2006), Zoom: School for Superheroes (2006) and Hancock (2008).
Defendor comes as welcome anathema to most of these serious superhero films in that it seems determined to puncture the superheroic balloon they operate in. Here the central character is not a superhero but a slightly backward man who believes in the heroic black-and-white morality of a superhero and keeps trying to enforce this on a world that only laughs at the notion. Rather than a gleaming armoured Batmobile, Woody Harrelson's Defendor prowls the streets in a garbage truck; rather than a sleek costume with utility belt, he applies shoe polish around his eyes as a mask, is tripping over the wires of his devices, while his female companion is grumbling at the difficulty of finding obsolete VHS tapes for his portable recorder. His hi-tech devices consist of nothing more than a handful of marbles or a jar of wasps flung at evildoers and lemon juice squirted in people's eyes – something that more often has the effect of reducing his opponents to laughter. The disparity is perhaps no more aptly shown than when he keeps referring to Kat Dennings' hooker as his Lois Lane, even as she is smoking a crack pipe and stealing his first edition comic-books to sell.
Defendor is not the first film to deal with the deluded individual who merely believes or pretends that they have superpowers. There have been previous variations on the theme such as Hero at Large (1980), Blankman (1994), Orgazmo (1997) and perhaps closest to this Special (2006), featuring Michael Rapaport who started to believe he was a superhero after undergoing pharmaceutical trials. Indeed, 2010, the year that Defendor went into wide release, seemed to be filled with variations on the idea, including the Australian Griff the Invisible (2010), the high-profile Kick-Ass (2010) and James Gunn's Super (2010), while not long after there was Superheroes (2011), a documentary about people fighting crime in superhero costumes in the real world, and just preceding all of these was the South Korean A Man Who Was Superman (2008) and even the Disney animated film Bolt (2008) about a talking dog that thinks it is a superhero.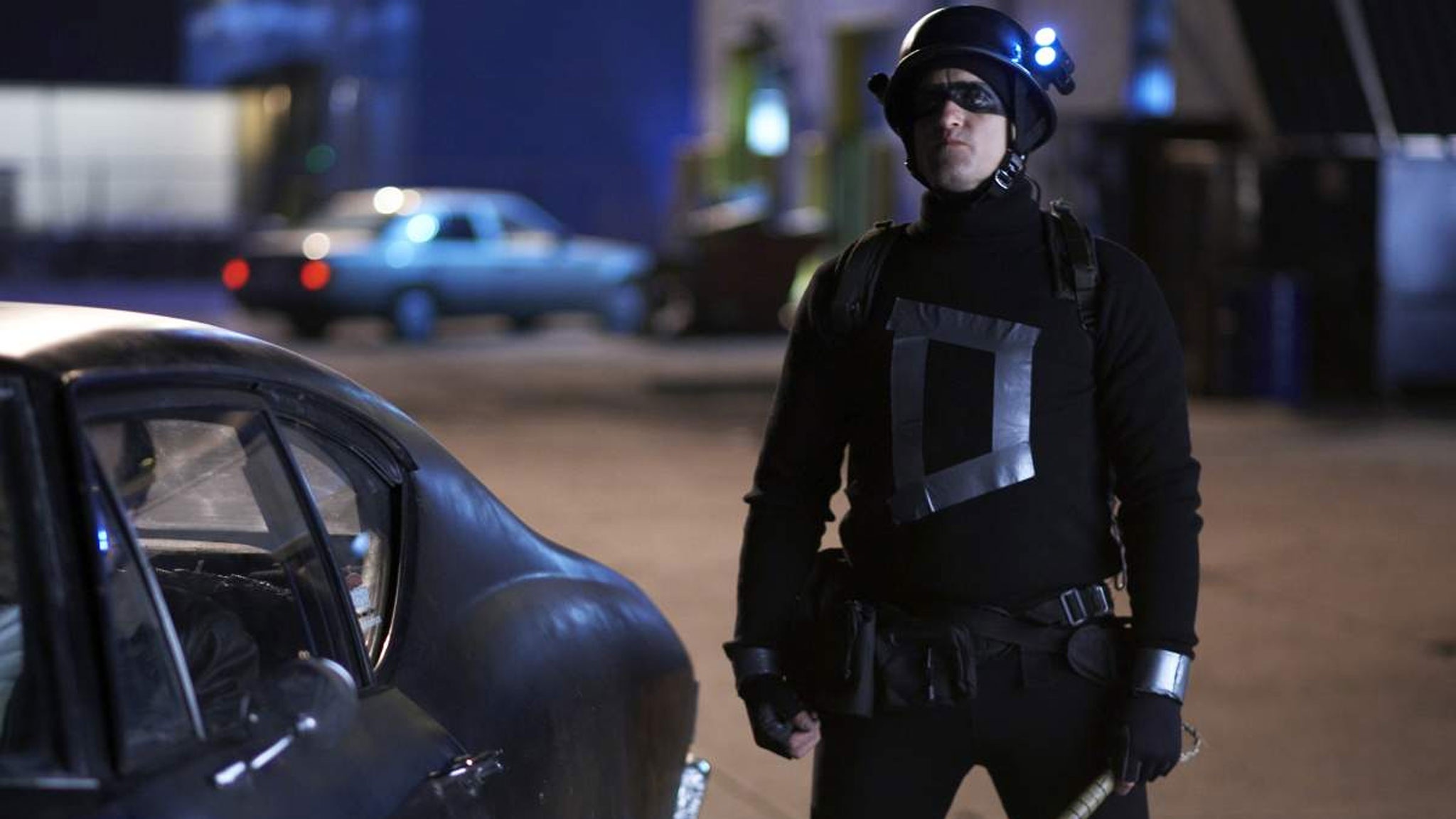 While Hero at Large, Blankman et al have played the idea of the deluded non-superhero as a spoof of the superhero genre, director/writer Peter Stebbings has much grander ambitions than this. On one level, Defendor is a comedy about an inept individual playing out the role of a superhero. However, Stebbings has clear affection for Woody Harrelson's central character and plays the film for more than easy laughs.
Woody Harrelson gives a sterling performance in the role. It is the same character that Woody played on Cheers (1982-93) but maybe a few digits down the IQ ladder and a whole lot more down the social developmental ladder. Harrelson, who is rapidly becoming one of the most underrated actors in the US, gives it his all. When the bad guys start ridiculing his dialogue – "Who writes your lines? Spiderman?" – who cannot fall for his adorable pout that is almost verging on breaking into tears "I write my own lines" – or the images of him tripping over himself as he goes into surveill the bad guys. It is he that pins the character of Arthur as an affectingly lovable mix of pitiably deluded and comic gaucheness.
Despite constantly deflating such, Peter Stebbings eventually pushes the role into a heroism – sort of the same guileless dim-wittedness wins out by having an untarnished heart of gold that Forrest Gump (1994) embodied. The screenplay takes the odd misstep – while we get a handful of flashbacks to Arthur's childhood, what we needed was an explanation of how Arthur became Defendor – but Woody Harrelson remains the film's soul.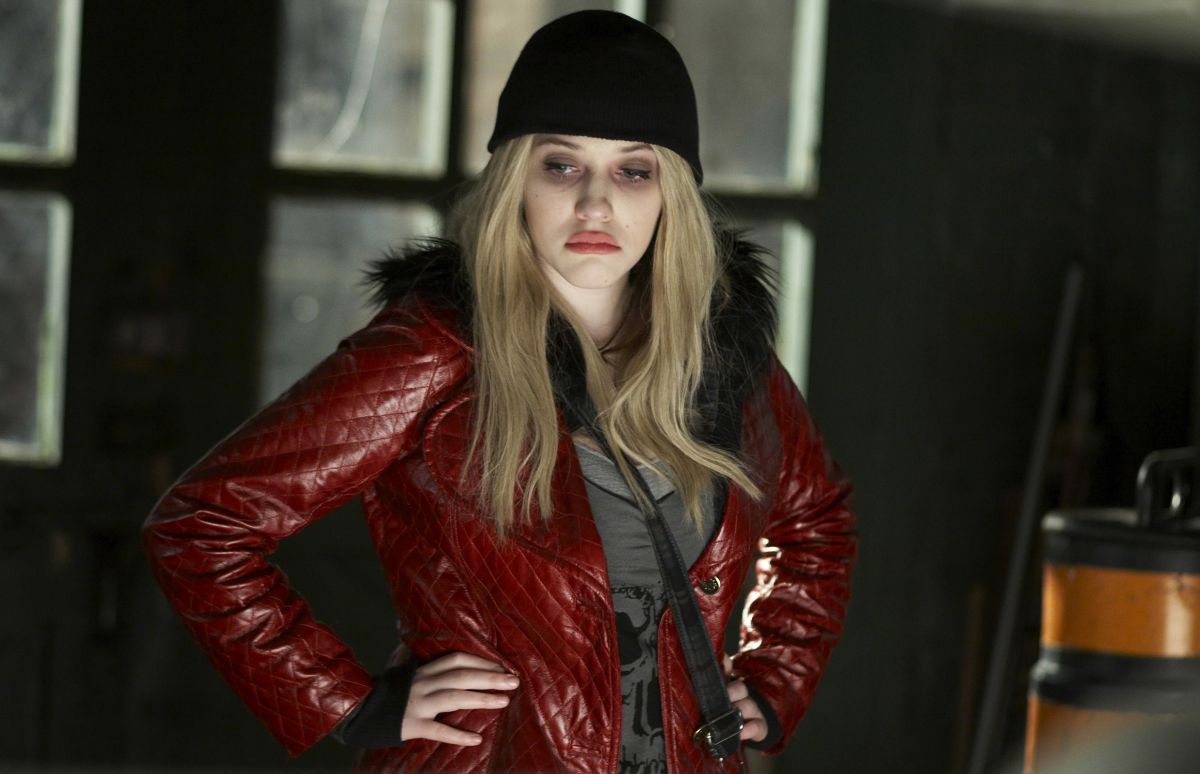 Peter Stebbings manages to bring together a great cast. The show is dominated by Woody Harrelson but excellent also is rising and talented star Kat Dennings as the hooker with the grudging heart of gold who becomes Harrelson's companion. The relationship between the two of them is one of the strongest parts of the film. Elias Koteas's role as a corrupt cop needed more development – we are not sure why he seems to be leading criminal operations on the street. Nor does Sandra Oh get up to much, although there is a fine performance from Clark Johnson as the oddly sympathetic and understanding cop confidante.
Director/writer Peter Stebbings was previously best known as an actor and was a regular on the Canadian tv series Traders (1996-2000) and in the genre series Jeremiah (2002-4), as well as playing a leading role in K-19: The Widowmaker (2002). Stebbings had previously written the relationship drama Jack and Jill vs the World (2008) and Defendor was his debut as a director. He subsequently went onto direct the First Nations drama Empire of Dirt (2013) and assorted tv work.
(Winner for Best Actor (Woody Harrelson) at this site's Best of 2009 Awards).
---
---