---
Crew
Director – Richard Ayoade, Screenplay – Richard Ayoade & Avi Korine, Story – Avi Korine, Based on the Novel by Fyodor Dostoyevsky, Producers – Amina Dasmal & Robin C. Fox, Photography – Erik Alexander Wilson, Music – Andrew Hewitt, Visual Effects Supervisor – Matt Clarke, Visual Effects – Framestore, Special Effects Supervisor – Mark Holt, Makeup Design – Jan Sewell, Production Design – David Crank. Production Company – Alcove Entertainment/Auburn Entertainment LLP/Aftercorp Productions/MC Pictures.
Cast
Jesse Eisenberg (Simon James/James Simon), Mia Wasikowska (Hannah), Wallace Shawn (Mr Papadopoulos), Noah Taylor (Harris), Yasmin Paige (Melanie Papadopoulos), Cathy Moriarty (Kiki), Kobna Holdbrook-Smith (Guard/Doctor), Phyllis Somerville (Simon's Mother), James Fox (The Colonel)
---
Plot
Simon James is a mousy, mild-mannered clerk who is constantly walked over and ignored. He has a crush on his co-worker Hannah and spies on her with a telescope from his apartment opposite hers but is unable to find the words to say anything to her. One day, he meets the new guy on the job, James Simon, who looks and dresses exactly like him. By contrast to Simon, James is confidant, charming and assured. He tries to suggest ways for Simon to have some success with Hannah, only to take Simon's place and win her himself. Next, James starts to work his way into and take over Simon's life.
---
Richard Ayoade is better known as an actor and a comedian. Ayoade first gained some attention with the short-lived tv series Garth Marenghi's Darkplace (2004), a rather witty spoof of a supposedly lost 1980s horror tv series, which he wrote, directed and starred in. This proved a flop but Ayoade went onto play a recurring character in the cultish tv series The Mighty Boosh (2003-7) and then as one of the leads in The IT Crowd (2006-13). He directed music videos for a number of bands and was brought to the US to make an acting appearance in the flop alien invasion comedy The Watch (2012). More significantly, Ayoade made his theatrical debut as a director with the Coming of Age story Submarine (2010). The Double was his second film as director.
The Double is a venture into the doppelganger theme that has a long and respectable lineage on screens. See films such as the adaptation of Edgar Allan Poe's William Wilson in Tales of Mystery and Imagination/Spirits of the Dead (1968) and other works like The Man Who Haunted Himself (1970), The Other (1972), Doppelganger (1992), The Dark Half (1993), Gemini (1999), The Tiger's Tail (2006), Cam (2018) and Us (2019).
Indeed, The Double premiered at the very same Toronto International Film Festival as Denis Villeneuve's Enemy (2013), which featured a not dissimilar plot with Jake Gyllenhaal encountering a double of himself, while around the same time there was also Another Me (2013) with English schoolgirl Sophie Turner encountering a double of herself and The One I Love (2014) where husband and wife Mark Duplass and Elisabeth Moss encounter idealised versions of themselves.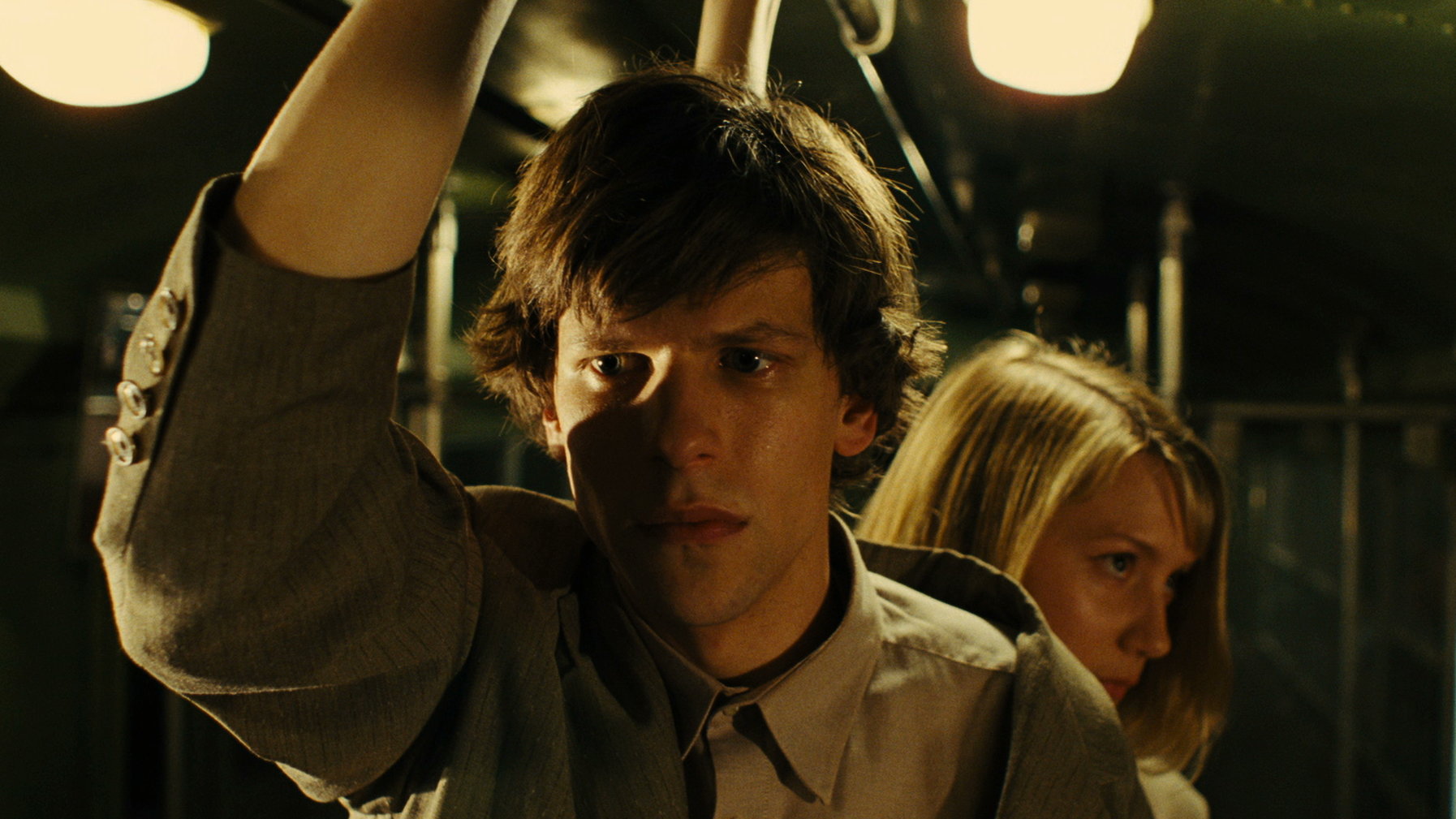 The film is based on The Double (1846), a novella by Fyodor Dostoyevsky, the Russian author regarded as a literary giant for works such as Crime and Punishment (1866), The Idiot (1869) and The Brothers Karamazov (1880). These focus on themes of human psychology and contain potent examinations of guilt, suffering, conscience and morality. The Double is certainly one of Dostoyevsky's lesser works – even he regarded it as a disappointment. The original work is set in a government organisation as a mousy bureaucrat Yakov Golyadkin finds his life taken over by a far more socially outgoing and charismatic double. The novella had been filmed at least once before by Bernardo Bertolucci as Partner (1968), which is generally regarded as one of his less great works.
The one thing I don't recall about Dostoevsky is that it was ever noted that he wrote dystopian science-fiction or fantasy. That is why it is a puzzle when Richard Ayoade transplants The Double into a world that resembles something akin to the one from Terry Gilliam's Brazil (1985). The background is that of a sinisterly threatening bureaucracy where people work in tiny cramped cubicles that seem too small to bend into, use giant-sized antiquated computers and photocopiers that are operated by large dials and diodes.
The feel is of an oppressively threatening post-War British bureaucratic office circa the 1950s where the time of day is always midnight. (In both Brazil and The Double, there is also the hero's almost stalkerish fixation with a girl who is an almost impossible object of desire). The upshot of this is that tone of The Double is less Dostoevskyan than it is Kafka-esque, less fixated around human psychology than it seems to be about one man trapped in a bureaucracy that is labyrinthine in nature and promethean in its impenetrability.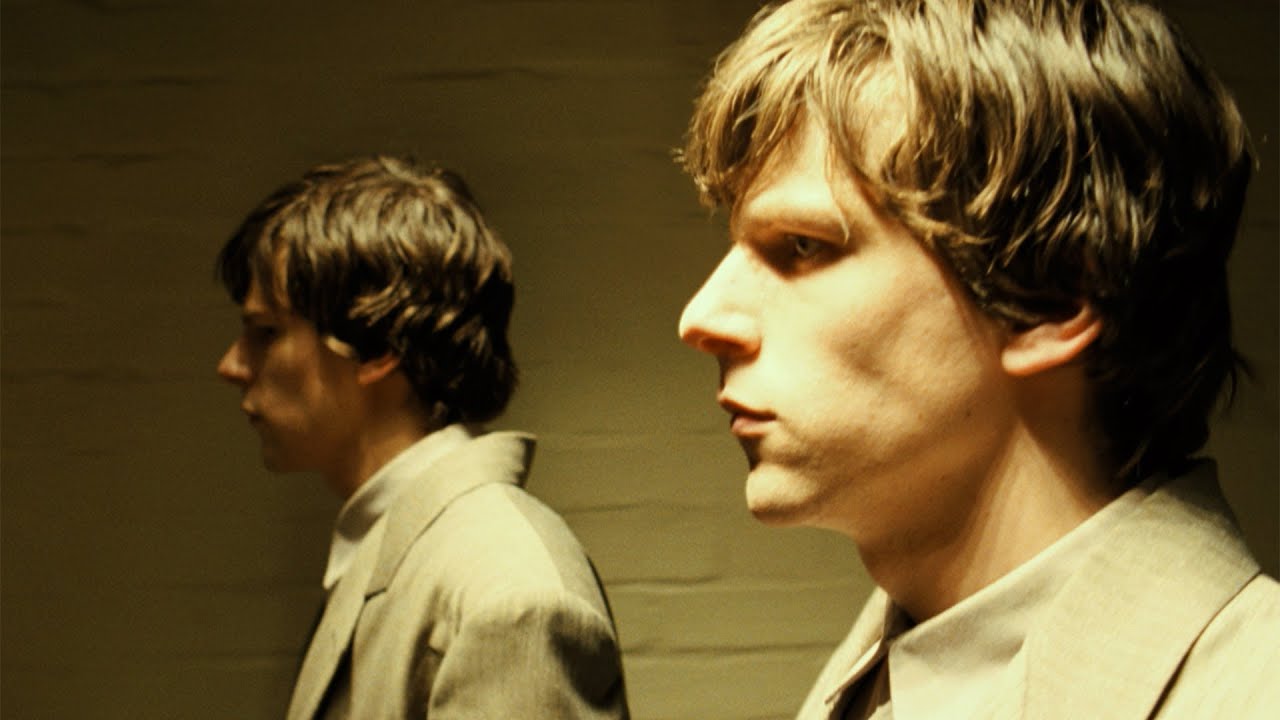 Part of the problem with The Double is Richard Ayoade's uncertain tone. The film is given the label of comedy but it never seems particularly funny – more vaguely blackly paranoid like less sophisticated Terry Gilliam. On the other hand, when you regard it as the Kafka-esque work that Ayoade clearly intends it to be, it seems more lightweight – more a student experiment in paranoid mood than a fully developed work that generates an unsettling degree of paranoia. As to the doppelganger theme, you feel that the Brazil-like setting could have been taken out and the film played out in any milieu with no difference made to the story. Even as a doppelganger story, it is one that you feel that the abovementioned films have used and where this manages to discover no new variations.
Richard Ayoade manages to bring together an unusually strong cast. The two leads are played by the hot names of Jesse Eisenberg and Mia Wasikowska, while the supporting cast includes the likes of Wallace Shawn, James Fox, Noah Taylor and Cathy Moriarty in smaller roles, while there are even blink or miss them cameos from Sally Hawkins and Paddy Considine. Normally names like this would be sufficient to peg The Double as a major theatrical drawcard, whereas the film had almost no play outside of various film festivals before being dumped straight to dvd.
---
---