---
Crew
Director – Alexandre Aja, Screenplay – Keith Bunin, Based on the Novel by Joe Hill, Producers – Alexandre Aja, Riza Aziz, Joey McFarland & Cathy Schulman, Photography – Frederick Elmes, Music – Robin Coudert, Visual Effects Supervisor – Derek Wentworth, Visual Effects – Tippett Studio (Supervisor – Matt Jacobs), Special Effects Supervisor – Jak Osmond, Makeup Effects Supervisors – Howard Berger & Greg Nicotero, Makeup Effects – KNB EFX Group, Inc., Production Design – Allan Cameron. Production Company – Mandalay Pictures.
Cast
Daniel Radcliffe (Ignatius 'Ig' Perrish), Max Minghella (Lee Tourneau), Joe Anderson (Terry Perrish), Juno Temple (Merrin Williams), Kelli Garner (Glenna Shepherd), James Remar (Derrick Perrish), Kathleen Quinlan (Lydia Perrish), David Morse (Dale Williams), Heather Graham (Veronica), Michael Adamthwaite (Eric Hannity), Nels Leonardson (Wallace Sturtz), Don Thompson (Al O'Hara), Michael Kunman (Ig at 13), Sabrina Carpenter (Merrin at 13), Dylan Schmid (Lee at 13), Eric McNamee (Eric at 13), Jay Brazeau (Father Mould), Alex Zahara (Dr Renald), Christine Willes (Receptionist), Meredith McGeatchie (Mary, Young Mother), Sarah Boey (Little Girl), Kendra Anderson (Nurse Delilah), Jared Ager-Foster (Terry at 13), Laine McNeill (Glenna at 13)
---
Plot
In the town of Gideon Bay, Washington, Ig Parrish has been accused of the brutal murder of his girlfriend Merrin Williams. Ig loved Merrin since they were kids and swears that he is innocent. The rest of the townspeople blame him for the murder, even though there is no evidence for the police to convict him. Ig then wakes up from a drinking bender to find that he has two devil horns growing out of his forehead. He finds that this means that everybody he talks to will now confess their deepest secrets. Moreover, he can persuade them to act on these desires with often catastrophic consequences. He also realises that with this newfound ability he is able to search for the evidence he needs to find who Merrin's real killer was.
---
French director Alexandre Aja emerged with the festival hit of the gore-drenched High Tension (2003), his second film following the dystopian future film Furia (1999). This propelled Aja to a career as a director of a string of modestly effective Hollywood horror films with the likes of the remake of The Hills Have Eyes (2006), Mirrors (2008), the remake of Piranha (2010) and subsequently the non-genre thriller The 9th Life of Louis Drax (2016) and the killer alligator film Crawl (2019). Aja has also produced/written the psycho-thriller P2 (2007), the remake of Maniac (2012), The Pyramid (2014) and produced The Other Side of the Door (2016) and 47 Meters Down (2017).
The film is based on Horns (2010), a novel by Joe Hill. Joe Hill is better known by his birth name Joseph Hillstrom King and is the son of Stephen King. He began publishing horror fiction in 1997, taking the name Joe Hill seeking to avoid comparisons to his father and wanting to establish his own name. Recognition duly came with his work winning the Bram Stoker Awards, World Fantasy Awards and British Fantasy Awards. Hill was eventually outed as King's son in an article in Variety in 2007. He has published three novels to date with Heart-Shaped Box (2007), Horns, NOS4A2 (2013) and The Fireman (2016), which have achieved some best-selling status. Subsequent to this, Hill's works were adapted into the films In the Tall Grass (2019) and The Black Phone (2021) and the tv series' NOS4A2 (2019-20) and Locke & Key (2020-2). (Incidentally, Joe plays the young kid who has his comic-books thrown away in the wraparound segments of the King scripted Creepshow (1982) and its sequel).
I will confess upfront that I haven't read Joe Hill's book. However, the premise of the man who starts growing horns is one that has been conducted before. There was Gormenghast creator Mervyn Peake's novel Mr Pye (1953) about a man who suddenly spouts angels' wings – in an effort to get rid of them, he deliberately sets out to do bad, only to then find himself developing horns. This was filmed as the little-seen tv mini-series Mr Pye (1986) starring Derek Jacobi. There was also animator Bill Plympton's rather funny Idiots and Angels (2008) about a man who develops a set of angel wings. You could also maybe draw some analogies between Horns and Stephen King's Needful Things (1991), filmed as Needful Things (1993), wherein a stranger who may be The Devil stirs up a small town by exposing their guilty secrets.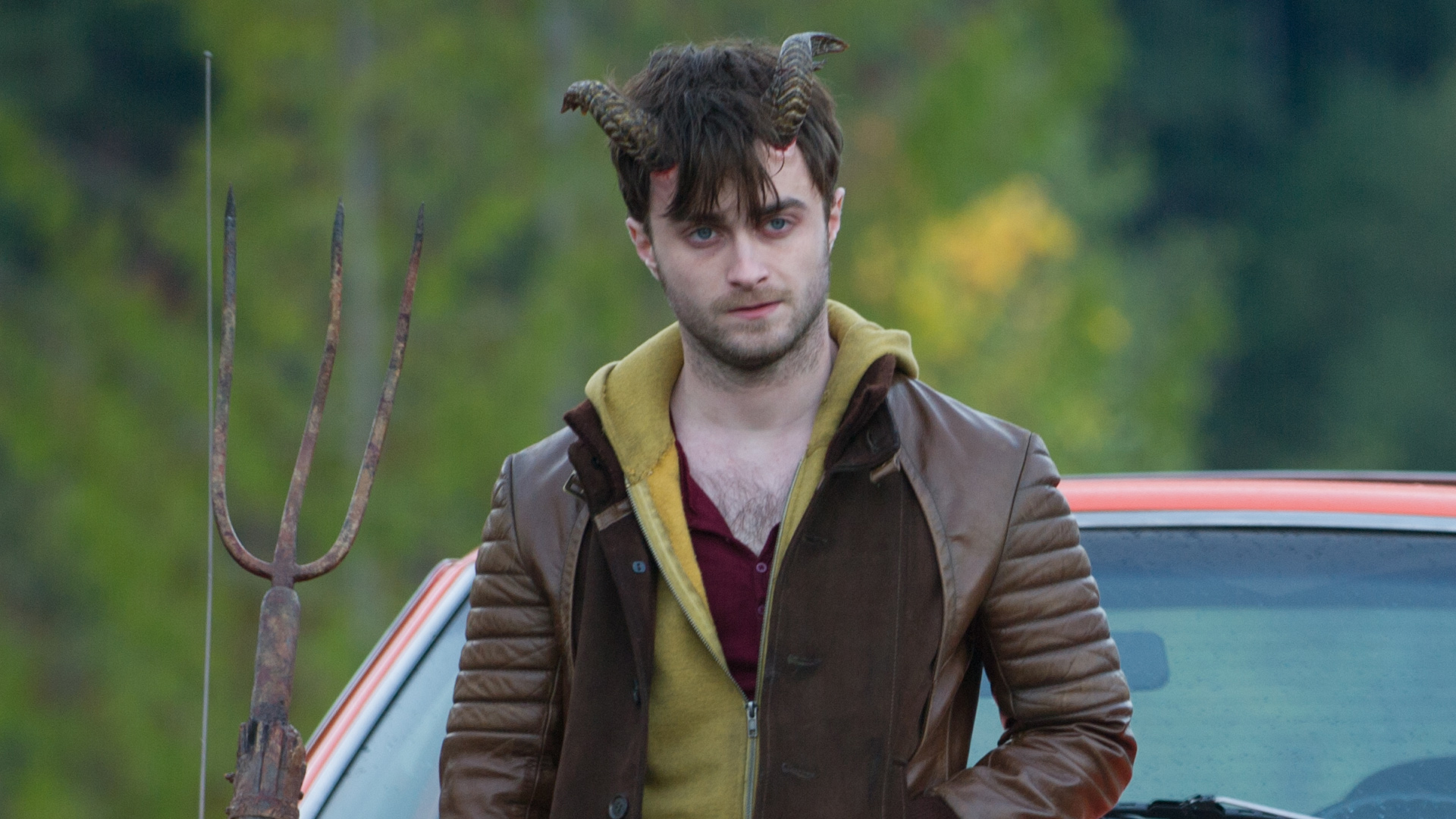 Horns kicks in with a pleasantly unwholesome bite as we see the various people around Daniel Radcliffe confessing their deepest darkest secrets – Kelli Garner wanting to compulsively eat a whole box of donuts; the doctor (Alex Zahara) confessing desire for his teenage daughter's friend; the girl telling about keying the car of her cheating boyfriend's fling; a mother wanting to hurt her bratty child.
About the point of Daniel Radcliffe inspiring a group of tv reporters to turn on each other in a brawl and a barman to set his premises alight for insurance money, Alexandre Aja hits a black comedy vein and the film seems alight with diabolical glee. Elsewhere, the film brims over with Biblical imagery and references – Daniel Radcliffe gets to hold a pitchfork and command snakes, there is an Eve's Diner and a town called Gideon Bay. It is clearly Radcliffe choosing to avoid the typecasting of the Harry Potter films and do something very different.
On the minus side, Horns proves to be half a good film. The main problem is that after introducing the horns concept in the first half, the second half seems more interested in being a smalltown murder mystery as Daniel Radcliffe seeks to solve who murdered his girlfriend Juno Temple, something that takes him on a tangled web back to his childhood. This is semi-interesting – although not as interesting as the scenes with people confessing their dirty secrets – and the script certainly weaves a well-threaded mystery. It is just that you feel like the second half didn't need the horns concept and could have worked perfectly well as a mundane murder mystery on its own. The result makes Horns feel like two different films competing for screen time.
---
---