---
Crew
Director – Patrik Syversen, Screenplay – Matthew Feitshans, Producer – Raffaella De Laurentiis, Photography – Andreas Johannessen, Music – Mark McKenzie, Visual Effects – Cinemotion Ltd, Special Effects Supervisor – Lucian Iordache, Makeup Effects – Ionel Popa, Production Design – Dan Toader. Production Company – Raffaella Productions.
Cast
Patrick Stewart (Voice of Drago), Tom Thys-Harris (Edric), Jessamine-Bliss Bell (Mehgan), Andre Eriksen (Thorgrim), Richard Cordery (Earl Robert Cole), Martin Hutson (Brother Osmund), Delroy Brown (Councilor Marakar), Turlough Convery (Walter), Marte Germaine Christensen (Sable), Tamzin Merchant (Queen Rhonu)
---
Plot
When King Gareth dies, the dragon Drago is surprised to find that his heartfire connection is not extinguished. A search of the kingdom leads him to Edric, the son of Gareth's brother who spurned the crown and anything to do with dragons. As a result of his parentage, Edric has scales on his back and possesses great strength. Upon discovery of his parentage, Edric is proclaimed the king. However, as king he is brash and rejects the counsel of Drago. When he learns that a horde of Vikings having reached the shores, Edric sets out to confront them. Instead, he finds the Vikings are led by Mehgan, his twin sister who was also born of the heartfire and has scales on her face and the ability to control fire. While they were younger, she accidentally torched their father with her powers, forcing them to send her away to prevent her from being accused as a witch. As the first-born, she now demands that the throne is rightfully hers. When Edric refuses to relinquish it, she uses her powers to steal the heartfire from Drago and overthrow the kingdom.
---
DragonHeart (1996) was a popular fantasy film during its day. It earned some $155 million worldwide on $17 million budget, which was a reasonable success back then. It produced a cheap video-released sequel with DragonHeart: A New Beginning (2000). A decade later, producer Raffaella De Laurentiis returned with Dragonheart 3: The Sorcerer's Curse (2015), followed by this fourth film, and the subsequent DragonHeart: Vengeance (2020).
Raffaella De Laurentiis is the daughter of Dino De Laurentiis, the legendary producer of films like Barbarella (1968), King Kong (1976), Flash Gordon (1980) and Dune (1984), among a great many others. She has made other films but the DragonHeart films are the one copyright that Raffaella has milked for everything she can in the two decades since the first film came out. You get the impression that she paid for the rights out of her own pocket and has determined to squeeze the stone for every cent she can get back. I mean, the first film was enjoyable enough but does it have such a fanbase that it needed to be dragged out for four B-budgeted sequels? Can you really say there is anyone in the world (excepting maybe the lead actor's mother) who has been breathlessly waiting in line for this fourth film in the series to reach screens?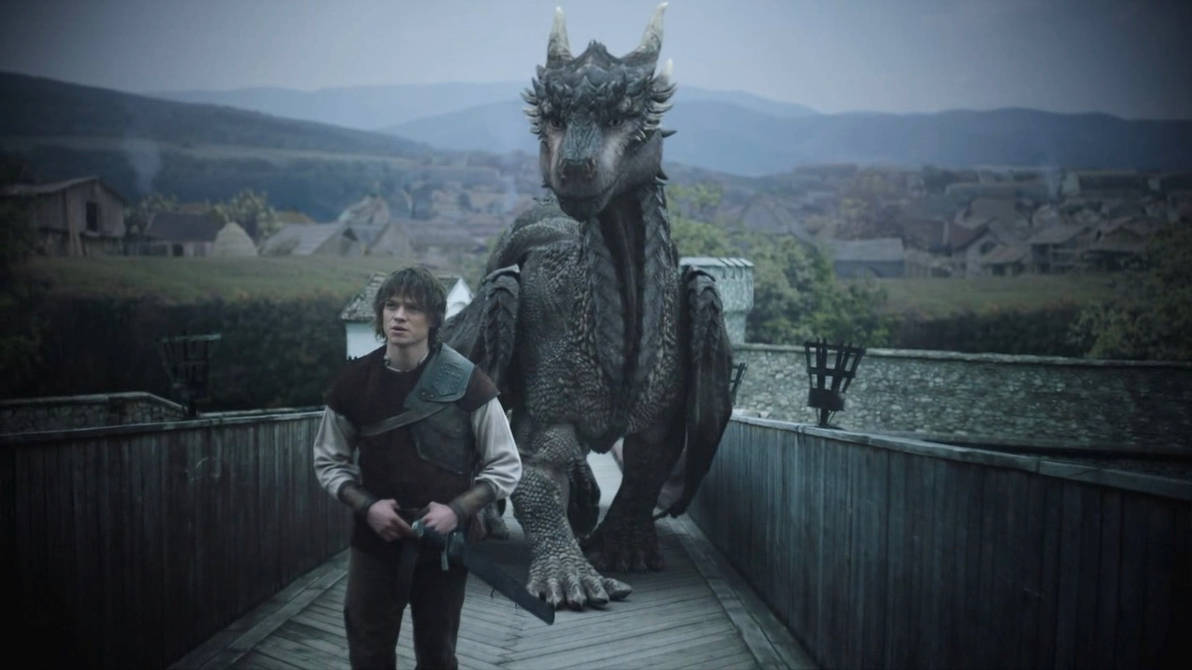 The original film was cute but has such a slim premise that by this point the series is struggling to spin something new out of it. We get an explanation that doesn't make a whole lot of sense to do with a twin brother and sister who are born with dragon scales because their father was the brother of the king who rejected the crown or something. The first half of the film introducing the impossibly handsome Tom Thys-Harris has very little happening.
Things start to become interesting with the introduction of his sister Jessamine-Bliss Bell whereupon the script pits the two against each other. She is cast as a villain but at the same time is written with strong feminist sympathies, rejecting the notion of arranged marriage and teaching the women of the kingdom to stand up and fight for themselves. In fact, we end up with more sympathy for her than we do her brother who displays little interesting in ruling. Alas, the film gets predictable thereafter, having the two have to set aside differences and reunite as another character is placed centre stage as the Big Bad.
DragonHeart: Battle for the Heartfire was made on the cheap, shot in Romania. The dragon effects are on the B-budgeted side but at least passably serviceable. Patrick Stewart, replacing Sean Connery from the first film and respectively Robby Benson and Ben Kingsley from the sequels, adds some class as the voice of the dragon.
---
---