---
Crew
Director/Screenplay – Mark Steven Johnson, Based on the Comic Book Created by Bill Everett & Stan Lee, Producers – Avi Arad, Gary Foster & Arnon Milchan, Photography – Ericson Core, Music – Graeme Revell, Visual Effects Supervisor – Rich Thorne, Visual Effects – Digital Domain (Supervisor – Claas Henke), Pixel Magic (Supervisor – Raymond McIntyre Jr) & Rhythm and Hues (Supervisor – Derek T. Spears), Special Effects Supervisor – Mike Edmonson, Production Design – Barry Chusid. Production Company – Marvel Enterprises Inc/New Regency/Horseshoe Bay.
Cast
Ben Affleck (Matt Murdock/Daredevil), Jennifer Garner (Elektra Natchios), Colin Farrell (Bullseye), Jon Favreau (Franklin Nelson), Michael Clarke Duncan (Wilson 'Kingpin' Fisk), Joe Pantoliano (Ben Urich), Scott Terra (Young Matt), David Keith (Joe Murdock), Erick Avari (Nicholas Natchios), Derrick O'Connor (Father Everett), Paul Ben-Victor (Joe Queseda)
---
Plot
As a child growing up in New York City's Hell's Kitchen neighbourhood, young Matt Murdock flees after seeing his father beating up a man, only to fall and have his face splashed by toxic waste. He is blinded but the chemicals also react to amplify Matt's other senses, giving him a hyper-acute sense of his environment. After witnessing his father being murdered for failing to take a fall in a boxing match, Matt swears vengeance. As an adult, he now works as a lawyer and by nights cruises the city as the masked vigilante Daredevil, using his hyper-acute senses and remarkable agility to exact justice on those who slip through the net of the law. He is attracted to the beautiful Elektra Natchios. Her billionaire father is being pressured by Wilson Fisk, the Kingpin who rules all crime in the city. Kingpin brings in Bullseye, the assassin who never misses, to kill Natchios. Elektra believes Daredevil responsible for killing her father and swears vengeance against him, unaware that Matt is Daredevil. At the same time, Bullseye determines to finish Daredevil off for making him miss his target for the very first time.
---
Daredevil was one of the original superheroes in the Marvel comic book universe. The character premiered in Daredevil, The Man Without Fear in June 1964, coming out around the same time as The Fantastic Four and Spiderman. Daredevil never attained the popularity that Spiderman or some of Marvel's other titles did. That was until Frank Miller, who later gave us the dark avenging Batman over at DC and whose works inspired films like Sin City (2005) and 300 (2007) and directed The Spirit (2008), took over writing the comic-book in 1981 and gave Marvel fans a much darker, more driven Daredevil and popularised the character anew. It was Frank Miller who also introduced the character of Daredevil's love Elektra who proved so popular she was later spun off as her own comic-book title. In the 1990s, the comic-book peaked at an all-time popularity when the writing was for a time taken over by film director Kevin Smith, best known for Clerks. (1994), Mallrats (1995) and Dogma (1999).
Daredevil was part of a fad for screen adaptations of Marvel Comics that came as a result of the successes of X-Men (2000) and Spider-Man (2002). Daredevil had previously appeared on screen as a supporting character in the tv movie The Trial of the Incredible Hulk (1989) in which Matt Murdock was called on to defend Bill Bixby's David Banner. There Daredevil was disappointingly portrayed as merely a black-clad ninja look-alike played by Rex Smith.
This big screen adaptation is helmed by Mark Steven Johnson. Mark Steven Johnson is not exactly a name that gives one much cause for inspiration – his previous works include the scripts for Grumpy Old Men (1993) and the bizarre snowman reincarnation film Jack Frost (1998) and he made his directorial debut with the incredibly mawkish childhood sentimentalism drama Simon Birch (1998). Daredevil was only Johnson's second film as director.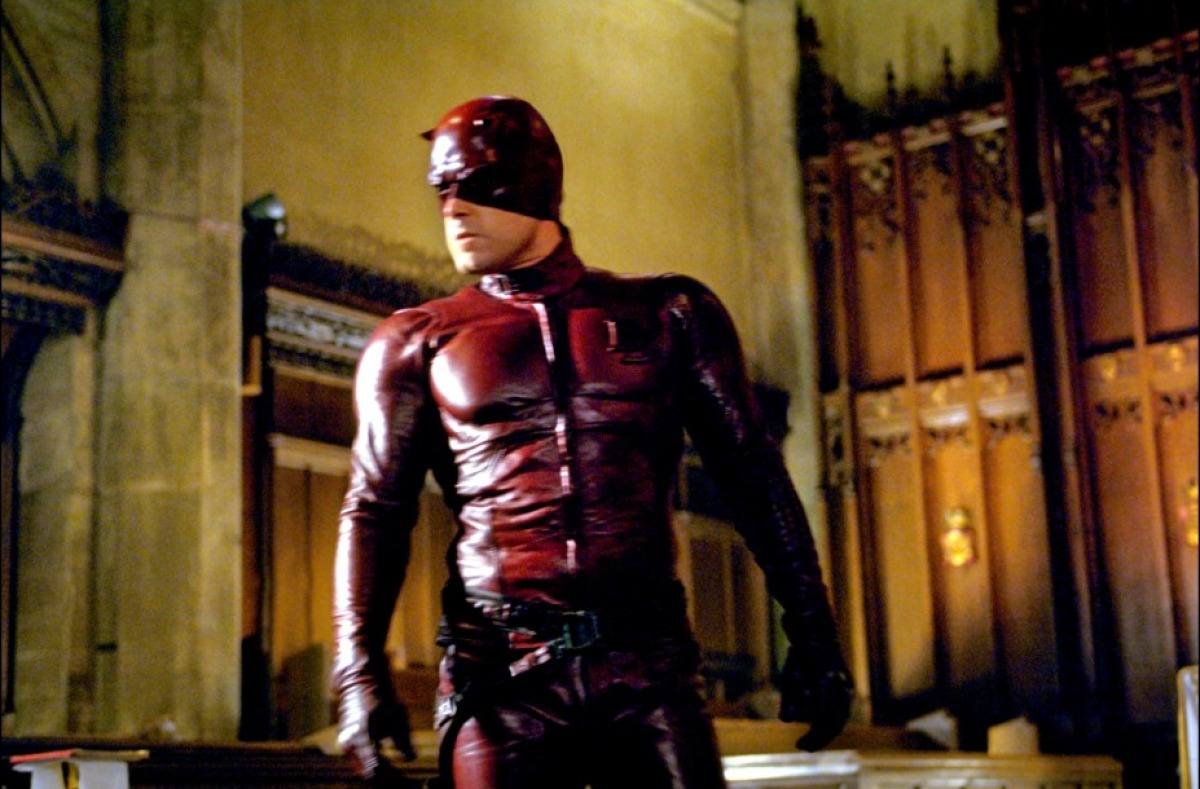 Mark Steven Johnson makes a decent stab at adapting the comic-book. This is clearly a Frank Miller-era Daredevil and Johnson places the focus on the principal Miller-era characters of Elektra, Kingpin and Bullseye. He keeps the look and details of the characters for the most part, although there are one or two odd changes – Bullseye is missing his costume and is given an Irish background (presumably to accommodate Colin Farrell's accent), Kingpin gets a race change. Most noticeably, Elektra Natchios is somewhat less voluptuous. She has her martial arts training background but is not an assassin who is hired by Kingpin (leaving explanation for her martial arts abilities sitting in a peculiar vacuum) and is killed off rather than becoming Daredevil's ongoing love interest.
The odd minor detail aside, Daredevil keeps to the essence of the comic book. There is also a noted fanboy enthusiasm that runs throughout the movie – the rapist that Daredevil hunts down near the start is named Joe Queseda after the Daredevil comic writer/editor, while Derrick O'Connor's priest is named Father Everett after the character's co-creator Bill Everett. Johnson also throws in an appearance from Kevin Smith as a morgue attendant named Jack Kirby (after the legendary comic-book artist) and a cameo from Marvel guru Stan Lee as a man reading a newspaper that young Matt stops from crossing into traffic.
Unfortunately, we have seen most of Daredevil before. It is akin to a constructor set scenario of comic-book film adaptation elements. There is the hero's origin – witnessing his parent(s) killed and swearing vengeance (which to be fair to the film is faithful to the character's comic-book origin) and his eventual realisation that his adult nemesis is the killer a la Batman (1989); there is the complex love interest between secret identities; there are the breathtaking swoops and dives in between the skyscrapers of New York City with the camera following the superhero a la Spider-Man; there is the wire-flying, sped-up/slowed-down martial arts moves, which could be taken from any Hollywood action movie to come out since The Matrix (1999) (in fact, the action sequences have even been choreographed by Hong Kong fight coordinators); there are fetishistic closeup shots of the superhero slipping into his skintight leather costume; and there are the dark and moody shots of the superhero posed against brooding night skies and atop city buildings that could be replicated from any modern era graphic novel.
Daredevil feels more like a series of posed comic-book panels than it ever does a movie. It seems to exist as a series of hyper-kinetic but ultimately routinely choreographed martial arts battles between various protagonists rather than any character confrontations. Mark Steven Johnson even gives us Daredevil and Elektra's initial courtship as an entirely showoffy martial arts battle in a children's playground more than he ever does anything that ignites on screen. Ben Affleck gets to give a series of occasional voiceovers but these only strain at cliches of superheroic motivation – the rest is just Daredevil posed against rooftops – and the character lacks any of the depth and psychological complexity that the vigilante superhero was invested with in Tim Burton's two Batman outings, Batman and Batman Returns (1992), or the subsequent Batman Begins (2005) and The Dark Knight (2008).
While the film does a competent job of fleshing out the details of the comic-book, it is also ultimately unaffecting. Elektra is killed but the scene and Daredevil's anguish at her death is peculiarly unmoving – there seems more emotion invested in the death of the much smaller character of David Keith as Matt's father. There is a modestly effective showdown with Kingpin at the end of the film but the character has been built up with astonishingly little stature as a nemesis throughout – in fact, Kingpin and Daredevil meet only a single time (and then when he is out of costume as Matt at a party) before the big confrontation. The single magical moment that Mark Steven Johnson does give us is the scene where Ben Affleck takes Jennifer Garner to a rooftop as the rain begins to fall so that he can 'see' her face outlined against the drops. Outside of that, Daredevil seems a film more invested in parroting the moves then it does in finding the soul of the superhero, or even in ultimately achieving the sheer exhilaration of seeing superheroics brought to life that Superman (1978) or X-Men gave us.
Mark Steven Johnson has assembled a competent cast. The lantern-jawed Ben Affleck may never convince the world he will ever be anything more than a pretty boy matinee idol and at least does what is expected of him in the part. As Elektra, Johnson casts Jennifer Garner, then a hot name as a result of tv's dazzlingly intelligent spy thriller Alias (2001-6). Alas, bereft of the tight plotting and moral complexity of Alias, Garner seems only a standard heroine with lithe moves. Michael Clark Duncan is a fine actor – see The Green Mile (1999) – and eventually comes to strength in an underwritten role; alas, it is his final scene. The then rising Colin Farrell gives an amazingly twitchy and completely over-the-top performance that remains merely one-dimensional.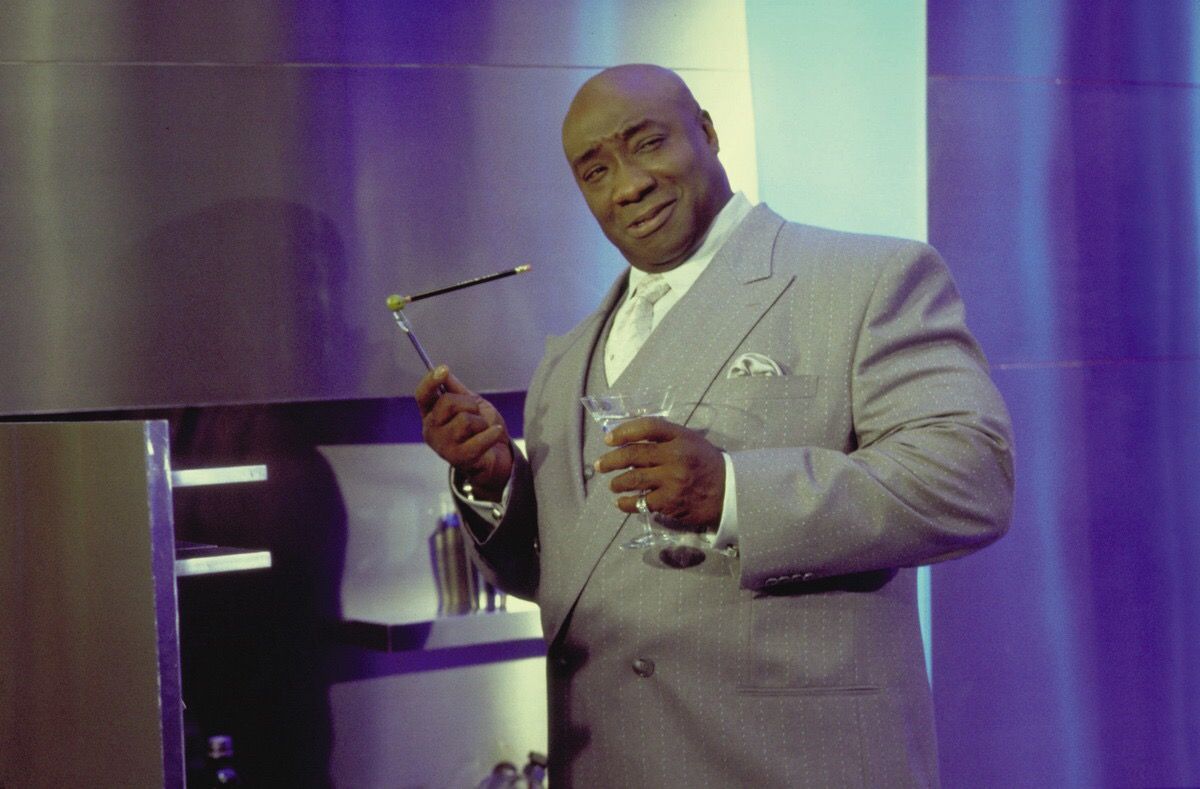 The character of Elektra was later resurrected for a film spinoff, Elektra (2005), also starring Jennifer Garner. The character of Daredevil was revived for the much better tv series Daredevil (2015-8) starring Charlie Cox as Matt Murdock. The first season of the show reintroduced Kingpin in the form of a magnificent Vincent D'Onofrio, while the second season introduced Elektra (played by Elodie Yung). Cox's Daredevil subsequently appeared as a member of The Defenders (2017).
Director Mark Steven Johnson later went onto direct a further Marvel Comics adaptation with Ghost Rider (2007), followed by the light fantasy romantic comedy When in Rome (2010) and the revenge film Killing Season (2013) and the caper film Finding Steve McQueen (2019), as well as the story for Christopher Robin (2018).
Other Marvel Comics big-screen adaptations include Blade (1998), X-Men (2000), Spider-Man (2002), Hulk (2003), The Punisher (2004), Fantastic Four (2005), Man-Thing (2005), Ghost Rider (2007), Iron Man (2008), Captain America: The First Avenger (2011), Thor (2011), The Avengers (2012), Guardians of the Galaxy (2014), Ant-Man (2015), Deadpool (2016), Doctor Strange (2016), Black Panther (2018), Venom (2018), Captain Marvel (2019), Black Widow (2021), Eternals (2021), Shang-Chi and the Legend of the Ten Rings (2021) and various sequels to most of these, as well as the tv series' Agents of S.H.I.E.L.D. (2013-20), Daredevil (2015-8), Agent Carter (2015-6), Jessica Jones (2015-9), Luke Cage (2016-8), The Defenders (2017), Inhumans (2017), Iron Fist (2017-8), The Punisher (2017-9), Runaways (2017-9), The Falcon and the Winter Soldier (2021- ), Hawkeye (2021- ), Loki (2021- ), WandaVision (2021- ), Moon Knight (2022- ), Ms Marvel (2022- ) and She-Hulk: Attorney at Law (2022- ).
---
---