---
Crew
Director/Screenplay – Ralph Bakshi, Producer – Steve Krantz, Photography – Ted C. Bemiller & Gregg Heschong, Background Photography – Ralph Bakshi & John Vita, Music – Ed Bogas & Ray Shanklin, Animation – Steve Krantz Animation, Inc., Visual Effects – Modern Film Effects. Production Company – Film Creations Limited.
Voices
Joseph Kauffmann (Michael Corleone), Beverly Hope Atkinson (Carole), Frank De Kova (Angelo 'Angie' Corleone), Terri Haven (Ida Corleone), Mary Dean Lauria (Molly), Jacqueline Mills (Rosalyn), Lillian Adams (Rosa)
---
Plot
Michael Corleone is an underground cartoonist who lives in Brooklyn with his parents – a Jewish mother Ida and his constantly womanising Italian father Angie who is a streetwise mover with connections to The Godfather. Michael is still a virgin. He passes through the lives of the people around him, including gangs, hustlers and drag queens. Michael inadvertently causes waitress Carole to lose her job and asks her to move in with him much to the upset of his father.
---
Heavy Traffic was the second film from animator Ralph Bakshi. Bakshi emerged out of the Terrytoons workshop in the 1960s and had a hit with his feature-length directorial debut Fritz the Cat (1972) based on Robert Crumb's underground comic-strip. This caused some outrage with its charged 1960s era politics and especially by taking standard talking animals into a decidedly adult arena, showing them having sex, taking drugs and the like.
Bakshi would go on to become a strong name as an independent animator in the next decade making other adult-oriented counter-culture works such as Heavy Traffic and Coonskin (1975); several ventures into fantasy with Wizards (1977), the first half of his intended two-part adaptation of The Lord of the Rings (1978) and Fire and Ice (1983); his attempts to address American culture in American Pop (1981) and Hey Good Lookin' (1982); and the animation/live-action toon film Cool World (1992), before his eventual retirement in the 2000s.
Heavy Traffic would seem to be a semi-autobiographical work upon Bakshi's part. He, like the protagonist, was born of Jewish parentage and grew up in a Brooklyn neighbourhood and was an animator rather than a cartoonist (although it seems curious to have a protagonist who describes their profession as 'an underground cartoonist' where surely 'undergroundness' is a status that is proclaimed by the following that one develops rather than something one sets out to intentionally do – although it should be pointed out at the time he made Heavy Traffic, Bakshi could be legitimately be called an underground animator).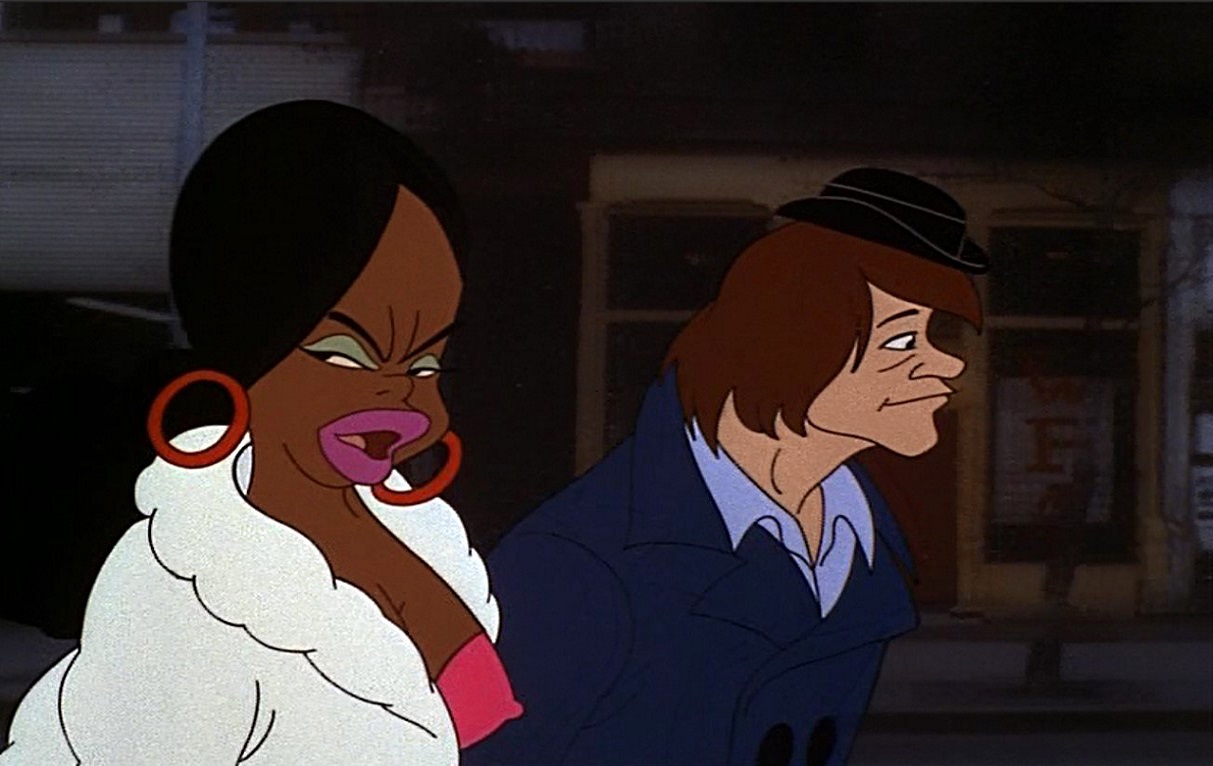 Heavy Traffic is intended as a much more realistic film than Fritz the Cat was. The talking animals have been replaced by human figures and, although these figures do engage in cartoon physics, the antics are more down to earth and less absurdist in nature. For some reason, the protagonist of the show is named Michael Corleone, none other than the same character played by Al Pacino in the previous year's runaway hit The Godfather (1972). You suspect that the central character has been given a half-Italian heritage for the sole reason of creating some spurious connection to that film.
One has no idea to what extent the various characters encountered are true to real life or whether Bakshi's father was a union buster with low-level mob connections but it feels as though Bakshi was simply drawing from the world that he grew up in. This is often literally the case where Bakshi has gone out and filmed/photographed Brooklyn street scenes and backgrounds and then conducted his animation over the top of the live footage. It is a striking effect that works rather well.
The film reaches an incredibly sweet ending where Bakshi pulls back from animation into live-action where we see the live-action equivalent of Michael (Joseph Kaufmann) and Carole (Beverly Hope Atkinson) as they wander through the streets and break into a dance together.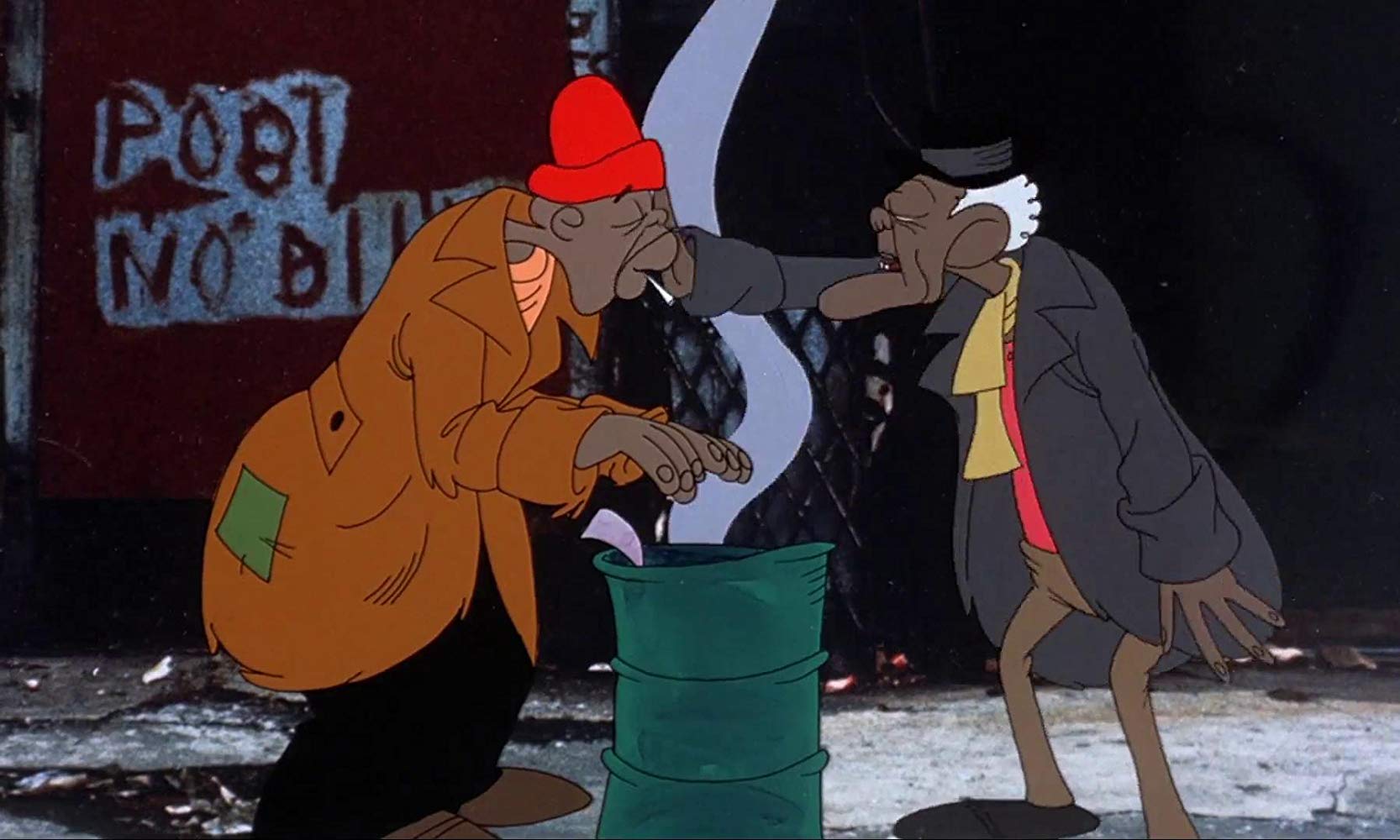 Heavy Traffic is also a less focused film than Fritz the Cat was. Bakshi's animation has gone from the surreal counter-culture trippiness of Fritz the Cat to social realism. This film is more of a picaresque wander through the working class neighbourhoods of Brooklyn than something that ever has a particular plot. The same could be said of Fritz the Cat but that seemed tighter, sharper in many ways – the story here is only a very loose bildungsroman of sorts. There is a determination to find an earthiness, of charting life surrounded by drag queens, petty gangs, seedy strip bars, Mafia and strippers. It does kind of take you back today listening to characters casually referring to others as "niggers" and "queers" but you have to realise that times were very different back then.
Certainly, there is the same outrageous adult humour that was a mark of Fritz the Cat. Bakshi gives us scenes with the hero dealing with giant breasts, trying to adjust the bra of a BBW model, even being impaled on his own erection and at one point receiving a blowjob from a very large woman.
There is also an amusingly blasphemous sequence where the hero narrates the story of his underground comic-strip, a shaggy god story about a world inhabited by people who worshipped garbage gods before the real God came down to fuck the only surviving woman, gave birth to a son who holed up in a cave and then shot his father in the head with a gun.
---
---