---
Crew
Director/Music – Clint Eastwood, Screenplay – Peter Morgan, Producers – Clint Eastwood, Kathleen Kennedy & Robert Lorenz, Photography – Tom Stern, Music Arranged by Gennady Lioktonov, Visual Effects Supervisor – Michael Owens, Visual Effects – Scanline VFX Los Angeles (Supervisors – Brian Grill & Stephan Trojansky), Special Effects Supervisor – Dominic Tuohy, Production Design – James J. Murakami. Production Company – Malpaso Productions/Kennedy-Marshall/Amblin Entertainment.
Cast
Matt Damon (George Lonergan), Cecile De France (Marie Lelay), Frankie McLaren & George McLaren (Marcus/Jason), Bryce Dallas Howard (Melanie), Thierry Nuvic (Didier), Jay Mohr (Billy Lonergan), Lyndsey Marshal (Jackie), Stephen R. Schirripa (Chef Carlo), Jean-Yves Berteloot (Michel), Marthe Keller (Dr Claudia Rousseau), George Costigan (Dennis), Declan Conlon & Rebekah Staton (Social Workers), Niamh Cusack (Angela), Richard Kind (Christos Andrelo), Derek Jacobi (Himself), Jenifer Lewis (Candace)
---
Plot
Marie Lelay is a successful French tv presenter on holiday in the tropics when a tsunami hits. Swept away by the water, she drowns and her soul enters into the afterlife before she is revived and pulled back to her body. Returning to work back in Paris, she is haunted by the vision of the afterlife she experienced and becomes obsessed with this. Her producer boyfriend suggests she takes some time off work to write a book but instead Marie determines to pursue the meaning of her vision. In San Francisco, George Lonergan is a successful medium who can read people's connections in the afterlife with a simple touch. However, he has shunned work as a medium because of the effect it has on his personal life. He is reluctantly drawn back into it by his opportunistic brother, by a girl he meets in a cooking class and becomes interested in, and finally after losing his job. In London, twin brothers Marcus and Jason grow up with a mother who is a drug addict. While returning from the store, Jason flees from bullies and is hit by a truck and killed. Afterwards, Marcus is placed in foster care and becomes increasingly obsessed with contacting his dead brother.
---
Clint Eastwood has had a remarkable career. From the late 1960s and hitting his peak in the 1970s, Eastwood became one of the top stars in the world with signature roles like Dirty Harry and The Man With No Name. Eastwood also began a directing career in the 1970s, finally becoming recognised as an increasingly significant name in the 1990s and beyond with critically acclaimed and awards-friendly work such as Unforgiven (1992), Mystic River (2003), Million Dollar Baby (2004), Flags of Our Fathers (2006), Letters from Iwo Jima (2006), Changeling (2008), Invictus (2009) and J. Edgar (2011).
Clint Eastwood turned 80 the year that he directed Hereafter. Issues of aging seem to hang over a number of his films since the early 1990s. Films like Unforgiven and Gran Torino (2008) seem like an old man's riposte to the type of Westerns and vigilante crime films where the young Eastwood made his name – they are films in which he seems to be regretting the positions he took and values he advocated in his earlier days. Other works such as Space Cowboys (2000) and Blood Work (2002) seem filled with a grudging acknowledgement that Eastwood has gotten old – Space Cowboys is about a group of elderly astronauts hellbent on trying to get back into orbit one last time; Blood Work is about a Dirty Harry type cop dealing with an aging and failing body; while Gran Torino is about a staunch old man who is grudgingly forced to come to terms with the fact that the world he has lived in has vastly changed since his prime.
If that is the case, then Hereafter surely shows an octogenarian Eastwood conscious of having reaching his twilight years and wondering what lies beyond. Even though Eastwood stated in publicity that Hereafter does not represent any particular beliefs on his part, the script's determination to logically examine matters seems to be searching for some certainty and assurance.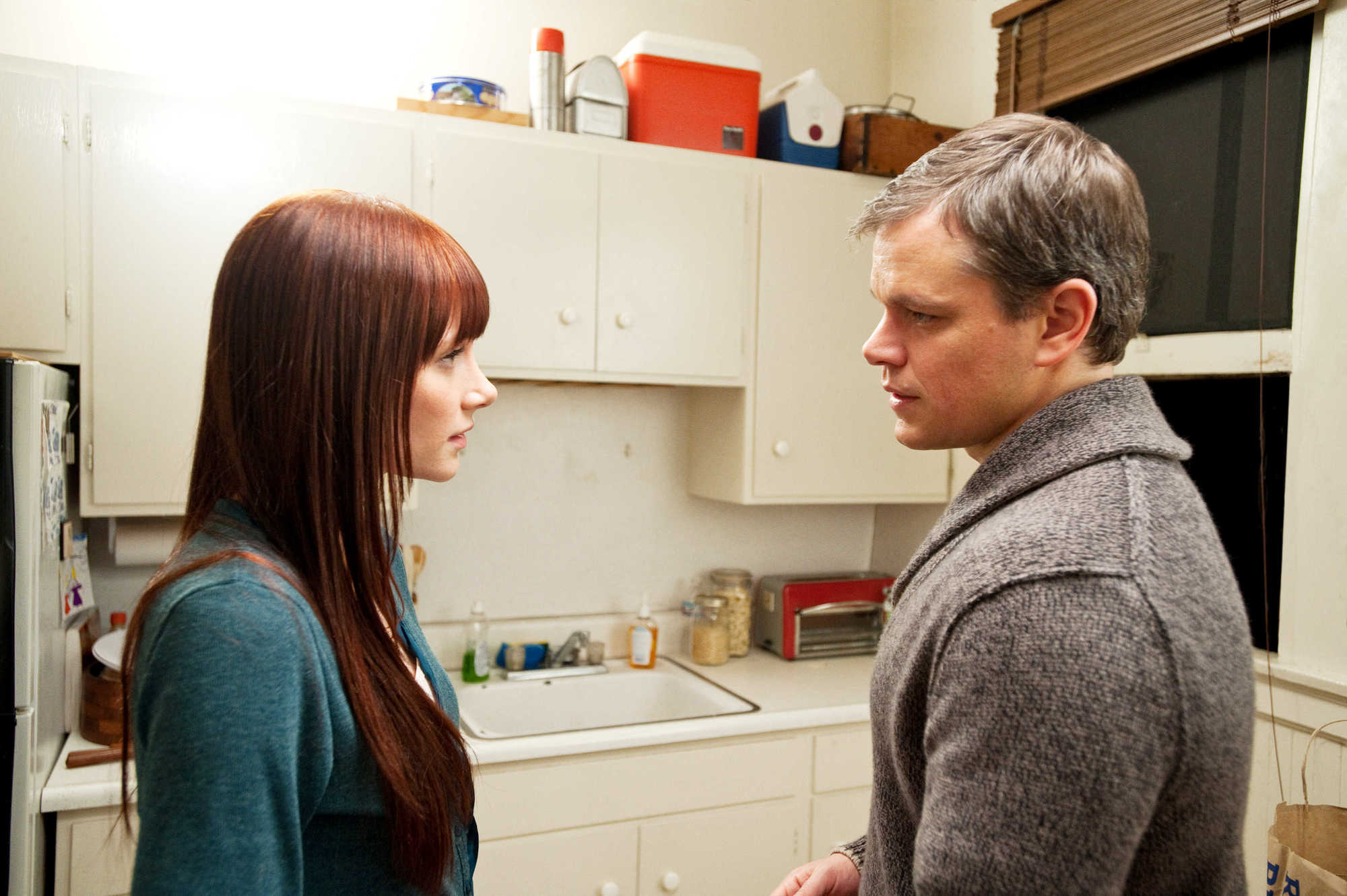 Hereafter is an old-fashioned type of film. Clint Eastwood's camera set-ups are plain, methodical and without anything in the way of stylistic trickery. Bar the use of CGI to create the tsunami at the start, Hereafter is a film that could have made when Eastwood was directing in the 1970s and 80s, so straightforward is his approach. It also has a script that is slow, takes its time and does lay everything immediately out before you.
Peter Morgan, a British scriptwriter with some impressive writing credentials, including The Last King of Scotland (2006), The Queen (2006), Frost/Nixon (2008), The Other Boleyn Girl (2008), 360 (2011), Rush (2013), Bohemian Rhapsody (2018) and creator of tv's The Crown (2016- ) tells the film as three separate story strands. It takes a long time into the film to gain an appreciation of what is going on – in almost any other standard commercial Hollywood fare, there would be something to initially indicate that the stories are connected such as starting with a flashback from the point when the storylines converge. Instead, Eastwood and Morgan sit and play the strands out, carefully following one for ten minutes or so and then jumping tracks to see what is happening in the other storylines. They create long pieces of mise-en-scene following Matt Damon's cooking class and his befriending Bryce Dallas Howard, he going to visit Charles Dickens's home in London, Cecile De France as she pitches a book about Francois Mitterand to her publishers, the twins as they help cover up their mother's intoxication to visiting child welfare officers and the subsequent scenes as Marcus is placed in a new home, and so on.
It is only in around the last fifteen minutes of the running time that the film allows the three stories to play off and come together. You sense that the film that has thrown standard ideas of commercial pace and storytelling out the window in a willingness to try something ambitious. This type of storytelling is common in literary fiction but certainly unusual to see on the big screen, not to mention something that immediately elevates Hereafter out of a commercial multiplex rut and into something else.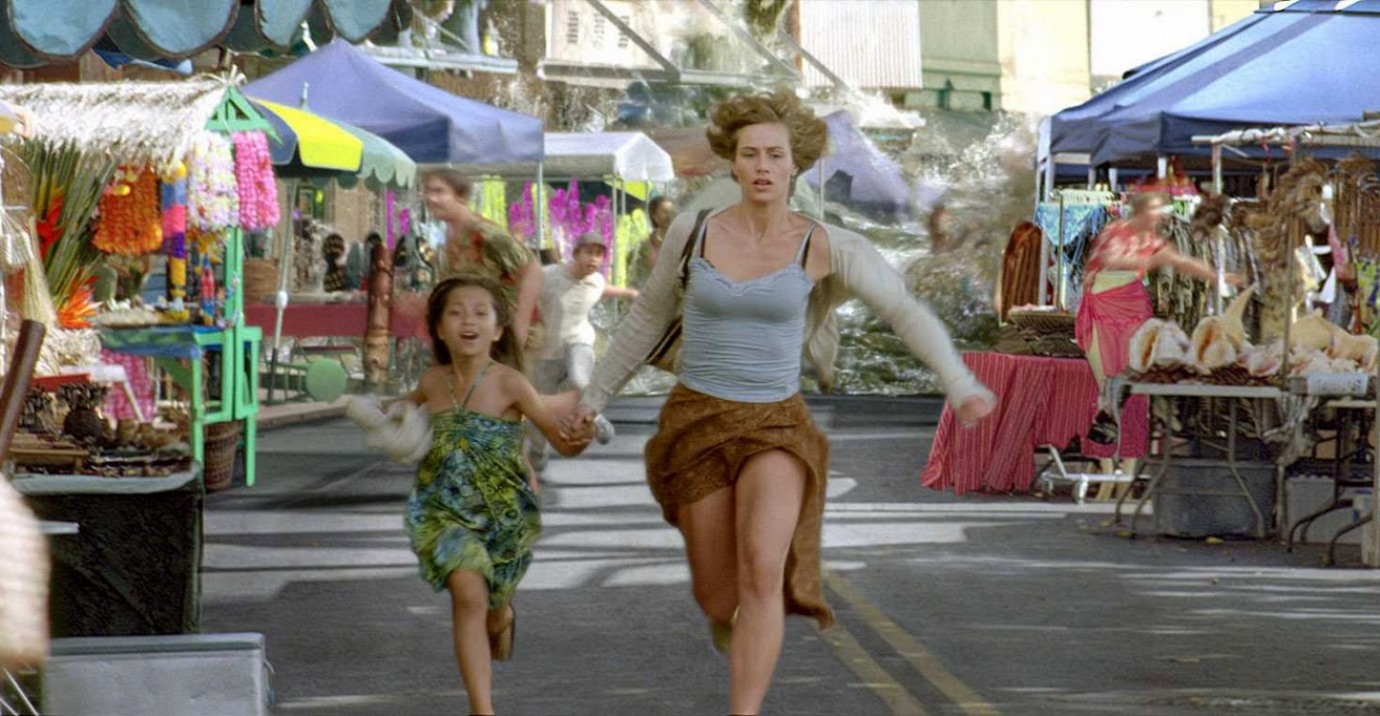 One thing that the calibre of names like Clint Eastwood, Peter Morgan and with Steven Spielberg in an executive producer role (and his Amblin production company backing the film) gives is an expectation that Hereafter has something profound to say about the afterlife. With the topic of the afterlife and mediums having been staked out in the populist imagination by media poseurs/fraudsters like John Edward and James Van Praagh, you wonder what a realistically grounded film like this is going to do in terms of exploring new territory. The great disappointment of the film is – not very much at all.
Eastwood keeps glimpses of the afterlife to no more than a handful of depictions of the proverbial tunnel of white lights with indistinct figures standing about, which amount to no more than a minute's worth of running time. Certainly, other works such as Flatliners (1990), Ghost (1990) and What Dreams May Come (1998) do far more substantial jobs of venturing into and exploring what the afterlife would be like. There is perhaps more emphasis on Matt Damon's life as a medium – yet most of the story in which he appears is set around him trying to avoid being a medium. Again, a work like Black Rainbow (1989) does a far more substantive job of exploring the life of a medium than this. Of the three stories, the story of young Marcus has the slightest actual fantasy content – a ghostly wind blowing his cap off and preventing him from being killed in a train crash, the reading with Matt Damon at the end – and no more than that.
Perhaps what you could call Hereafter is less a film about the afterlife per se than it is a work that looks at people's differing perspectives on the paranormal. It seems to be a film that is more interested in their everyday lives than necessarily deals with any issues concerning the afterlife. Clint Eastwood certainly makes us live inside the character's world. Matt Damon does not exactly strike one as the most likely casting for someone playing a medium – the role almost feels written for someone a good ten years older than Damon. (Though he hits 40 the year the film was made, Damon's perpetually boyish looks make him look more like someone just scraping his early thirties). However, he plays well and Eastwood does an effective job of showing the emotional barrenness of his life as a result of his mediumistic abilities.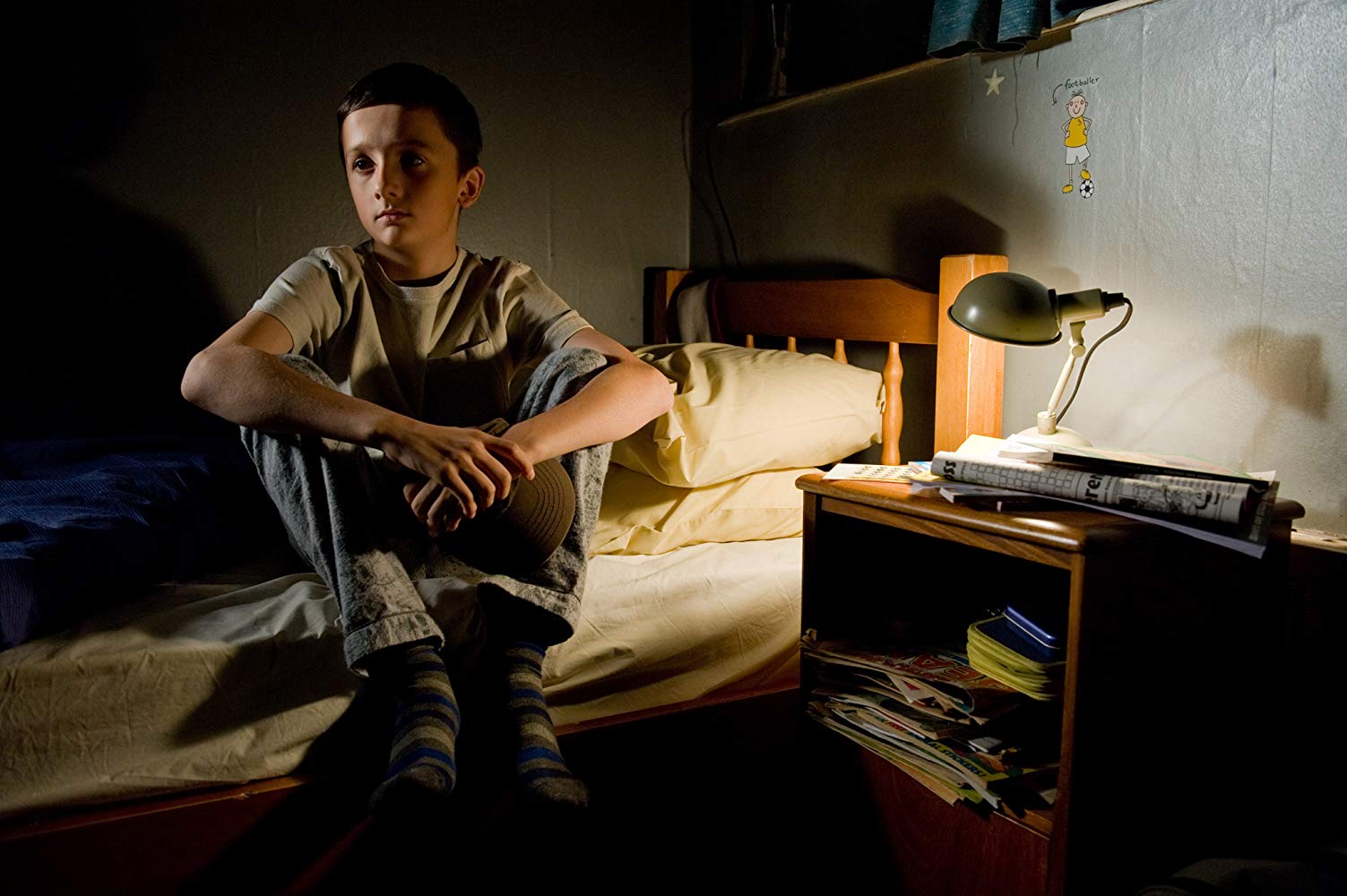 The film is at its most alive when Damon is paired up with the great and delightful Bryce Dallas Howard who undeniably gives the show its sparkle. It becomes as a jolt when she leaves Matt Damon's apartment abruptly after his reading – and then a few scenes later we realise that she is not going to return. Eastwood and Peter Morgan sets things up between them so well that the failure of this to play out by the expectations of a screen romance more than effectively demonstrates the desolate effect that Matt Damon's abilities have had on his life.
Eventually the script brings the three stories together with reasonable satisfaction. Particularly good here [PLOT SPOILERS] is the scene where Matt Damon and Marcus meet and Damon does the reading, telling Marcus what his brother is saying, which Eastwood plays out with heart-rendering effect without allowing it to topple into the sentimental. Less effective is the scene where Matt Damon finally connects with Cecile De France in a London cafe. Eastwood throws in a flash-forward of a romantic embrace and then fades out as he shows the two of them coming together. It is a scene that feels forced and unearned – no relationship has been established between the two characters throughout and there seems no particular reason for them to suddenly connect up like this other than that the script has deemed that they should. Moreover, in the visually glum style that Eastwood has adopted throughout, it's a scene that cannot help but feel like a false happy ending.
Clint Eastwood's other works of genre interest are:– the female stalker psycho-thriller Play Misty for Me (1971); the supernatural avenger Western High Plains Drifter (1973), the hi-tech fighter plane heist Firefox (1982), the oldsters in space film Space Cowboys (2000), the psycho-thriller Blood Work (2002) and Changeling (2008), a true-life story about a missing child, a police cover-up and a serial killer. In acting appearances, aside from all the aforementioned, Eastwood has appeared in Revenge of the Creature (1955), Tarantula (1955), the talking mule film Francis in the Navy (1955), the twisted Southern Gothic horror The Beguiled (1971), up against a serial killer in his most famous role Dirty Harry (1971), the S&M psycho-thriller Tightrope (1984) and the Dirty Harry film The Dead Pool (1988).
(Winner for Best Supporting Actress (Bryce Dallas Howard) at this site's Best of 2010 Awards).
---
---