---
UK. 1985.
Crew
Director – Terry Gilliam, Screenplay – Terry Gilliam, Charles McKeown & Tom Stoppard, Producer – Arnon Milchan, Photography – Roger Pratt, Music – Michael Kamen, Special Effects Supervisors – Richard Conway & George Gibbs, Production Design – Norman Garwood. Production Company – Universal.
Cast
Jonathan Pryce (Sam Lowry), Kim Greist (Jill Layton), Ian Holm (Mr Kurtzmann), Michael Palin (Jack Lint), Robert De Niro (Archibald Tuttle), Katharine Helmond (Mrs Ira Lowry), Peter Vaughn (Helpmann), Bob Hoskins (Spoor), Ian Richardson (Warren)
---
Plot
In a future totalitarian state, lowly bureaucrat Sam Lowry goes to pay a reimbursement cheque to the widow of a man killed during interrogation by the Ministry of Information Retrieval. While there, Sam sees truck driver Jill Layton in the apartment above. She is the perfect image of the girl he is constantly trying to save in his recurrent dreams where he is a birdman. However, she flees before he can talk to her. Sam takes a job at the Ministry of Information Retrieval to obtain her classified file, only to find that she is a wanted terrorist. Minor mistakes plunge horrendously out of control as Sam tries to save Jill from arrest and, while on the run from the authorities, persuade her that he loves her.
---
Terry Gilliam has emerged as one of the most idiosyncratic and creative of modern fantasy directors. (See below for Terry Gilliam's other films). Gilliam first emerged as one of the core members of the Monty Python troupe, acting, writing and designing the unique surreal cutout animation sequences for the tv series Monty Python's Flying Circus (1969-74). He co-directed and co-wrote the first Monty Python film Monty Python and the Holy Grail (1975). It was after these that Gilliam began to branch out as a director, first with Jabberwocky (1977), which failed to obtain much attention, and then with the well-received Time Bandits (1981). However, it was with Brazil that critical attention began to focus on Terry Gilliam.
No synopsis will do justice to Brazil, which seems to have been construed by Terry Gilliam as a blacker-than-black parody of George Orwell's Nineteen Eighty-Four (1949). Brazil is best alikened, if anything, to a head-on collision between Ken Russell in full Tommy (1975) mode and the social satires of Lindsay Anderson – If…/a> (1968) , O Lucky Man! (1973) and Britannia Hospital (1982). There is a genuinely black and unrelenting sense of humour to the film – little throwaway gags like the secretary who sits typing the scream-filled transcript of an interrogation – and a malevolent irony that runs throughout as trivial details constantly contrive to creep up behind people – like the wrong person being arrested after a bug gets squashed on the arrest form.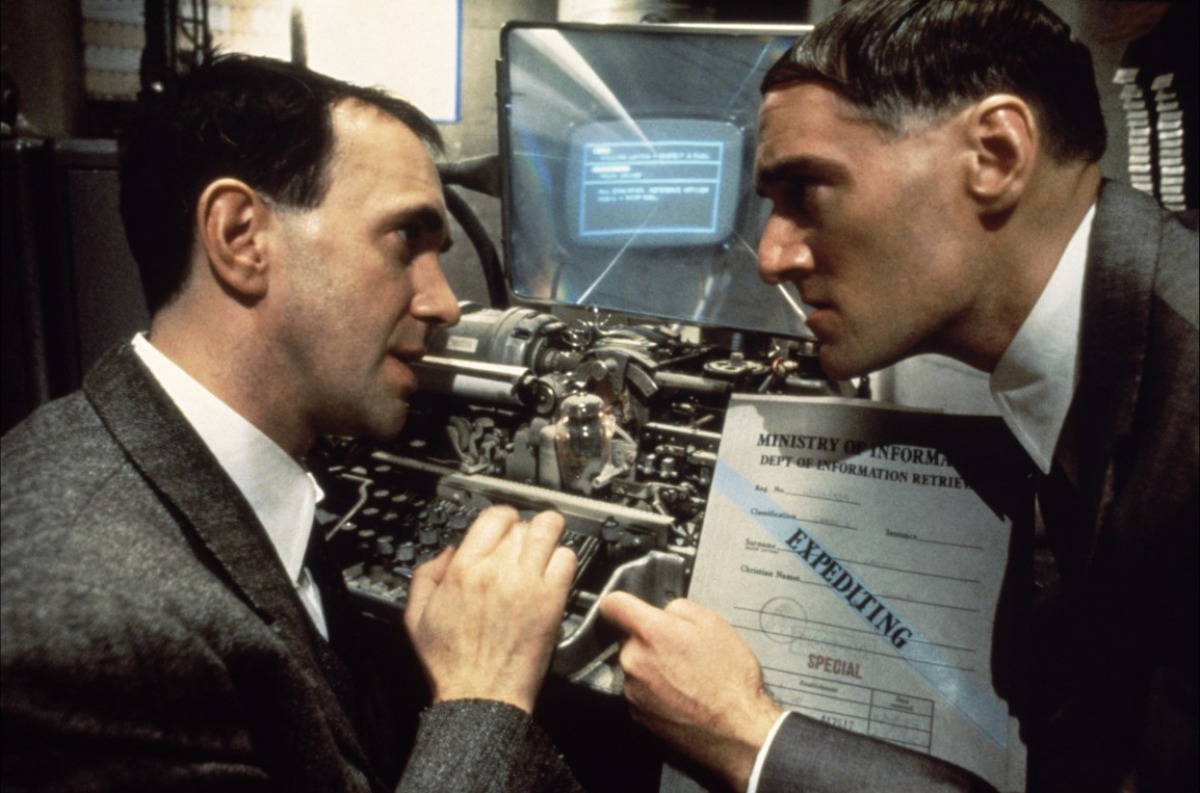 Terry Gilliam's imagery is outre and fantastic – like the dreams with Kim Griest being dragged in a floating cage by mutant children through which constantly-separated silver birdman Jonathan Pryce flies valiantly to save her, fighting off a giant samurai and a torso of bricks that explodes from the ground. The last ten minutes that lead to the bleakly, hopeless ending venture into out-and-out surrealism, filled with commando raids, Robert De Niro being mummified by wind-blown strips of paper and funerals held for Katharine Helmond's unsuccessful plastic surgery job.
While wildly imaginative, Brazil is also creatively undisciplined and a hugely self-indulgent film – at times, the way-out-of-control chases remind of the equal overblowness of Steven Spielberg's 1941 (1979). The tremendously complicated plot constantly gets away from Gilliam.
The entire budget seems to have been blown on the truly amazing sets – cavernous towers of apartments all Expressionistically underlit like something out of Metropolis (1927); the grey sub-basement Ministry with its claustrophobic low roofs and charmingly antiquarian computers like something out of Michael Radford's then recent remake of Nineteen Eighty-Four (1984) only more brightly lit; and a vast walled amphitheatre torture chamber. But amid the sprawling excess, Brazil has a dark bite – it keeps coming and coming like a Road Runner cartoon doing bad acid and Terry Gilliam's black humour reaches a dark subterranean level that becomes frightening in its jokey nonchalance.
There are fine performances, in particular from Ian Holm as the nail-biting Kurtzmann, who becomes suicidal at being unable to correctly dispose of a cheque, and from Bob Hoskins as an aggressive regulation-quoting repairman. However, the two leads remain disappointing – Jonathan Pryce tends to overdo the histrionics, while the script never settles the many ambiguities of Kim Griest's character and she is not an adequate enough performer to carry the film past these. (Terry Gilliam was reportedly unhappy with Kim Griest's performance and cut many scenes with her in, which could well have clarified much).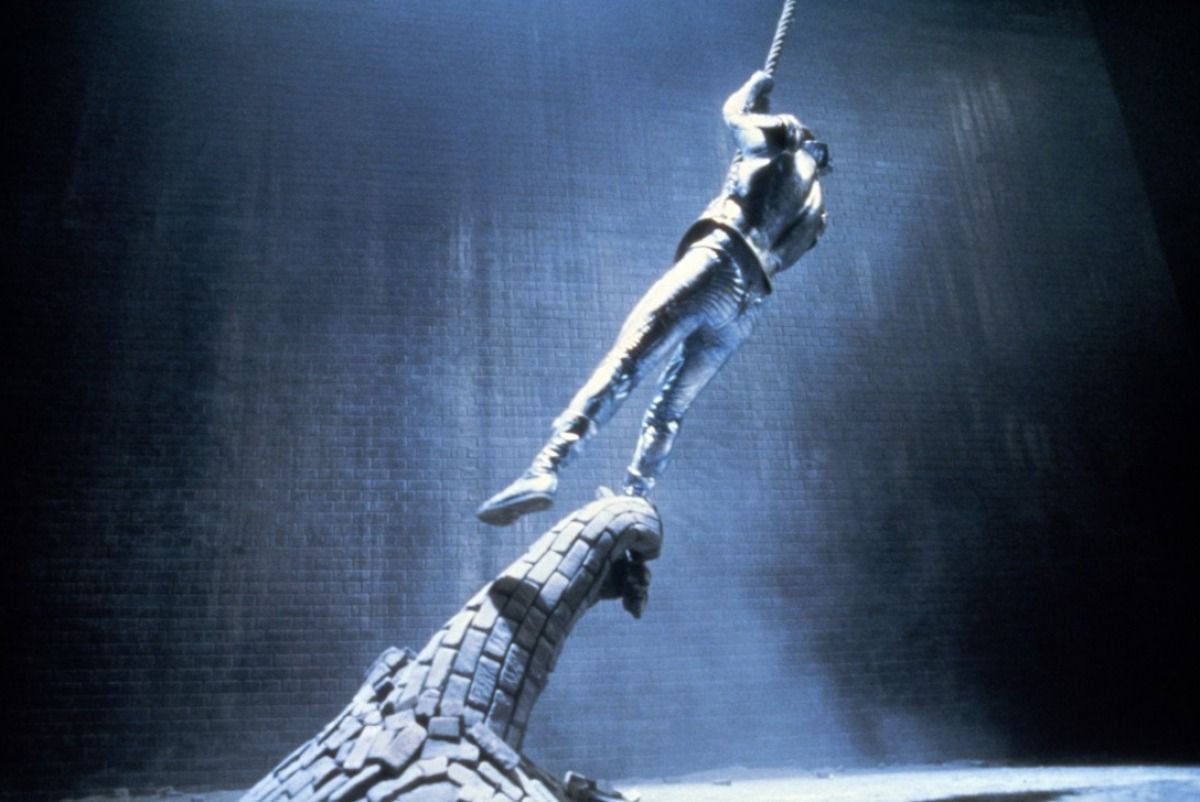 Subsequent to completion, Brazil was subject to a substantial battle between Terry Gilliam and Universal head Sid Sheinberg. Sheinberg disliked Gilliam's unrelentingly bleak ending and wanted it changed for a happier, more upbeat one. Gilliam refused and eventually won after holding private screenings for a group of American film critics who vocally championed Brazil being released as it was. The L.A. Film Critics Association gave Gilliam an enormous boost by naming Brazil their Best Film of the year and Gilliam as Best Director. The struggle is recounted in the book The Battle for Brazil (1987) by Jack Matthews. Sheinberg's atrocious happy ending edit was eventually screened on US tv in 1992 and is included on the DVD release.
Terry Gilliam's other genre films as director are Monty Python and the Holy Grail (1975), co-directed with Terry Jones; the satiric knight's quest Jabberwocky (1977); the oddball time adventure comedy Time Bandits (1981); The Crimson Permanent Assurance segment of Monty Python's The Meaning of Life (1983); The Adventures of Baron Munchausen (1989) about the world's greatest liar; The Fisher King (1991), a modern Grail quest; the time-travel/paradox film Twelve Monkeys (1995); the surreally drug-hazed Fear and Loathing in Las Vegas (1998); The Brothers Grimm (2005); Tideland (2005) set in a surreal world of childhood imagination; The Imaginarium of Doctor Parnassus (2009) about a magical circus; The Zero Theorem (2013) set in another dystopian future; and The Man Who Killed Don Quixote (2018). Gilliam also executive produces the Quay Brothers's The PianoTuner of EarthQuakes (2005). Also of interest is Lost in La Mancha (2002), a documentary concerning Terry Gilliam's disastrously failed production of The Man Who Killed Don Quixote.
---
Trailer here
Trailer here:-
---