USA. 1995.
Crew
Director – Jerry Zucker, Screenplay – William Nicholson, Story – William Nicholson, Lorne Cameron & David Hoselton, Producers – Jerry Zucker & Hunt Lowry, Photography – Adam Greenberg, Music – Jerry Goldsmith, Visual Effects Supervisor – Dennis Lowe, Digital Effects – Cinesite Visual Film Center, Special Effects Supervisor – George Gibbs, Makeup – Peter Robb-King, Production Design – John Box. Production Company – Columbia/Zucker Bros Productions.
Cast
Richard Gere (Lancelot), Sean Connery (King Arthur), Julia Ormond (Guinevere), Ben Cross (Prince Malagant)
---
Plot
Lady Guinevere of Lyonesse is on her way to be married to King Arthur of Camelot when her caravan is attacked by Prince Malagant, a disaffected former knight of King Arthur's Round Table. She is saved by the mercenary Lancelot who afterwards impudently steals a kiss from her. Lancelot escorts Guinevere to Camelot where a grateful Arthur introduces him to The Round Table and asks him to join. As Malagant prepares to declare war on Lyonesse, the desire between Lancelot and Guinevere grows. When Arthur catches the two kissing, he has no choice but to try Lancelot for his life.
---
Films based on the Arthurian legends have been filmed with varying degrees of fidelity. Adaptations and variations have been manifold, ranging from Cinemascope adventure – Knights of the Round Table (1954), to a Disney animated version with cute animals – The Sword in the Stone (1963), to big budget musical disasters – Camelot (1967), absurist send-up – Monty Python and the Holy Grail (1975), high opera – Parsifal (1982), arthouse interpretations – Lancelot du Lac (1974) and Perceval Le Gallois (1977), modern updatings – October the 32nd/Merlin (1992), historical spectacle – King Arthur (2004), The Last Legion (2007), a children's updating that transplants the story into a schoolyard – Kids of the Round Table (1995), CGI spectacle – King Arthur: Legend of the Sword (2017), to three dreary TV mini-series – Arthur the King/Merlin and the Sword (1981), Merlin of the Crystal Cave (1991) and Merlin (1998) and one quite good one that told the story from a feminist perspective – The Mists of Avalon (2001), as well as lowbrow comic foil – various versions of Mark Twain's A Connecticut Yankee in King Arthur's Court (1921, 1931, 1949, 1979 and 1989). Parts of the myth have turned up in various films and particularly tv series – Merlin (played by Ringo Starr) as an advisor to various Famous Monsters in Son of Dracula (1974); The Round Table turned up in an episode of Robin of Sherwood (1983-6); Merlin and Lancelot appeared in the present day in an episode of The Twilight Zone (1985-7), while the Knights of the Round Table were transplanted and became US Marines there in King Arthur: Legend of the Sword (2017); the Doctor Who episode Battlefield (1989) attempted a science-fictional retelling, while Transformers: The Last Knight (2017) revealed the Knights of the Round Table were Transformers; and various series have played the myth out in various futuristic settings – against a post-holocaust dictatorship in Knights of God (1987) and as a puppet space opera in Space Knights (1989). Of all of these, the only film where the Arthurian legends were treated with any degree of satisfaction was John Boorman's glorious Excalibur (1981), which gave the full pageantry of the myth richly resonant life in a single sweeping 2½ hour epic.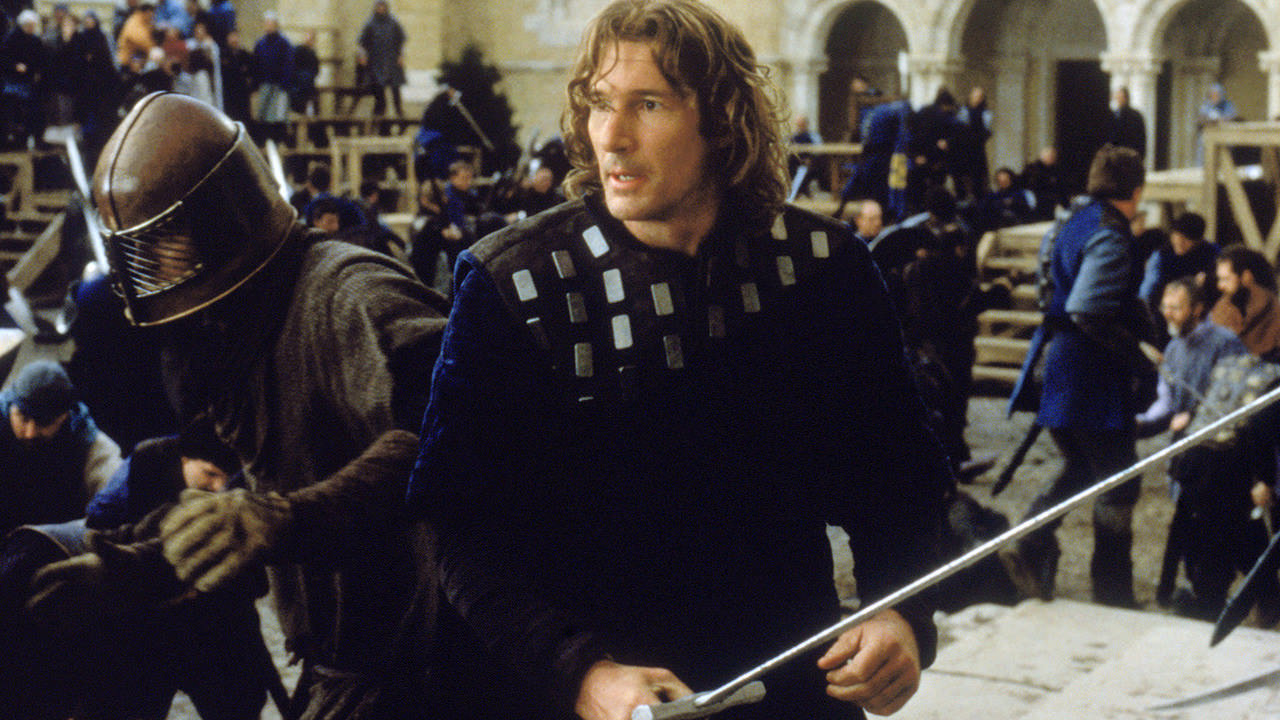 First Knight is a well mounted but disappointing variant. It was the second solo film of Jerry Zucker. Jerry and his brother David are probably better known as the co-directors, co-writers and co-producers of Airplane/Flying High (1980), Top Secret (1984) and the Naked Gun films. At almost an 180 degree remove from the Mad Comics movie parodies come to life that Airplane, Naked Gun et al are, Jerry Zucker revealed in his first two solo films a surprising preference for big budget romantic fantasy – his first film was Ghost (1990). Alas, First Knight was a flop and Jerry has yet to make any further solo directorial outings.
With First Knight, Jerry Zucker has had the Arthurian legend rewritten into a big-budget historical romance. There is no necessary problem with such an approach. However, this has also entailed that the story be stripped of all fantastic elements. Gone is Excalibur, the Sword in the Stone, Merlin and the Holy Grail. Gone too are Morgan-le-Fay and Mordred, as presumably any hint of incest would darken Zucker's romantically wholesome vision – thus Mordred's role is fulfilled by the embittered ex-knight Malagant.
The effect is that of banalising the myth – for example, in the legends when the purity of the Round Table is corrupted by Lancelot and Guinevere's affair and Arthur's reaction, the solution is the Quest for the Holy Grail to restore the land's purity. However, this version banally solves the romantic triangle by the convenient killing off of Arthur.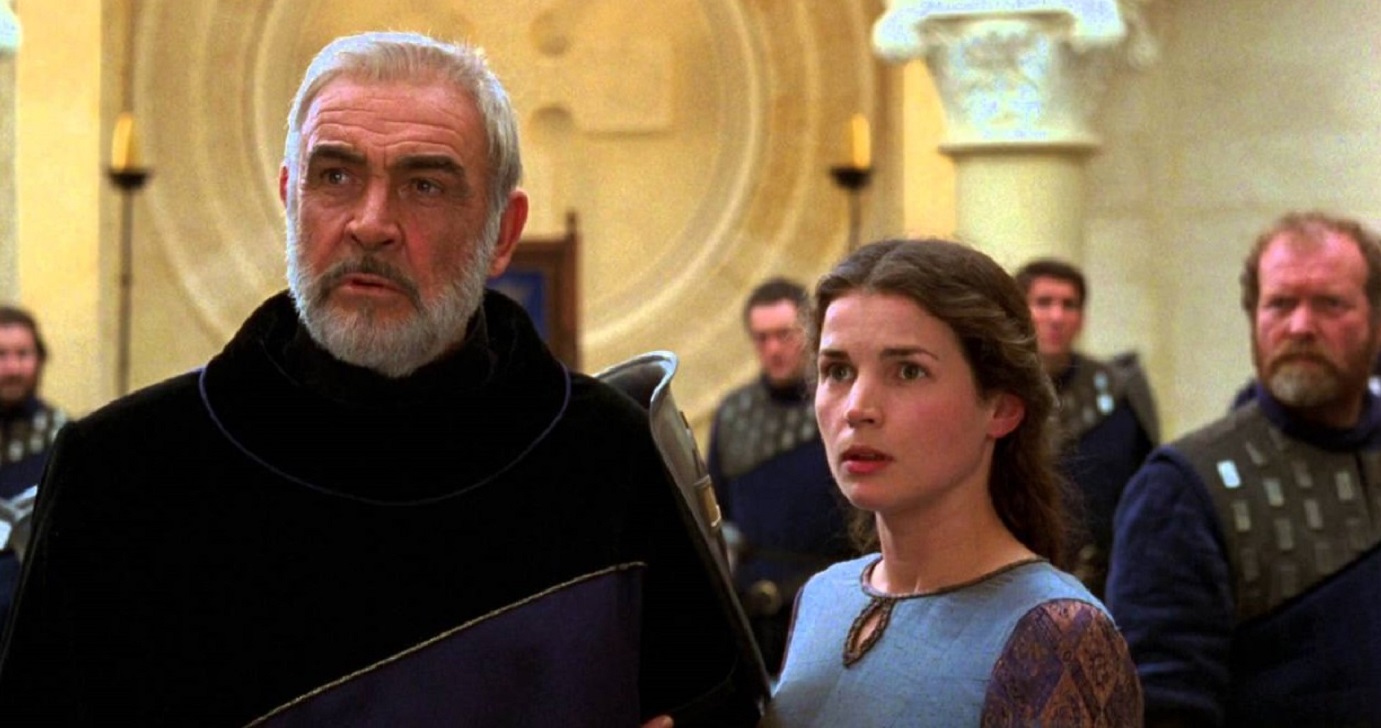 The overall effect might be compared to making a film of the New Testament, ditching God and all the miracles, and making it into a love story between Jesus and Mary Magdalene – while such a story may be effective, one cannot help but notice the lack of things that should be there. When it comes down to it, First Knight is not Arthurian myth, it is just a Prince Valiant comic-strip with a big budget.
First Knight had blockbuster appeal and Jerry Zucker tells it effectively in all the right places but the film lacks magic. Crucially, it is a film that lacks any romantic or adventurous sweep. The cast appear to have been chosen for the associations they bring to the roles – Sean Connery for the commanding certainty he brings to a role in his mature years, Richard Gere for his romantic moodiness, Ben Cross for the black hat villainy he has been associated with. One gets the feeling that they are cast as box-office personas but not a great deal more. The best performer is the greatly undervalued Julia Ormond who creates Guinevere with a sense of moral purity and inner strength. Alas, there is nothing else in First Knight that ever comes to life.
---
Trailer here
---