---
Crew
Director/Screenplay – Larry Cohen, Producer – Robert Littman, Photography – Bryan England, Music – Robert Folk, Photographic Effects – Hollywood Optical Systems Inc (Supervisor – Joseph Wallikas), Stop Motion Animation – Larry Arpin, Miniatures/Makeup Effects – Mark Williams and Associates. Production Company – Larco.
Cast
Barbara Carrera (Priscilla), Bette Davis (Miranda Pierpoint), Colleen Camp (Jenny Fisher), Lionel Stander (Sam), David Rasche (Steve Fisher), Richard Moll (Nathan Pringle), Tom Bosley (Lieutenant MacIntosh)
---
Plot
Steve and Jenny Fisher are shocked when they return from vacation to find that in their absence Jenny's father has married the aging Miranda and that Miranda has started reorganizing their house and treats it as her own place. Miranda's 'daughter' Priscilla then turns up, weaving a seductive spell around the household. Jenny comes to realize that Miranda is a witch and that she and Priscilla are one and the same.
---
In the 1970s and 80s, Larry Cohen emerged as one of the most promising low-budget genre directors with the wonderfully quirky and imaginative likes of It's Alive (1974), God Told Me To/Demon (1976), Q – The Winged Serpent (1982) and The Stuff (1985). In the 1990s, Cohen virtually vanished as a creative force – he has not directed a genre film since The Ambulance (1990) and nothing theatrically since Original Gangstas (1996).
Up until his death in 20090, Cohen only turned out scripts for the likes of the Maniac Cop series, the Ed McBain's 87th Precinct tv movies and occasional theatrical films such as Guilty as Sin (1993), Phone Booth (2002), Cellular (2004), Captivity (2007), the remake of It's Alive (2008) and Messages Deleted (2010). Larry Cohen's seeming retirement is a creative loss, not to mention a mystery, as one would have thought that the growth of indie film in the 1990s would have had a welcome place for him.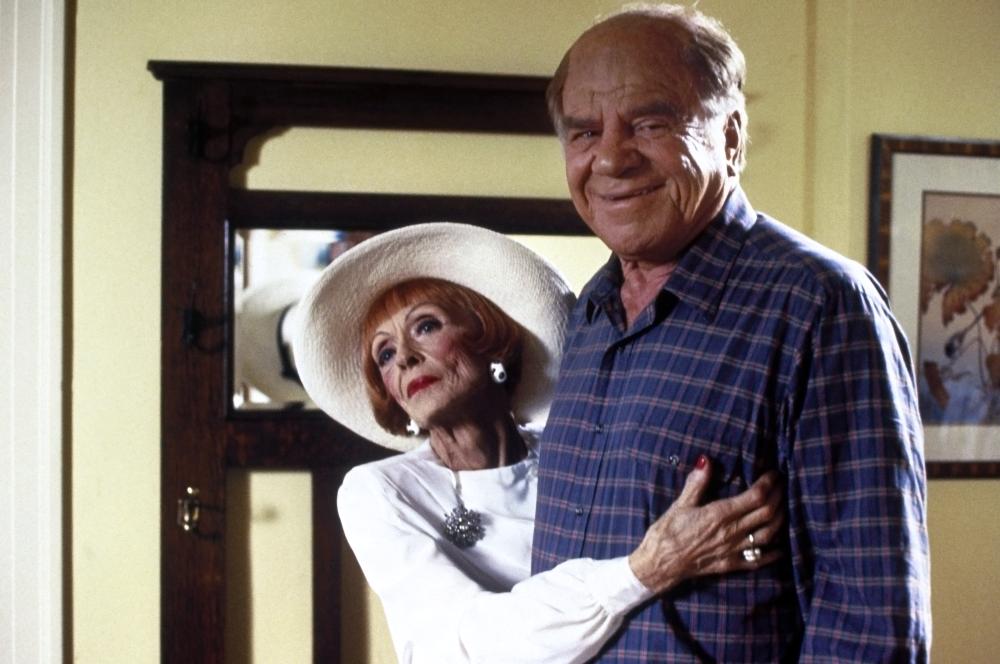 Perhaps some of the reason for Cohen's disappearance might lie in Wicked Stepmother, which is without any doubt Larry Cohen's worst film. Quirky humour runs throughout all of Cohen's films and he has made outright comedy before – Full Moon High (1982), which, while it showed that all-out comedy clearly was not Cohen's forte, proved enjoyably silly. There are occasionally Cohen-esque moments here – like the police station line-up of old ladies brought in in an effort to i.d. the witch – but Wicked Stepmother has an infuriating insipidity when placed up against Larry Cohen's other work. The magic displays are awful, like they had been conducted by an Edward D. Wood Jr – the transformation effects are just stop-action cuts where the two objects often do not even match.
Of course, the big problem that Wicked Stepmother had was Bette Davis. Davis was reportedly not happy with the project and left after several days shooting when the changes she demanded were not made. In an ingenious move, Larry Cohen simply recast the part with Barbara Carrera, explaining it away as Davis's witch possessing a younger body and posing as her own daughter. It is a change that gives the film an ungainly structure.
Certainly, Barbara Carrera is on suitably luscious and seductive form. However, Bette Davis is sad to watch. She was 81 at the time Wicked Stepmother was made – in fact, this was the last film she ever made and she died before it was even released. In the 1960s with What Ever Happened to Baby Jane? (1962), Bette Davis was the first of a group of older stars to appear in a series of Grand Guignol thrillers that deliberately played on the horror of former stars well beyond their glory days.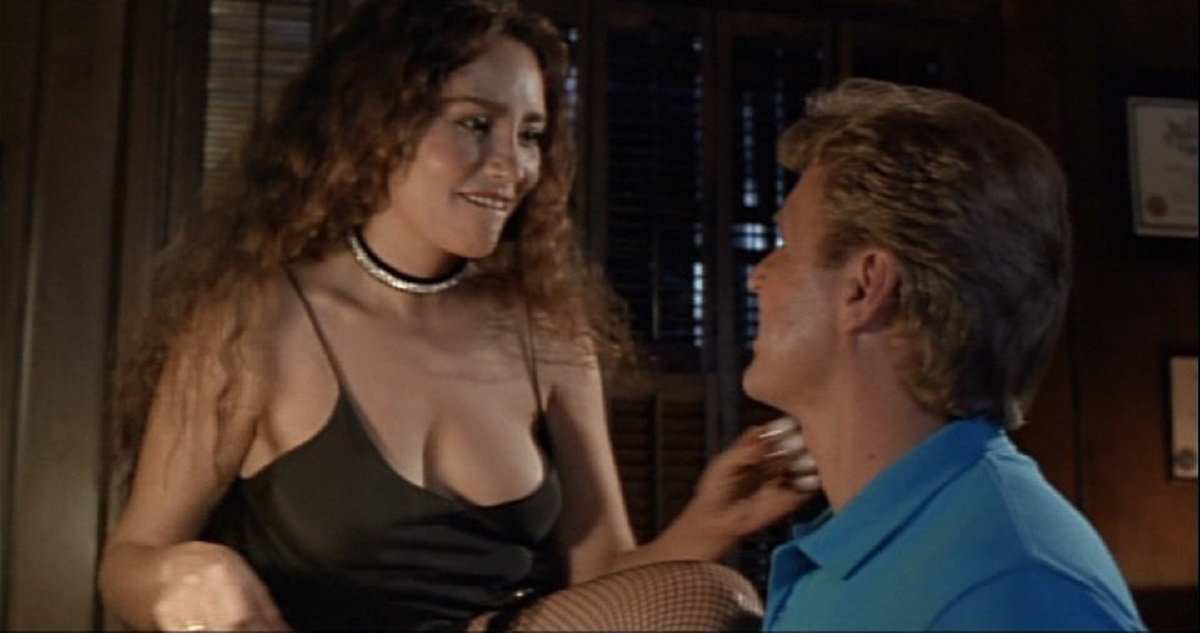 Here there is something ghastly, almost ghoulish, about watching Bette Davis so old that she looks like a corpse with makeup plastered on, and made to go through the same arch reading she always gives. One cute joke though is a cut away to a photo of Lionel Stander's first wife after he marries Davis – which is a photo of none other than Joan Crawford, who played Bette Davis's sister in Baby Jane and maintained a bitter lifelong rivalry with Davis.
Larry Cohen's other genre films are:– the killer mutant baby film It's Alive (1974), the bizarre alien messiah film God Told Me To/Demon (1976), It Lives Again/It's Alive (1978), the werewolf comedy Full Moon High (1982), the monster movie Q – The Winged Serpent (1982), the sentient fast food takeover film The Stuff (1985), It's Alive III: Island of the Alive (1987), A Return to Salem's Lot (1987) and the mad scientist film The Ambulance (1990). Cohen's other genre scripts include all of the episodes of the alien invasion tv series The Invaders (1967-8), the psycho-thriller Daddy's Gone A-Hunting (1969) and the psycho artist film Scream, Baby, Scream (1970). These days Cohen has gone into seeming retirement as a director at least – which is a great loss to the world of genre cinema at the very least – and his only work consists of screenplays for the Maniac Cop series beginning with Maniac Cop (1988), various Ed McBain's 87th Precinct tv movies, the original story for Abel Ferrara's Body Snatchers (1993) remake, the stalker film The Ex (1996), Uncle Sam (1997) about a patriotically minded undead Gulf War veteran, the hilarious psycho sperm donor film Misbegotten (1997), and occasional A-budget cinematic releases such as Guilty as Sin (1993), Phone Booth (2002), Cellular (2004), Captivity (2007), the remake of It's Alive (2008) and Messages Deleted (2010).
---
Trailer here
Film online in several parts beginning here:-