---
Crew
Director/Producer – Frank Agrama, Screenplay – Frank Agrama, Ronald Dobrin & Daria Price, Story – Ronald Dobrin & Daria Price, Photography – Sergio Rubini, Makeup – Marizio Trani. Production Company – Goldfarb
Cast
George Peck, Brenda King, Barry Sattels, Joan Levy, John Salvo
---
Plot
Grave robbers break into the tomb of the Egyptian pharaoh Sakraman who was embalmed thousands of years ago for the practice of black magic. When an American fashion photographer and his models happen by to shoot a fashion spread in the tomb, the grave robbers pretend to be legitimate archaeologists. However, the mummy of Sakraman has been unwittingly raised back to life by their violation and calls his zombie followers up from the sands to slaughter the defilers.
---
It is not by coincidence that Dawn of the Mummy's title resembles Dawn of the Dead (1978). So for that matter does the rest of the film. Indeed, the mummy part of the title is a virtual misnomer as Dawn of the Mummy is to all intents and purposes otherwise an Italian zombie film.
A large number of such zombie films were made in Italy around this era, all imitating the success of Dawn of the Dead. The notable feature of the films was their pushing the extremes of gore and bloodletting about as far as they could go – see the likes of Nightmare City (1980), Hell of the Living Dead/Zombie – Creeping Flesh (1980), Zombie Holocaust/Dr Butcher M.D. (1980), Burial Ground (1981), Demons (1985) and sequels, with Lucio Fulci almost making it a genre unto himself with the likes of Zombie – Flesh Eaters (1979), City of the Living Dead/Gates of Hell (1980), The Beyond (1981) and The House By the Cemetery (1981).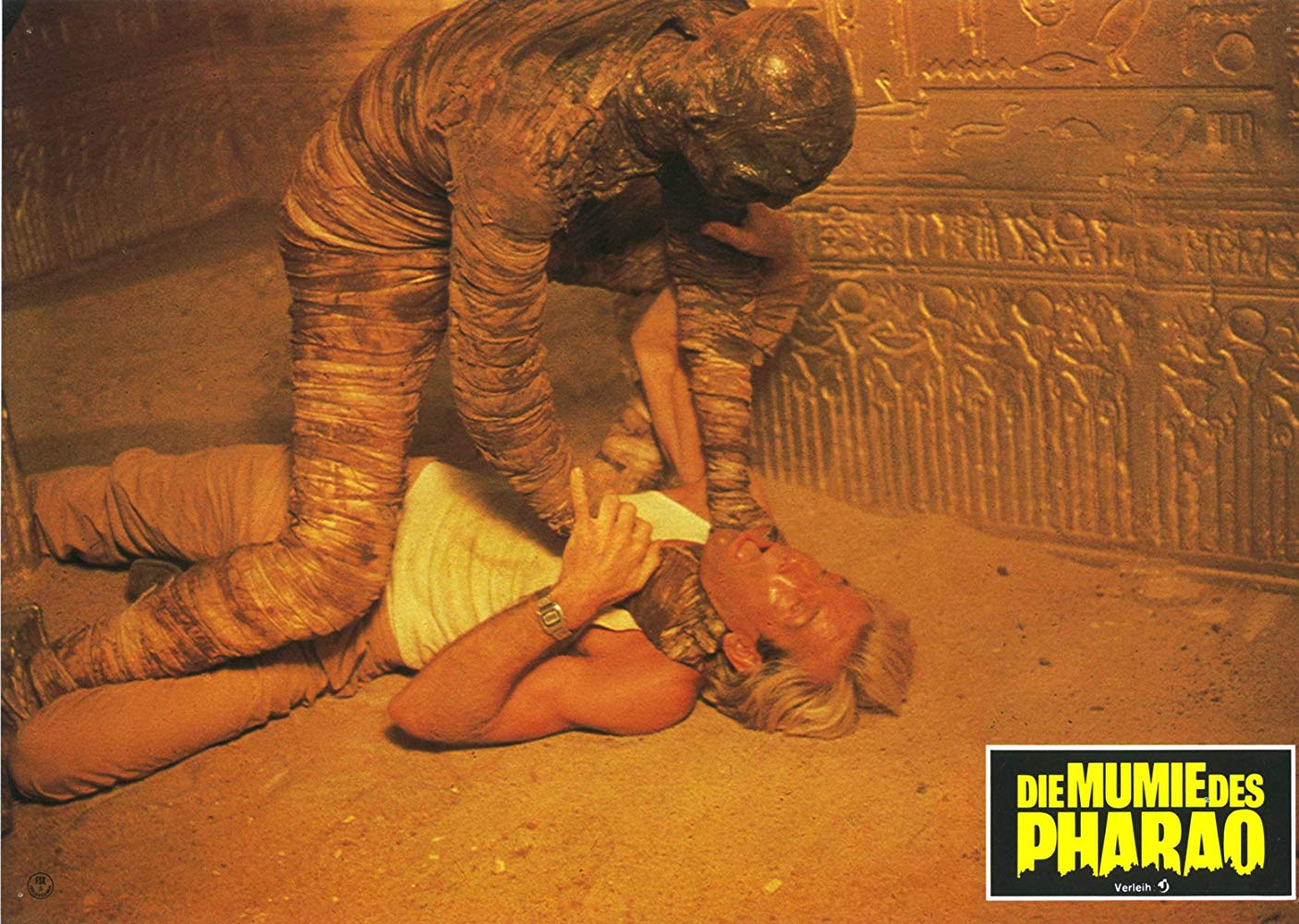 While some of the Italian zombie films of the era – several of the works of Lucio Fulci, for instance – are interesting, Dawn of the Mummy is tedious and suspenselessly paced. Nearly half the running time is over before the action begins. The script seems to consist only of the anonymous characters running back and forward between the cheap-looking tomb, the camp and the town, interspersed with numerous butcherings and entirely clothed sexual encounters. Some of the acting is so bad that it is funny. There is however an extremely high gore quotient – indeed, this seems to be the film's only real raison d'etre (as was the case with most of the Italian zombie films).
Frank Agrama is an Egyptian-born director who had directed several films in Arabic before moving to Italy in the 1970s. His one other genre film as director was the parody Queen Kong (1976). Subsequently, Agrama has worked as a producer on works such as the tv mini-series– Around the World in Eighty Days (1989) and The Lord World (1992), two Sherlock Holmes tv movies starring Christopher Lee and various incarnations of the animated Robotech. In more recent years, while working as a tv executive, Agrama was connected in some of Silvio Berlusconi's illicit business dealings.
---
Trailer here
Full film available online here:-
---