---
Crew
Director/Screenplay – Joseph P. Kelly, Producers – Joel Damian, Alyssa Leonard & Bob Perchett, Photography – Joe Lujan, Music – Jonathan Price, Visual Effects – Joe Castro, Practical Effects – Beth Jones. Production Company – A Shadow in the Dark Productions/Hazelwood Hollow/Rusty Nail Productions/Land of Nod Productions.
Cast
Elinor Price (Brooke), Amanda Kott (Casey), Steven Vogel (Ian), Angeline Mirenda (Kristin), Alyssa Leonard (Shannon), Eric Prochnau (Spencer), Donald Schell (Chris), Ari Lehman (Psycan), Johnny Perotti (Hammy), Martin Klebba (Loco), Robert Oliver (Crank), David W. Bailey (Golden-Ager), Denys Ramos Jr. (Gandalya), Chalet Lizette Brannan (Silly Lilly)
---
Plot
Ian and Chris and their cameraman Spencer are searching for a location for their ghost hunter video channel. At the same time, Brooke is heading to her bachelorette party with her three friends Casey, Kristin and Shannon. Both groups end up the town of Tonopah in the Nevada desert. The group go to sign in at the Clown Motel, which appears deserted. They are forced to take the only available room and bunk down together for the night. In the morning, they come under attack by malevolent clowns. Trying to escape, they find the tires have been punctured and batteries stolen from their vehicles and that a forcefield is preventing them from leaving the town.
---
The killer clown has a certain history on film. The earliest film treatments came out in the late 1980s with Killer Klowns from Outer Space (1988), Clownhouse (1989) and Out of the Dark (1989), although what popularised the theme more than anything was the original It (1990). We have seen other films over the years featuring killer clowns with the likes of The Clown at Midnight (1999), Killjoy (2000), Rob Zombie's House of 1000 Corpses (2003) and sequels, Drive Thru (2007), The Fun Park (2007), 100 Tears (2007), Torment (2008), Stitches (2012), All Hallows Eve (2013) and Clown (2014). With announcement of the release of the remake of It (2017), we have been deluged by a horde of mostly cheap and crappy killer clown films – the likes of Cannibal Clown Killer (2015), Clown Kill (2016), Clowntown (2016), Joker's Wild (2016), Clowntergeist (2017), 8 Ball Clown (2018), Big Top Evil (2019), Clown (2019) and Clownado (2019). (For a more detailed overview of the theme see Killer Clown Films).
Clown Motel was the third feature-length directorial film from Joseph P. Kelly. Kelly had previously directed the horror films Community Service: The Movie (2012) and Bloody Island (2016), neither of which remain widely seen. Kelly made the basics of this as the 22-minute short film Clown Motel (2016). He has announced two sequels.
There is nothing about Clown Motel that escapes the label of "another cheap and crappy killer clown film" that you could slap onto 90% of the abovelisted films. Kelly has made a virtue out of location shooting in Tonopah, Nevada, a town with a population of only around 3000 that does boast the tourist novelty of the Clown Motel, whose main feature is that it has a lobby filled with hundreds of clown dolls. The website for the Clown Motel bills itself with the dubious claim of being 'America's Scariest Motel'.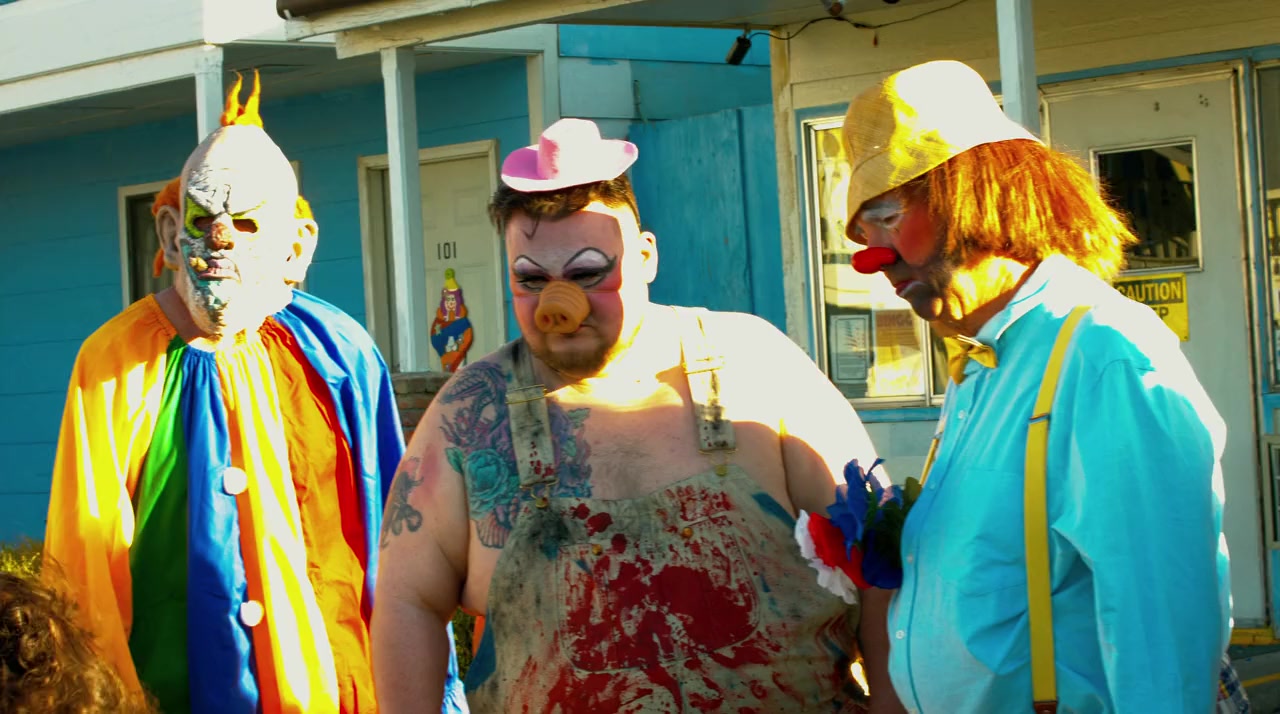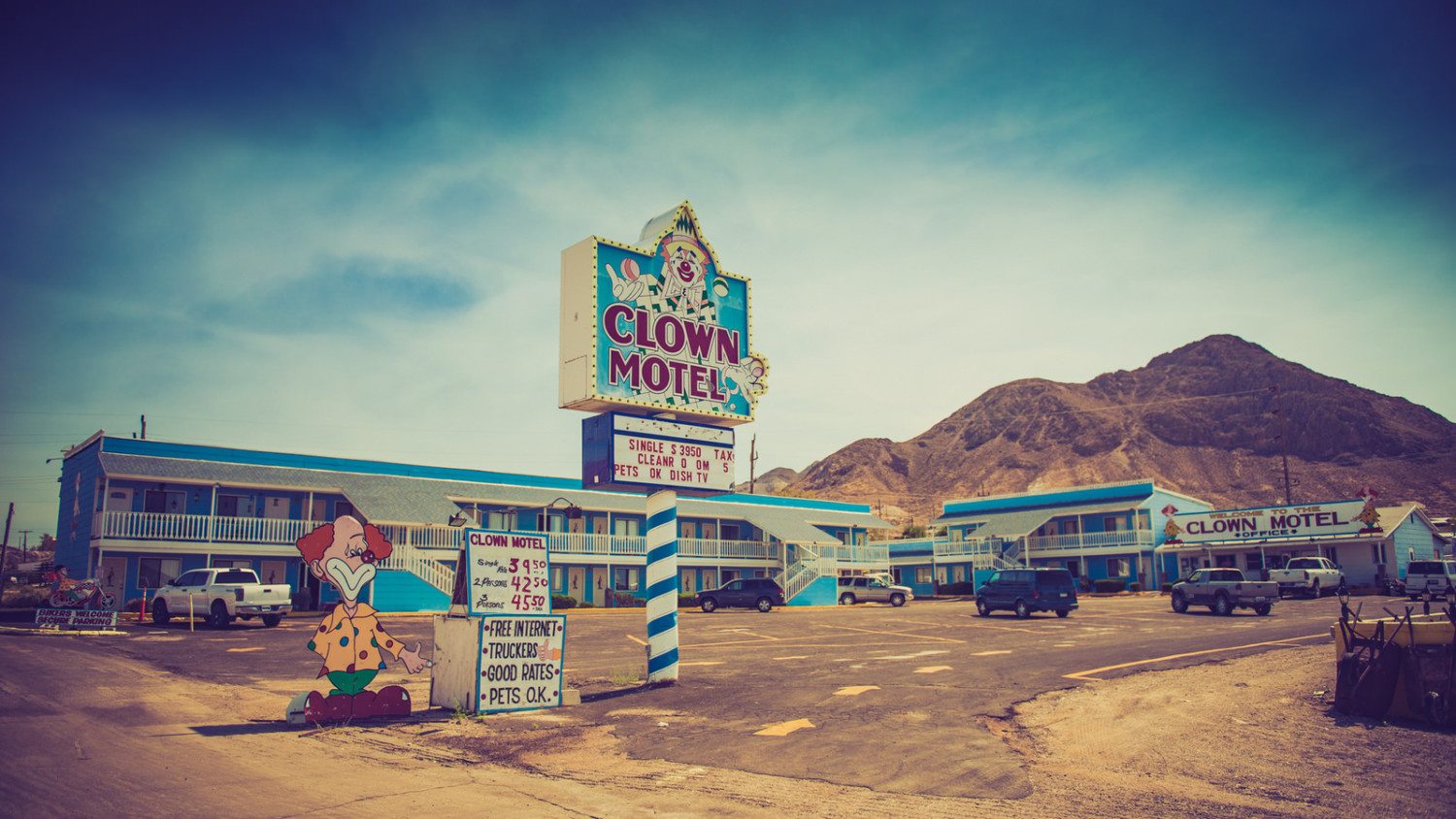 The film circles around scenes of the trio of guys and quartet of girls as they arrive in the town and seem to be trapped in some kind of Time Warp that prevents them from leaving the town while assorted clown figures attack and progressively eliminate their numbers. There is a prologue that shows some locals (in an indeterminate time period) setting fire to the clown motel, while we also get a number of readings from a diary written by an investigating police woman in 1972. Despite both the prologue and diary readings, it is never made clear throughout what the attacking clowns are meant to be, except perhaps that they are some type of supernatural figures, making this possibly a film about a haunting.
Kelly spends a certain amount of time having the characters variously horsing around, arguing and hooking up before they unite forces to fight the clowns. Some of this feels forced. (There is also a lesbian love story that comes out of nowhere at the literal last minute, which seems only there because including such is the in-thing these days). The film has a moderate level of gore. The most disturbing figure in the film is that of an obese clown played by Johnny Perotti who in the film's most perverse image is at one point seen having sex with what looks like an animal head.
Some of the performances are okay – I quite liked Angeline Mirenda who gets nicknamed the Velma of the group at one point. On the other hand, some of the performances are not good – I am thinking of neurotic, strung-out looking Elinor Price as the bride-to-be, or Alyssa Leonard outfitted in an obvious wig who seems to yell most of her dialogue while red in the face.
Some of the dialogue is hilariously bizarre. Steven Vogel has a speech while the group are huddled in the RV from attacking clowns outside as he hands around some edibles: "I'm not ready to die sober or die high but I think maybe by consuming this my decisions and fighting skills will improve," followed with total non-sequitur logic by "Fuck, I wish Hulk Hogan was here." At another point, Amanda Kott charges into battle a killer clown wielding a whip while roaring "Don't fuck with a girl on her period." (Weapons wielded by the girls during the attack also include a dildo).
---
Trailer here
---