---
Crew
Director – Christopher Landon, Screenplay – Scott Lobdell, Producer – Jason Blum, Photography – Toby Oliver, Music – Bear McCreary, Visual Effects – Ingenuity Studios (Supervisors – David Lebensfeld, Grant Miller & Oliver Taylor), Special Effects Supervisor – C. Tom Wiseman, Production Design – Cecele M. De Stefano. Production Company – Blumhouse Productions/Digital Riot Media/Vesuvius Productions.
Cast
Jessica Rothe (Theresa 'Tree' Gelbman), Israel Broussard (Carter Davis), Ruby Modine (Lori Spengler), Charles Aitken (Dr Gregory Butler), Rachel Matthews (Danielle Bouseman), Rob Mello (Jason Tombs), Laura Clifton (Stephanie Butler), Phi Vu (Ryan Phan), Caleb Spillyards (Tim Bauer), Cariella Smith (Becky Shepherd), Blaine Kern III (Nick Sims), Jason Bayle (David Gelbman)
---
Plot
University student Tree Gelbman wakes up in the dorm room of Carter Davis. She has never met him before and is unable to remember the drunken night before. It is her birthday and she stumbles through the rest of her day, filled with bitchiness of her sorority sisters and a tryst with her professor before his wife almost walks in. That evening, she goes to a party only for a masked figure to pursue and kill her with a knife. However, she then wakes up in Carter's room again and has to go through the day and the same events all over again. She tries to avoid her fate but is killed by the masked figure again. She wakes up and continues to repeat the same day over and over but always ends up being killed. Every time she wakes up, it is with less energy than the previous time. With Carter's help, she theorises that the killer is someone who knows intimate details about her and sets out via a process of elimination to find which of the people around her this might be.
---
Happy Death Day was a reasonable hit for Blumhouse who have cornered the contemporary theatrical horror market with successes such as Paranormal Activity (2007), Insidious (2010), The Purge (2013) and Ouija (2014), all of which have produced sequels, along with a good many others (see below). Director Christopher Landon is the son of actor Michael Landon known here for I Was a Teenage Werewolf (1957) and elsewhere as a regular on tv's Bonanza (1959-73) and Highway to Heaven (1984-9). Christopher made his screenwriting debut with Larry Clark's Another Day in Paradise (1998) and went onto write the likes of the werewolf film Blood and Chocolate (2007) and the teen psycho-thriller Disturbia (2007), followed by Paranormal Activity 2 (2010), Paranormal Activity 3 (2011), Paranormal Activity 4 (2012), Viral (2016) and Paranormal Activity: Next of Kin (2021) for Blumhouse. He made his directorial debut with the non-genre anthology Burning Palms (2010), followed by Paranormal Activity: The Marked Ones (2014), Scouts Guide to the Zombie Apocalypse (2015) and Freaky (2020).
The script (from X-Men comic-book writer Scott Lobdell) has essentially been cooked up as the idea of marrying Groundhog Day (1993) with a slasher film. This is an idea that sounds either potentially interesting or so gimmicky as to be ridiculous. One of the least likely things I would have predicted when watching Groundhog Day when it first came out twenty-four years ago is that its premise – a romantic comedy in which Bill Murray ends up living the same day over and over – would become a cliche. Nevertheless, the timeloop plot has formed the basis of a large number of films since then including 12:01 (1993), Retroactive (1997), Run Lola Run (1998), Naken (2000), The Last Day of Summer (2007), Repeaters (2010), Source Code (2011), Edge of Tomorrow (2014), ARQ (2016), Before I Fall (2017), Naked (2017), Boss Level (2020), Palm Springs (2020) and The Map of Tiny Perfect Things (2021), even two entire tv series with Day Break (2006-7) and Russian Doll (2019- ). For greater detail about Timeloop Films see Timeloop Films.
Indeed, Happy Death Day is the fourth variant on the Groundhog Day theme that I have had occasion to review in the last twelve months. The Groundhog Day scenario has become such a trope by now that the film here even has a scene where the characters sit about comparing their situation to the film. For greater detail about Timeloop Films see Timeloop Films.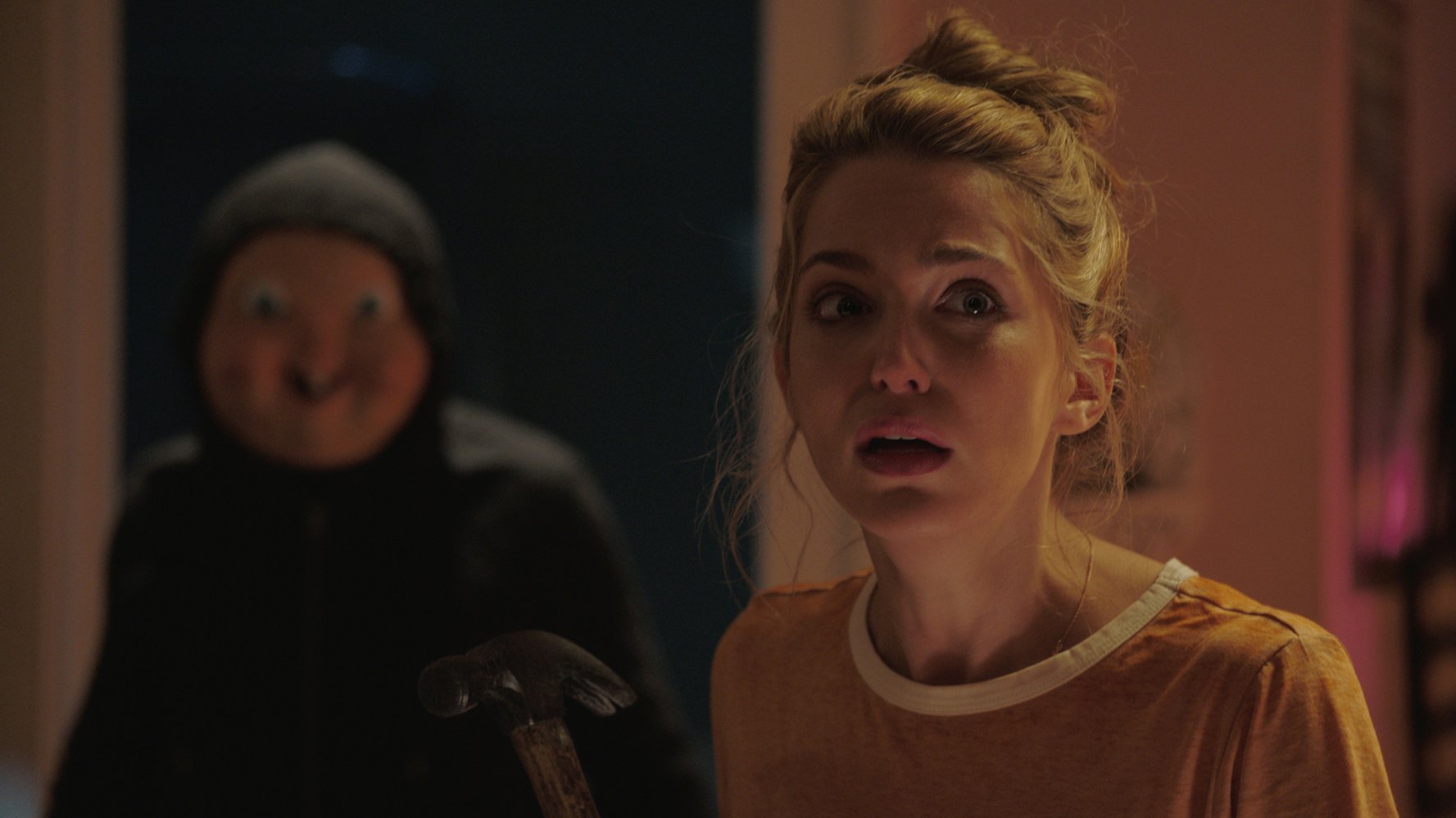 In the films he has directed, Christopher Landon has a habit of taking potentially good ideas and turning them into anodyne, middle-of-the-road films. The most you can say of Happy Death Day is that Landon lets it pass as an inoffensively formulaic effort – albeit, one that seems to have anything that remotely pushes the envelope or that could be construed as interesting trimmed from it in the editing room. The film has an interesting central character arc where Jessica Rothe starts as a bitch and proceeds to mellow and start treating people nicer throughout the course of the story (the same one that also played out in the abovementioned Before I Fall). Probably the script's most interesting twist is the scene where she gives up the opportunity to kill serial killer Rob Mello and opts instead to hang herself on the realisation that this ending the timeloop would also mean the death of the guy she likes.
The various attacks by the masked killer are unexceptional – certainly, lacking in any real tension – where the only thing you note is how the killer has uncanny foresight that improbably allows them to turn up all over the place no matter where Jessica Rothe goes. That and the unintentional campiness of a climactic scene that involves two girls fighting over the eating of a cupcake.
Christopher Landon and Jessica Rothe return with a sequel Happy Death Day 2U (2019), which is actually a better film.
Jason Blum and his Blumhouse production company have produced a number of other genre films including:- Hamlet (2000), Paranormal Activity (2007) and sequels, Insidious (2010) and sequels, Tooth Fairy (2010), The Bay (2012), The Lords of Salem (2012), The River (tv series, 2012), Sinister (2012) and sequel, Dark Skies (2013), Oculus (2013), The Purge (2013) and sequels, the tv mini-series Ascension (2014), Creep (2014), Jessabelle (2014), Mercy (2014), Mockingbird (2014), Not Safe for Work (2014), Ouija (2014) and sequel, 13 Sins (2014), The Town That Dreaded Sundown (2014), Unfriended/Cybernatural (2014), Area 51 (2015), The Boy Next Door (2015), Curve (2015), The Gallows (2015), The Gift (2015), Jem and the Holograms (2015), The Lazarus Effect (2015), Martyrs (2015), Visions (2015), The Visit (2015), The Darkness (2016), Hush (2016), Incarnate (2016), The Veil (2016), Viral (2016), Amityville: The Awakening (2017), Get Out (2017), The Keeping Hours (2017), Split (2017), Stephanie (2017), Bloodline (2018), Cam (2018), Delirium (2018), Halloween (2018), Seven in Heaven (2018), Truth or Dare (2018), Upgrade (2018), Black Christmas (2019), Ma (2019), Prey (2019), Don't Let Go (2019), Sweetheart (2019), Black Box (2020), The Craft: Legacy (2020), Evil Eye (2020), Fantasy Island (2020), Freaky (2020), The Hunt (2020), The Invisible Man (2020), Nocturne (2020), You Should Have Left (2020), Black as Night (2021), The Black Phone (2021), Dashcam (2021), Madres (2021) and Firestarter (2022).
---
---