---
Crew
Directors/Producers – Gadi Harel & Marcel Sarmiento, Screenplay – Trent Haaga, Photography – Harris Charalambous, Music – Joseph Bauer, Visual Effects – Barbedwire FX (Supervisor – Avi Das) & Frog Studio, Makeup Effects – Ojala Production, Inc. (Supervisor – Jim Ojala), Production Design – Diana Zeng. Production Company – Hollywoodmade/Sartistic.
Cast
Shiloh Fernandez (Rickie), Noah Segan (J.T.), Eric Podnar (Wheeler), Jenny Spain (Deadgirl), Candice Accola (Joann Skinner), Andrew DiPalma (Johnny), Nolan Gerard Funk (Dwyer), Michael Bowen (Clint), David Alan Graf (Mr Harrison)
---
Plot
Seventeen year-old Rickie and his best friend J.T. decide to bunk school. They head off to explore an old abandoned hospital. In the basement tunnels, they are startled to find a room where a woman is chained up naked. J.T. immediately decides this is opportunity for him to have sex with her but Rickie is unwilling to do so. Richie later returns where J.T. demonstrates that the girl is a zombie – he snapped her neck after she fought against him and now shoots bullets into her but she does not die. J.T. moves into the room and later introduces another friend Wheeler as they take turns having their way with Deadgirl as they call her. Rickie, who loves Joann, a girl he once shared a kiss with, wants nothing to do with it. However, when two bullies force the truth out of them and want to see for themselves, events start to spiral out of control.
---
Deadgirl was a collaboration between American director Marcel Sarmiento and Israeli-born Gadi Harel. Sarmiento had previously made the reasonably high-profile Heavy Petting (2007) and Harel Operation Midnight Climax (2002). Harel has not done anything since Deadgirl but Sarmiento went on to make the D is or Dogfight episode of The ABCs of Death (2012) and the Vicious Circles episode of V/H/S Viral (2014), before returning with the full-length horror films Totem (2017) and Faceless (2021). Deadgirl played at quite a number of international film festivals.
The zombie film re-emerged with great force in the mid-2000s following the success of films such as Resident Evil (2002), 28 Days Later (2002), Dawn of the Dead (2004) and Shaun of the Dead (2004). These produced a great many imitators but most of these soon proved themselves of limited potential, endlessly circling around the same plot. Over the next few years the zombie film turned to self-parody or gonzo mash-ups ranging from Zombie Strippers! (2008) to Pride and Prejudice and Zombies (2016). Amidst this, not many zombie films did anything original. (For a more detailed overview of the genre see Zombie Films).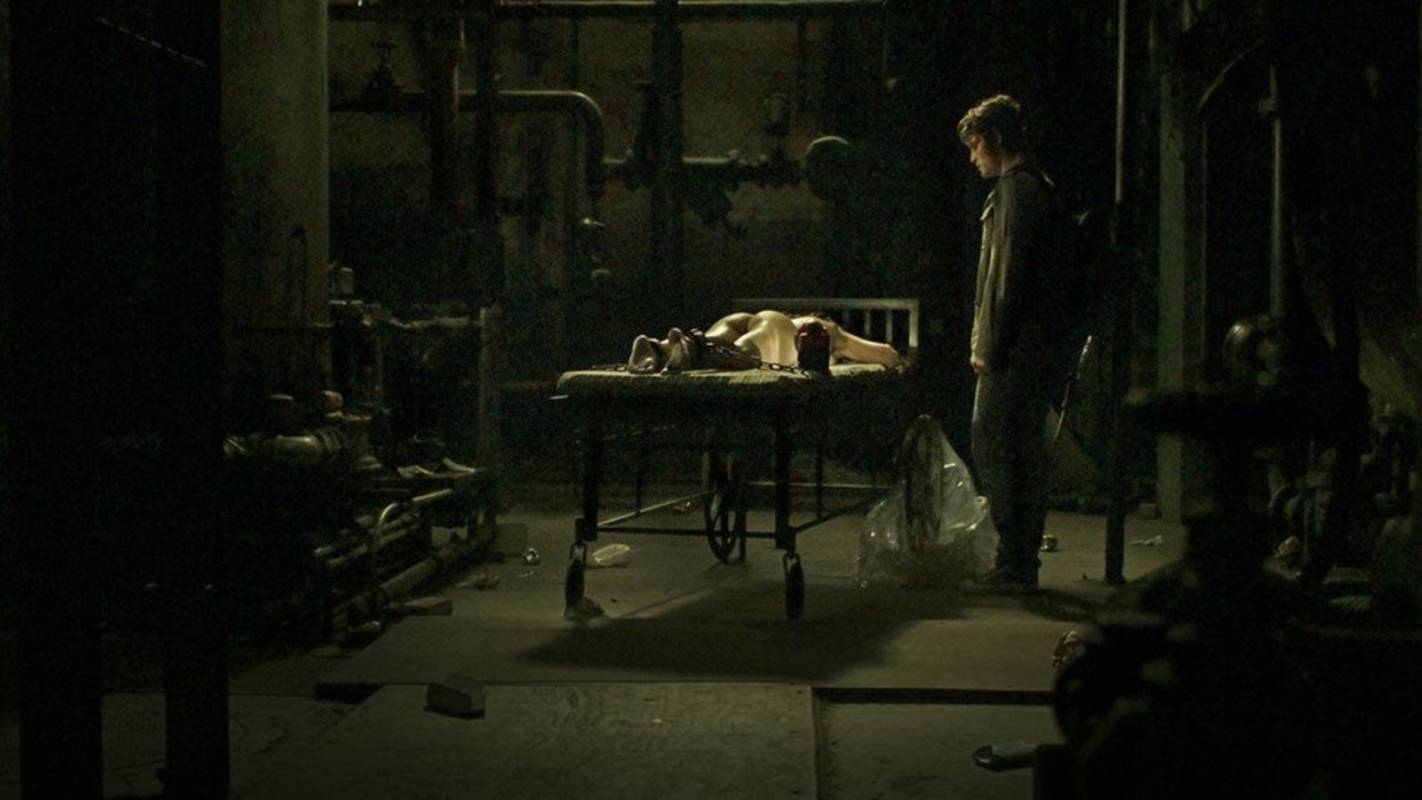 That said, Deadgirl is one zombie film that does something fascinating and original with the genre. The film has almost been conceived as a version of River's Edge (1986) – the socially grim film about a teenager who strangles his girlfriend and where his peers do nothing but regard the corpse as a curiosity, albeit this being a version where the dead girl also happens to be a zombie. Deadgirl then segues into being as much a Necrophilia film as it does a zombie film. In a very short space of time, it ends into a compulsively disturbed headspace.
Marcel Sarmiento and Gadi Harel create an unusual situation – two teens find a zombified girl chained up and decide to use her for sex – and twist it with an unsettling brilliance. The film features two principal young actors – Shiloh Fernandez and Noah Segan – neither of which were well known at the time but since went on to much bigger things. Segan in particular gives a performance that becomes increasingly more out of control and captivating as the film goes on.
The film is horror less so for the zombie elements than for the way if lifts the lid on the mindset of the teenage American male and how indifferent they remain to the imprisoned object of their lust – Deadgirl starts to increasingly decay throughout, which seems to matter naught to them, and to which they respond merely by plastering a picture of a pretty girl over the top of the zombie. The film plays and twists its premise out with perfect logic before reaching a disturbingly grim and cynical conclusion.
---