---
USA. 1977.
Crew
Director – Curtis Harrington, Screenplay – George Edwards & Barry Schneider, Story – Steve Krantz, Producer – George Edwards, Photography – William Mendenhall, Music – Don Ellis, Special Effects – Knott Limited, Art Direction – Tom Rasmussen. Production Company – Krantz Productions.
Cast
Piper Laurie (Ruby Claire), Stuart Whitman (Vince Kemper), Roger Davis (Doc Keller), Janit Baldwin (Leslie Claire)
---
Plot
In 1935, former actress Ruby Claire is witness as her gangster boyfriend Nicky is wiped out by his associates. Sixteen years later and she operates a drive-in movie theatre where she employs the old gang associates. Now, the ghost of Nicky returns to claim revenge on his killers.
---
Curtis Harrington is a director who enjoyed a good deal of success in the Batty Old Dames subgenre that grew up after What Ever Happened to Baby Jane? (1962). There Harrington made a number of films such as How Awful About Allan (1970), What's the Matter with Helen? (1971), Whoever Slew Auntie Roo? (1971) and The Killing Kind (1973). Despite a promising show in the early 1970s, by the middle of the decade Harrington's career had faded to a handful of genre tv movies. Ruby was Curtis Harrington's last theatrical film.
With Ruby, Curtis Harrington was making a quickie clearly designed to jump on the successes of The Exorcist (1973) and Carrie (1976). To such extent, Ruby even features Piper Laurie, then riding high on the critical kudos from her performance in Carrie the year before – and giving another of the deep-throated, fierily passionate powerhouse performances that she does so well. Ruby intriguingly represents what the Baby Jane subgenre might have metamorphosed into following The Exorcist, with Piper Laurie's grand old dame/faded Hollywood star/Southern belle being contrasted with a possession subplot.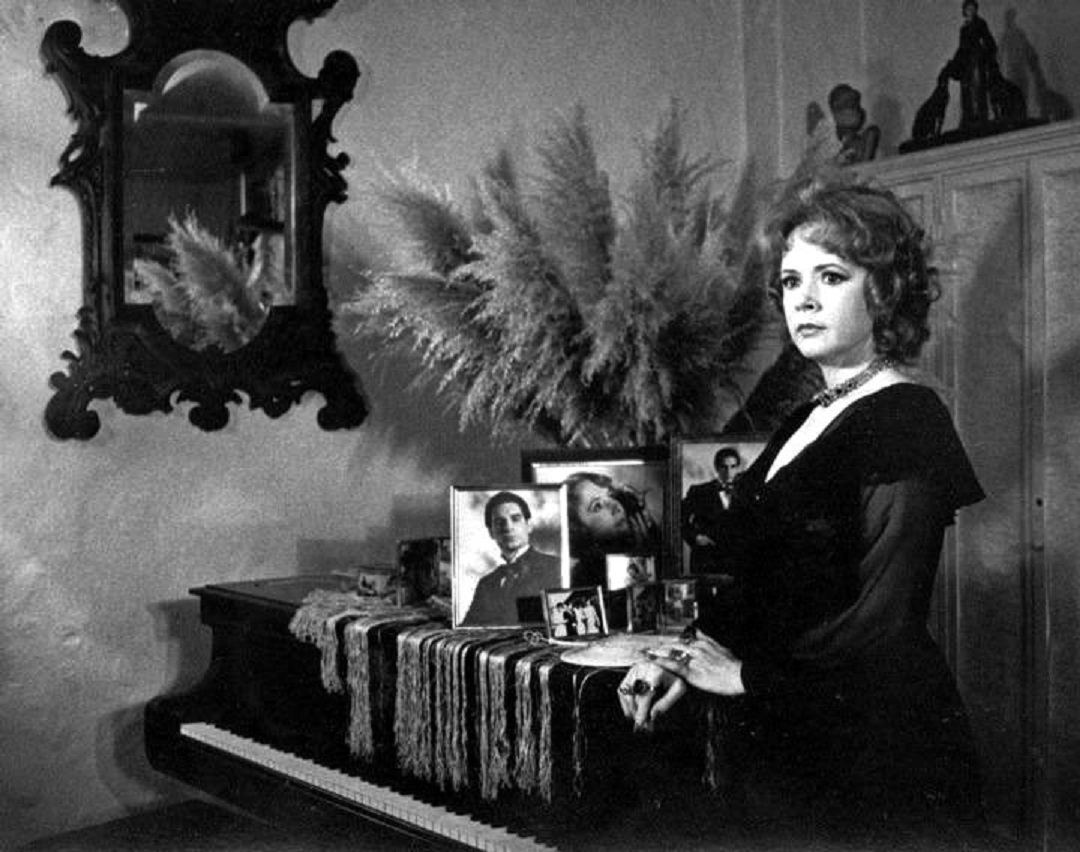 While never entirely leaving the film's quickie exploitation nature behind, Curtis Harrington crafts it with a series of often striking set-pieces – bodies tossed about and impaled on trees; Stuart Whitman being pursued by supernatural winds; that wonderfully EC Comics-esque moment where a severed head is found attached to the interior of a Coke vending machine; and the genuine surprise moment when Janit Baldwin (an almost neglected actress who gives a eerily spooky performance) is revealed as possessed – that lifts Ruby well above most Exorcist copycats.
Trivia note:– The film's period setting is slightly out – the 1951 date is seven years too early for the drive-in theatre to be screening Attack of the 50 Foot Woman (1958).
Curtis Harrington's other genre films of note are:– the low-budget mermaid tale Night Tide (1961); the English-language inserts for Roger Corman's Voyage to the Prehistoric Planet (1965), which was re-edited from a Russian sf film; the alien vampire film Queen of Blood (1966), which also reuses Russian sf film footage; the psycho-thriller Games (1967); the Old Dames psycho-thriller How Awful About Allan (tv movie, 1970); the Old Dames psycho-thriller What's the Matter with Helen? (1971); the Old Dames psycho-thriller Whoever Slew Auntie Roo? (1971); The Cat Creature (tv movie, 1973); the Old Dames psycho-thriller The Killing Kind (1973); the voodoo/zombie film The Dead Don't Die (tv movie, 1975); Killer Bees (tv movie, 1974); and Devil Dog: Hound of Hell (tv movie, 1978) about a Satanic dog.
---
Trailer here
Full film available online here:-
---