---
Crew
Director – William Brent Bell, Screenplay – Nick Amadeus & Josh Braun, Producers – Jordan Beckerman, William Brent Bell, Jesse Korman, Jordan Yale Levine, Clay Pecorin & Russ Posternak, Photography – Karl Walter Lindenlaub & Rik Zang, Music – Brett Detar, Visual Effects –Afterparty VFX (Supervisor – David Gaddie), Special Effects Supervisor – Conrad Brink, Makeup Effects Design – Mike Fontaine, Production Design – Ola Maslik. Production Company – Rainmaker Films/Yale Productions/The Machine Room/Post Film.
Cast
Rupert Friend (Jeff Vahn), Violet McGraw (Jenny Vahn), Brian Cox (Paul Rivers), Madeline Brewer (Samantha Nally), Mamie Gummer (Maggie Vahn), Simon Quaterman (Alan Ross), Eric Troy Miller (Connor Gibbons), Manny Perez (Officer Pitt), Lorrie Odom (Officer Rossi)
---
Plot
Comic-book artist Jeff Vahn and his wife Maggie are arguing over the fact that he has been unemployed for the last four years. After an incident where their daughter Jenny falls in the attic, Maggie decides Jeff is too irresponsible and takes Jenny to go and stay with her father Paul Rivers. She begins divorce proceedings and a motion to file for sole custody of Jenny – only to then be abruptly hit and killed by a car in the street. In the aftermath, Jeff is left with responsibility for Jenny. With Paul threatening to find a means of taking her back, Jeff takes a job with an old friend who runs a successful comic-book studio. At the same time, Jeff begins to see shapes of the creatures he has drawn moving in the house, while Jenny becomes certain that her mother is reappearing to her.
---
Ever since his second film, the ridiculous videogame horror Stay Alive (2006), director William Brent Bell has become a genre regular. From there Bell went on to the reasonable success of the Found Footage exorcism film The Devil Inside (2012), followed by the werewolf film Wer (2013) and The Boy (2016) and its sequel Brahms: The Boy II (2020) about a sinister doll, and subsequent to this Orphan: First Kill (2022). The problem with assessing William Brent Bell as a genre director is that he has made several films that have made decent box-office – The Devil Inside, The Boy – but his films remain strictly average and fail to get decent reviews. (The exception is Orphan: First Kill).
Separation is another William Brent Bell film that treads a middle of the road path the entire way. To his credit, Bell is a director that seems constantly on the verge of creating films that are quite atmospheric and spooky and holding undeniable jumps – as here and in The Boy – but allows the possibilities to fall through his fingers.
Here he generates something potentially quite reasonable out of the suggestion of things moving in the attic, sinister clown figures scuttling along the ceiling and a ghostly figure beckoning from outside Violet McGaw's window (even if some of these do resort to the old chestnut of the dream jump, which I have always maintained is a fake way for a director to rattle an audience when they cannot organically find a way to spook people).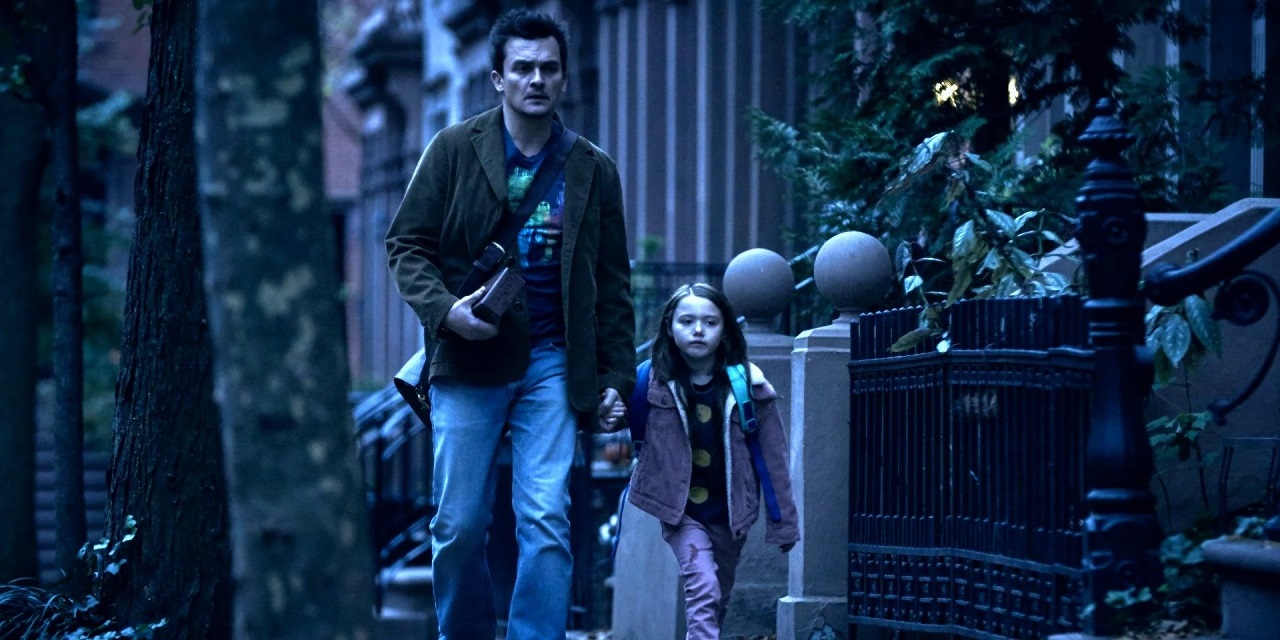 The show feels drawn out around an overly familiar plotline. In another film, Rupert Friend would be someone like the solo mother in the Japanese Dark Water (2002) or its lesser English-language remake Dark Water (2005), financially struggling to keep he and his daughter going amidst the pressures around him. Friend does get the benefit of a lavish brownstone apartment – you keep wondering why in his attempts to pressure Friend to hand over custody, evil father-in-law Brian Cox simply doesn't repossess the apartment. However, everything follows a safely predictable route to its end. Bell creates atmosphere and spookiness but nothing that ever has you on the edge of your seat and the show eventually falls into the tepid.
The film is also saddled with Rupert Friend as a lead. Friend is a British actor who has been working since the mid-2000s, gaining his breaks in the US tv series Homeland (2011-20). On film, he has appeared in everything from Pride & Prejudice (2005), The Last Legion (2007), The Young Victoria (2009), Terry Gilliam's The Zero Theorem (2013), The Death of Stalin (2017) and Infinite (2021). He was even miscast as the title character in Hitman: Agent 47 (2015) and memorably turned up as an occultist in the undeniably watchable tv series Strange Angel (2018-9). Friend seems the sort of actor you would cast as a thug in a Guy Ritchie crime film about London East End gangsters. His looks seem rougher than someone you automatically think of as a leading man. Even here he seems scruffy, which fits the loser artist role, but he seems to be straining to convincingly play the devoted dad half of the role.
On the other hand, the show does get stolen by a surprisingly animated Simon Quaterman and Mamie Gummer, Meryl Streep's daughter, who does angry and bitchy quite well – it becomes quite a surprise when she gets killed off early into the show where one was expecting things to get dragged out through a torturous and vengeful custody battle with her cast as the evil ex. Madeline Brewer seems an odd casting choice as the nanny. She came to fame as the crazy Janine in The Handmaid's Tale (2017- ) but her presence in the role seems to far too obviously signal that something is not right.
---
Trailer here
---