---
USA/Germany. 2005.
Crew
Director – Iain Softley, Screenplay – Ehren Kruger, Producers – Iain Softley, Daniel Bobker, Michael Shamberg & Stacey Sher, Photography – Daniel Mindel, Music – Edward Shearmur, Music Supervisor – Sara Lord, Visual Effects – Perpetual Motion Pictures (Supervisor – Richard Malzahn) & Rhythm and Hues (Supervisor – Dan DeLeeuw), Special Effects Supervisor – Matt Sweeney, Production Design – John Beard. Production Company – Universal/Shadowcatcher Entertainment/Double Feature Films/MFPV Film GmBh.
Cast
Kate Hudson (Caroline Ellis), Gene Rowlands (Violet Devereaux), John Hurt (Ben Devereaux), Peter Sarsgaard (Luke Marshall), Joy Bryant (Jill Dupez), Maxine Barnett (Mama Cynthia), Fahnlohnee Harris (Hallie)
---
Plot
Caroline Ellis takes up a live-in position on a rundown estate outside New Orleans as a nurse caring for Violet Devereaux's husband Ben who has become bedridden and unable to move following a stroke. Caroline comes to realise that the house contains secrets – from the locked room in the attic that is filled with voodoo paraphernalia to Ben who struggles to communicate when he is with her. Violet claims that voodoo is involved but Caroline dismisses this as superstition. As she starts to believe, Caroline begins to think that Violet that has placed a voodoo curse on Ben.
---
I looked forward to The Skeleton Key. The trailer seemed promising – a seeming mix of voodoo secrets and a background of New Orleans Creole culture. Instead, the film pans out as a thorough disappointment. The source of this disappointment can be laid at the feet of director Iain Softley.
Iain Softley is a British director who has made two good films – Backbeat (1994), a biopic about the early days of The Beatles, and the Henry James adaptation The Wings of the Dove (1997). Alas, Softley has been ham-fisted when it came to his other films – Hackers (1995) and the feelgood ambiguous alien visitor film K-PAX (2001) – both of which are covered on this site. Both are woefully lacking in fantastic imagination – Hackers' attempt to expose hacker counter-culture was a hopeless pose, while K-PAX seemed more loopy than it ever did life affirming. Softley subsequently returned to the genre with the children's film Inkheart (2008), which also disappointed too, and the imprisonment thriller Curve (2015).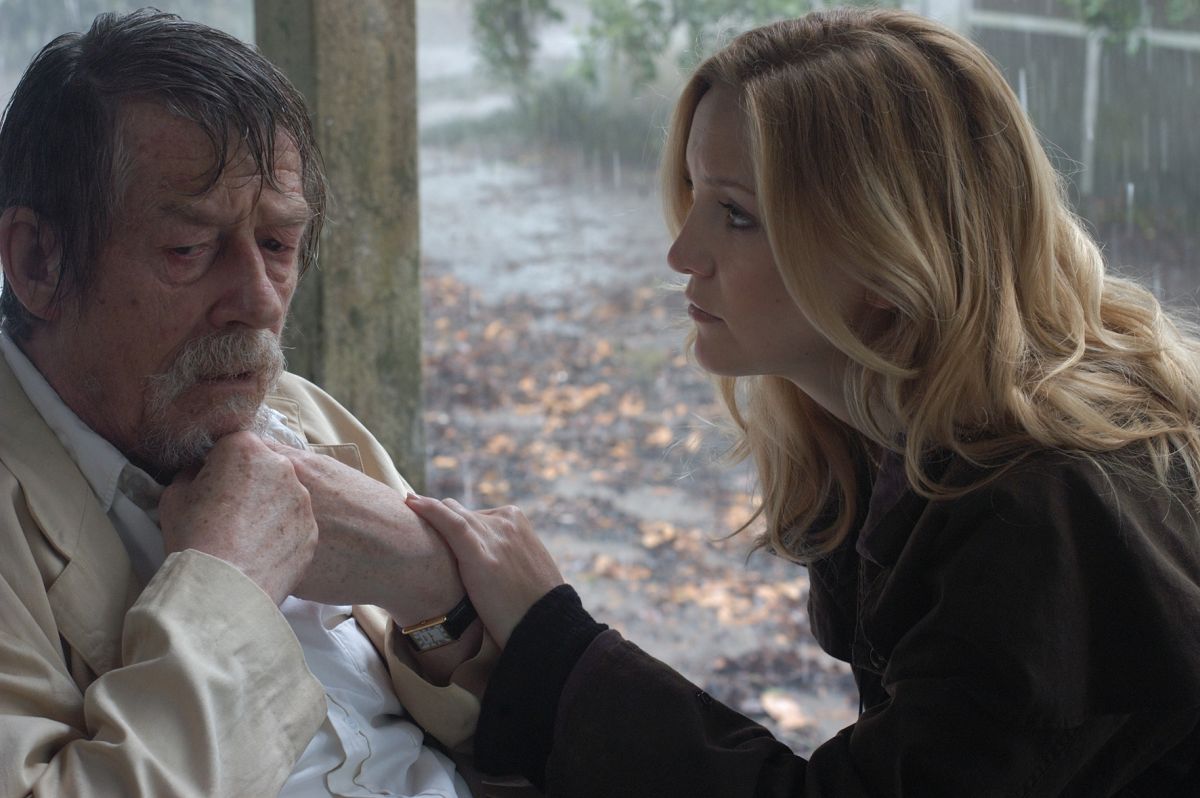 The Skeleton Key feels like a clichéd outsider's view of New Orleans and its culture – all swamps, moss-laden antebellum mansions, blues clubs, shops where fetishes are sold and voodoo beliefs are spoken of in hushed tones, where the African-American people of the area live in poverty and the ghosts of slavery and Southern aristocracy are still felt. It feels like Iain Softley has borrowed most of his images of the region from another much superior New Orleans voodoo film Angel Heart (1987). [For a film that offers a far more unclichéd and authentic depiction of the voodoo and culture of the region, one should see the excellent Eve's Bayou (1997).]
The rest is cliché horror movie theatrics and it is here that Iain Softley's hand is pedestrian. The film is far too reliant on red herring jumps – storms, people unexpectedly stepping out into frame, 'Help Me' messages that are there one minute and gone the next – and contrived dramatics – people falling from rooftops, Kate Hudson's race to get out of the attic but dropping the record as Gena Rowlands comes up the stairs. Softley occasionally gets some subtle effect with in particular the scene where Kate Hudson sprinkles the red dirt on her door stoop and tries to get Gena Rowlands to cross it. But by the time of the climax with predictable twists of allegiance, more storms, crashing mirrors and a crazed Gena Rowlands looking like she had stepped out of What Happened to Baby Jane? (1962), the film feels like Iain Softley has gone into histrionic overdrive with his piratic mimicry of horror film affect.
The plot is surprisingly reminiscent of the Val Lewton classic I Walked with a Zombie (1943). In both cases, the central character is a nurse who travels to a large old estate in remote location that is rich in African culture to tend a bedridden and brain-damaged spouse; in both films, the heroine comes to believe that the spouse's condition is caused by voodoo. Both films hover between a rational and a magical explanation (The Skeleton Key less so than I Walked with a Zombie) with the nurse character eventually coming to believe that voodoo rituals hold the solution to their patient's condition and taking them on a journey to save their life.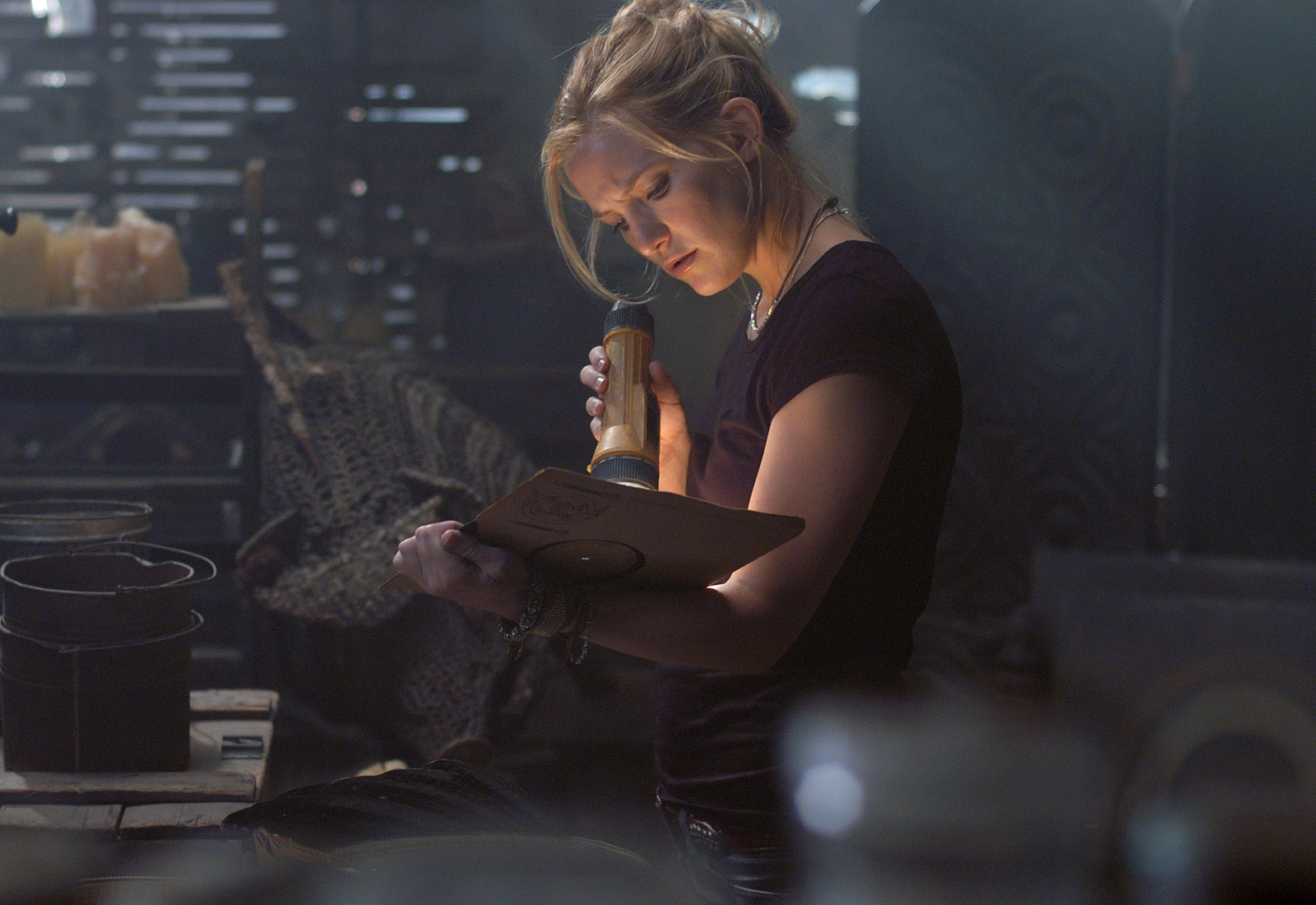 There are many differences too – The Skeleton Key throws in a horde of clichés from the House of Secrets book and substitutes a body of clichéd slams, bangs and storms for the more subtle ambiguities of the superior I Walked. The Skeleton Key also throws in a twist ending that has been borrowed from The Wicker Man (1973), along with a few shakes of the voodoo/body predation plot from Angel Heart. The twist holds no surprises to anyone who has watched a few horror movies and seems improbably contrived when one sits down to think about it.
The one good thing about The Skeleton Key is the presence of Kate Hudson. Her part is an undemanding role that could have been filled by any actress on the Hollywood block but it is to Hudson's credit that she brings a great deal of conviction to the centre of the film.
Screenwriter Ehren Kruger received a reputation with non-genre works like Arlington Road (1999) and Reindeer Games (2000). Since then Kruger has begun to specialise in genre scripts with the likes of New World Disorder (1999), Scream 3 (2000), Impostor (2002), The Ring (2002), The Brothers Grimm (2005), The Ring Two (2005), Blood and Chocolate (2007), Transformers: Revenge of the Fallen (2009), Transformers: Dark of the Moon (2011), Tin Man (tv movie, 2014), Transformers: Age of Extinction (2014), Ghost in the Shell (2017) and Dumbo (2019), as well as produced Dream House (2011).
---
---