---
Crew
Directors/Producers – Fred Olen Ray & Jim Wynorski, Screenplay – Bob Sheridan & Christopher Wooden, Story – Bob Sheridan, Photography – Gary Graver, Music – Chuck Cirino, Visual Effects Supervisor – Hal Miles, Mechanical Dinosaur – John Carl Buechler, Production Design – Matthew Atzenhoffer. Production Company – New Horizons.
Cast
Ross Hagen (Captain Jason Briggs), Richard Gabai (John Skeemer), Peter Spellos (Private Wilbur 'Turbo' Kapowski), Tom Shell (Private Wayne Kincaid), Antonia Doran (April), Griffin Drew (May), Michelle Bauer (June), Toni Naples (Queen Morganna), Steve Barkett (Sergeant Ben Healey), Bob Sheridan (Buzz Brannigan)
---
Plot
Captain Jason Briggs is supervising a flight aboard which three soldiers accused of desertion are being taking to be tried. The plane then goes down over the ocean and six of them wash ashore on an uncharted island. They soon discover that dinosaurs roam free on the island. They then encounter an all-girl tribe who take the men prisoner. When the smiley face tattoo on Skeemer's arm is discovered, the girls believe that it is a sign that the men have been sent to destroy the Great One – the toughest of the dinosaurs on the island to whom girls have to be regularly sacrificed. In between showing the girls the old-fashioned loving they have never known, the men set out to defeat the Great One.
---
Fred Olen Ray and Jim Wynorski were the two most prolific directors of B-movies during the 1980s and 90s. (See below for either's credits). Their careers began fairly much around the same time in the early 80s; they have covered very similar territory and made numerous films in the science-fiction, horror and action genres; and both overrun their films with copious amounts of softcore nudity and a love/parody of B genre movies. The two were the most prominent directors associated with the Scream Queen fad of the late 1980s. The two appear to be friends in real life and often produce and make cameo appearances in the other's films. They had previously co-directed Scream Queen Hot Tub Party (1991) and Dinosaur Island has been their second and final co-directorial outing to date.
It is important to place Dinosaur Island in context. It came out twelve months after Jurassic Park (1993) went massive and at a time when people could rake in bucketfuls of money by slapping the words 'dinosaur' or 'jurassic' on anything. Olen Ray and Wynorski were two filmmakers who quickly rushed to milk the fatted cow and have simply churned out another of their typically cheap B movies (the film is produced Roger Corman's New Horizons production company).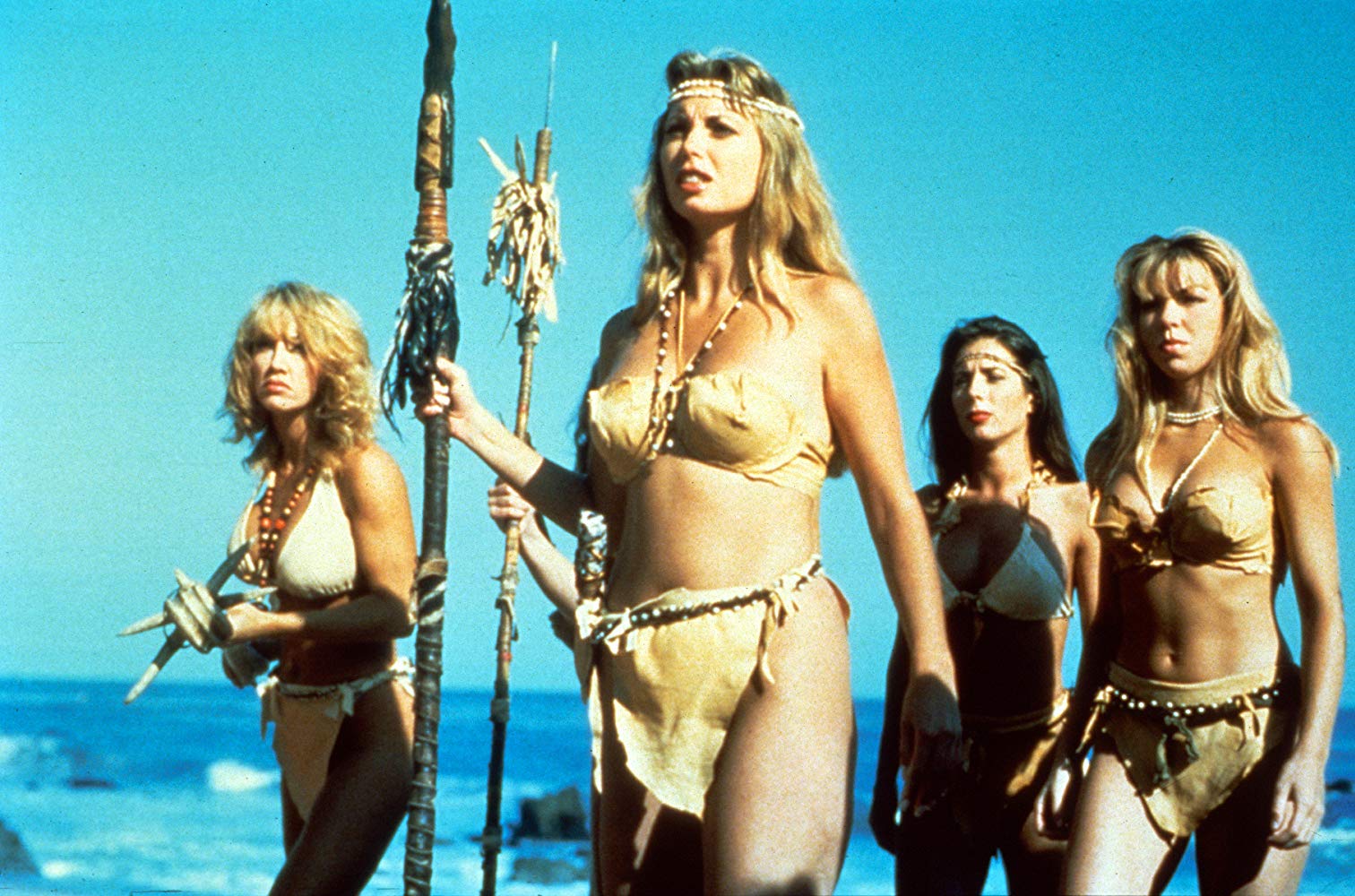 In essence, they have just put 'dinosaur' on the title and otherwise filled the show with their usual parade of well endowed and minimally talented actresses. The two have done little more than given us a standard plot about wayfarers encountering a prehistoric lost world and run it over with softcore love scenes. At almost timed intervals throughout, the lead actresses shed their clothes for topless romps with one or other of the men. Occasionally we get a dinosaur scene but these feature some of the most pitiful dinosaur effects of any film made during this decade.
One of the worst aspects is the way Olen Ray and Wynorski run everything over with lame comedy relief. This principally comes from the direction of Richard Gabai, a director in his own right with several softcore films including Virtual Girl (1998), who spends the entire film tossing off wisecracks and one-liners. A dinosaur rumbles into view while he is making out with Antonia Doran: "It's the Great One," she exclaims to which he replies "I haven't even taken it out yet." Or the sheer inanity of the scene where she is trying to warn him about a creature approaching from behind him in a cave while he takes this as a game of Charades.
This film should not be confused with several others with the same title, including the animated Dinosaur Island (2002) and the Australian-made family adventure film Dinosaur Island (2014).
Fred Olen Ray has made a lengthy list of genre films. These include:- The Brain Leeches (1977), The Alien Dead/It Fell from the Sky (1980), Scalps (1983), Biohazard (1984), The Tomb (1985), The Adventures of Taura: Prison Ship Star Slammer (1986), The Phantom Empire (1986), Cyclone (1987), Beverly Hills Vamp (1988), Deep Space (1988), Hollywood Chainsaw Hookers (1988), Warlords (1988), Alienator (1990), Bad Girls from Mars (1990), Spirits (1990), Haunting Fear (1991), Scream Queen Hot Tub Party (1991), Wizards of the Demon Sword (1991), Evil Toons (1992), Little Devils (1993), Dinosaur Island (1994), Mind Twister (1994), Possessed By the Night (1994), Attack of the 60 Foot Centerfolds (1995), Cyber Zone/Droid Gunner (1995), Invisible Mom (1995), Star Hunter (1995), Night Shade (1996), Passionate Revenge/Friend of the Family II/Hell Hath No Fury (1996), Hybrid (1997), Little Miss Magic/Kidwitch (1997), Billy Frankenstein (1998), Dear Santa/My Dad Santa (1998), Illicit Dreams 2 (1998), Invisible Dad (1998), Active Stealth (1999), Fugitive Mind (1999), Invisible Mom 2 (1999), The Kid with X-Ray Eyes (1999), Prophet (1999), Critical Mass (2000), Sideshow (2000), Kept (2001), Stranded (2001), Venomous (2001), Thirteen Erotic Ghosts (2002), Final Examination (2003), Bikini-a-Go-Go/Curse of the Erotic Tiki (2004), Genie in a String Bikini (2004), Haunting Desire (2004), Teenage Cavegirl (2004), Glass Trap (2005), Tomb of the Werewolf (2005), Bikini Girls from a Lost Planet (2006), Bikini Pirates (2006), Ghost in a Teeny Bikini (2006), Bewitched Housewives (2007), The Girl With Sex-Ray Eyes (2007), Nuclear Hurricane (2007), Super Ninja Bikini Babes (2007), Polar Opposites (2008), Solar Flare (2008), Tarzeena, Queen of Kong Island (2008), Voodoo Dollz (2008), Dire Wolf (2009), Silent Venom (2009), Bikini Frankenstein (2010), Bikini Jones and the Temple of Eros (2010), Housewives from Another World (2010), Turbulent Skies (2010), Twilight Vamps (2010), Lady Chatterly's Ghost (2011), Little Witches (2011), Rewind Time Machine (2011), Super Shark (2011), Dirty Blondes from Beyond (2012), Abner the Invisible Dog (2013), After Midnight (2014), Unwanted Guest (2016), Stage Fright (2017), The Twin (2017) and Piranha Women (2022).
Jim Wynorski's other genre films are:- The Lost Empire (1983), Chopping Mall (1986), Deathstalker II (1987), Not Of This Earth (1988), The Return of Swamp Thing (1989), Transylvania Twist (1989), The Haunting of Morella (1990), Sorority House Massacre II (1990), Sorority House Massacre 3/Hard to Die/Tower of Terror (1990), 976-Evil II (1991), Scream Queen Hot Tub Party (1991), Munchie (1992), Ghoulies IV (1993), Munchie Strikes Back (1994), Sorceress (1995), The Wasp Woman (1995), Vampirella (1996), The Pandora Project (1998), Storm Trooper (1998), The Bare Wench Project (1999), Desert Thunder (1999), Bare Wench Project 2: Scared Topless (2000), Crash Point Zero/Extreme Limits (2000), Raptor (2001), Thy Neighbor's Wife/Poison (2001), The Bare Wench Project 3: Nymphs of Mystery Mountain (2002), Gale Force (2002), Project Viper (2002), Bare Wench Project Uncensored (2003), Cheerleader Massacre (2003), More Mercy (2003), The Curse of the Komodo (2004), Gargoyle (2004), The Thing Below (2004), Alabama Jones and the Busty Crusade (2005), Bare Wench: The Final Chapter (2005), Komodo vs Cobra (2005), Sub Zero (2005), The Witches of Breastwick (2005), The Witches of Breastwick 2 (2005), A.I. Assault/Shockwave (2006), Cry of the Winged Serpent (2006), Bone Eater (2007), The Breastford Wives (2007), House on Hooter Hill (2007), Cleavegefield (2009), Fire From Below (2009), Vampire in Vegas (2009), Monster Cruise (2010), Dinocroc vs Supergator (2010), The Hills Have Thighs (2010), Camel Spiders (2011), Gila (2012), Piranhaconda (2012), Hypnotika (2013), Scared Topless (2013), Sexually Bugged (2014), Shark Babes (2014), Water Wars (2014), Scared Topless (2015), A Doggone Christmas (2016), Sharkansas Women's Prison Massacre (2016), Cobragator (2018), Attack of the 50 Foot CamGirl (2022), Bigfoot or Bust (2022), Giantess Battle Attack (2022) and Murderbot (2023).
---
---