---
Crew
Director – Ed Raymond [Fred Olen Ray], Screenplay – Dan Golden, Producers – Noble Henry & Alison Semenza, Photography – Andrea Rossotto, Music – Neal Acree, Visual Effects – Velocityapefx, Special Effects – One-Call Special Effects (Supervisor – Frank Ceglia), Production Design – Christina Giovacchini. Production Company – Phoenician Entertainment/Snake Eyes Productions Ltd.
Cast
Treat Williams (Dr David Henning), Mary Page Keller (Dr Christine Edmonton), Geoff Pierson (Major-General Arthur Manchek), Tony Denison (Major-General Sparks), Hannes Jaenicke (Dr Eric Foreman), Catherine Dent (Susan Edmonton), Brian Poth (Billy Sanderson), Jim Storm (Sheriff James Crowley), Lee de Broux (Bob Jenkins), Andrew Stevens (Daniel Andrews), Chantal Chason (Nurse Josie Randall), J.B. Gaynor (Jimmy Edmonton), Jesse Lenat (Frank Kazinski), Ron Harper (Larry Kazinski), Rick Hurst (Ed), Nicole Neith (Cindy Sanderson), Marc McClure (Dr Dutton), Anthony Azizi (Male Terrorist), Melani Paul (Female Terrorist)
---
Plot
In 1990, terrorists disguised as journalists manage to sneak into a biological research facility in the Mojave Desert where they detonate explosives and destroy the laboratory. This causes several rattlesnake lab specimens to escape. In the present day in the small California town of Santa Mira Springs, David Henning, a doctor at the local hospital, puzzles over two patients who expire within a matter of hours after being bitten by snakes. David forwards samples to his ex-wife Christine Edmonton, a civilian scientist with the Department of Defense virology research laboratory in Bethesda, and she identifies these as containing a heretofore-unknown virus. Her superior Major-General Arthur Manchek recognizes the samples as containing the same virus that the snakes that escaped from the laboratory were infected with. He contrives to switch samples to make Christine think that it is simply E. Coli and then orders a military cordon placed around Santa Mira. Christine travels to Santa Mira and joins David in searching for an antidote as the snakes continue to infect further victims. What they do not realize is that Manchek's superior General Sparks has ordered a Presidential Directive 7-12, which calls for the town to be destroyed by bombing, in order to cover up the existence of the virus.
---
Behind the pseudonym of Ed Raymond, who is listed as director of Venomous, hides the incredibly prolific hack director Fred Olen Ray. Fred Olen Ray is better known for his cheap, sometimes deliberately bad and occasionally enterprisingly tongue-in-cheek B films, which usually feature lots of bimbos. Among the 100+ films he is listed as having directed, Olen Ray has made the likes of Hollywood Chainsaw Hookers (1988), Scream Queen Hot Tub (1991), Evil Toons (1992), Dinosaur Girls (1993), Attack of the 60 Foot Centrefolds (1995), Bikini Hoe-Down (1997), Invisible Mom (1997), Thirteen Erotic Ghosts (2002) and Teenage Cavegirl (2004). Olen Ray made a handful of films under the Ed Raymond pseudonym, including action films like Prophet (1999), Critical Mass (2000) and Air Rage (2001), as well as the slasher film Final Examination (2003) and Glass Trap (2005) about giant ants. (See below for a full listing of Fred Olen Ray's other genre films).
Venomous is one of Fred Olen Ray's more routine efforts. The film feels like it has been hatched as a bizarre conceptual crossbreed of a plague outbreak thriller a la Outbreak (1995) or The Patriot (1998) and a mid-1990s Nature's Revenge film along the lines of Arachnophobia (1990) or Ticks (1993) with various bugs/critters loose in a small town. The script slings together as many of the cliches from these two genres as possible – the inevitable military conspiracy to cover up the release of the virus; the highly qualified medical specialist who has opted to return to life as a small-town GP; the local authorities failing to take the menace seriously. In terms of credible science, the film has barely even done a surface reading of matters – there is the superbly nonsensical moment where the scientists decide to find an antidote for humans by harvesting the antibodies that protect the snakes from being infected by the virus.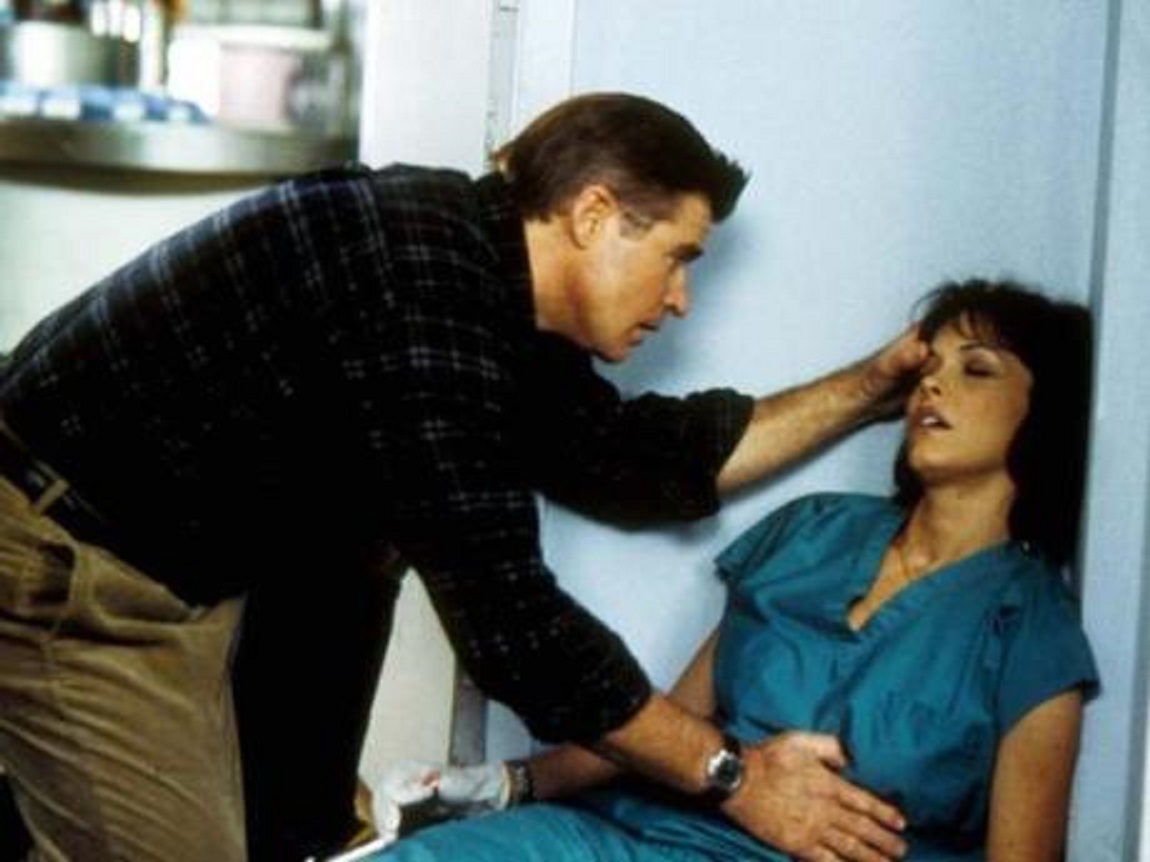 Fred Olen Ray offers up all the outbreak and military takeover cliches on a low budget. He throws in vehicle action sequences and car explosions seemingly at random. There is an especially ludicrous scene where a military helicopter pursues and shoots up two victims as they flee in a car, only for the driver of the car to respond by opening the trunk, retrieving a rocket launcher and shooting the helicopter down, as though a rocket launcher were the most natural form of personal protection to be carrying with one at all times. The climax is borrowed directly from Outbreak with the heroes struggling to free themselves and stop an oncoming plane from dropping a bomb on the town – with an absurd twist added where the heroes have to also deal with a horde of rattlers that get loose at the same time.
Fred Olen Ray frequently peppers his films with references to other genre films. In this case, there are several references to other viral outbreak films – there's a General Arthur Manchek, who was one of the characters from The Andromeda Strain (1971); there is also Directive 7-12 from The Andromeda Strain, which was the presidential order to include a nuclear device beneath the facility to be detonated in case of a containment breach; the virus is nicknamed The Satan Bug after the biowarfare theft thriller The Satan Bug (1965); while the town is named Santa Mira, the fictional location for Invasion of the Body Snatchers (1956).
Fred Olen Ray has made a lengthy list of genre films. These include:- The Brain Leeches (1977), The Alien Dead/It Fell from the Sky (1980), Scalps (1983), Biohazard (1984), The Tomb (1985), The Adventures of Taura: Prison Ship Star Slammer (1986), The Phantom Empire (1986), Cyclone (1987), Beverly Hills Vamp (1988), Deep Space (1988), Hollywood Chainsaw Hookers (1988), Warlords (1988), Alienator (1990), Bad Girls from Mars (1990), Spirits (1990), Haunting Fear (1991), Scream Queen Hot Tub Party (1991), Wizards of the Demon Sword (1991), Evil Toons (1992), Little Devils (1993), Dinosaur Island (1994), Mind Twister (1994), Possessed By the Night (1994), Attack of the 60 Foot Centerfolds (1995), Cyber Zone/Droid Gunner (1995), Invisible Mom (1995), Star Hunter (1995), Night Shade (1996), Passionate Revenge/Friend of the Family II/Hell Hath No Fury (1996), Hybrid (1997), Little Miss Magic/Kidwitch (1997), Billy Frankenstein (1998), Dear Santa/My Dad Santa (1998), Illicit Dreams 2 (1998), Invisible Dad (1998), Active Stealth (1999), Fugitive Mind (1999), Invisible Mom 2 (1999), The Kid with X-Ray Eyes (1999), Prophet (1999), Critical Mass (2000), Sideshow (2000), Kept (2001), Stranded (2001), Thirteen Erotic Ghosts (2002), Final Examination (2003), Bikini-a-Go-Go/Curse of the Erotic Tiki (2004), Genie in a String Bikini (2004), Haunting Desire (2004), Teenage Cavegirl (2004), Glass Trap (2005), Tomb of the Werewolf (2005), Bikini Girls from a Lost Planet (2006), Bikini Pirates (2006), Ghost in a Teeny Bikini (2006), Bewitched Housewives (2007), The Girl With Sex-Ray Eyes (2007), Nuclear Hurricane (2007), Super Ninja Bikini Babes (2007), Polar Opposites (2008), Solar Flare (2008), Tarzeena, Queen of Kong Island (2008), Voodoo Dollz (2008), Dire Wolf (2009), Silent Venom (2009), Bikini Frankenstein (2010), Bikini Jones and the Temple of Eros (2010), Housewives from Another World (2010), Turbulent Skies (2010), Twilight Vamps (2010), Lady Chatterly's Ghost (2011), Little Witches (2011), Rewind Time Machine (2011), Super Shark (2011), Dirty Blondes from Beyond (2012), Abner the Invisible Dog (2013), After Midnight (2014), Unwanted Guest (2016), Stage Fright (2017), The Twin (2017) and Piranha Women (2022).
---
---