---
Crew
Director – Fred Garson, Screenplay – Jessica Caplan, Story – Luc Besson, Photography – Thierry Arbogast, Music – Pascal Lafa & POZ, Music Supervisors – Gary Jones & Happy Walter, Digital Visual Effects – Eclair Numerique (Supervisor – Philippe Soeira), Production Design – Dan Weil, Dance Choreography – Aury Eloy, Mia Frye, Tymme Reitz & Michael Ressiga. Production Company – Leeloo Productions/Seaside Productions/JVC.
Cast
Mia Frye (India Rey), Garland Whitt (Jasper Rey), Rodney Eastman (Isaac Dyer), Thierry Ashanti (Bruno), Jerrod Bunch (Rudy), Josh Lucas (Stefan), Feodor Atkine (Oscar Clemente), Jerome Pradon (Director), Joe Sheridan (Barry)
---
Plot
In New York City, the mute India Rey proves a hit as a dancer on the stage at a nightclub that offers a showdown between competing DJ dance styles. India is managed by her brother Jasper but many regard Jasper's constant talk of success in the offing for India as hot air. India obtains an audition for a Broadway show and is accepted, only to be rejected when it is found that she is mute. A strange hope arrives in the form of scientist Isaac Dyer who comes to the club trying to relax from work and is stunned after seeing India's moves. Isaac persuades India to take part in an experiment where she is wired up inside a network of sensors that translate her dance movements into music. This becomes something that allows India to express herself in sound for the first time.
---
The Dancer comes from French action director Luc Besson, the man behind the likes of Nikita (1990), Leon/The Professional (1994) and The Fifth Element (1997). In this case, Besson came up with the story and his company Leeloo Productions produced the film but he handed the director's chair over to Fred Garson, who had worked as Besson's assistant director on The Fifth Element and The Messenger: The Story of Joan of Arc (1999).
The Dancer is at 180 degrees remove from the action movies that Luc Besson is was associated with at the time and is a film about modern dance. Certainly, there are similarities to other Luc Besson films – in particular the theme of a mute person(s) who struggles to find a means of expressing their voice, which very much echoes Besson's first film Le Dernier Combat (1983), an arty post-holocaust tale set in a world where everybody has become mute due to atmospheric changes.
When it comes to dance films, The Dancer is quite different to many that we have seen before. For one, it is set amongst the aspirations of a poor African-American brother and sister in New York City and is photographed with a gritty sense of realism and much focus on their lives in low-paying jobs. More interestingly, The Dancer holds the novelty being a drum-and-bass dance film. This certainly gives it much pounding energy. Indeed, with the beat pulsating throughout the film, Fred Garson ends up choreographing scenes with people doing rather unsexy things like connecting electronic circuitry and wiring all to drumbeat.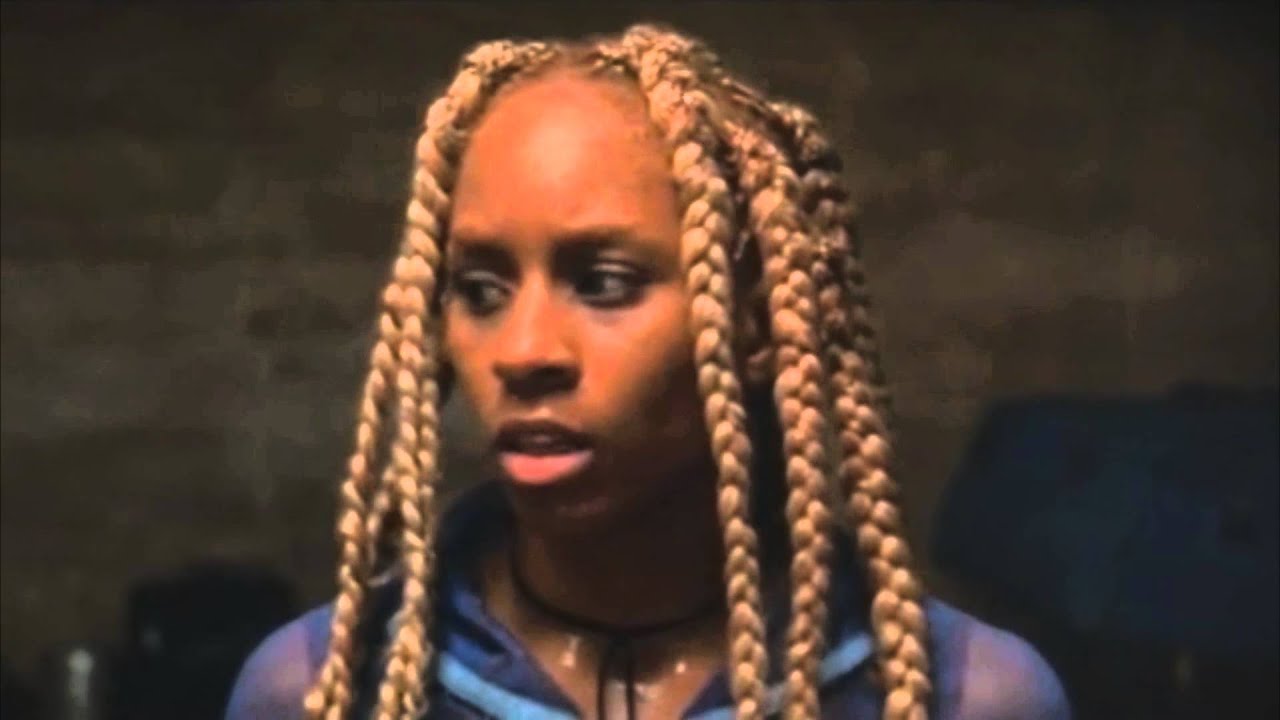 Of course, with everything set to drum-and-bass, the effect is not one of sensuality and elegance, but where the dance often seems awkward and not always graceful. All the beauty of the moves comes out of the energy and angles of the bodies, rather than flowing grace or liquidity of movement. Lead actress Mia Frye, who is also the film's dance choreographer, has a charged presence – her dark skin makes striking contrast to her blue eyes and blonde dreadlocks. Whenever Mia Frey is on screen, she is always alive with movement as though trying to contain her natural physical energy.
That said, none of the dance sequences in the film are particularly standout. Even the scenes where India finally gets to express herself seem muted. At the very least, one expected the film to make something dazzling out of her transformation but all that we get is a montage of scenes of her dancing where the drum-and-bass score is replaced by bland pop songs on the soundtrack.
Beneath the drum-and-bass culture and gritty New York location, the story is a traditional one, the same one that fairly much runs through all dance films from Fame (1980), Flashdance (1983) and Footloose (1985) to A Chorus Line (1985), Dirty Dancing (1987), Showgirls (1995), The Full Monty (1997) and Billy Elliott (2000) – of the outsider struggling for acceptance and success as a dancer and finally bursting out in a triumphant display. It is during some of these dramatic scenes, more so than the dance sequences themselves, that The Dancer starts to work, like where we go through Mia Frye's gruelling audition, rooting for her and then arriving at her painful rejection.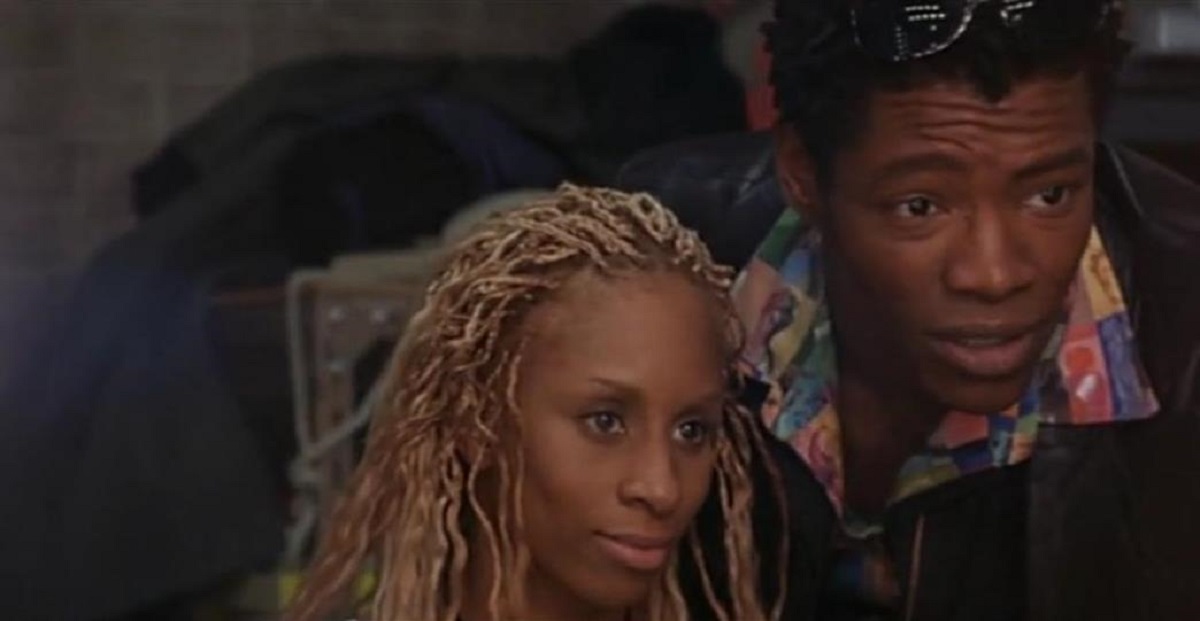 One problem with the film is that director Fred Garson never has a particularly strong grasp on the central character. Indeed, it is the character of India's brother (Garland Whitt) and his flawed hubris and constant over-estimation that comes across as much stronger than the character of India. Even the ending comes surprisingly abruptly with the brother accepting a deal, followed by a not very outstanding dance sequence where India premieres the device in public and a lingering hint of romance left hanging in the air between her and the scientist.
The Dancer is also in the peculiar position of posing as a science-fiction film when the device it regards as revolutionary is something that has been around for years. The idea of a gadget that can translate human movement into sound has been around since 1918 – it is called the theremin and is essentially an electromagnetic field stretched between two antennae that produce differing sounds in correspondence with the way the player's hands move within the fields. The only thing to do would have been to work out a computer program that would translate the various movements that the dancer makes into musical notes and sequences. All of which is well within the grasp of contemporary technology.
---
---