aka The Return of the Alien's Deadly Spawn
---
Crew
Director/Screenplay – Douglas McKeown, Story – Ted A. Bohus, John Dods & Douglas McKeown, Producer – Ted A. Bohus, Photography – Harvey Birnbaum, Music – Michael Perilstein, Additional Music – Paul Cornell & Ken Walker, Miniature Effects – Tim Hildebrandt & Glenn Takajian, Director of Special Effects – John Dods, Makeup Effects – Arnold Gargiulo. Production Company – Filmline Communications.
Cast
Charles George Hildebrandt (Charles), Tom DeFranco (Pete), Richard Lee Potter (Frankie), Jean Tafler (Ellen), Ethel Michelson (Aunt Millie), John Schmerling (Uncle Herb), Karen Tighe (Kathy), James Brewster (Sam), Elissa Neil (Barb), Judith Mayes (Bunny)
---
Plot
A meteor comes down near a small country town. In a nearby farmhouse, husband and wife Sam and Barb wake in the morning only to enter the cellar and be attacked and devoured by ferocious alien creatures with multiple heads. Their two boys Pete and Charles wake for the day thinking their parents have gone off on a trip. Soon they, along with their aunt and uncle who are staying and two of Pete's friends, are fighting off the alien creatures in the cellar.
---
The Deadly Spawn is a fascinating artifact from way back in the days before just buying a digital camera – heck, even a camcorder and these days as little as a cellphone camera – was all that it took to make a movie. It comes from the era where amateur filmmakers struggled with now obsolete technologies like Super 8 and fannish filmmaking was another whole other ballgame than what it is today. As old-timers are fond of saying, today's youth never had it so easy. Thus to get a film like The Deadly Spawn made – by non-professionals who conducted all the effects in their own basement – and then blown up for 35mm for some theatrical screenings, rates as an epic achievement.
After the success of Alien (1979), only three years earlier, science-fiction cinema was overloaded with hordes of similar sleek black aliens with tentacles and dripping slime as they pursued people through darkened corridors. Most of these were unimaginative rehashes. Aside from John Carpenter's sensational The Thing (1982), which was in a league and class all of its own and more importantly made on an A-budget, The Deadly Spawn, along with the same year's Xtro (1982), represented one of the few original variations on the basic H.R. Giger creation. The designs here of a creature that seems to exist as multiple sets of jaws (and, as far as one can see, little in the way of attached body) are quite exceptional, especially given that this is an amateur-made film. The film is also unstinting when it comes to gore effects.
Certainly, the film has some limitations – it all takes place in what looks like a single morning or afternoon. The action only ever ventures beyond the farmhouse in one rather funny scene where the alien slugs invade a ladies tea party, unwittingly being ground up in a blender and fed up to them, before emerging from under the couch to bite their ankles and they fighting back by hitting them with their shoe heels. Quite clearly, it is a film that has been conceived and driven by the effects sequences more so than its plot. That said, the film ends up like a better made one of the films made by Donald Dohler during this period – see the likes of The Alien Factor (1978), Fiend (1980), Nightbeast (1983) and The Galaxy Invader (1985).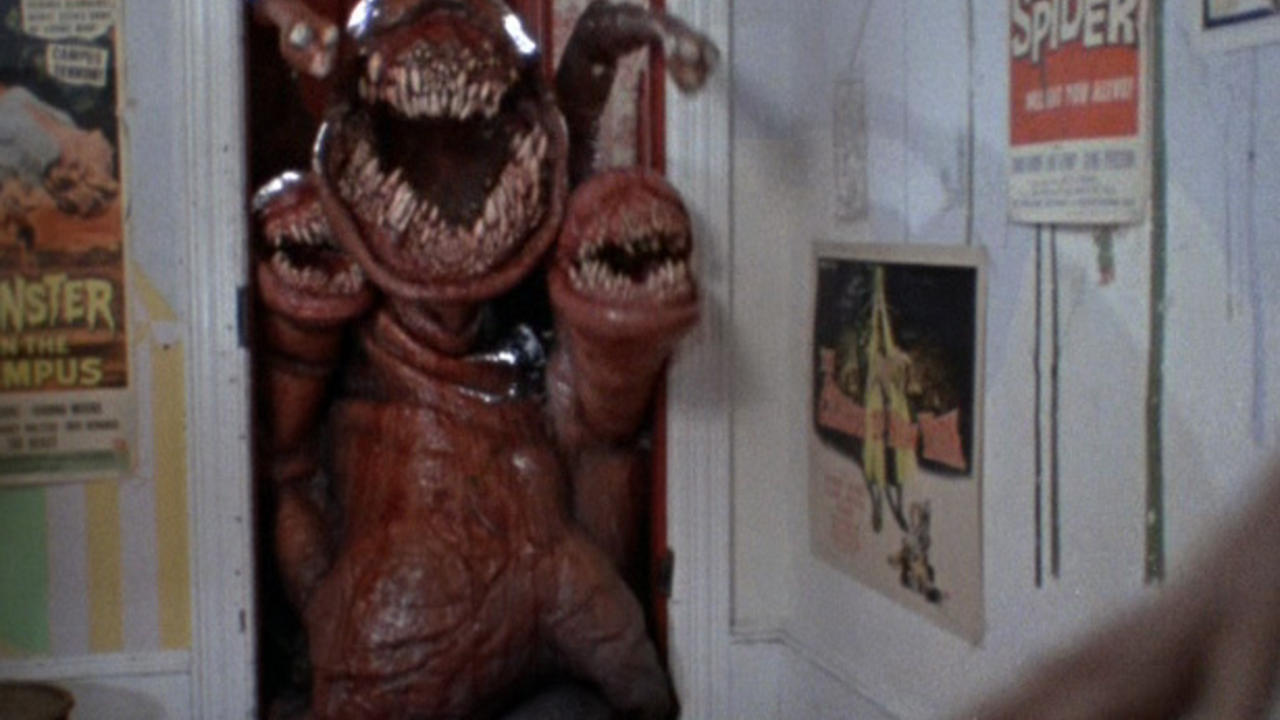 The film was made all by non-professionals. Indeed, the only name with any recognition attached to the production is that of Tim Hildebrandt who, along with his twin brother Greg, operated as The Hildebrandt Brothers and were renowned fantasy artists with their illustrated work for various J.R.R. Tolkien and Terry Brooks novels and, most famously, the iconic poster art for Star Wars (1977). (Hildebrandt also performs the miniature effects and plays the doctor in the scene at the end, while his son Charles plays the young hero). The cast all give generally professional performances, even if the parts are undemanding. They only one who lets the side down is Charles Lee Potter's rather over-acted performance as Tom DeFranco's best friend.
This is also one of the first films to start the process of manically namedropping favourite films and references. Young Charles George Hildebrandt is written as being a monster movie fan – he lists his favourites as The Thing from Another World (1951), The Mole People (1956) and It! The Terror from Beyond Space (1958) at one point – while he is seen reading issues of the era's seminal fanboy magazine Famous Monsters of Filmland (1958-82) and his room is covered with posters and monster figurines. The film even makes references to pseudoscientist Immanuel Velikovsky and to Carl Sagan's Broca's Brain (1979).
You suspect that much of the writers' own fannish proclivities snuck into the script – the bright kid with the love of monster movies and home-improvised solutions could be the filmmakers themselves, not to mention the older brother (Tom DeFranco) who is in appealingly convincing science nerd discovering an attraction to a girl (Jean Tafler) and trying to cope with her having 'a science-fiction brain.'
Producer Ted A. Bohus later oversaw a much better budgeted sequel Metamorphosis: The Alien Factor (1990).
This was the only film ever directed by Douglas McKeown. He has however been active on stage both as an actor and director, as well as behind many LGBT causes. Ted A. Bohus also produced Donald Dohler's Fiend and Nightbeast. He went onto direct/write/produce several other low-budgets horror films with Regenerated Man (1994) and Vampire Vixens from Venus (1995).
---
Trailer here
Full film available online here:-
---