aka Horror Planet
---
Crew
Director – Norman J. Warren, Screenplay – Gloria & Nick Maley, Producers – Richard Gordon & David Speechley, Photography – John Metcalfe, Music – John Scott, Special Effects – Oxford Scientific Films and Camera Effects, Makeup Effects – Nick Maley, Production Design – Hayden Pearce. Production Company – Jupiter Films.
Cast
Judy Geeson (Sandy), Robin Clarke (Mark), Stephanie Beacham (Dr Kate Carson), Jennifer Ashley (Commander Holly La Kay), Steven Grives (Gary), Barrie Houghton (Karl), Heather Wright (Sharon), Rosalind Lloyd (Gail), Trevor Thomas (Mitch), Victoria Tennant (Barbra), David Baxt (Ricky Williams)
---
Plot
An interstellar archaeological expedition finds a warren of tombs on the planet Cephus. One crew-woman, Sandy, is brought back from the tombs and discovered to be two months pregnant with an alien embryo. The monster inside her now drives her to start killing the other crewmembers.
---
Inseminoid was a low-budget British attempt to mimic the success of Alien (1979). It was written by Nick Maley, a makeup artist on the likes of Batman (1989) and The Mummy (1999), and his wife Gloria. The film was directed by Norman J. Warren, a British exploitation veteran with the genre likes of Satan's Slave (1976), Prey (1978), Terror (1978), Outer Touch/Spaced Out (1979) and Bloody New Year/Time Warp Terror (1987).
One problem that Inseminoid has is its British casting (including such later to be famous faces as Mrs Steve Martin, Victoria Tennant, and primetime soap superstar Stephanie Beacham). It is a film that has its feet fairly and squarely in schlock exploitation material. Unlike America, Britain lacks a big enough population to allow its acting industry to make distinctions between A-budget and exploitation films and as a result actors can wander from one spectrum to the other in search of a paycheque.
The problem here is that most of the actors that Warren is using are A actors and none of them display the ease with exploitative material that the film requires. This is particularly evident when it comes to the fight scenes, which are handled not by stunt people but by the actors who display laughably little in the way of coordinated or even lithe moves. Perhaps the worst piece of acting is the scene where Rosalind Lloyd gets trapped in a piece of metal and ends up having hysterics because she is unable to get two wires for her heating unit connected (and resultingly dying).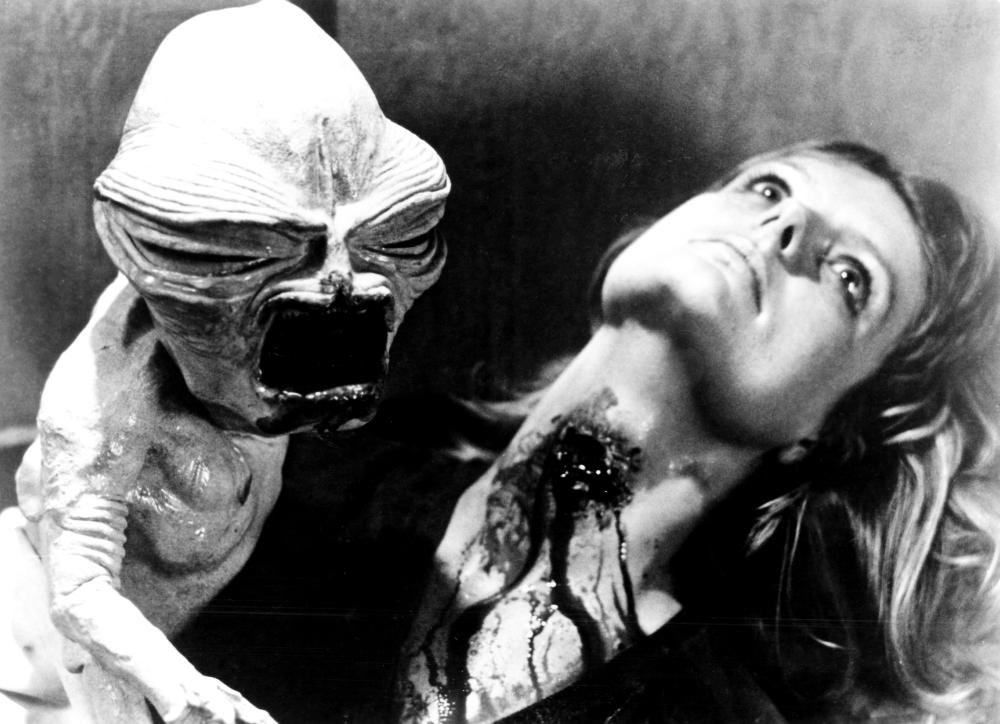 Judy Geeson is another example, she never quite leaving behind the timid caution that she usually plays with in British costume dramas like Poldark (1975) – although by the end of the film Warren has given her such a workout, drinking blood, stabbing crewmembers to death with scissors and all sorts of seductively evil smiles that she is more or less forced to.
Directorially, Inseminoid is crude. Norman J. Warren lacks an ability to generate suspense and tries to substitute for this with gore and an exploitation luridness – scenes of Judy Geeson going mad, people waving chainsaws and of course Geeson being inseminated by the alien. The unusual distinction that Inseminoid makes in the sub-genre genre of Alien imitators is that it is more of a possession and impregnantion film than it belongs to the genre of aliens stalking people in dark corridors.
With only a clearly minuscule budget, Norman Warren makes economic use of constricted locations in a series of chalk caves at Chiselhurst, Kent to represent his alien world. Where the budget fails is in its jarring reminders of the present – try as the film might, the trendy blue jeans that Judy Geeson wears just do not seem to be convincing spacefaring attire.
---
---