---
Crew
Director/Screenplay – Chris Marker, Producer – Anatole Dauman, Photography (b&w) – Jean Chiabaut, Music – Trevor Duncan, Special Effects – DSA (Supervisor – Cs Olaf). Production Company – Argos Films.
Cast
Davos Hanich (The Man), Helene Chatelain (The Woman), Jean Negorni (Narrator), Jacques Ledoux (The Experimenter)
---
Plot
While at the Orly pier, a boy sees a man shot. Shortly afterwards, World War III breaks out and Paris is destroyed by nuclear war. As one of the survivors, the now grown man is chosen as part of an experiment in time travel because he has a strong grasp on a moment in the past – the image of the man being shot at the airport. He is successfully sent back in time. However, once there he falls in love with a girl and defies orders so that he can return and be with her.
---
This 28-minute short was made in France at the height of the so-called French New Wave. It came out only a year after the highly influential Last Year in Marienbad (1961) and the influence of Marienbad hangs unmistakeably over it. Indeed, La Jetee came out on a double-bill with one of the other great New Wave works of science-fiction, Jean-Luc Godard's Alphaville (1965).
Both Last Year in Marienbad and La Jetee are time travel fantasies but they are also internalised time travel fantasies. They are not time travel fantasies about venturing into the future to grapple with the remnants of humanity as in contemporary films like The Time Machine (1960) or Planet of the Apes (1968). They are subjective time travel fantasies and their preoccupying theme – indeed, the preoccupying theme of French New Wave cinema itself – is an obsession with lost memory and romances centred in the past.
La Jetee is highly experimental. Director Chris Marker's unique method is telling the entire film in a series of stills. This is most unusual as a narrative device. The effect is that of captured moments, of partial glimpses – something that suits the film's theme perfectly. The only shot in the film that is not told in stills is the moment that the woman wakes up and opens her eyes and looks directly into the camera. The reason for this being the sole filmed sequence is not clear but the effect is lovely.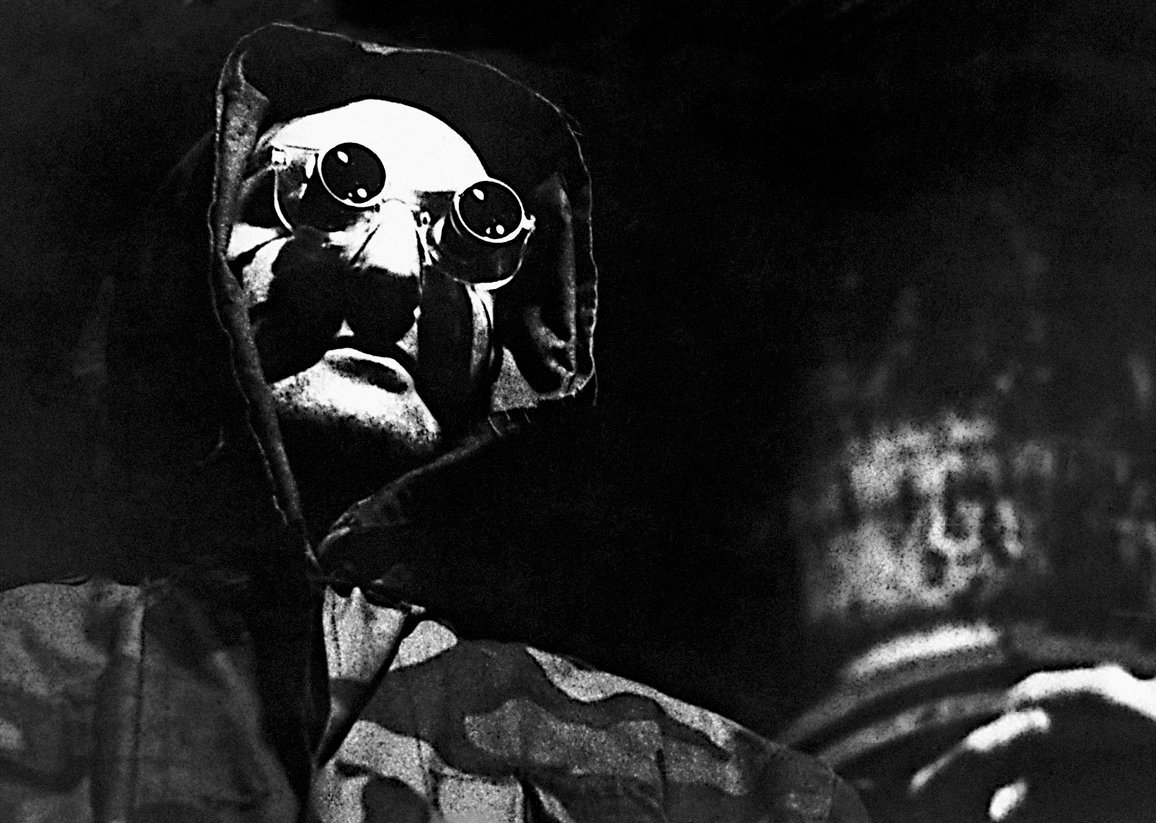 Though considerably acclaimed, La Jetee was little seen until the 1990s when it was remade by Terry Gilliam as Twelve Monkeys (1995) whereupon it gained a whole new lease of life. Comparisons between La Jetee and Twelve Monkeys are interesting. Twelve Monkeys works far better as a science-fiction film. It trims some aspects of La Jetee – like the trip into the far-flung future – and gives greater substance in other areas – like the reasons for the trip into the past. It also makes the scenes in the past less of a languid, dreamy romance and more of a tightly wound dramatic story. Despite its shorter length, La Jetee still manages to have a much more whimsical narrative, while Twelve Monkeys is tight and concise. The climax in La Jetee is more abrupt than in Twelve Monkeys – only the boy witnessing his own death – but its paradox twist is still powerful science-fiction. (Twelve Monkeys was also remade as a tv series 12 Monkeys (2015-8), although this is far less interesting).
Despite his English-sounding name, Chris Marker was French. In actuality, he was born Christian Francois Bouche-Villeneuve and is reputed to have taken his screen name from the Magic Marker pen. Over the next four decades up until his death in 2012, Marker continued to make various short films and documentaries with a strong leftist leanings. His only other return to genre material was Level Five (1996), a peculiarly unsatisfying blend of Virtual Reality themes and a documentary deconstructing a World War II battle.
---
---