---
Crew
Director – Bill Oliver, Screenplay – Gregory Davis, Peter Nickowitz & Bill Oliver, Producers – Randy Manis & Ricky Tollman, Photography – Zach Kuperstein, Music – Brooke Blair & Will Blair, Visual Effects – Intelligent Creatures (Supervisor – Geoff D.E. Scott), Production Design – Lisa Myers. Production Company – Man Films/Raised By Wolves Productions/Oxwich Media Limited.
Cast
Ansel Elgort (Jonathan/John), Suki Waterhouse (Elena Kaminsky), Patricia Clarkson (Dr Mina Nariman), Douglas Hodge (Hans Lieber), Matthew Bomer (Ross Crane), Soulemayne Sy Savane (Sembene), Shunori Ramanthan (Allison)
---
Plot
A freak accident of birth has meant that Jonathan he and his brother John are two minds that share the same body. Dr Mina Nariman has created a means to separate the two of them – Jonathan has use of the body from 7am to 7pm, while John takes over from 7pm to 7am. Jonathan maintains a job as an apprentice architect and leads a very regimented life, whereas John is more wayward. The two have agreed to a series of rules for control of the body and leave each other detailed daily video messages to keep track of details. However, Jonathan has hired a private detective to follow John and finds that he has been secretly seeing the barmaid Elena. Having a relationship is forbidden according to the rules. When Jonathan broaches this with John and demands that he break it off, John is greatly upset. John abruptly stops communicating and Jonathan does not hear from him for days going onto weeks. Jonathan approaches Elena, asking her to leave a message appealing to John. She at first has difficulty understanding the relationship between the two. Jonathan starts spending more time with Elena and this becomes a relationship. As John returns, Jonathan is now forced to keep his relationship with Elena a secret at risk of further upsetting him.
---
Jonathan was a directorial debut for Bill Oliver, a former stage director who had made several short films, which had won acclaim around the world. Jonathan – no relation to the obscure German vampire film Jonathan (1970) – premiered at the Tribeca Film Festival and played at a number of other festivals.
No matter whether it talks about two people living in the same body, Jonathan is a split personality film. We have had split personality films before from the numerous versions of Dr Jekyll and Mr Hyde – see Jekyll and Hyde Films – to dramatic films like The Three Faces of Eve (1957), Sybil (1976), Primal Fear (1996), Me, Myself & Irene (2000) and Frankie & Alice (2010) to genre examples such as The Other (1972), Sisters (1973), Raising Cain (1992), Fight Club (1999), Identity (2003) and Split (2017). (For further discussion see Films About Split Personality). Jonathan is the only of these that uses a science-fictional device as explanation.
Jonathan quickly establishes itself as a smart and intelligent film. It becomes a puzzle initially trying to work out where the scenario is going as we watch Ansel Elgort recording messages and the to and fro of video conversations between him and his lookalike. For some way into the film, it is not at all clear that the two are brothers. We are left puzzling out what is going as we see Ansel talking to a private detective and being attended by Patricia Clarkson's doctor. It is only after Ansel talks to Suki Waterhouse that things start to become apparent that it is two people sharing one body. That is cleverly set up and proves fascinating.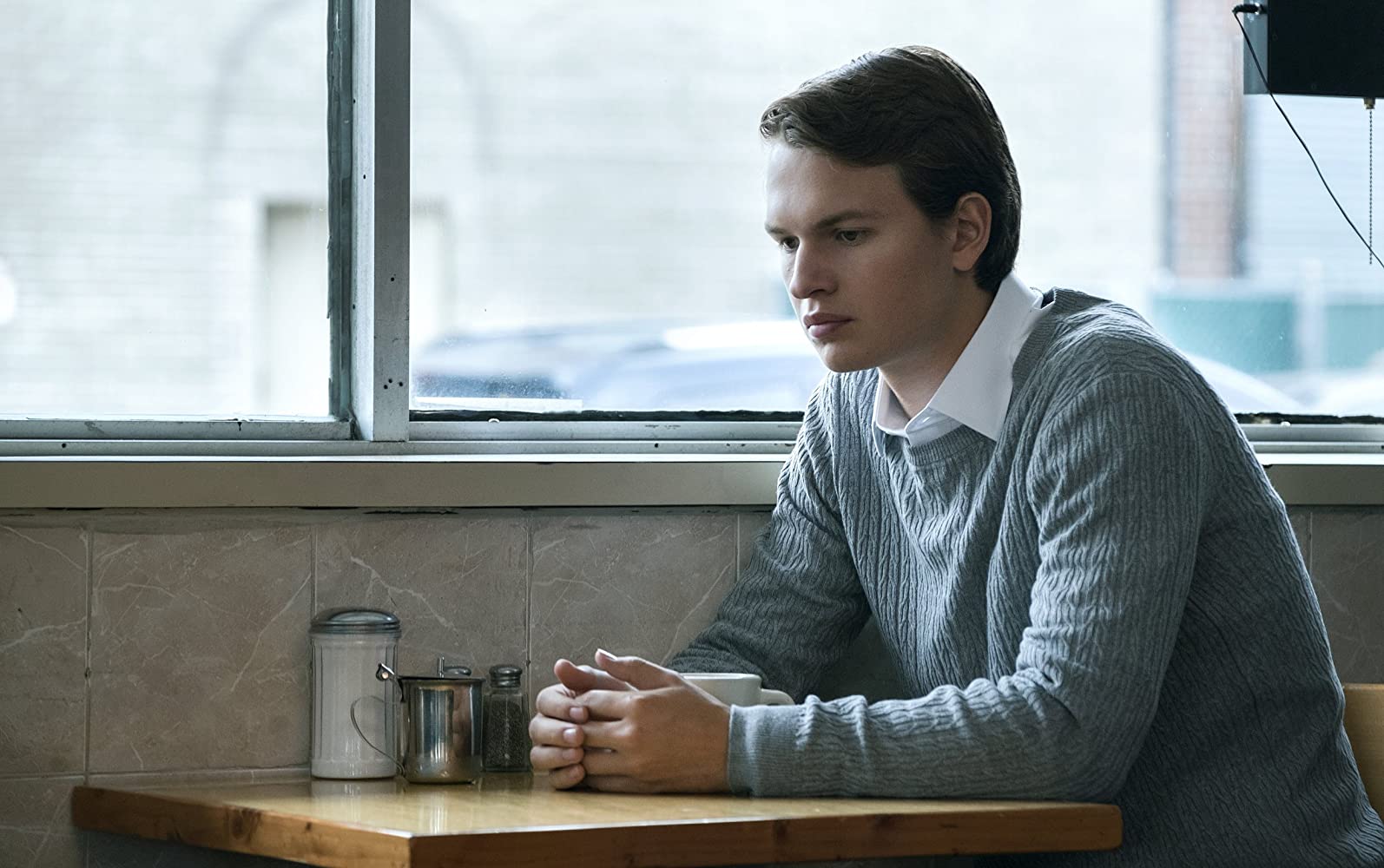 Then comes the twist where we learn that the other brother John (a character we only ever see as someone on the other end of the video conversations) has been seeing Suki, of Jonathan demanding he call it off and John falling into a depression and refusing to talk to Jonathan. All the while Jonathan starts to befriend Suki and then cautiously become involved with her whereupon he finds he now has to keep his relationship with Suki a secret from John at fear of causing him to fall back into an even more depressive slump. More twists subsequently get placed on the premise to the point one of the parties is threatening to commit suicide.
All of this plays out very nicely. The script is smart and well told, wheeling about and falling into place with perfect timing. Bill Oliver directs with quiet understatement, bringing out aspects like the relationship with Suki Waterhouse with calm simple effect. Everything comes together very satisfyingly. Ansel Elgort, previously a teen actor in Divergent (2014) and sequels, shows considerable mettle as a strong character actor.
---