---
Crew
Director – Bryan Singer, Screenplay – David Hayter, Story – Bryan Singer & Tom DeSanto, Based on the Marvel Comic Created by Chris Claremont, Producers – Lauren Shuler Donner & Ralph Winter, Photography – Tom Sigel, Music – Michael Kamen, Visual Effects Supervisor – Michael Fink, Photographic Effects/Special Effects Supervisor – Colin Chilvers, Visual Effects – Digital Domain (Supervisor – David Prescott), Visual Effects/Animation – Cinesite (Supervisor – Micheal J. McAlister), Additional Visual Effects – C.O.R.E. Digital Pictures (Supervisor – John Mariella), Hammerhead Productions (Supervisor – Theresa Ellis), Kleiser-Walczak (Supervisor – Frank E. Vitz), Matte World Digital & POP Film and Animation (Supervisor – David Sosalla), Makeup Effects – FXSmith Inc (Supervisor – Gordon Smith), Production Design – John Myhre. Production Company – Donner Co/Bad Hat Harry Productions/20th Century Fox/Marvel Entertainment.
Cast
Hugh Jackman (Logan/Wolverine), Patrick Stewart (Professor Charles Xavier), Ian McKellen (Eric Lehnsherr/Magneto), Anna Paquin (Marie/Rogue), Famke Janssen (Jean Grey), James Marsden (Scott Summers/Cyclops), Halle Berry (Aurora Munroe/Storm), Bruce Davison (Senator Robert Kelly), Rebecca Romijn-Stamos (Mystique), Tyler Mane (Sabretooth), Ray Park (Toad), Shawn Ashmore (Bobby), Brett Morris (Young Eric)
---
Plot
In the near future, random genetic mutations have started to emerge in the human species, producing people who have strange abilities superior to everybody else. There is fear about these mutants and Senator Robert Kelly tries to create a bill that will quarantine them. Teenager Marie, nicknamed Rogue, flees her Mississippi home after she discovers that she has mutant abilities and her first ever kiss nearly drains her boyfriend's lifeforce. In an Alberta bar, she meets the steel-cage fighter Logan, nicknamed Wolverine, a mutant who has a metal skeleton and produces claws from his knuckles under stress. Rogue and Wolverine become caught in a war between mutant forces and are spirited away to the School for Gifted Youngsters run by Professor Charles Xavier. Professor Xavier explains that he has set the school up as a cover to protect mutants and help them train their superpowers toward the good of humanity. However, former concentration camp survivor Eric Lensherr, nicknamed Magneto, a powerful mutant with the ability to control metal, is drawing other mutants to his side with the intention of launching a war against humanity.
---
It was Batman (1989) that fired up the cinematic comic-book adaptation and superhero film. Batman's enormous success fuelled a large number of other superhero films and tv series, almost all adapted from comic-books. Batman also set the style for the modern superhero film – turning characters that had previously been portrayed as noble and virtuous upholders of law and order into psychologically fractured avenging vigilantes. There have been few of the modern comic-book adaptations that have come near being as good as Batman and its first sequel Batman Returns (1992). A handful of exceptions might include The Crow (1994) and the animated Batman (1992-4), Superman (1996-8) and Justice League (2001-3) tv series, as well as Christopher Nolan's reboots Batman Begins (2005) and The Dark Knight (2008). This muchly anticipated adaptation of Marvel's X-Men comic-book, first created in 1961, is one of the few that can join the club. Its' success created a spate of modern Marvel Comics screen adaptations throughout the 00s. (For an overview see Superhero Films and Comic Book Adaptations).
Marvel Comics maven Stan Lee's maxim of creating superheroes with real world problems, which revolutionized comic-books in the 1960s, lends itself to the angst-ridden approach more than most. The X-Men film is a good deal lighter in that does not particularly follow Batman's dark, moody psychological lead. The film does however follow the example of rendering comic-book characters believable in real-world terms. It throws out the character's costumes from the comic-book and dresses them in normal clothing – Wolverine, now clad in leather jacket and plaid shirt instead of his yellow and black suit and mask, even gets a sarcastic line denoting such: "What would you prefer – yellow spandex jumpsuits?"
The scripters make the canny choice of telling X-Men through the eyes of the comic-book's most popular and complex character Wolverine. Aussie actor Hugh Jackman gives an exceptional performance in the part, getting inside Wolverine's loner determination, yet also giving the character a line in wry humour as well. Hugh Jackman's tight controlled performance is excellent – it is the part that gives X-Men life (and also subsequently served to propel Jackman into place as an international A-list star).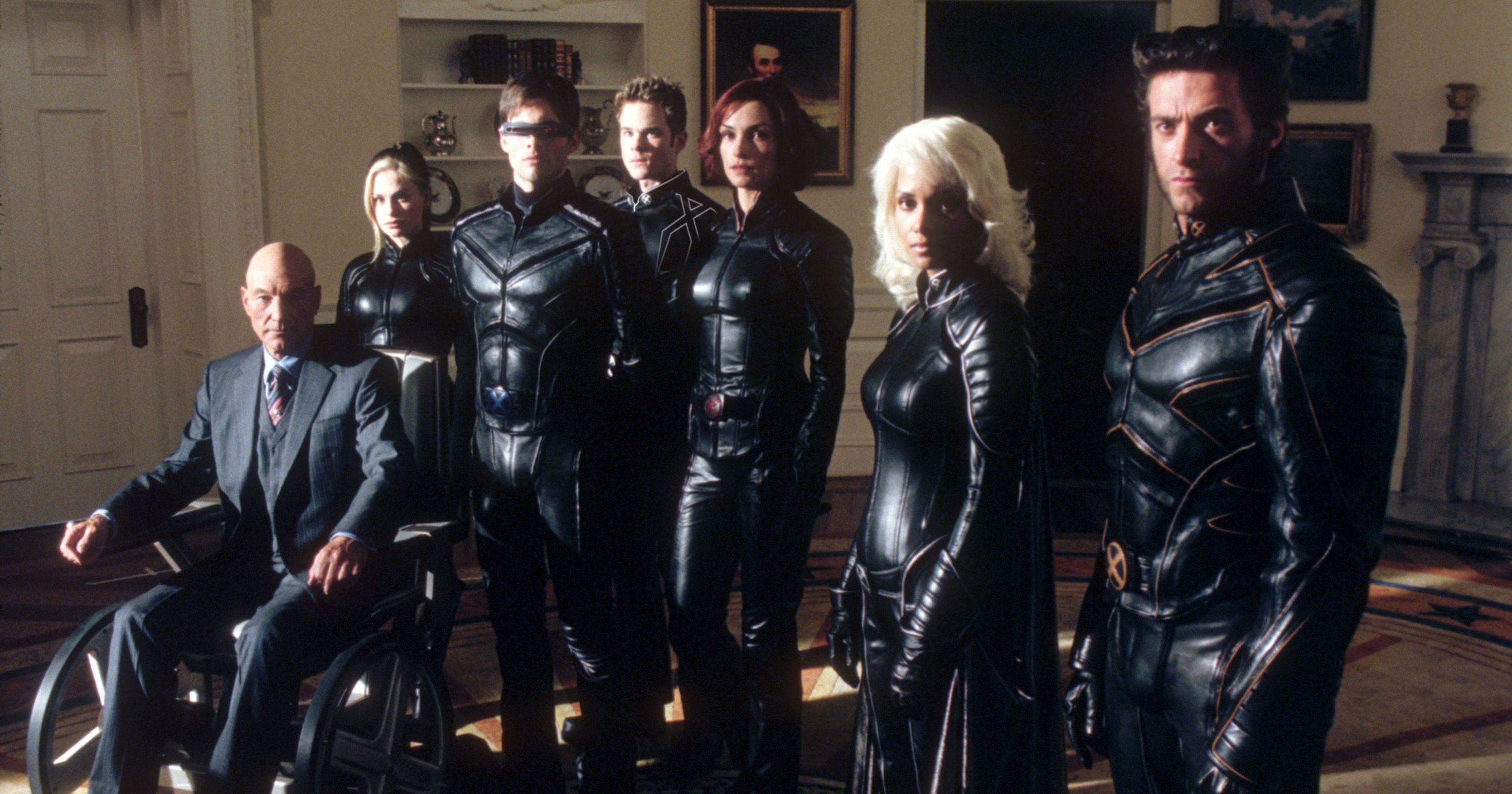 The fun of a show like X-Men is how it becomes the equivalent of a super-powered WWF tag-team wrestling match with all the superheroes employing their powers in different combinations against the other side. Bryan Singer proves especially good at setting up and directing the super-powered battles. The sequence at the train station with Magneto levitating police cars, turning cop's guns around against them and halting bullets millimetres from cop's foreheads is especially enthralling. So too is the Statue of Liberty battle at the climax with two Wolverines facing off against one another, Toad throwing people about with his tongue, Storm riding in on clouds of lightning and the like. Unlike many other action directors, Bryan Singer never sets up effects sequences for their own sake but always places them at the purpose of a series of immensely exciting action sequences.
All the actors give fine performances to a person. The show is completely commanded by Hugh Jackman, although Rebecca Romijn-Stamos proves equally striking as the lithe Mystique in a remarkable blue-skinned makeup job. The seniors, Patrick Stewart and Ian McKellen, also give wonderfully dignified performances. (Intriguingly, in Apt Pupil (1998), Bryan Singer cast Ian McKellen as an evil former concentration camp commandant and in X-Men he casts McKellen as an evil former concentration camp survivor, specifically rewriting Magneto's comic-book origin in order to do so. All of Bryan Singer's villains seem to have the shadow of great atrocities hanging over them – so too did Kaiser Sozay in The Usual Suspects, while in Valkyrie (2008), Tom Cruise is trying to prevent the Holocaust).
Bryan Singer and most of the cast returned for a sequel X2 (2003), and this was followed by X-Men: The Last Stand (2006) without Singer, the prequel X-Men Origins: Wolverine (2009), the prequel X: First Class (2011), Singer returning for X-Men: Days of Future Past (2014) and X-Men: Apocalypse (2016), followed by X-Men: Dark Phoenix (2019) and The New Mutants (2020). The Wolverine (2013), Deadpool (2016) and Logan (2017), as well as the tv series Legion (2017-9) and The Gifted (2017-9) are spinoffs of individual characters that sit within the X-Men universe continuity.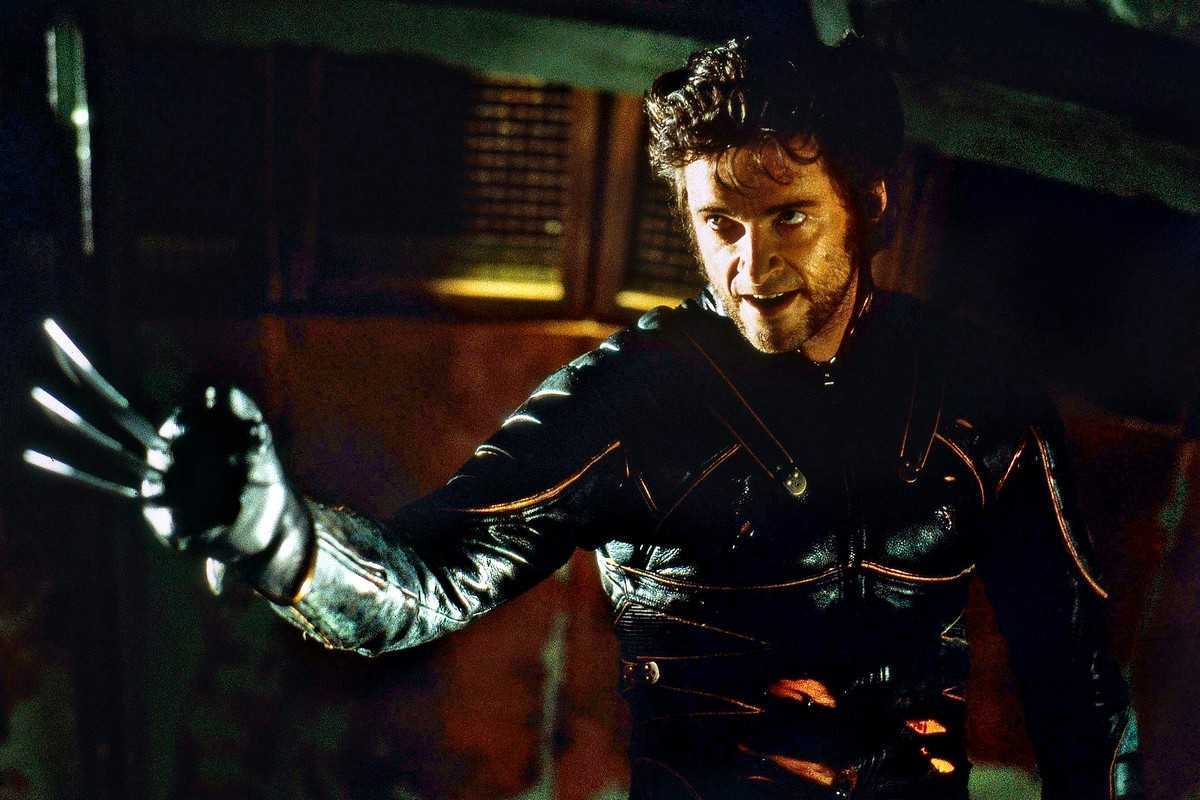 X-Men was helmed by Bryan Singer, who had caught attention with his first film The Usual Suspects (1995) and then went onto the Stephen King adapted Apt Pupil (1998) about the relationship between a teenager and a Nazi war criminal. Singer subsequently hopped ship from Marvel to DC Comics to direct Superman Returns (2006) and then went onto the non-genre Valkyrie (2008), the fantasy film Jack the Giant Slayer (2013) and Bohemian Rhapsody (2018). Bryan Singer has also executive produced the tv mini-series The Triangle (2005) about the Bermuda Triangle, and produced the horror anthology Trick 'R Treat (2008), X: First Class, the horror films My Eleventh (2014) and The Taking (2014), and the tv series Legion (2017-9) and The Gifted (2017-9). He has also announced potential cinematic remakes of Battlestar Galactica (1978-9) and Excalibur (1981).
Although it had been preceded by Blade (1998), the success of X-Men gave sudden cinematic life to a host of other Marvel Comics adaptations including Spider-Man (2002), Daredevil (2003), Ang Lee's Hulk (2003), The Punisher (2004), Elektra (2005), Fantastic Four (2005), Man-Thing (2005), Ghost Rider (2007), Iron Man (2008), Captain America: The First Avenger (2011), Thor (2011), The Avengers (2012), Guardians of the Galaxy (2014), Ant-Man (2015), Deadpool (2016), Doctor Strange (2016), Black Panther (2018), Venom (2018), Captain Marvel (2019), Black Widow (2021), Eternals (2021), Shang-Chi and the Legend of the Ten Rings (2021) and various sequels to most of these, as well as the tv series' Agents of S.H.I.E.L.D. (2013-20), Daredevil (2015-8), Agent Carter (2015-6), Jessica Jones (2015-9), Luke Cage (2016-8), The Defenders (2017), Inhumans (2017), Iron Fist (2017-8), The Punisher (2017-9), Runaways (2017-9), The Falcon and the Winter Soldier (2021- ), Hawkeye (2021- ), Loki (2021- ), WandaVision (2021- ), Moon Knight (2022- ), Ms Marvel (2022- ), She-Hulk: Attorney at Law (2022- ) and Secret Invsion (2023).
(Winner in this site's Top 10 Films of 2000 list. Winner Best Supporting Actor (Hugh Jackman), Nominee Best Supporting Actor (Ian McKellen), Best Supporting Actress (Rebecca Romijn-Stamos), Best Special Effects, and Best Makeup Effects at this site's Best of 2000 Awards. No. 4 on the SF, Horror & Fantasy Box-Office Top 10 of 2000 list).
---
---