---
USA. 2000.
Crew
Director – Mike Nichols, Screenplay – Michael Leeson, Garry Shandling, Ed Solomon & Peter Tolan, Story – Michael Leeson & Garry Shandling, Producers – Neil A. Machlis, Mike Nichols, & Garry Shandling, Photography – Michael Ballhaus, Music – Carter Burwell, Visual Effects – Sony Pictures Imageworks (Supervisor – Patrick McClung), Additional Visual Effects – CIS Hollywood, Rhythm and Hues & Yannix Technologies, Special Effects Supervisor – Al Lorimer, Production Design – Bo Welch. Production Company – Columbia.
Cast
Garry Shandling (H1449-6/Harold Anderson), Annette Bening (Susan Hart), John Goodman (Roland Jones), Greg Kinnear (Perry Gordon), Ben Kingsley (Braydon), Linda Fiorentino (Helen Gordon), Caroline Aaron (Rita Jones), Judy Greer (Rebecca)
---
Plot
A planet inhabited only by cloned men who have eliminated emotions make plans to invade the Earth. To do so, they need to learn how to breed with human women. H1449-6, the brightest student in the class on courtship rituals, is given an artificial penis and is sent to Earth in the guise of financier Harold Anderson with the mission to impregnate a woman. In his quest, Harold meets recovering alcoholic Susan Hart. When she says that she will not have sex until she gets married, he proposes to her after only one date. After she agrees, Harold soon finds that his culture's perceptions of Earth mating rituals are very different from what they are in reality.
---
What Planet Are You From? could be a sex-changed version of My Stepmother is an Alien (1988). It could in fact be Mars Needs Women (1966) played as an intentional comedy – the stories in both films are remarkably similar. On paper, What Planet Are You From? has an incredibly lame premise – an alien from a planet of emotionless men come to Earth to impregnate a woman, deadpan reactions to various fish-out-of-water relationship/dating gags ensue.
On the plus side, there is a talented cast and crew on hand – Mike Nichols, who made all-time classics such as Who's Afraid of Virginia Woolf? (1966), The Graduate (1967) and Angels in America (2003); and some great comedians such as Garry Shandling, the principal creative force in what is regarded as one of the most underrated tv series of the 1990s, The Larry Sanders Show (1992-1998), John Goodman, even a cameo from the great Janeane Garofalo. Not to mention a script from Ed Solomon who wrote such quirkily adept genre comedies as Bill and Ted's Excellent Adventure (1989) and Men in Black (1997).
Despite all promise to the contrary, What Planet Are You From? emerges exactly as lame as it sounds. The premise aches with corny predictability. Every plot device – that Garry Shandling will fall in love with Annette Bening, that he will turn against his alien masters – turns with a dull predictability. The subplot that gives dramatic impetus to the gags – that of a fanatical government official determined to prove the alien's existence – has been xeroxed from Coneheads (1993).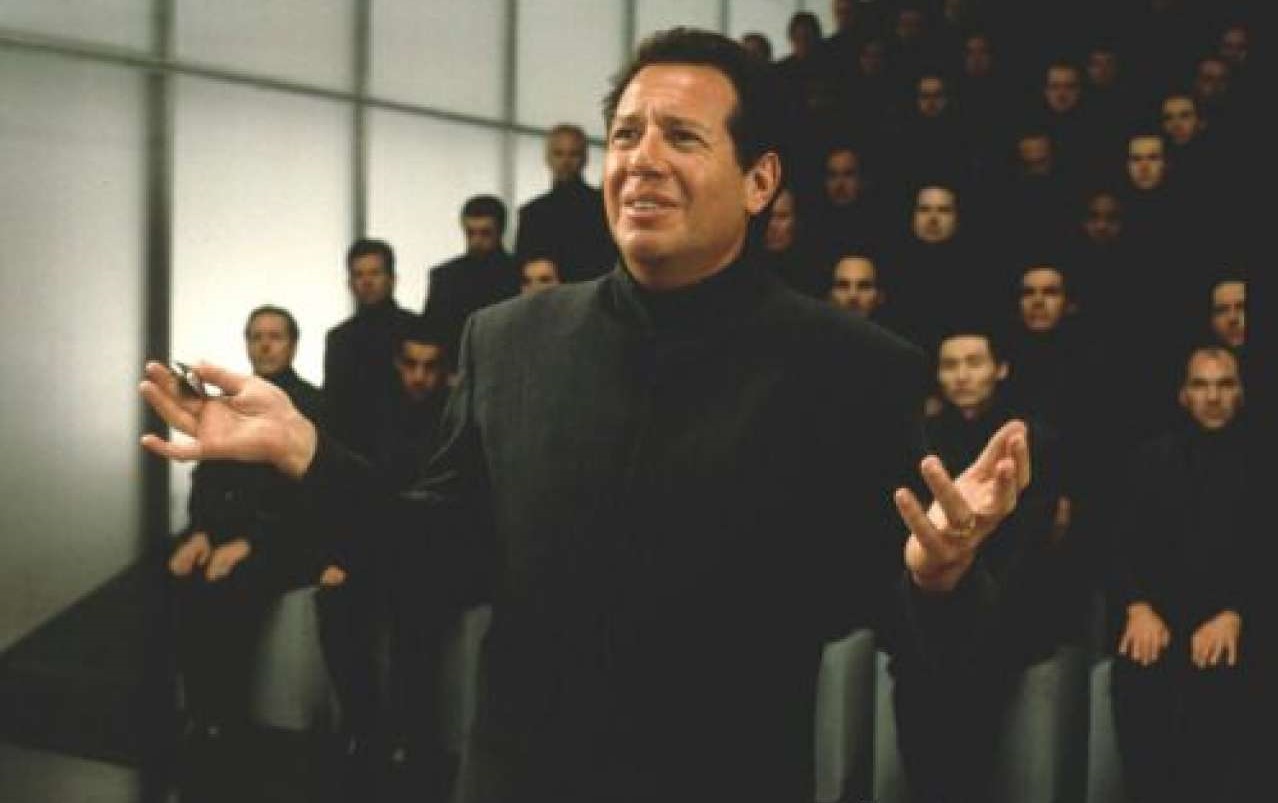 What one in fact has here is ersatz science-fiction – science-fiction designed by people who know nothing about science-fiction. Science Fiction (even comedy) requires an internal consistency, that some attempt be made to show that what is happening operates on internal rules of logic. What Planet Are You From? lacks that. You cannot have comedy playing on Garry Shandling being a total fish out of water and unable to understand the subtle nuances of relationships and then on the other hand delivering one-liners that require a sophisticated knowledge of Earth humour. We never know why the aliens want to breed with humans or why this is necessary to their invasion plan, we never even find out why there is a planet solely of cloned men.
The assumption is that this is science-fiction so these things do not need explanations. The science-fiction elements are only regarded as a springboard to the comedy – Mike Nichols doesn't concern himself with the hardware of the genre, limiting himself to an absolute minimum of effects shots (not necessarily a bad thing, but one that tends to reinforce the fact that the film is trying to run as far away as possible from its science-fiction content).
Not even that any of this need be a bad thing either – My Stepmother is an Alien had little knowledge of science-fiction but made up with a likeably zany sense of humour. However, What Planet Are You From? stumbles through its routines with a ghastly tedium. It has a handful of gags and milks them so much that one groans every time they come up – one lost count of how many times it tried to play the gag of Garry Shandling's artificial penis humming like a vibrator when he is aroused. Garry Shandling, whose performances always seem to consist of haplessly agonized facial shrugs just like he had done something terrible in his pants in the midst of a polite dinner party, puts much effort in (he after all did write and produce the film) and Annette Bening, John Goodman and Greg Kinnear all try valiantly. However, the material is hopelessly weighed against them.
Mike Nichols is the director of films like Who's Afraid of Virginia Woolf? (1966), The Graduate (1967), Catch 22 (1970), Silkwood (1983), Working Girl (1987), Postcards from the Edge (1990), Closer (2004) and Charlie Wilson's War (2007). Mike Nicholas has made occasional ventures into genre material: – with the talking dolphin film The Day of the Dolphin (1973), the interesting werewolf film Wolf (1994) and the stunningly surreal AIDS drama Angels in America (2003), featuring a wildly hallucinatory series of angelic visitations.
---
Trailer here
---