---
USA. 1998.
Crew
Director – Paul Anderson, Screenplay – David Webb Peoples, Producer – Jerry Weintraub, Photography – David Tattersall, Music – Joel McNeely, Visual Effects Supervisor – Ed Jones, Visual Effects – Matte World Digital (Supervisor – Craig Barron) & Rhythm and Hues (Supervisor – Jon Lesser), Miniatures – Cinema Producer Services (Supervisor – Mike Boyd), Digital Effects – Rainmaker Digital Pictures (Supervisor – Doug Tubach), Special Effects Supervisor – Clay Pinney, Makeup Effects Supervisor – Steve La Porte, Production Design – David L. Snyder. Production Company – Warner Brothers/Morgan Creek/Impact Pictures/JW (Jerry Weintraub) Productions.
Cast
Kurt Russell (Todd), Sean Pertwee (Mace), Connie Nielsen (Sarah), Jason Isaacs (Colonel Mekum), Gary Busey (Captain Church), Jason Scott Lee (Caine 607), Jared & Taylor Thorne (Nathan), Michael Chiklis (Jimmy)
---
Plot
It is the year 2036. Todd is a solider who has been programmed as an emotionless killing machine from birth. The ruthless Colonel Mekum introduces a new and superior breed of genetically-engineered soldier designed to replace Todd and the other behaviourally-programmed soldiers. Todd is defeated up against Mekum's top soldier Caine 607. Left for dead, Todd is dumped on the garbage world of Arcadia 234. He survives and is granted refuge by a group of survivors from a crashed spaceship who have built their own peaceful community. However, Todd's emotionless and violent reactions have him barred from the community. As Mekum's forces move in and start exterminating the community, perceiving it as a military threat, Todd becomes their unexpected saviour.
---
Soldier came with enormous promise – there were many that hailed it as a film that had the potential to become a genre landmark. It had a script from David Webb Peoples who had written such genre classics as Blade Runner (1982) and Twelve Monkeys (1995), as well as won a Best Original Screenplay Oscar for the stunning Clint Eastwood anti-Western Unforgiven (1992). The advance word on the film was good – Kurt Russell was so enamoured with the script that he changed his schedule on other films so that he could star.
All of which makes Soldier when seen seem even more of a disappointment. What held the potential to be a genre classic turns out a surprisingly ordinary variant on the cliched humanisation of the inhuman soldier/android theme tried and familiar from the likes of Harlan Ellison's script for The Outer Limits (1963-4), which was also entitled Soldier (1964), and films like Terminator 2: Judgement Day (1991), Universal Soldier (1992) and Solo (1996). Indeed, the story arc that Soldier carves is so identical to Solo – programmed soldier/android gets free from military control, discovers a human side amid a group of simple but honest villagers and stands up in armed conflict against his military programmers and, at the climax, in hand-to-hand combat against his intended successor – that one is tempted to cry plagiarism had Soldier not been written a number of years before Solo came out.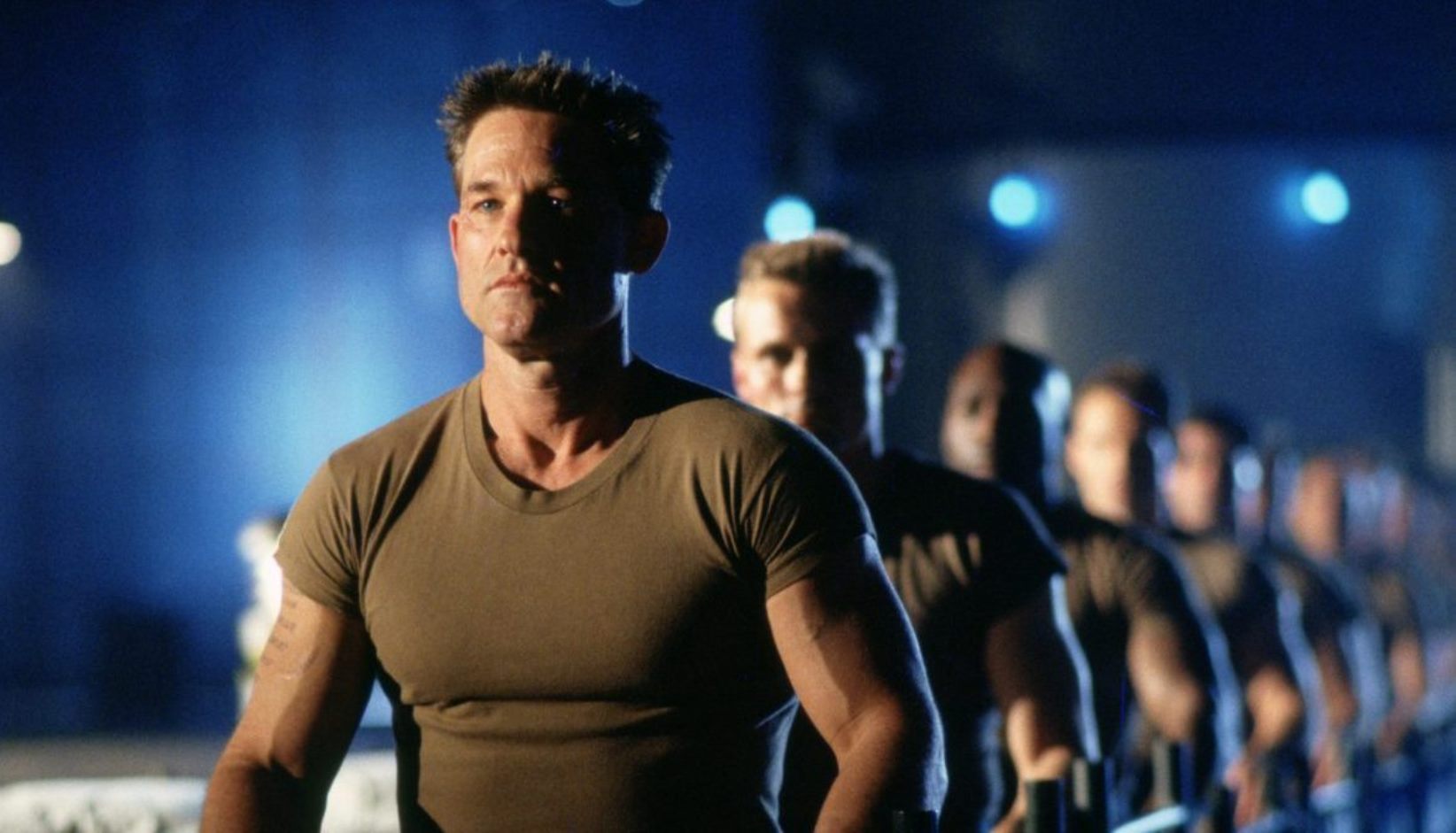 Soldier proves a competent-enough run through of the cliches and had it been made on a smaller, more intimate scale, one suspects it might have been a more likeable film. It is just that on the A-budget it is made on, its cliches collapse into over-inflated pretension. The scenes among the people on the garbage world are so pumped up with patently artificial emotive cues – the honest and earnest simplicity of the communal lifestyle; ragged but plaintive orphans; the woman shot in warm and sensual silhouettes; even, for pity's sake, the pseudo-Celtic wailings of Loreena McKennit on the soundtrack – that it collapses into the absurd. The film mounts to an efficiently large scale but unmemorable action climax.
The film is almost saved by Kurt Russell's performance. Or more ironically and accurately, his lack of a performance. The very blankness of Russell's battle-scarred face, the subtly made-up sunkenness of his eyes, the blank minimalism of the dialogue he gets, creates a character that fascinates in its hollowness. All the emotion comes to be in the smallest movements of the eyes. It is something that nearly gives the film a saving human edge. Alas, audiences failed to respond to Soldier and it was one of the year's biggest flops in terms of budget outlay vs returns.
Soldier was the fourth film from director Paul Anderson – no relation to director Paul Thomas Anderson of Boogie Nights (1997), Magnolia (1999) and There Will Be Blood (2007) fame – who has become a regular genre contributor (he now calls himself Paul W.S. Anderson to avoid confusion). Anderson debuted with the British crime thriller Shopping (1994) and went onto make the unpretentiously enjoyable Mortal Kombat (1995) and Event Horizon (1997), where his directorial style triumphed over one of the most brainless scripts of any science-fiction film in recent years. Following Soldier, Anderson made Resident Evil (2002), AVP: Alien vs. Predator (2004), Death Race (2008), Resident Evil: Afterlife (2010), The Three Musketeers (2011), Resident Evil: Retribution (2012), Pompeii (2014), Resident Evil: The Final Chapter (2016), Monster Hunter (2020) and Resident Evil: Welcome to Raccoon City (2021). Anderson has also written and produced Resident Evil: Apocalypse (2004) and Resident Evil: Extinction (2007), and produced the horror film The Dark (2005), another videogame adaptation DOA: Dead or Alive (2006), the sf film Pandorum (2009), Death Race 2 (2010), Death Race 3: Inferno (2012) and Death Race: Beyond Anarchy (2018).
(Nominee for Best Actor (Kurt Russell) at this site's Best of 1998 Awards).
---
---