aka Prisonship; Star Slammer: The Escape; Starslammer
---
Crew
Director – Fred Olen Ray, Screenplay – Michael D. Sonye, Story – Fred Olen Ray, Michael Sonye & Miriam Preissel, Producers – Fred Olen Ray & Jack H. Harris, Photography – Paul Elliott, Music – Anthony Harris, Effects Animation/Title Design – Bret Mixon, Makeup Effects – Matt Rose & Mark Williams, Additional Makeup Effects – Jon McCallum & Joe Reader, Deadly Spawn/Jagger Rat – John Dods, Production Design – Michael Novotny & Wayne Springfield. Production Company – World Entertainment Corp.
Cast
Sandy Brooke (Taura), Susan Stokey (Mike), Marya Gant (Warden Exene), Ross Hagen (Bantor), Dawn Wildsmith (Muffin), Richard Alan Hench (Garth), Michael D. Sonye (Krago), Mimi Monaco (Squeeker), Jade Barrett (Dr Po), Lindy Skyles (The Sovereign), Johnny Legend (Zaal), Aldo Ray (The Inquisitor), John Carradine (The Judge)
---
Plot
On the planet Arous, the miner Taura is forced to defend herself against the marauding starship captain Bantor. During their struggle, Taura causes Bantor to lose his hand in a volcanic acid plume. Taura is subsequently sentenced to a term aboard the prisonship Vehemence under the sadistic female warden Exene. She finds life amid the other female inmates tough. Bantor then comes aboard Vehemence, now deranged as a result of losing his hand, seeking to obtain a mind control process that reduces the prisoners to zombies. His arrival proves to be Taura's chance at escape.
---
The Adventures of Taura: Prison Ship Star Slammer, usually known under shorter versions of its name such as Starslammer or Prisonship rather than the full screen title given here, was one of the earlier films of the incredibly prolific Fred Olen Ray. Fred Fred Olen Ray makes B films, many of which are deliberately cheesy, tongue-in-cheek parodies of B science-fiction and horror films. Olen Ray also has a fascination with bimbos and was the chief proponent for the late 1980s Scream Queens fad. With over 100 films to his name as director, Olen Ray is one of the world's most prolific directors. (See below for a list of Fred Olen Ray's other genre films).
Predictably, The Adventures of Taura: Prison Ship Star Slammer is another of Fred Olen Ray's cheap and cheesy science-fiction bimbo films. Olen Ray readily sources various other B science-fiction movies of the past (as he usually does in his films) – there is a planet named Arous after the legendary Z movie The Brain from Planet Arous (1957) and the film even comes divided into chapter titles just like a serial. All the elements of the film come with a tongue-in-cheek silliness – the warden wears V-neck leather bondage costumes and an eyepatch while wielding a whip; the heroine is outfitted in one-piece bodysuits; and the villain comes in black body armour and cape. There are typical Olen Ray-esque lines of dialogue – "How do you like it in the can?" the mechanical-armed villain taunts heroine Sandy Brooke. "How do you like being a can opener?" she taunts back. Ross Hagen in particular gives an entertainingly lunatic performance, full of mad villainy – even a scene where he is whipped and relishes it.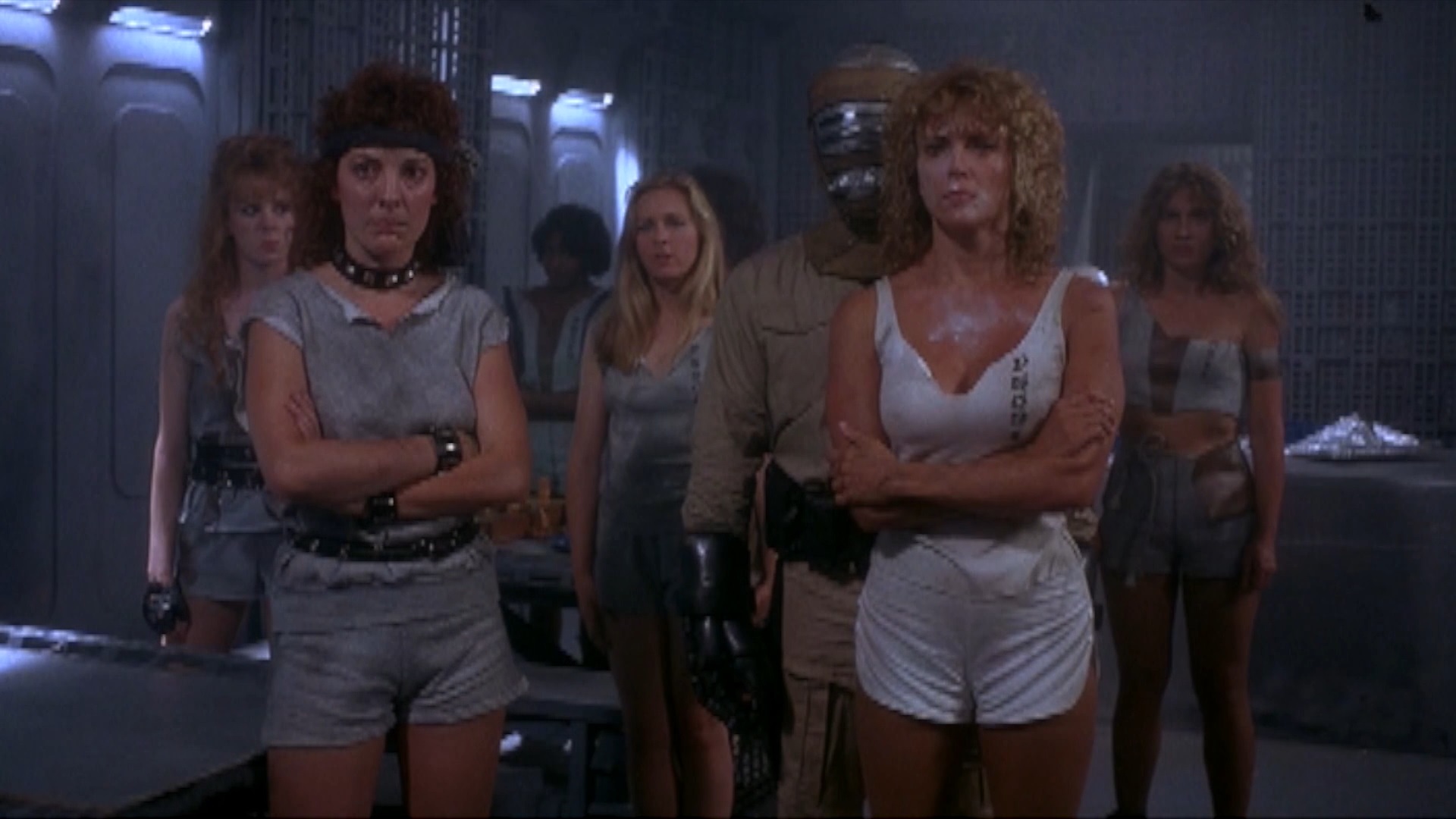 The Adventures of Taura: Prison Ship Star Slammer has been designed as no more than a Women in Prison film set in space. The Women in Prison mini-genre was an exploitation movie fad that emerged in the 1970s, most famously with Caged Heat (1974), and featured the titillation of women fighting, often extreme and sadistic scenes of institutional abuse, and above all girl-girl love scenes. There are all the expected Women in Prison genre cliches here – cat fights, sadistic female warders, knife fights, scenes being thrown in the hole and the inevitable overthrow of the corrupt system. Although, the one element that is surprisingly tame in regard to Fred Olen Ray's usual proclivities and especially in regard to being a Women in Prison film, is the lack of gratuitous nudity, of which there is almost none, and the complete lack of lesbian love scenes, which are almost a de rigeur requirement for a Women in Prison film.
Fred Olen Ray made The Adventures of Taura: Prison Ship Star Slammer in conjunction with legendary producer Jack H. Harris, the man behind The Blob (1958) and John Carpenter's Dark Star (1974). Olen Ray is judicious and cheap enough to borrow effects shots from other films, including Harris' Dark Star, Battle Beyond the Stars (1980) and even recycling the creature effects from The Deadly Spawn (1982). The end credits promise that "The Adventures of Taura will continue in Chain Gang Planet", a film that Fred Olen Ray, with his penchant for multiply sequelizing his own product, has surprisingly failed to deliver.
Fred Olen Ray has made a lengthy list of genre films. These include:- The Brain Leeches (1977), The Alien Dead/It Fell from the Sky (1980), Scalps (1983), Biohazard (1984), The Tomb (1985), The Phantom Empire (1986), Cyclone (1987), Beverly Hills Vamp (1988), Deep Space (1988), Hollywood Chainsaw Hookers (1988), Warlords (1988), Alienator (1990), Bad Girls from Mars (1990), Spirits (1990), Haunting Fear (1991), Scream Queen Hot Tub Party (1991), Wizards of the Demon Sword (1991), Evil Toons (1992), Little Devils (1993), Dinosaur Island (1994), Mind Twister (1994), Possessed By the Night (1994), Attack of the 60 Foot Centerfolds (1995), Cyber Zone/Droid Gunner (1995), Invisible Mom (1997), Star Hunter (1995), Night Shade (1996), Passionate Revenge/Friend of the Family II/Hell Hath No Fury (1996), Hybrid (1997), Little Miss Magic/Kidwitch (1997), Billy Frankenstein (1998), Dear Santa/My Dad Santa (1998), Illicit Dreams 2 (1998), Invisible Dad (1998), Active Stealth (1999), Fugitive Mind (1999), Invisible Mom 2 (1999), The Kid with X-Ray Eyes (1999), Prophet (1999), Critical Mass (2000), Sideshow (2000), Kept (2001), Stranded (2001), Venomous (2001), Thirteen Erotic Ghosts (2002), Final Examination (2003), Bikini-a-Go-Go/Curse of the Erotic Tiki (2004), Genie in a String Bikini (2004), Haunting Desire (2004), Teenage Cavegirl (2004), Glass Trap (2005), Tomb of the Werewolf (2005), Bikini Girls from a Lost Planet (2006), Bikini Pirates (2006), Ghost in a Teeny Bikini (2006), Bewitched Housewives (2007), The Girl With Sex-Ray Eyes (2007), Nuclear Hurricane (2007), Super Ninja Bikini Babes (2007), Polar Opposites (2008), Solar Flare (2008), Tarzeena, Queen of Kong Island (2008), Voodoo Dollz (2008), Dire Wolf (2009), Silent Venom (2009), Bikini Frankenstein (2010), Bikini Jones and the Temple of Eros (2010), Housewives from Another World (2010), Turbulent Skies (2010), Twilight Vamps (2010), Lady Chatterly's Ghost (2011), Little Witches (2011), Rewind Time Machine (2011), Super Shark (2011), Dirty Blondes from Beyond (2012), Abner the Invisible Dog (2013), After Midnight (2014), Unwanted Guest (2016), Stage Fright (2017) and The Twin (2017).
---
---