---
Crew
Supervising Director/Producer – Frank D. Paur, Directors – Patrick Archibald, Jay Oliva & Richard Sebast, Screenplay – Greg Johnson, Screen Story – Greg Johnson & Craig Kyle, Based on the Comic Book Created by Steve Ditko & Stan Lee, Music – Guy Michelmore, Music Supervisor – David Ari Leon, Animation – The Answerstudio Co, Ltd. (Supervising Animation Director – Kazuyoshi Takeuchi). Production Company – Marvel Studios/Lionsgate/MLG Productions 4, Inc.
Voices
Bryce Johnson (Dr Steven Strange), Michael Yama (Ancient One), Kevin Michael Richardson (Mordo), Paul Nakauchi (Wong), Susan Spano (Dr Gina Atwater), Jonathan Adams (Dormammu), Fred Tatisciore (Oliver), Tara Strong (April Strange)
---
Plot
Dr Steven Strange is a top neurosurgeon, although is regarded as arrogant by those around him. Driving home, Strange skids to avoid a ghostly child who appears on the road and crashes over a cliff. The accident leaves his hands all but useless. Doctors are unable to offer any solution and Strange's career is ruined. Left destitute, he jumps off a bridge – only to be levitated back up by a mysterious stranger. The stranger gives Strange a map to the mountains of Tibet. Strange heads there, arriving at a monastery. The ancient one in charge says that they can heal Strange's hands but first need to change the way he is inside. He is put through a rigorous and punishing training program. Through this, Strange comes to understand how to control the forces around his hands and project magic. The ailing Ancient One sees Strange as holding the skill to succeed him as the Sorcerer Supreme. As Strange comes into his powers as a sorcerer, he is immediately placed into conflict. He is shown the Sanctum Sanctorum that opens the gateway to The Nexus and other dimensions. From The Dark Dimension, the demon Dormammu is attempting to gain freedom by possessing the minds of children.
---
Doctor Strange is one of the most unusual titles in the Marvel Comics superhero pantheon. Dr Strange first appeared in Strange Tales #110 in July 1963 and proved popular enough that the series was retitled Doctor Strange in 1968. Dr Strange has remained a regular part of the Marvel line-up since, where his backstory as an arrogant surgeon who loses the use of his hands, undergoes mystical training in Tibet to become the Sorcerer Supreme and his ongoing battles with Dormammu and others have been elaborated out. Although there had been superheroic magicians in comics before – Dr Fate, Zatara and, most famously, Mandrake the Magician – what was distinctive about Doctor Strange was its move away from a stage magician hero concept to an esoteric superhero. Doctor Strange became a comic-book filled with arcane states of mind, astral planes and elemental forces. In particular, what stood out and made Doctor Strange into a cult item was Steve Ditko's wildly colourful and frequently psychedelic artwork.
Doctor Strange had appeared on screen before in the not bad tv movie Dr. Strange (1978), which was one of a package of Marvel Comics titles brought up for television, which also spawned the The Amazing Spiderman (1977-9) and The Incredible Hulk (1977-81) tv series. There Dr Strange was played by Peter Hooten, but the film failed to attract sufficient interest to sell as a series. Dr Strange has appeared in episodes of other Marvel animated tv series such as Spider-Man (1994-8) and The Incredible Hulk (1996-7). For several years now, there were rumours of a Doctor Strange film with names like Wes Craven and Guillermo Del Toro attached, before officially emerging as Doctor Strange (2016) and Doctor Strange in the Multiverse of Madness (2022) starring Benedict Cumberbatch. Full Moon's Doctor Mordrid (1992) was also an uncredited version of Dr Strange that did a fine, low-budgeted capturing of the essence of the comic-book.
In the 00s, Marvel Comics have gained huge industry muscle with immensely successful film adaptations of titles like Blade (1998), X-Men (2000), Spider-Man (2002), Daredevil (2003), Hulk (2003), The Punisher (2004), Fantastic Four (2005), Ghost Rider (2007), Iron Man (2008), Thor (2011) and others. Amid this, Marvel formed their own production arm Marvel Enterprises. Among the various high-profile big-budget films, they also started to produce a number of direct-to-dvd animated films featuring their superheroes with Ultimate Avengers (2006), Ultimate Avengers II (2006), The Invincible Iron Man (2007), Next Avengers: Heroes of Tomorrow (2008), Hulk Vs (2009), Planet Hulk (2010), Thor: Tales of Asgard (2011) and Iron Man: Rise of Technovore (2013), along with this version of Doctor Strange.
Doctor Strange comes with a promisingly impressive quality of animation, which bodes well. Although, perhaps the first thing you notice is that Dr Strange is minus the distinctive appearance he had in the comic-books – the pencil-thin moustache, the greying sideburns and billowing cape with high-backed collar – and that he has been made much younger and given a trendy goatee. You can understand some of the liberties taken when Marvel's characters appear in live-action – the X-Men minus their yellow and blue costumes, Ghost Rider's motorbike without its flaming wheels and so on – but when an animated film dumps even the basics, you have to treat it with some dubiousness. That said, the film pays scrupulous attention to other details and we get appearances from a number of regular characters like Dormammu, Mordo, The Ancient One, Wong and places like the Sanctum Sanctorum and Dark Dimension.
The other major disappointment is that the film is distinctly lacking in any of the comic-book's wildly psychedelic and mind-bogglingly cosmic visions of the esoteric. When it comes to the magic, the film shares the problem that too many CGI spectaculars do – the magic becomes lots of flashing lights that pass by without effect. What the filmmakers should have done is gone and studied some anime or even shipped the production out to a Japanese studio where anime's spectacular leaps between the big and small, the regular swathes of power unleashed and mass destruction were exactly what was needed to enervate the magic scenes here. Instead, all we get is people trading animated power blasts without it meaning anything.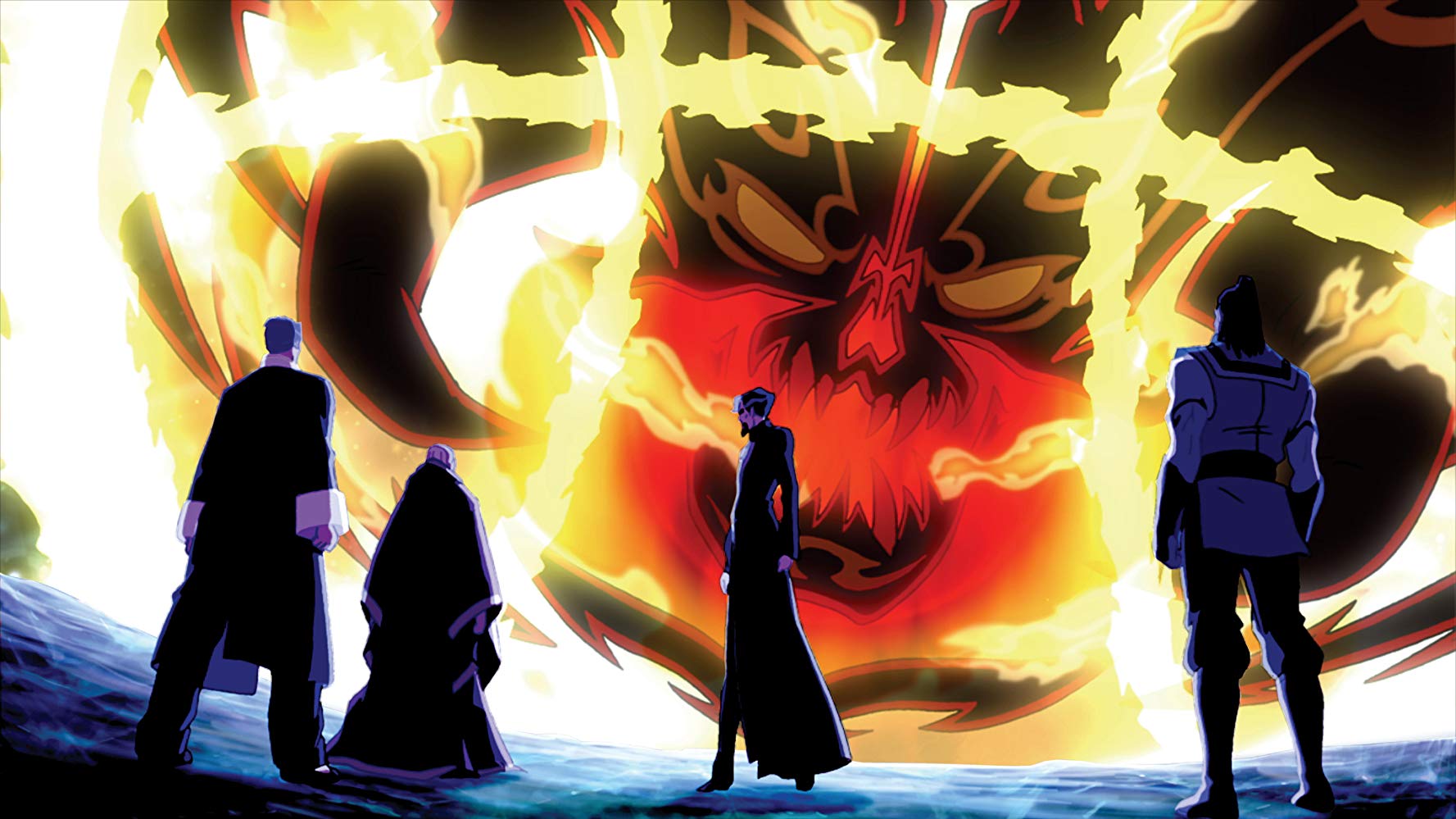 The film finally starts to go somewhere at the very end when Strange inherits the role of the Sorcerer Supreme and takes on Dormammu in an epic-sized battle of fireballs, mid-air flips, massive energy blasts and conjured energy shields, which does attain some of the scope lacking in the earlier scenes.
The story takes the time building up to the emergence of Dr Strange as the Sorcerer Supreme. As the writers note in the dvd extras, this is something that took place in about three panels in the original origin story but has been expanded out to about two-thirds of the film here. Alas, most of this is only standard cliches of Eastern mystical training.
The problem with the film is its very briefness – it only runs 73 minutes. It shares the problem of any film that tells a superhero origin story. More than two-thirds of the story is taken up with Dr Strange's transformation into the Sorcerer Supreme ie. we never get to meet the full-fledged version of the comic-book character until near the very end. When this happens, Strange is suddenly handed the Eye of Agamotto and is then off to battle both Mordo and Dormammu, both of which are defeated in no time at all. What is crucially missing in these is any struggle to overcome these nemeses, or of the usual heroic arc where the hero is defeated and must return stronger to win the day. I expected a good deal more of a Doctor Strange film.
---
---