---
Crew
Director – Brett Ratner, Screenplay – Ryan J. Condal & Evan Spiliotopoulos, Based on the Graphic Novel Hercules: The Thracian Wars by Steve Moore, Producers – Beau Flynn, Barry Levine & Brett Ratner, Photography (3D) – Dante Spinotti, Music – Fernando Velazquez, Visual Effects Supervisor – John Bruno, Visual Effects – Cinesite (Supervisor – Simon Stanley-Clamp), Double Negative (Supervisors – Ryan Cook & Paul Riddle), Method Studio (Supervisors – Doug Bloom & Nordin Rahhali), Milk Visual Effects (Supervisor – Nicholas Hernandez) & Prime Focus World (Supervisor – Alex Pejic), Special Effects Supervisor – Neil Corbould, Production Design – Jean-Vincent Puzos. Production Company – Flynn Picture Company.
Cast
Dwayne Johnson (Hercules), Ian McShane (Amphiaraus), Rufus Sewell (Autolycus), John Hurt (Lord Cotys), Ingrid Bolsø Berdal (Atalanta), Reece Ritchie (Iolaus), Aksel Hennie (Tydeus), Rebecca Ferguson (Ergenia), Joseph Fiennes (King Eurystheus), Tobias Santelmann (Rhesus), Peter Mullan (Sitacles), Isaac Andrews (Arias)
---
Plot
358 B.C. Hercules is a mercenary, along with a ragtag team of fighters. Thanks to Iolaus, the storyteller who accompanies them, Hercules' mundane exploits are pumped up to make him into the son of Zeus and tell of him fighting mythological creatures. Hercules and his team receive an offer of their weight in gold from Ergenia to come to the aid of her father, Lord Cotys, the king of Thrace, and defend them from the onslaught by the warlord Rhesus and his Bessi warriors. Arriving, they set about the difficult task of turning the kingdom's farmers into warriors. After succeeding against great odds by the employment of military strategy, Hercules is given to wonder if he is fighting for the right side.
---
The Greek myth of Hercules has a long tradition on film beginning with the Italian-made Hercules (1958) starring Steve Reeves. This became a huge box-office success thanks to US promoter Joseph E. Levine and gave birth to the so-called peplum cycle, a massive throng of Italian-made copycats all cast with muscle-builders (the actual number of Hercules films made during this is innumerable, not to mention ones featuring other musclebound heroes such as Goliath, Ursus, Samson and Maciste). Variants range from overt parodies of the cycle such as Hercules in New York (1970) and Hercules Returns (1993) to the extremely bad Hercules (1983), which offered a bizarre quasi-science-fictional interpretation, Disney's animated version Hercules (1997), the spoofily enjoyable tv series Hercules: The Legendary Journeys (1994-9) and the Hallmark tv mini-series Hercules (2005), among many others. This version of Hercules came out in a year of competing versions up against Renny Harlin's empty-headed The Legend of Hercules (2014) featuring Kellan Lutz, while The Asylum invariably chimed in with their own low-budget mockbuster Hercules Reborn (2014).
Hercules comes from Brett Ratner, a director better known for his party lifestyle than the ability to turn out films that have anything invested in them other than studio profit points. After making several high-profile music videos, Ratner had a hit with his second film, the comedy Rush Hour (1998) and spun its slim culture clash premise out into two sequels Rush Hour 2 (2001) and Rush Hour 3 (2007). Ratner had made other mainstream comedies with After the Sunset (2004) and Tower Heist (2011) and dramatic films such as Red Dragon (2002) and X-Men: The Last Stand (2006), which is fairly much noted for having killed off the Bryan Singer X-Men film series. In all cases, Ratner feels exactly like an anonymous studio director who delivers the show with little discernible personal imprint. If there ever were a retrospective of Ratner's films, you would get the impression of someone more interested in the cool of being a Hollywood director and associated lifestyle than necessarily what it is that he turns out.
Hercules is nominally based on a comic-book Hercules: The Thracian Wars (2008), under which title this film was initially announced. The film has taken the interesting approach of demythologising the Hercules legend. Here Hercules is no longer a demi-god, born of Zeus and a mortal woman, conducting Twelve Labors, and fighting mythic creatures, but an ordinary mortal where the truth has been creatively embroidered by his sidekick and he is cannily trading on good PR. There are a number of instances where what seem to be mythological elements are given mundane explanations – the hydra is simply men with snake-like masks, the centaurs are riders on horses that look like a combination of the two from a certain angle, Cerberus is a trio of ordinary wolves that Hercules imagines connected together, Ian McShane is supposedly a seer but at the end his prophecies are seen as not coming true.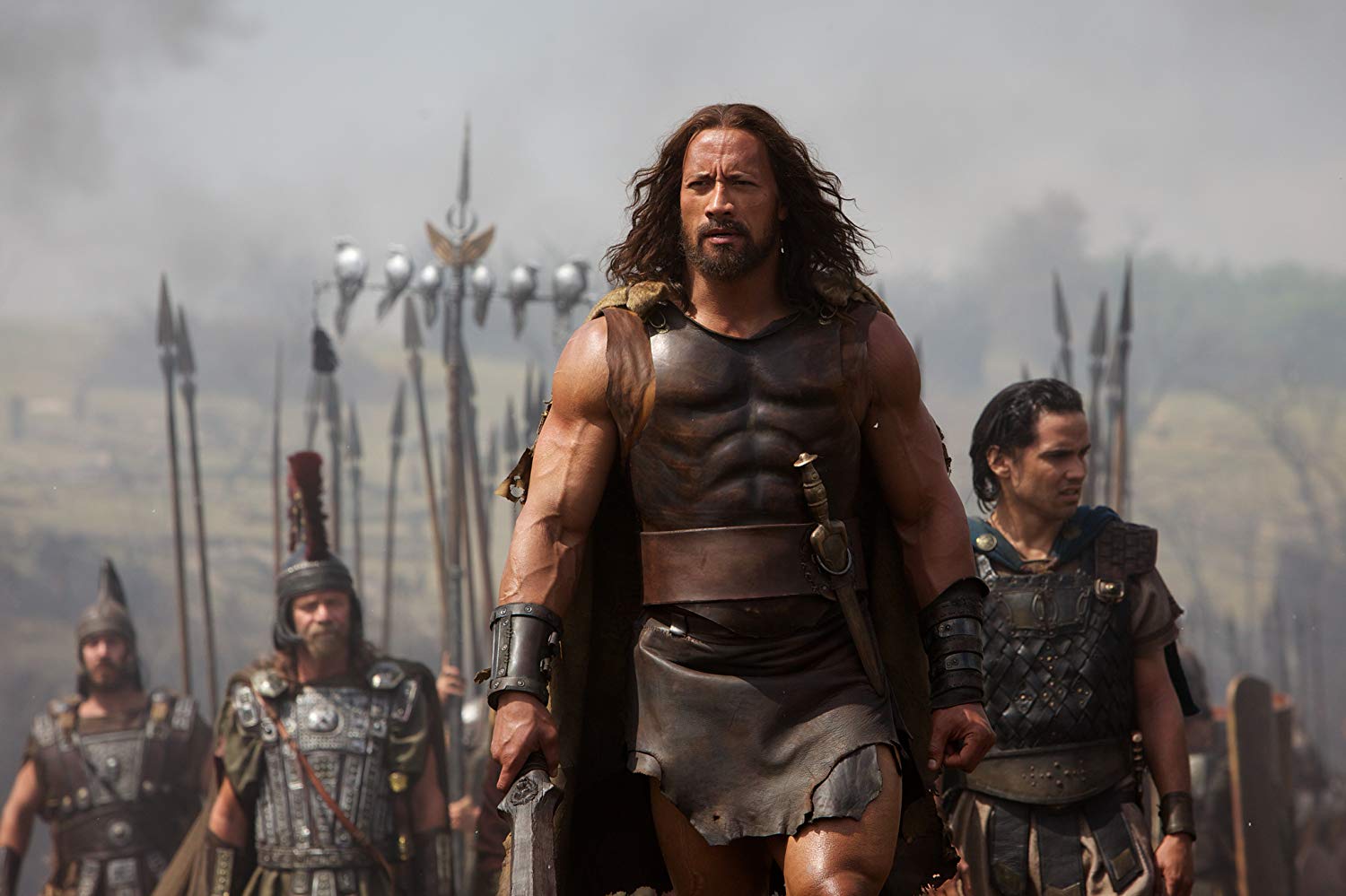 Oddly, this is not a new approach to Hercules. The first film to take this outlook was The Three Stooges Meet Hercules (1962) where Hercules was an ill-tempered brute and the three clowns ended up accidentally creating his reputation. Other versions such as Hercules 2005, Hercules Reborn and The Legend of Hercules downplayed elements like the existence of the gods, while Hercules 1958 and most of the peplum had Hercules's exploits as largely mundane ones because they either didn't have the effects budgets or the imagination to be anything more fantastic than adventures about muscular men in loincloths.
This approach of stripping the fantastical elements out of Greek myth and showing them as stories about ordinary men has been taken by other modern Greek myth adaptations such as Troy (2004) and Immortals (2011). Certainly, this demythologised approach seems at odds with the way that Hercules 2014 is being promoted – the trailers prominently show Hercules fighting off monsters and mythic creatures whereas in reality these are only brief clips that come during the opening tall tales that we are being told. Not to mention that this seems a cheat when the film is being promoted as part of the modern epic fantasy tradition when in fact it takes the exactly opposite approach of stripping the fantasy out.
Hercules sets in with a boringly over-heated empty-headedness. Brett Ratner has clearly set out to deliver a big dumb cartoon of a film that lacks a single brain cell in its body. There is nothing in the film that has not been taken from the pool of tired, overworn fantasy/action/historical epic genre cliches. Everything slots into place with a dull lack of originality – even when the film tries to conduct a twist reversal of sympathies about the sides people are fighting for, this comes with a crashingly obvious predictability. The characters are cardboard cutouts without any black-and-whites, only distinguished by the ability to toss off wry action movie banter.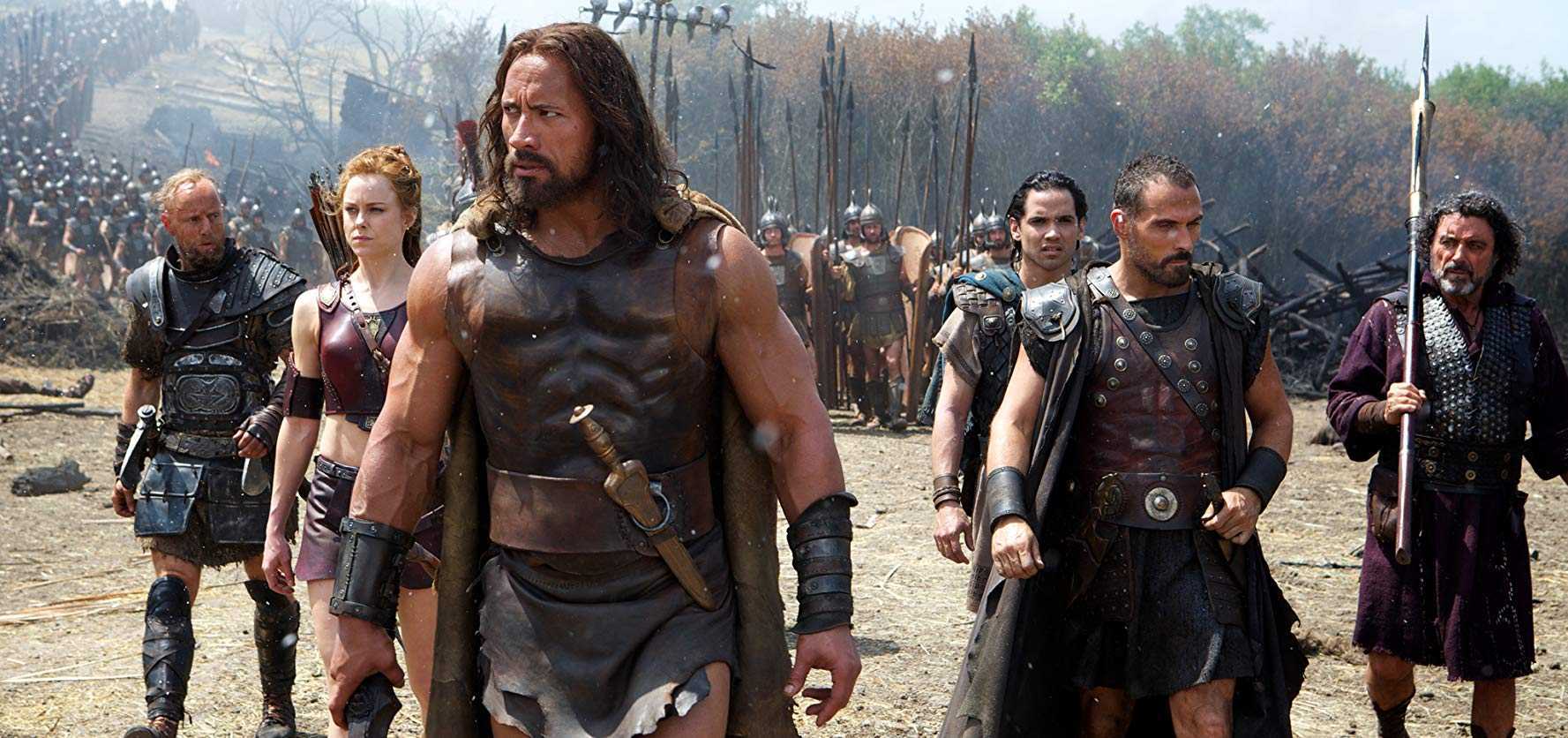 Certainly, as Hercules, Dwayne Johnson plays with more animation than usual – even so his Hercules is still a big, goofy cartoon character. With Kevin Sorbo – still the best actor to inhabit the part of Hercules – the character had a charisma and reassurance, Sorbo would enter a room and instantly seem to be the protector of the weak no matter what the situation.
Brett Ratner delivers entertainingly absurd action scenes – all of which feel like moves that have been pillaged from every other modern fantasy/battle scene and can be forgotten the moment they are over. And precisely about the point that Ian McShane heads into action on a chariot equipped with giant scythes that massacre everything in their path as he circles the enemy troops, the feeling was of a film that nobody was taking seriously or really seemed to care whether the audience was either.
There is a good idea behind Hercules – of showing that there was an ordinary human behind the myth – but it is one that Brett Ratner seems to takes the least interesting way to exploring. In the end, it seems hard to argue that you are showing the flawed reality of a myth when all that comes substituted in its place is blown up with action movie cliches that seem little interested in realism.
In genre material, Brett Ratner has also made the alternate life pathways film The Family Man (2000), the Hannibal Lecter prequel Red Dragon (2002), the controversial X-Men: The Last Stand (2006) and the Happy Birthday segment of Movie 43 (2013). He has also acted as producer on a number of genre films including Santa's Slay (2005), Mother's Day (2010), Skyline (2010), Chinese Zodiac (2012), Mirror Mirror (2012), Electric Boogaloo: The Wild, Untold Story of Cannon Films (2014) and The Water Diviner (2014).
---
---