---
Crew
Director – Rodrigo Garcia, Screenplay – Ronnie Christensen, Producers – Julie Lynn, Judd Payne, Matthew Rhodes & Keri Selig, Photography – Igor Jadue-Lillo, Music – Edward Shearmur, Visual Effects – Technicolor Creative Services (Supervisors – Erik Nordby & Doug Oddy), Special Effects Supervisor – Jak Osmond, Production Design – David Brisbin. Production Company – Persistent Entertainment/Intuition Productions.
Cast
Anne Hathaway (Dr Claire Summers), Patrick Wilson (Eric Clark), David Morse (Arkin), Andre Braugher (Perry), Clea Duvall (Shannon), Dianne Wiest (Toni), Don Thompson (Norman), Ryan Robbins (Dean Haskell), Chelah Horsdale (Janice), William B. Davis (Jack)
---
Plot
Following an airline crash, trauma counsellor Claire Summers is sent in to give guidance to the survivors. She is intrigued by one survivor, Eric Clark, who appears unfazed and even invigorated by what happened. He insists that he does not need to join the group and that they meet privately to talk about it. He also seems to know things about Claire that he could not possibly. Eric repeatedly comes onto her but Claire keeps her professional distance, before eventually succumbing. Meanwhile, members of the survivors' group mysteriously begin to disappear one by one. Claire becomes certain that the airline is covering up the fact that there was an accident on board, even sinisterly removing the survivors.
---
Passengers looked an intriguing prospect. It was the directorial debut of Rodrigo Garcia, previously a screenwriter of Things You Can Tell Just By Looking at Her (2000) and Nine Lives (2005) and director on episodes of Six Feet Under (2001-5) and Carnivale (2003-5). Garcia would subsequently go onto direct the likes of the well-received and awards-friendly Mother and Son (2009), Albert Nobbs (2011) and Last Days in the Desert (2015). The film managed to attract a topline cast, including Anne Hathaway and Patrick Wilson, both actors who were at the very peak of their game, and a more than impressive supporting cast.
Passengers – not related to or to be confused with the subsequent Chris Pratt-Jennifer Lawrence cryogenic sleepers awake film Passengers (2016) – creates an intriguing mystery regarding Patrick Wilson's seeming ESP and knowing details about Anne Hathaway, the mysterious disappearances of the patients in her therapy group and the sinister activities of the airline in covering up what happened regarding the crash and possibly even eliminating witnesses.
In the relationship between Anne Hathaway and Patrick Wilson, we seem to be in for a romantic variation on Fearless (1993) with John Turturro as a therapist tending plane crash survivor Jeff Bridges who feels strangely invigorated about life. Ultimately, much of the film is nicely made but a little too mannered. The attraction that is meant to exist between reserved Anne Hathaway and wild, unabandoned Patrick Wilson never quite seems to create a spark that sets the screen alight with newly discovered joie de vivre.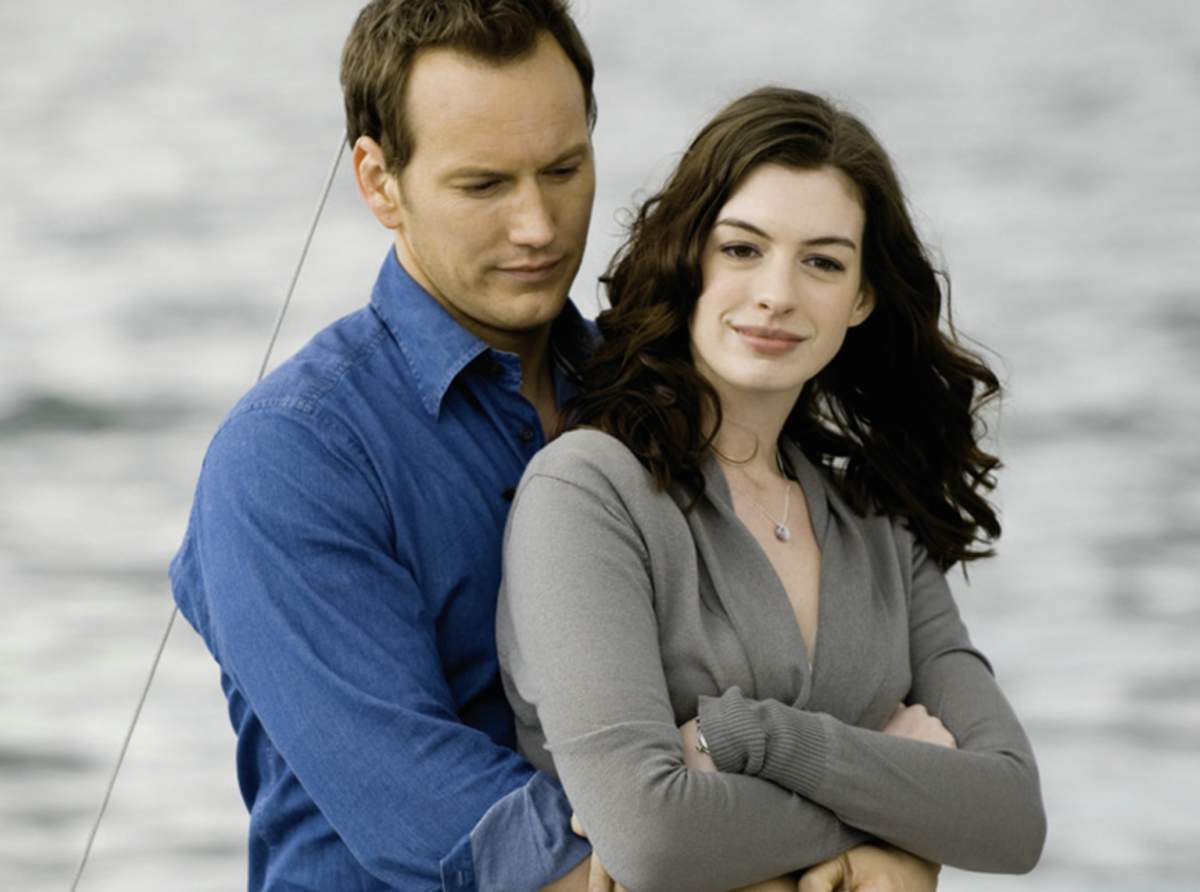 Eventually, when it becomes apparent what is happening, Passengers collapses down into the cliched and frustratingly contrived. [PLOT SPOILERS]. It soon becomes apparent that what we have is yet another variant on The Sixth Sense (1999) and its famous dead-all-along twist ending. This has a long history going back to An Occurrence at Owl Creek Bridge (1961) and has been used a great many times since The Sixth Sense came out in the likes of Soul Survivors (2001), The Brown Bunny (2003), Dead End (2003), I Pass for Human (2004), Hidden (2005), Reeker (2005), Stay (2005), The Escapist (2008), The Haunting of Winchester House (2009), Someone's Knocking at the Door (2009), The Last Seven (2010), Wound (2010), A Fish (2012), Leones (2012), The Abandoned/The Confines (2015), Shadow People (2016) and Alone (2017), plus the finale of tv's Lost (2004-10). Indeed, the plane crash survivor wandering around before realising they are dead has been used in at least three others films – The Survivor (1981), Sole Survivor (1983) and the subsequent 7500 (2014), as well as in slightly different ways in Final Destination (2000).
[PLOT SPOILERS CONTINUE]. Moreover, as with many of these deathdream films, you end up becoming annoyed with how contrived the set-up is where much of what is going on is dependent on people not looking too closely at what is going on. Passengers creates a massive degree of misdirection to convince us that Anne Hathaway is a therapist (we never even find out whether this was her profession in real life or not) who is sent in to counsel the survivors of the plane crash. Rather than any of this be about her attempts to come to terms with being dead, the misdirection creates a massive red herring about Patrick Wilson being strangely unaffected by the crash and having possible psychic powers, her running a therapy group and the attendees vanishing one by one, and the airline seeming to be engaged in a conspiracy to cover up what happened.
All of this seems to be there solely to create a big mystery that requires the audience to look in one direction before the carpet is pulled out from under them in another. It also seems to require that other disembodied souls have to buy into the consensual illusion that they are part of a therapy group or to not have to recognise relatives and loved ones when they turn up to guide them. Not to mention, the rather odd notion of Patrick Wilson and Anne Hathaway engaged in a romance, much of which involves her rediscovering how to live, given that both of them are dead. And yet when Passengers does eventually pull its twist, the effect is not one or wow but of irritation at how contrived everything has been and how lame it is to go through this ending served up once again.
---
---