---
USA. 1997.
Crew
Director – Gore Verbinski, Screenplay – Adam Rifkin, Producers – Bruce Cohen, Tony Ludwig & Alan Riche, Photography – Phedon Papamichael, Music – Alan Silvestri, Visual Effects Supervisor – Charles Gibson, Visual Effects – Rhythm and Hues Studio (Supervisor – Chad Merrian), Additional Visual Effects – Animal Logic Film, Blue Sky/VIFX, 525 Post, Optical Illusions & Rainmaker Digital, Animatronic/Creature Effects – Stan Winston Studio (Supervisors – Shan Patrick Mahan & Paul Mejias), Special Effects Supervisor – Michael Lantieri, Production Design – Linda DeScenna. Production Company – DreamWorks SKG.
Cast
Nathan Lane (Ernie Smuntz), Lee Evans (Lars Smuntz), Christopher Walken (Caesar), Eric Christmas (The Lawyer), Maury Chaykin (Alexander Falko), Nicki Lewis (April Smuntz), Debra Christofferson (Ingrid), Camilla Soeborg (Hilde), Ernie Sabella (Maury), William Hickey (Rudolf Smuntz), Michael Jeter (Quincey Thorpe)
---
Plot
Brothers Ernie and Lars Smuntz inherit a rundown old mansion in their father's will. They discover that the house was one constructed by famed designer Charles La Rue and is worth more than ten million dollars. Both need the money but as they try to renovate the house for auction, their attempts are thwarted at every turn by a mouse with uncanny intelligence.
---
There's a scene that opens Robert Altman's Hollywood satire The Player (1992) that sends up movie pitch sessions, showing potential screenwriters trying to submit scripts and describing them only in terms of previous successes. It is a scene that may well reveal an unerring truth about the way movies are pitched. You can almost see the way that MouseHunt was pitched – "It's like a cross between Home Alone (1990) and Babe (1995) – you know with the animals in live-action – and with Tom and Jerry cartoons thrown in too." That is about the sum of MouseHunt – it is a combination of live-action cartoon and a version of Home Alone with a mouse instead of MacCaulay Culkin. Or perhaps a comedic, family-friendly version of the horror film Of Unknown Origin (1983).
For all the patent derivativeness of its central idea, MouseHunt is surprisingly entertaining. The animatronics work that brings the mouse to life and allows it to barrel-roll along on blocks of cheese and conduct Tarzan swings across lightbulbs is amazingly clever. Most of the slapstick gags are incredibly predictable and one can see the payoff coming miles away – the film even borrows the old gag about the character unwinding his coat by getting a thread caught up in a roller at one point – but Gore Verbinski directs them in such an engaging and energetic way that they end up invariably working.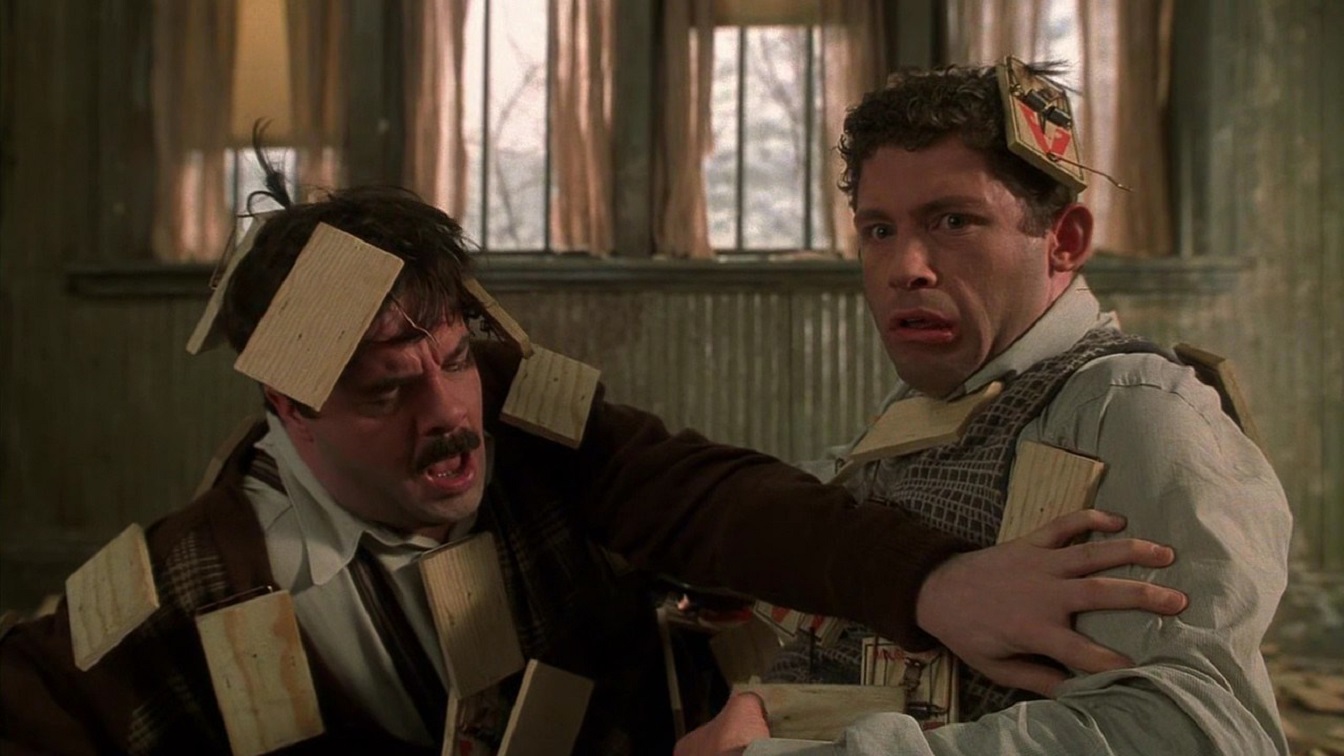 There is a hyper-realised look to the design of the house and wainscotting labyrinth. Like Home Alone, MouseHunt is a children's film that masquerades a high level of violence underneath the innocuousness of harmless slapstick. A considerable part of the show is stolen by an immensely enjoyable performance from Christopher Walken as the rat exterminator.
MouseHunt was the feature-length debut for Gore Verbinski who went onto become a successful mainstream director. All of Gore Verbinski's films have remained within the fantasy genre in one way or another. Verbinski next made the flop Julia Roberts-Brad Pitt romance The Mexican (2001), which has some Magical Realist elements; the surprisingly good English-language remake of The Ring (2002); the hugely successful pirate swashbuckler comedy series Pirates of the Caribbean: The Curse of the Black Pearl (2003), Pirates of the Caribbean: Dead Man's Chest (2006) and Pirates of the Caribbean: At World's End (2007); before returning to make a further talking animals films, this time animated with Rango (2011); the big screen remake of The Lone Ranger (2013); and A Cure for Wellness (2016) about a sinister health sanatorium; as well as producing The Secret Life of Walter Mitty (2013).
---
Trailer here
---