---
Crew
Director – Mary Lambert, Screenplay – Patricia Louisianna Knop, Based on the Novel by Patricia Chaplin, Producer – Gary Kurfist, Photography – Bryan Loftus, Music – Miles Davis, Production Design – John Beard. Production Company – Lorimar/Siren/Palace Pictures.
Cast
Ellen Barkin (Claire), Gabriel Byrne (Augustine), Julian Sands (Kit Goodenough), Jodie Foster (Nancy), Alexei Sayle (Cabbie), Martin Sheen (Del), Isabella Rosselini (Maria), Grace Jones (Conchita)
---
Plot
A stuntwoman wakes up on an airport runway outside Madrid, wearing a bloodied party dress and with no memory of how she ended up there. She struggles to remember what happened. In the nearby town, she has a series of bizarre encounters where she is pursued by the local police who think she has murdered someone and by a cab driver who wants to have sex with her, before falling into the company of a wealthy British couple. The last few days begin to come back – how she ran away from taking place in a stunt that would have involved jumping out of a plane and into a volcano without a parachute. She went to see her old boyfriend, the Spanish acrobat Augustine, and recommenced a love affair with him despite his now being married. However, this would end with deadly consequences.
---
Siesta was the film debut of director Mary Lambert. Mary Lambert had first come to fame as director of most of Madonna's early music videos and was allowed to make her feature-film debut with Siesta. Siesta, which was largely construed as an arthouse release, was not much of a success and was critically trashed but Lambert recovered with her next film, the Stephen King adaptation Pet Sematary (1989).
Alas, Mary Lambert has not enjoyed much success since. Her work has wavered between music videos, a handful of tv movies, episodes of various genre anthology series like Tales from the Crypt (1989-96) and occasional forays back into cinema with the msotly uninspired likes of Pet Sematary II (1992), the teen psycho-thriller The In Crowd (2000), Urban Legends: Bloody Mary (2005), The Attic (2008) and Mega Python vs. Gatoroid (2011).
Siesta was written by Patricia Louisianna Knop who had just had success with the screenplay for Adrian Lyne's stylishly erotic 9½ Weeks (1986) and would go onto write/produce a number of erotic films with Zalman King including Wild Orchid (1990), the tv series Red Shoe Dairies (1992-9) and Delta of Venus (1995). Clearly, Siesta was conceived as an erotic mystery film in the same vein.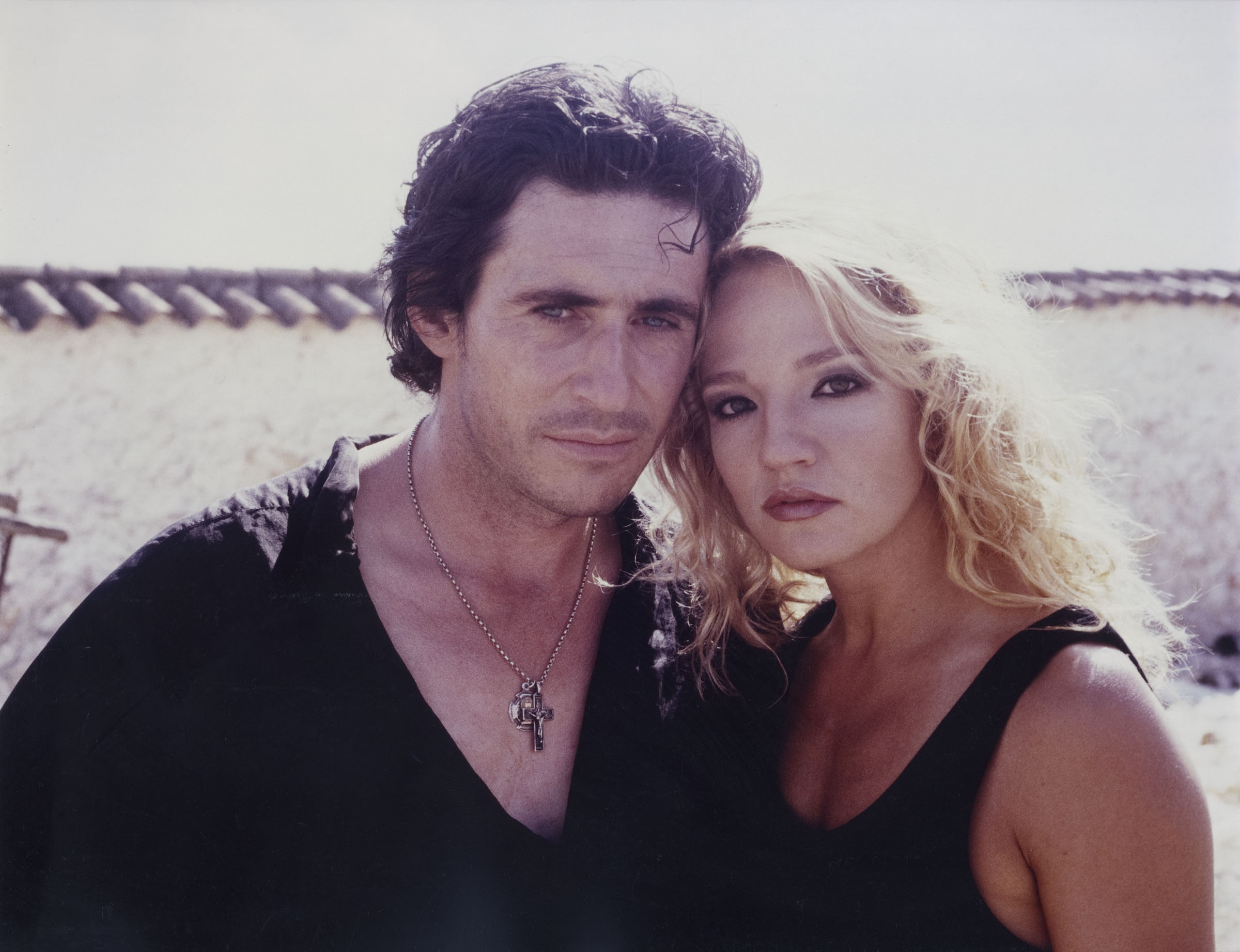 Mary Lambert has always seemed a director perpetually capable of more promise than she has ever ended up delivering. Siesta is a stylish film but it is also incoherent and pretentious. The narrative, such as it is, travels through several pretty locations and includes some interesting cameos. Lambert has an elegant, pictorial eye, particularly during the sensual love scenes, which are at one point strikingly intercut with a rape.
On the other hand, she cannot for the life of her keep her wildly overacting cast under control – the worst offenders being Julian Sands and Alexei Sayle – or animate the half-cocked black humour that lurks beneath much of the film, especially the scenes where Alexei Sayle forces his way with Ellen Barkin while another man dies in the background.
Ellen Barkin is the one joy of the film – her warm, sly crinkle of eyes and lopsided smile are immensely inviting. Unfortunately, Siesta wastes her, running about in a dishevelled state and reduced to endless whimpering. The other joy is Jodie Foster, sporting a surprising well-affected British accent and showing considerable assurance at playing a member of the bored leisure class.
The ending [PLOT SPOILERS] offers a variant on the by now clichéd deathdream ending first used in the famous short film An Occurrence at Owl Creek Bridge (1961) and in other films like Carnival of Souls (1962), Haunts of the Very Rich (1972), Seizure/Queen of Evil (1974), The Survivor (1981), Sole Survivor (1983), Jacob's Ladder (1990), Final Approach (1991), A Pure Formality (1994), Soul Survivors (2001), The Brown Bunny (2003), Dead End (2003), I Pass for Human (2004), Hidden (2005), Reeker (2005), Stay (2005), The Escapist (2008), Passengers (2008), The Haunting of Winchester House (2009), Someone's Knocking at the Door (2009), The Last Seven (2010), Wound (2010), A Fish (2012), Leones (2012), 7500 (2014), The Abandoned/The Confines (2015), Shadow People (2016) and Alone (2017), plus the finale of tv's Lost (2004-10) and, of course, The Sixth Sense (1999). (For more detail see Deathdream Endings). Although when it arrives here, it feels more like a fumbled episode of The Twilight Zone (1959-64) having been spun out to feature length.
---
---