---
Crew
Director – Stuart Orme, Screenplay – William M. Akers, Based on the Novel by Joan Aiken, Producer – Mark Forstater, Cinematography – Paul Beeson, Music – Colin Towns, Production Design – Christopher Hobbs. Production Company – Zenith Productions.
Cast
Stephanie Beacham (Letitia Slighcarp), Emily Hudson (Bonnie Willoughby), Aleks Darowska (Sylvia), Mel Smith (Mr Grimshaw), Richard O'Brien (James), Lynton Dearden (Simon), Geraldine James (Gertrude Brisket), Jonathan Coy (Lord Willoughby), Eleanor David (Lady Willoughby), Jane Horrocks (Pattern), Dilys Hamlett (Aunt Jane), Abbie Dabner (Rupert Brisket), Jiri Labus (Dr Morne)
---
Plot
As winter comes, the Willoughby Chase estate is surrounded by wolves that are becoming increasingly more daring in their attacks on humans. Lord Willoughby is about to depart on a sea voyage for the sake of his wife's health. The Willoughbys leave their daughter Bonnie and her cousin Sylvia in the hands of the new governess Letitia Slighcarp. However, immediately after Lord and Lady Willoughby depart, Miss Slighcarp institutes a harsh and cruel regime, dismissing almost all the servants and locking Bonnie in the closet. When Bonnie stands up to her, Miss Slighcarp responds by selling off all of Bonnie's toys. By using the house's secret passageways, Bonnie and Sylvia discover that Miss Slighcarp and her associate Mr Grimshaw, are planning to sink Bonnie's parents' ship at sea and have forged a substitute will that leaves everything to Miss Slighcarp. As they try to get out word for help, Miss Slighcarp responds by banishing them both to an orphanage run by a friend of hers where they are put into cruel slavery.
---
This is a film based on the novel The Wolves of Willoughby Chase (1963) by British children's writer Joan Aiken. In fact, The Wolves of Willoughby Chase was the first of a series of fantasy books written by Aiken, the so-called Wolves Chronicles, which extended to thirteen books published between 1963 and her death in 2004. The Wolves Chronicles series is set in an alternate history England where James II was never deposed and contain a delightful series of children's adventures. Most of the stories featured Aiken's urchin heroine Dido Twite and the character of Simon who is introduced here and later becomes the king. Unfortunately, The Wolves of Willoughby Chase film adaptation did little business when it came out – it was never released theatrically in the US, for instance.
The film version of The Wolves of Willoughby Chase was mounted by Mark Forstater, who produced Monty Python and the Holy Grail (1975) and directed by Stuart Orme who has brushed with genre material several times subsequently with the likes of The Puppet Masters (1994) and British tv work such as Heaven on Earth (1998), The Lost World (2001), Fungus the Bogeyman (2004), Cold Blood (2005-6), Ghostboat (2006) and Cold Blood: The Last Hurrah (2007).
Stuart Orme creates a wonderful opening – the aunt's warnings to Aleks Darowska in the opening scenes, contrasted with Emily Hudson running through the house and then Stephanie Beacham's entrance, which immediately falls into a cold concern for proper manners and tones of address. The scenes going to meet the train are fabulous. When we see the party setting out to the train station armed with guns and then the tension of the race to board the coach as the wolves start running towards the station, we wonder what world it is that we have entered into.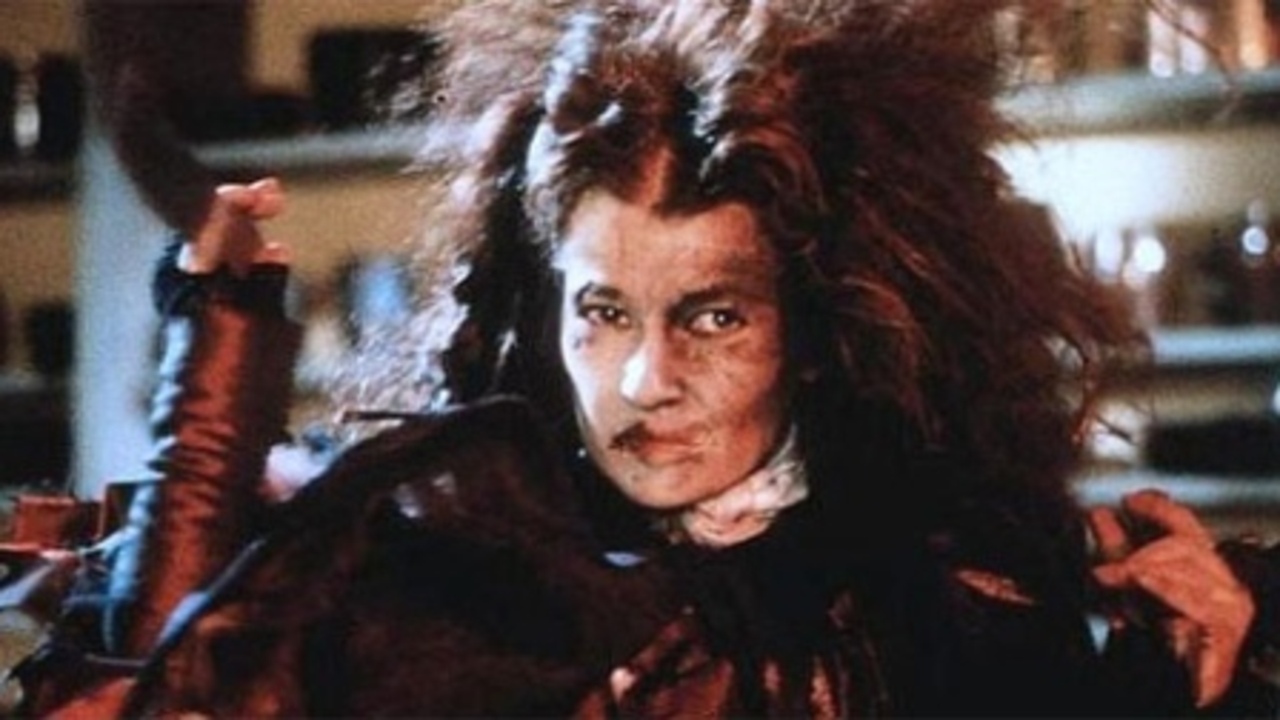 This is a children's film that is not afraid of dark emotions – Stuart Orme generates considerable menace during the scenes with the wolves pursuing the children through the woods. Later we see the character of Rupert being crushed in laundry rollers, Stephanie Beacham throwing knives at the children and Geraldine James thrown off the steamplow to be devoured by the wolves, as well as Beacham's eventual fate at the hands of the wolves. Stephanie Beacham has a wonderfully haughty presence – the film conveys a great sense of cruelty on her part.
The film has an exquisite sense of period and some amazing sets – octagonal pool tables, a vast Victorian orphanage and laundry where children are made to work on giant hamster wheels. A good deal of this is aided by location shooting in Prague, Czechoslovakia. There is also an excellent score.
The Wolves of Willoughby Chase prefigures a fad for Victorian children's fantasies that came out in the mid 90s/00s with the likes of The Secret Garden (1993), A Little Princess (1995), Five Children and It (2004) and The Secret of Moonacre (2008). It is a surprise that such a beautifully crafted film did not become a success. It is an exceptional drama with superb period atmosphere and a story that is much more adult than the children's story it appears to be at first glance. Perhaps it is simply that audiences were turned away by such a dark children's film.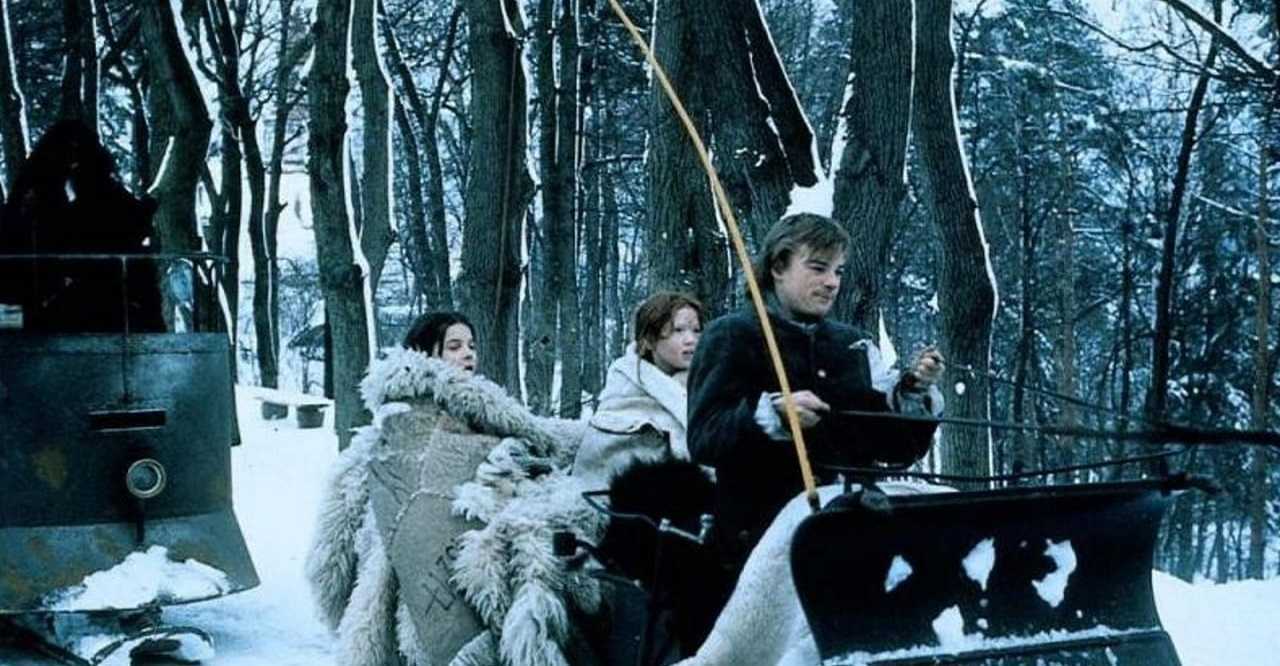 The one thing that should be noted is that the film's fantasy element is slight or ambiguous at best. While the books in Joan Aiken's series are definitely fantasy, especially of the alternate history variety, the film here could easily play as a mundane work. The video cover comes with the legend "Who can stop the wicked witch and her wolves?" yet there is nothing to suggest that Stephanie Beacham is a witch or that she has any special relationship with the wolves – indeed, she ends up being devoured by them at the end. We do see her in the bath with a bald head but there is no suggestion that her abilities go beyond mere chicanery.
Black Hearts at Battersea (1964), Joan Aiken's immediate sequel to The Wolves of Willoughby Chase, was later filmed as Blackhearts in Battersea (1995-6), a BBC tv serial in six half-hour episodes, although this has no other connections with the film here other than the link between the source works. Other adaptations of Joan Aiken's works include:– Midnight is a Place (1977-8), an unrelated Victorian orphan adventure adapted by British tv in thirteen episodes; the French Gothic thriller Death on a Rainy Sunday (1986); and Mortimer & Arabel (1993-4), a tv series based on Aiken's series about the mischievous adventures of a girl and her pet raven.
---