---
Crew
Director/Screenplay – Woody Allen, Producer – Robert Greenhut, Photography (b&w) – Carlo Di Palma, Production Design – Santo Loquasto. Production Company – A Jack Rollins-Charles H. Jaffe Production.
Cast
Woody Allen (Max Kleinman), Mia Farrow (Irmy), John Malkovich (Paul), John Cusack (Jack), Donald Pleasence (The Doctor), Lily Tomlin, Jodie Foster & Kathy Bates (Prostitutes), Kenneth Mars (Armstead), Michael Kirby (The Killer), Julie Kavner (Alma), Madonna (Marie), Charles Cragin (Spiro the Clairvoyant)
---
Plot
The city is wracked by fear and paranoia over a strangler who strikes in the foggy night. Neurotic clerk Max Kleinman is woken up in the middle of the night by a vigilante group who force him into joining their plan to deal with the killer, although at the end of it Kleinman is unsure what the plan is or what he is meant to do. Meanwhile, Irmy, a circus sword-swallower, discovers her boyfriend with another woman and walks out, only to be invited to come and stay at a brothel by a prostitute. There she accepts a student's offers of $700 to have sex with him and discovers just how good sex can be. Kleinman goes to visit a doctor who believes he can find a physical cause to the killer's evil but the doctor is killed and evidence incriminates Kleinman as the killer. In the course of trying to retrieve the evidence, Max meets up with and befriends Irmy.
---
Woody Allen is a rather sad case – a comedian who has been searching for meaning in his art so much that the films he now makes have the distinction of being labelled comedy without ever being humorous any longer. Shadows and Fog is a prime example. Shadows and Fog is labelled comedy but contains only a single gag throughout that seems even remotely funny – Woody Allen asks Mia Farrow if she ever gets hiccups when while she is swallowing swords.
Shadows and Fog is Woody Allen's homage to German Expressionism – to, in particular, M (1931), as well as elements of The Blue Angel (1930) and to Franz Kafka. Certainly, there is probably no actor alive better suited to playing a mousy Kafka-esque clerk than Woody Allen. As director and writer, Allen succeeds in creating an admirable sense of someone trapped in an escalating nightmare of incomprehensible schemes and counter-plots that operate on a circuitous chain of logic that entirely excludes him; the M-like image of a city driven to crazed paranoia by its obsession with the killer; and a hunt for a killer that has Allen chased as the Wrong Man through a series of chaotic mishaps.
Shadows and Fog is shot in black-and-white, allowing regular Allen cinematographer Carlo Di Palma to evoke the titular netherworld with considerable beauty, turning the streets into something luminous, clammy and eerie. With his penchant for the use of Jazz Era music, Allen also effectively uses the music of Bertold Brecht and Kurt Weill to evoke the period.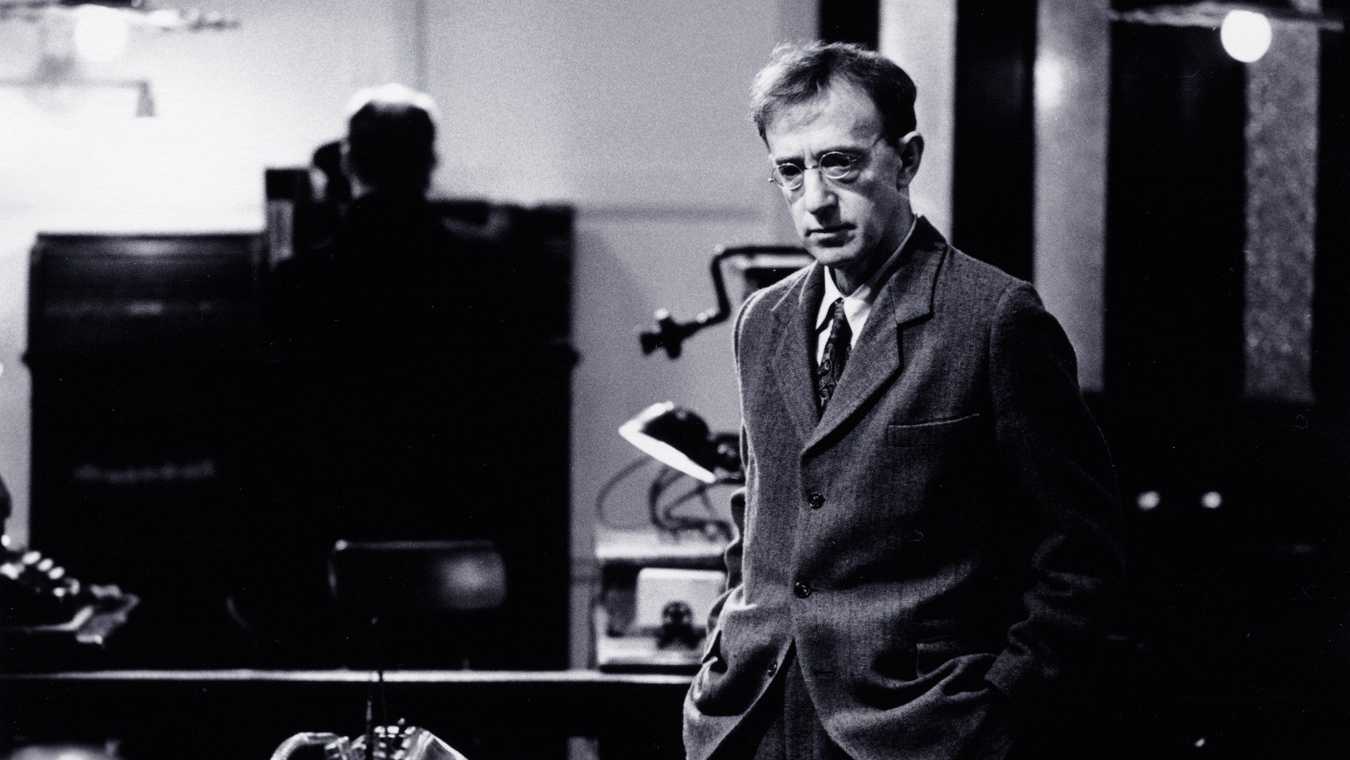 For all its fine recreation of mood and atmosphere, Shadows and Fog is also no good. The film rambles monotonously from incident to incident without any plot. The subplot featuring Mia Farrow's flight from the circus to the whorehouse serves no particular purpose. More irritating is the baffling non-ending wherein the killer is captured but vanishes, and where Allen accepts circus magician Kenneth Mars's offer to become his assistant with the last shot revealing both of them to still be images inside the magic mirror that Mars allowed them to hide in. Dramatically, it is a damp squib of an ending. Moreover, its meaning eludes one. Is it, for instance, a meta-cinematic comment, saying that the characters are still images in a larger (cinematic) mirror, thus emphasizing the artificiality of its cinematic recreation (in much the same way Allen did with The Purple Rose of Cairo [1985])?
The one other thing Woody Allen does is to assemble a truly amazing cast, including the likes of Jodie Foster, Madonna, John Malkovich, John Cusack, Kathy Bates and Lily Tomlin. Even the cast members who do not get top billing – Kurtwood Smith, Josef Somer, Wallace Shawn, Robert Joy, David Ogden Stiers – would be enough to top-line a medium budget film. That said, Woody Allen hardly uses his cast – Fred Gwynne gets poster-billing but only has a single line, while similarly poster-billed Kate Nelligan is only seen yelling from a distance out a second-storey window.
Woody Allen's other genre films are:– Play It Again Sam (1972), Everything You Always Wanted to Know About Sex * But Were Afraid to Ask (1972), Sleeper (1973), Love and Death (1975), A Midsummer Night's Sex Comedy (1982), Zelig (1983), The Purple Rose of Cairo (1985), New York Stories (1989), Alice (1990), Mighty Aphrodite (1995), Everyone Says I Love You (1996), Deconstructing Harry (1997), Match Point (2005), Scoop (2006), Midnight in Paris (2011), To Rome with Love (2012) and Magic in the Moonlight (2014).
---
---