---
Crew
Director/Screenplay – Matthew Carnahan, Producers – Raquel Carreras & Lysa Hayland, Photography – Geary McLeod, Music – Richard Ziegler, Music Supervisors – J. Alan Davis & Christopher Violette, Production Design – Michael Moran. Production Company – Chelsea Drugstore Productions.
Cast
Scott Bairstow (Kyle Sullivan), Eric Mabius (Shane Carver), Tara Subkoff (Chloe), Chad Lindberg (Fairy/Rory), Heath Lourwood (Munn), Dee Wallace Stone (Barbara Sullivan), David Newson (Coach Earhorn), Bruce Burkhartsmeier (Ken Sullivan), Donnie Wahlberg (Greggo), Victor Morris (Detective Ray)
---
Plot
Teenager Kyle Sullivan feels resentful over having had to move to a nowhere town in Washington State because of his stepfather's job. At school, he befriends Shane Carver who inducts Kyle into his group The Black Circle Boys, all of whom have sworn allegiance to Satan. The group engage in regular use of drugs and acts of petty vandalism. The out of control Shane draws Kyle into increasingly more dangerous areas, culminating in murder.
---
Black Circle Boys is a fascinating venture into the mini-genre of movies about screwed-up youth. This is a film that is a long way away from the Hollywood-sanctioned faux angst of The Breakfast Club (1984) and a whole social divide away from the sort of film that believes that kids can be sorted out with merely some good positive direction. Such a genre has been given an electrifying reworking in recent years by Larry Clark in films like Kids (1995), Bully (2001) and Ken Park (2002) – indeed, co-star Tara Subkoff has since appeared in Clark films.
The film that Black Circle Boys reminds of the most is the disturbing River's Edge (1986). Both River's Edge and Black Circle Boys come with a dark, nihilistic edge; both are set in nowhere America towns and are concerned with teens who believe they have no future, indulge in drug-taking and eventually murder because there is nothing else to do; both depict a contemporary generation gone way out of control and hold little hope for the redemption of either its youth or their parents. Both films are also happy to give audiences the impression they are based on real facts (although this film, far more so than River's Edge, betrays this by eventually engaging in standard thriller plotting, with cliché thriller contrivances where bodies and evidence conveniently vanish when the police return).
Director/writer Matthew Carnahan does a sharp and effective job of portraying the dead-end teens, particularly in showing the disparity between Scott Bairstow and his parents – his stepfather's authoritarianism and mother Dee Wallace's earnestly well-meaning attempts to bridge the gap between them. The film becomes shocking when the violence explodes during the scene where the security guard is beaten and then the murder in the woods.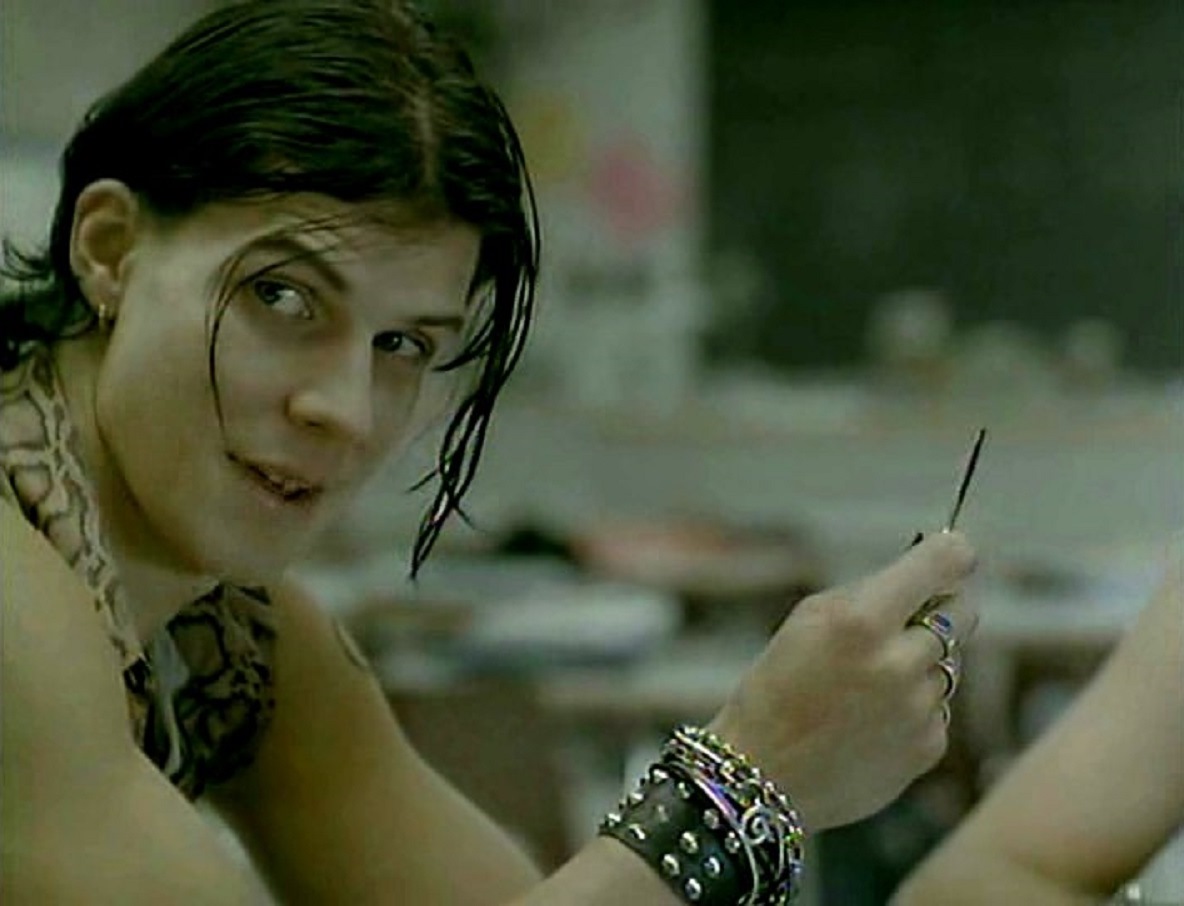 The film is fired up by an intensely compelling performance from Eric Mabius. We see him swinging, quite plausibly, between a control freak with a charismatic ability to persuade and command others, yet at the same time see a wheedlingly needy desire to be wanted and looked up to by them as well. There is the superbly telling moment where the sycophantic Chad Lindberg brings him an electric guitar and he gives up after a few tentative attempts to start playing and angrily remonstrates: "I don't want to take lessons – I want to be in a band." He is never more fascinating than the scene where they are found trespassing in a neighbour's pool and emerges in swimming trunks as the neighbour appears holding a gun, challenging the neighbour to shoot him, saying he is not afraid even of death.
The film makes fascinating contrast to a number of other films listed on this site that deal with Satanism and the occult. Unlike these others, Black Circle Boys does not see the Satanism being practiced as having any spiritual or supernatural reality. Rather it sees belief in Satanism as a power outlet for dissolute teens, as something gleaned out of an interest in heavy metal music. The film makes fascinating contrast to the non-fiction documentary Paradise Lost: The Child Murders at Robin Hood Hills (1996) and its sequels Revelations: Paradise Lost 2 (1999) and Paradise Lost 3: Purgatory (2011), as well as the independent West of Memphis (2012), concerning the trial and sentencing of three West Memphis, Arkansas teenagers, Jason Baldwin, Damien Echols and Jessie Miskelly Jr, for supposedly killing two boys in a Satanic ritual, where, as the documentaries brought out, the three were sentenced more because of the religious superstition of the Christian locals towards the boys who were Goth and practiced Wicca than the shaky legal evidence for their guilt.
Comparison brings out some interesting disparities between the two films – whereas Black Circle Boys assumes that the teens are way out of control and did engage in Satanic rituals and murder; the Paradise Lost films raise the much more challenging possibility that all that is on show is bored teenagers with a penchant for unconventional dress and the considerable possibility that any notion of Satanic murders is something that exists entirely in the superstitions of the townspeople around them.
The film is loosely based on the story of Ricky Kasso (1967-84). In 1983, Ricky was a disaffected teenager in Newport, New York who was dealing drugs and taking a good deal of them. He had drawn a group of fellow peers into his interest in Satanism and the black arts. In June 1984, Ricky and several others went to party in the woods, taking drugs where Kasso pushed the others to stab to death one of the group, who had stolen some drugs from him . Kasso was arrested and two days later hanged himself in his jail cell. A more faithful but less interesting version of the Ricky Kasso story appeared not long after this in Ricky 6 (2000).
Director Matthew Carnahan – not to be confused with Matthew Michael Carnahan, screenwriter of The Kingdom (2007), State of Play (2009) and World War Z (2013) – has only made one other work as director with the documentary Rudyland (2001) about Rudy Giuliani. He has also created and produced the tv series Dirt (2007-8) and House of Lies (2012-6).
(Nominee for Best Actor (Eric Mabius) at this site's Best of 1997 Awards).
---
---