---
UK/Germany. 2010.
Crew
Director – Hideo Nakata, Screenplay – Enda Walsh, Based on His Play, Producers – Laura Hastings-Smith, Alison Owen & Paul Trijbits, Photography – Benoit Delhomme, Music – Kenji Kawai, Visual Effects Supervisor – Simon Carr, Animation Directed and Designed by Daniel Stirrup, Special Effects Supervisor – Special Effects (GB) Ltd (Supervisor – Neal Champion), Makeup Design – Marese Langan, Production Design – Jon Henson. Production Company – West End Films/Film 4/UK Film Council/Molinaire (London)/Universum/Ruby Films.
Cast
Aaron Johnson (William Rollins), Matthew Beard (Jim), Imogen Poots (Eva), Daniel Kaluuya (Mo), Hannah Murray (Emily), Megan Dodds (Grace Rollins), Nicholas Gleaves (Paul Rollins), Michelle Fairley (Rosie), Jacob Anderson (Si), Elarica Gallacher (Ushi), Rebecca McLintock (Keisha)
---
Plot
William sets up the chatroom called Chelsea Teens and a group of fellow teenagers soon stray in. These include the model Eva, the depressed Jim, Mo, and Emily who comes from a well-to-do family. William asks them about the things they hate. William, whose mother is a successful children's author, enjoys psychologically playing with and pushing the rest of the group. He encourages Emily to vandalise her home supposedly as a way of bringing the family together; Mo to pursue his feelings for an eleven year-old girl; Jim to throw away his anti-depressant medication; and digitally alters pictures of a rival of Eva's. It soon becomes clear to the others that William is digging into Jim's past and exploiting his feelings of abandonment with the intention of making him kill himself.
---
Chatroom was the fifteenth film from Japanese director Hideo Nakata. Nakata made a sensational appearance with his third and fourth films, the Japanese horror hit Ring (1998) and its sequel Ring 2 (1999), which inspired a new wave of Asian horror. Since the Ring films however, Hideo Nakata's output has been uneven. He made several films that attempted to move beyond horror with Chaos (1999), Sleeping Bride (2000) and Last Scene (2002) but not many people were interested in these. He bounced back with the subsequent horror hit of Dark Water (2002) but equally missed the mark with subsequent genre entries Kaidan (2007) and L: Change the World (2008). Nakata's first English-language film The Ring Two (2005) was an unmitigated disappointment, where he even failed to come up to the strength of the earlier remake of his own film The Ring (2002). Chatroom was Hideo Nakata's second English-language outing, where he has been employed by European production companies.
Chatroom was billed as a horror film in the way it was sold but only sits on the genre borderline at best – one suspects more due to Hideo Nakata's horror associations than anything else. The script is interesting and often challenging – like having one character (Daniel Kaluuya) who admits to sexual impulses for an eleven year-old girl, who is also not immediately demonised but continues to be treated sympathetically throughout the rest of the story (even if the film never particularly addresses the wider moral/psychological angles of his desires).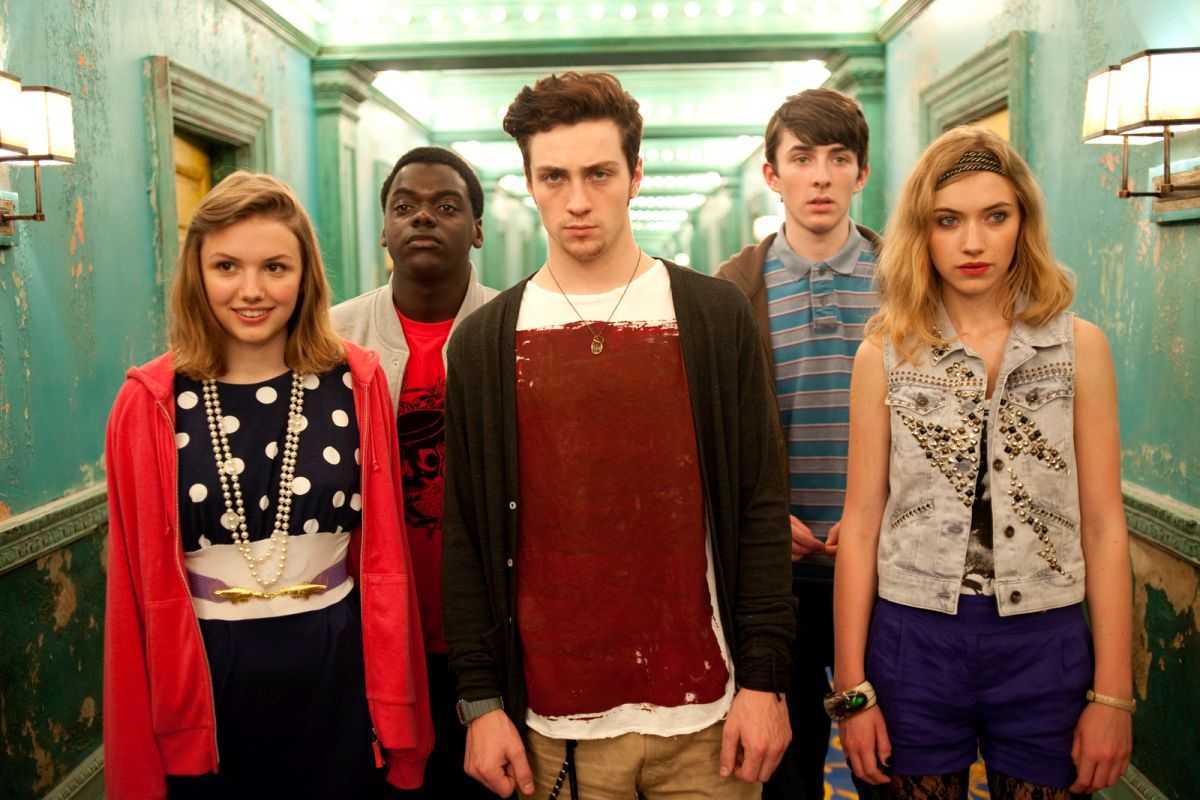 Anybody making a film about internet chat and/or communication is stuck with a difficult problem – how to make such an inherently uncinematic idea as two strangers sitting apart typing at keyboards, not relating to one another but to words on a screen, into something dramatically exciting. Most films try to compensate by having the characters read what they are typing aloud – see You've Got Mail (1998) – or by printing the words in about 24 point font so that they are easily readable but this still fails to approximate what chat involves on an emotional/psychological level. What I was most impressed about with Chatroom was its finding a unique means of visually depicting its subject matter. Hideo Nakata (and Enda Walsh who wrote the original 2005 play the film is based on) solves the problem with the device of having the actors sitting in an empty room that acts as a visual metaphor for the chatroom where they deliver their lines as though they were normal speech.
The opening scenes hold something dazzling in terms of this determination to give a visual metaphor to internet activity – showing Aaron Johnson navigating a hotel hallway that contains a throng of partying people before he finds an empty room and sets up there, which we realise is him surfing a swarm of net activity to set up a domain for his chatroom. Chatroom becomes even more striking when Hideo Nakata tries to visualise other familiar features of internet communications and chat – like the paedophile that tries to enter the chatroom and keeps flickering back and forward between being a teenage girl and a middle-aged man after Aaron Johnson exposes him. Also striking is the abrupt contrasts made between the characters inside the chatroom and their mundane real-world selves outside – Aaron Johnson sitting in his room, Matthew Beard in an outdoor cafe, Hannah Murray logging in by cellphone while bored in class.
In all ways, Chatroom is the superior of Hideo Nakata's English-language films. Nakata's visuals are tight and expert, while the film is greatly aided by a dense techno soundscape. Unlike The Ring Two, he shows an assurance both with the visual storytelling and handling an English-language cast. It is only during the last section that Chatroom does not fully work. Throughout, the film builds Aaron Johnson up as a machiavellian character who is pushing and manipulating the others. We get glimpses of the troubles in his life but are never given any clear reasons why he is doing any of this. The story fragments off towards the end where you have the feeling that Enda Walsh has quickly brought it to a standard psycho movie conclusion with guns, dramatic rescues and a traditional villain's comeuppance rather than playing out the various psychological tensions.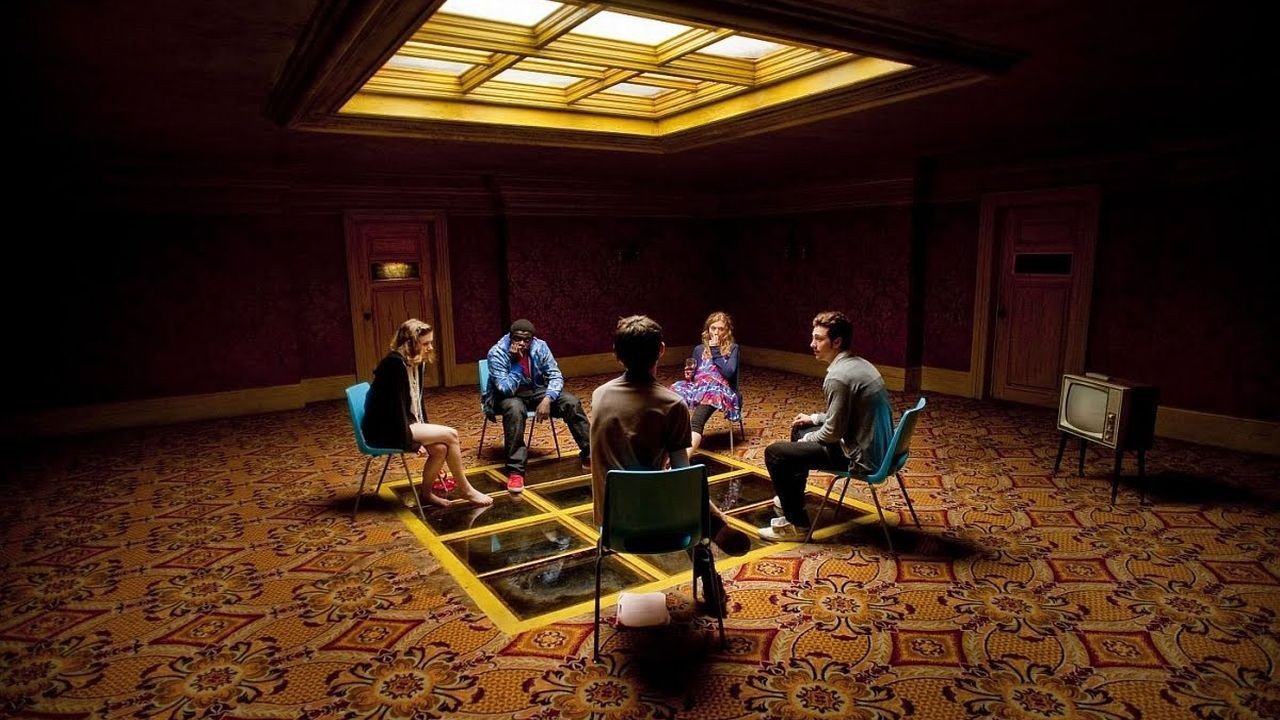 The star of the show is young British actor Aaron Johnson who came to public attention the same year as the title character in Kick-Ass (2010). While elsewhere Johnson has been cast as a standard teenage lead, here he plays with a dazzlingly troubled and mercurial depth. It is a role where Aaron Johnson clearly establishes himself as an actor who has a considerable range and long-term staying power. There are good and strong performances elsewhere, especially from Matthew Beard as the shy and introverted Jim.
Hideo Nakata's other genre films include:- the ghost story Don't Look Up (1996); Ring (1998) and its sequel Ring 2 (1999); the ghost story Dark Water (2002); the English-language The Ring Two; the ghost story Kaidan (2007); the Death Note spinoff L: Change the World (2008); Incite Mill (2010) about a reality tv elimination game; the ghost story The Complex (2013); Monsterz (2014) about a man with mind-control abilities; Ghost Theatre (2015); a return to the Ring franchise with Sadako (2019); Stigmatized Properties (2020); and It's in the Woods (2022).
---
---