aka People Toys
---
Crew
Director – Sean MacGregor, Screenplay – John Durren, Story – Dylan Jones, Producers – Michael Blowitz & Dylan Jones, Photography – Paul Hipp & Michael Shea, Music – William Loose, Special Effects – Carol Lynn Enterprises, Art Direction – Jack McAnelly. Production Company – Barrister Productions Inc.
Cast
Taylor Lacher (Rick), Sorrell Booke (Dr Harvey Beckman), Gene Evans (Papa Doc), Joan McCall (Julie), Carolyn Steller (Lovely), Shelley Morrison (Ruth Beckman), John Durren (Ralph), Leif Garrett (David), Gail Smale (Sister Hannah), Tierre Turner (Brian), Tia Thompson (Susan), Dawn Lyn (Moe)
---
Plot
Two couples arrive at the Copperhead mountain lodge, the two men vying for a job offered by the owner, the notoriously hard-headed Papa Doc. In the middle of the night, they are joined by four children and a novice nun, seeking shelter after their bus has overturned nearby. However, the children are in reality killers and now start to slaughter their hosts.
---
Devil Times Five was the third film from Sean McGregor, a director who has made several other works in various drama and action fields, although none that have attained any high profile or for that matter appear on the genre radar. The film has circulated under several different titles. It mostly noted in retrospect as an early starring role for Leif Garrett who shortly after was considered a teen heartthrob on the basis of the tv series Three for the Road (1975).This is quite a professionally made little B-movie. For the first two-thirds of its running time, it never seems like it is going to be up to much at all. It confines three couples to a snowbound lodge and plays their various tensions off against one another.
One supposes they should applaud a horror film that stops to flesh out characters rather than treating them as faceless victims with targets painted on their backs but Devil Times Five spends its time building the characters almost entirely at the expense of generating atmosphere.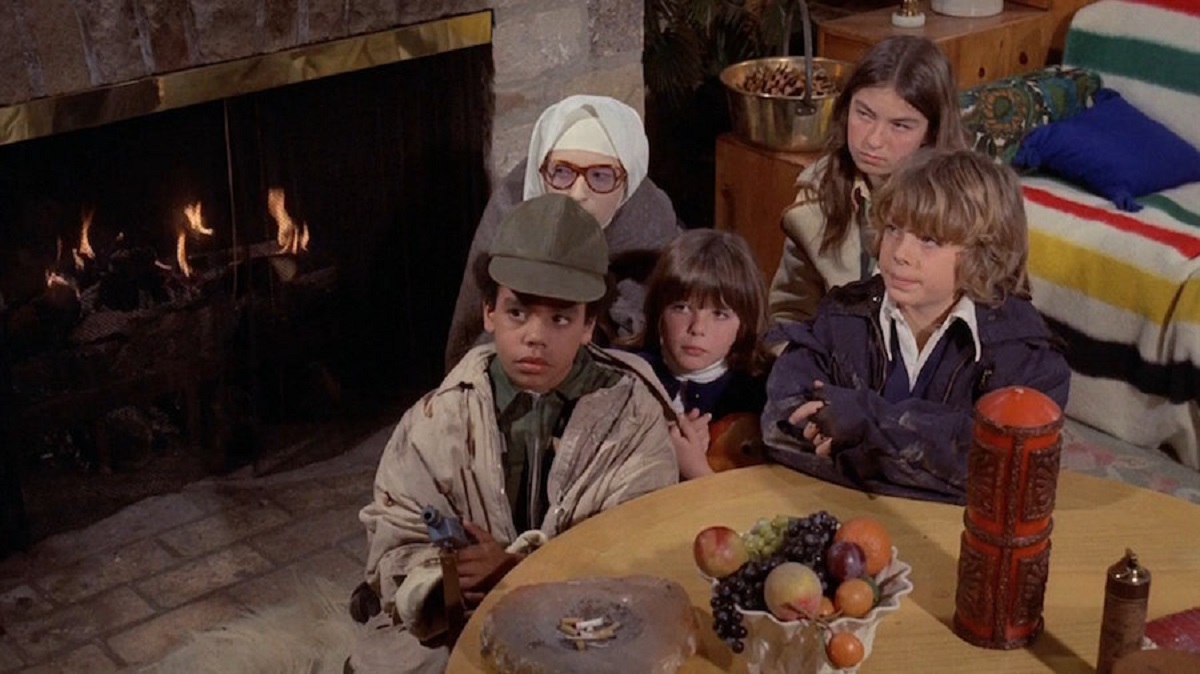 Nevertheless, things picks up considerably in the last third where Devil Times Five becomes a rather effective play on the malevolent children sub-genre that grew up out of the previous year's The Exorcist (1973). There are some undeniably effective scenes with kids hunting adults with rifles, setting bear traps in the snow and one wonderfully malicious scene with them dumping piranha in someone's bath.
The evil or psychopathic child story has had a long history on film going back to The Bad Seed (1956). We have had numerous efforts over the years with the likes of Night Hair Child (1972), Who Can Kill a Child? (1976), The Godsend (1980), Mikey (1992), The Good Son (1993), Relative Fear (1994), Daddy's Girl (1996), Joshua (2007), The Children (2008), Case 39 (2009), We Need to Talk About Kevin (2011), The Boy (2015) and Better Watch Out (2016). (For more detail see Films About Evil Children).
---
---