---
Iran/USA. 2014.
Crew
Director/Screenplay – Ana Lily Amirpour, Producers – Justin Begnaud & Sina Sayyah, Photography (b&w) – Lily Vincent, Visual Effects Supervisor – Mike Hedeyati, Makeup Effects – Jill Fogel, Production Design – Sergio de la Vega. Production Company – Say Ahh Productions.
Cast
Sheila Vand (The Girl), Arash Marandi (Arash), Marshall Manesh (Hossein), Dominic Rains (Saeed), Mozhan Marno (Atti), Milad Eghbali (The Street Urchin), Rome Shadanloo (Shaydah)
---
Plot
Arash is upset after the drug dealer Saeed takes the classic car he has saved up to buy to pay for his father Hossein's drug debts. Saeed then meets a strange, rarely speaking girl and takes her home. As Saeed goes to seduce her, the girl proves to be a vampire and attacks him. Arash later finds him dead and takes his car back, along with the money and drugs. He cautiously befriends the girl and the two develop an uncertain relationship.
---
A Girl Walks Home Alone at Night comes with such a brilliant capsule description – 'an Iranian vampire film' – that it had me in the door of the Vancouver International Festival screening without even thinking about it twice. A casual survey of several other attendees found that the concept alone had elicited a similar response.
For the discerning critic and genre historian, this does leave a number of interesting questions. The most obvious one of these is how prevalent is the heretofore unknown idea of an Iranian horror genre? Iranian cinema has emerged onto the international stage in the last decade, particularly with the discovery of the works of Abbas Kiarostami, and has elicited much praise along with the promotion of directors who are often banned, arrested or have their works censored.
What is not seen by the principal arts and festival audiences that these films play to is another whole populist Iranian cinema made for domestic markets, which consists of romances, crime dramas and thrillers, as well as religious and propagandist works. As little of this gets outside of the country or is translated into English, it is not known how much, if any, ventures into genre territory. Certainly, among the audience for Iranian cinema in the West, I have yet to come across anything to write about here. I am certainly intrigued to find if any other Iranian horror or fantastic films exist.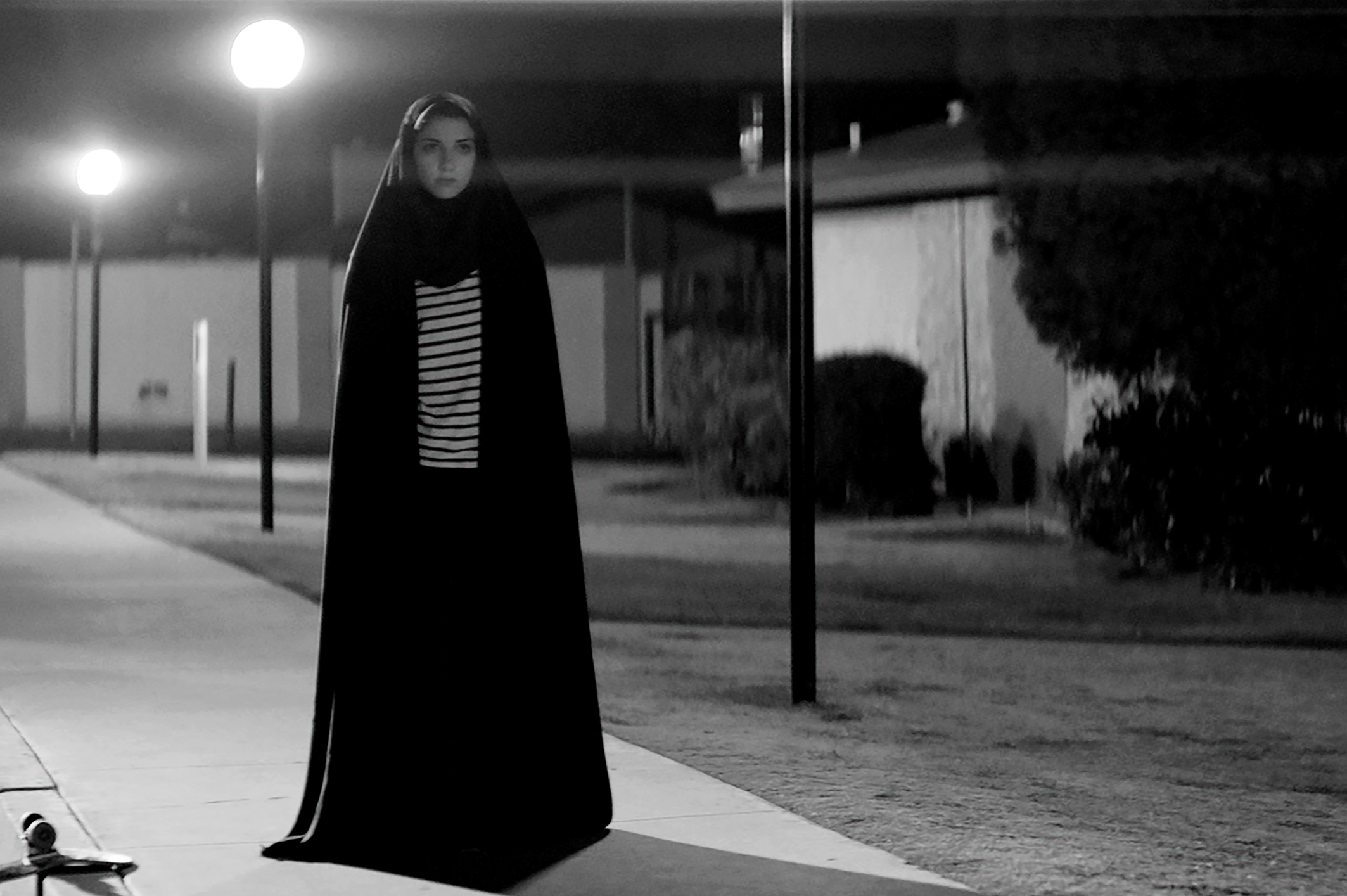 On the other hand, when you look more closely at A Girl Walks Home Alone at Night, the term 'Iranian vampire film' becomes less distinct. While technically it is an Iranian vampire film in the sense that it is a film made (principally) by Iranians, it was not shot in Iran but in the US. The film was workshopped at Sundance and comes co-produced by Elijah Wood's US-based Spectrevision horror-producing company, for instance. Moreover, what one takes to be local Iranian scenery where the film takes place was actually shot in and around Taft and Bakersfield, California. Principal creative force Ana Lily Amirpour is of British-Iranian descent and, while that background is part of her life, she grew up in California not Iran. The cast is mostly made up of expatriate Iranians but a look through their previous credits show that they have all worked exclusively in US films and tv series as opposed to Iranian cinema. The production credits also include quite a number of non-Persian names. That said, Ana Lily Amirpour was not the first expatriate Iranian to turn to the horror genre and was beaten there by with Kevin Hamedani and Zombies of Mass Destruction (2009) and was followed not long after by Babak Anvari with the excellent also Iranian-set ghost story Under the Shadow (2016).
A Girl Walks Home Alone at Night becomes a little less eye-catching a sell when you pitch it as 'a vampire film made in the US by expatriate Iranians' than as 'an Iranian vampire film' – the latter comes with the implication that the film has been made inside the country and via the country's draconian censorship strictures. Certainly, as A Girl Walks Home Alone at Night sets in, it becomes increasingly hard to believe that it would have been a film that would have been allowed to be made by the Iranian censor or to play to domestic Iranian markets. Ana Lily Amirpour includes such morally taboo things as casual drug use and drug dealing, prostitution (even a scene where Mozhan Marno is seen giving Dominic Rains a blowjob in a car), eroticism and female nudity.
None of which should be seen as a detraction of A Girl Walks Home Alone at Night in any way. It represents a feature-length debut for Ana Lily Amirpour. She has made a number of short films over the last few years, as well as provided the story for the feature-length Found Footage horror film The Garlock Incident (2012). She had previously made the genesis of the film as an eight-minute short film A Girl Walks Home Alone at Night (2011), featuring several of the actors here. At the same time as the film comes out, she has also released a comic-book detailing The Girl's other adventures.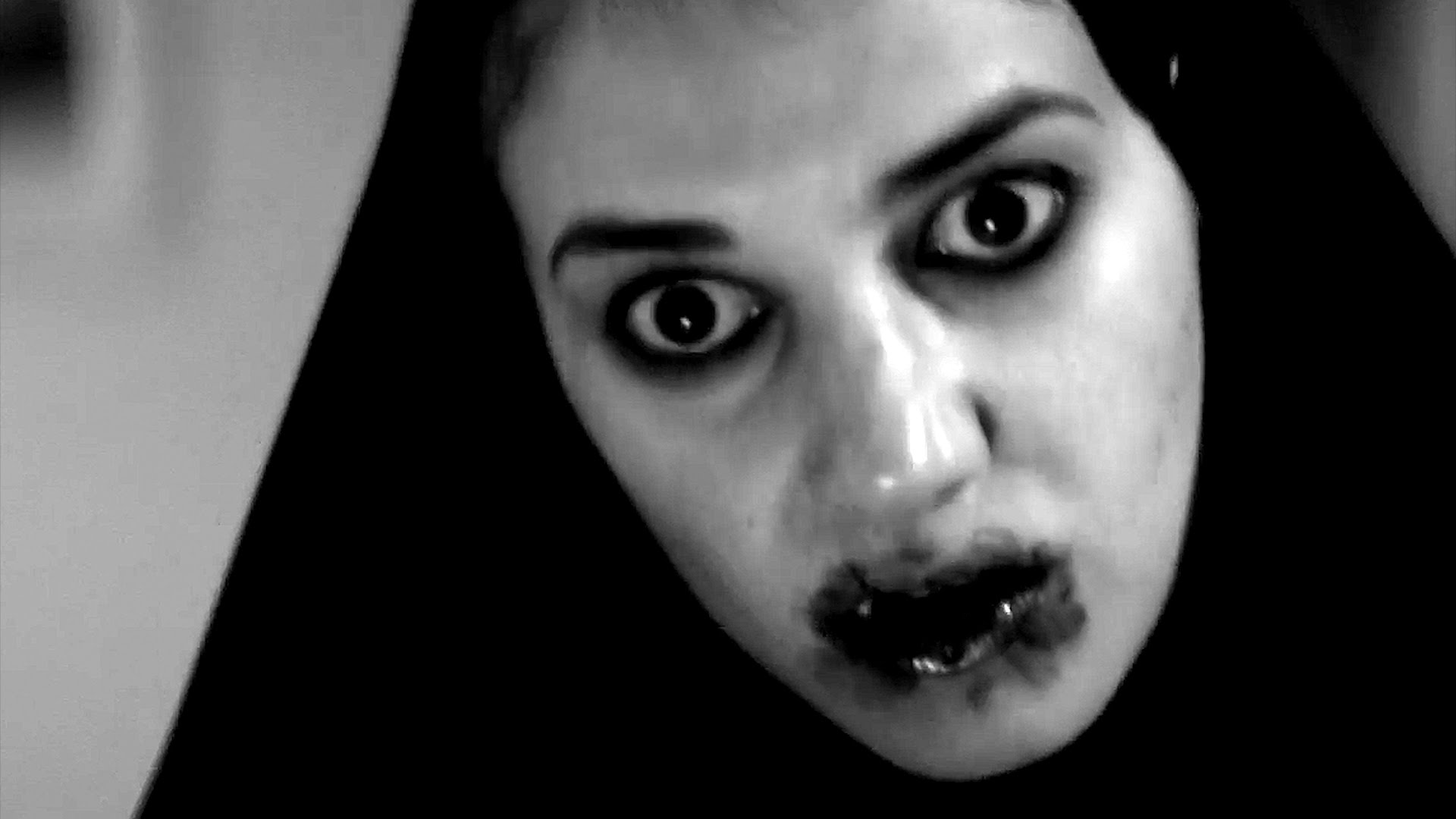 Certainly, Ana Lily Amirpour's standing outside of homeland Iranian culture gives her a take on her background and melange of Western elements that add up to a more sensationalistic and creative mix than you would ever have gotten if A Girl Walks Home Alone at Night were made under the strictures of Iranian censorship.
One of the most provocative images in the film is the surely iconic one of vampire girl Sheila Vand rolling through the streets on a skateboard as her long black chador flaps up behind her like a cape. It is an image that at once strikingly inverts, even parodies, traditional vampire imagery and at the same time irreverently deflates Iranian traditional clothing. The film is light on plot – it is, at heart, still a feature-length short film. Yet Sheila Vand's near-unspeaking character has a wonderfully haunted presence – the way she drifts through the film and in Amirpour's evocative black-and-white photography, one is immediately reminded of Michael Almereyda's Nadja (1994). The results certainly mark Ana Lily Amirpour as a strong director worth watching out for.
Ana Lily Amirpour next made The Bad Batch (2016) set in a futuristic desert wasteland filled with cannibals and assorted scavengers, and the psychic powers film Mona Lisa and the Blood Moon (2021).
Spectrevision have also produced other horror films such as Toad Road (2012), Cooties (2014), Open Windows (2014), The Boy (2015), The Greasy Strangler (2016), Mandy (2018), Color Out of Space (2019) and Daniel Isn't Real (2019).
---
Trailer here
---